This year we've already been impressed by the new Galaxy S6 and S6 Edge, both of which offer flagship-level performance, including one of the best cameras we've ever seen in a smartphone. Better still, both phones offer drastically improved design over the Galaxy S5, with glass backs encased in beautiful, smooth aluminum frames.
Proving that this new direction was no mere fluke, the company has another hit on its hands in the form of the new Samsung Galaxy Note 5 (MSRP $699.99 for 32GB version). While the S6 is by far the more mainstream device, the Note series has always been something of a prestige product for Samsung. The Note's signature stylus has become its calling card, giving the phone a unique touch that is still unlike anything else on the market.
But as always, there's a catch: the Note 5's newfound focus on aesthetics has meant cutting some core features, including expandable storage and a removable battery. This is unquestionably the best Note that Samsung's ever made, but will its core audience—power users—see it that way?
Design & Usability
Take note: This is how you make a flagship phone.
The Note series has always been a bit of a playground for Samsung's designers. When the series debuted back in 2011, it rewrote the rules of smartphone design, opting for a 5.3-inch display at a time when the most popular smartphone (the iPhone) was rocking a meager 3.5-inch screen.
That the Note also included a stylus made it feel like a complete anachronism. But the giant phone proved to be a giant hit, and we've seen ever-larger smartphone displays ever since; even Apple has gotten into the game with the 5.5-inch iPhone 6 Plus. But there's a delicate art to making a large display that is both beautiful and functional.
Some phones—even those with displays smaller than the Note 5's 5.7-inch QHD Super AMOLED screen—are practically unusable because they're just too wide to hold in one hand. The Note 5, by contrast, fits easily in your hand. It's barely wider than an iPhone 6 with a case, so it's generally usable even if your other hand is occupied, such as when you're holding onto the rail while riding the subway.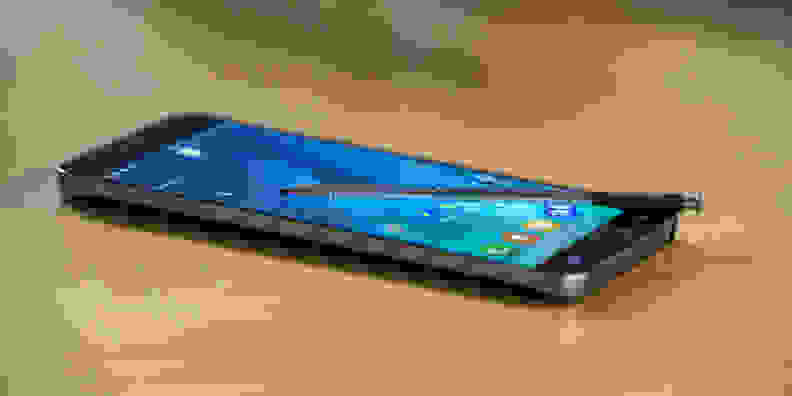 Also aiding the Note 5's handling is the slight taper to its aluminum frame. This is complemented by the new, curved glass back. The aluminum frame is flat on the sides but transitions smoothly to the glass, making for a phone that feels great in your hand. It looks fantastic, and I find it much more stable in my hand than the iPhone 6 Plus, which has completely rounded sides.
Still, the 5.7-inch display isn't totally usable with a single hand, simply because your thumb can't cover the entire screen. I have fairly large hands and I can't come close to hitting all four corners without risking an accident. And since app developers still like putting important functions in the corners, that makes it tough to do things like hit "back" in your browser without a second hand.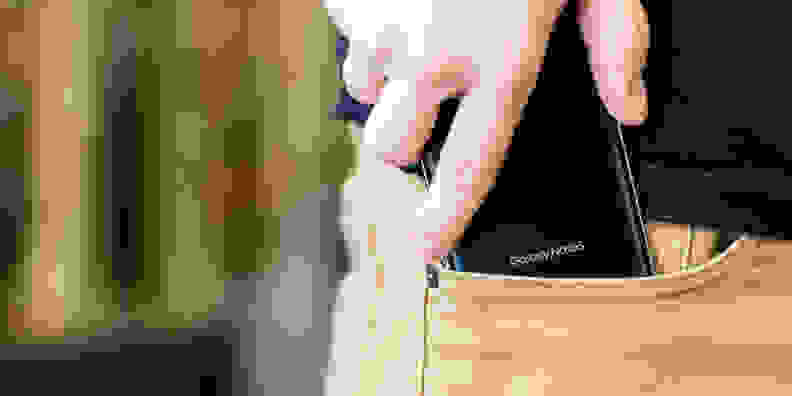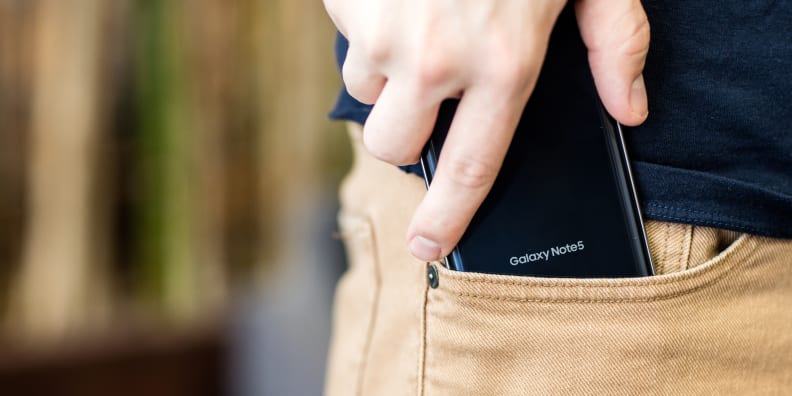 Like all previous Note models, the Note 5 has a capacitive stylus that fits right into the frame of the phone. Samsung has added a wonderful new design touch by making this spring-loaded, so a small push makes the stylus pop out to greet you (just like a ballpoint pen). Unfortunately the spring mechanism has proven controversial, as you can permanently damage the phone if you insert the stylus in backwards. So, don't do that.
The stylus feels great though, and it's useful for jotting quick notes, sketching out ideas, or just navigating around the phone. It doesn't feel as natural as writing with pen on paper, but if you're forgetful (like me), it's one of the most useful features to have in a phone.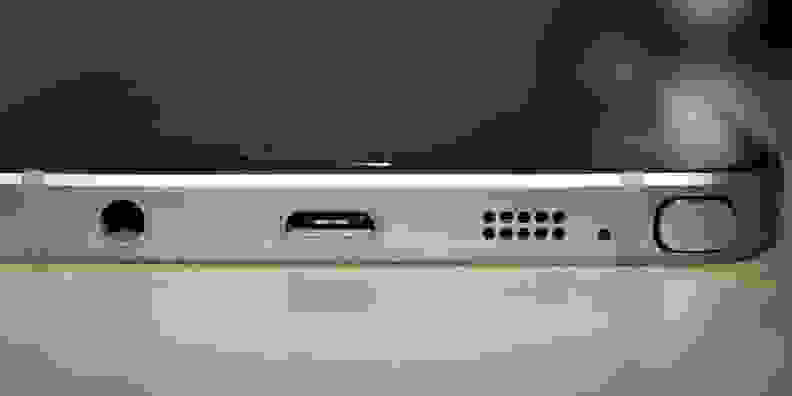 In general, I really enjoyed my time with the Note 5. I found the phone to be extremely functional, and the improved design has resulted in improved ergonomics. I've been a fan of previous Notes, so there's no surprise there. If you haven't enjoyed any of the previous versions, I don't think you'll find this one any easier to use. It's still gigantic, and for people with small hands it might just be too awkward. For Note lovers though, there's (almost) nothing to complain about—except for a few features that are missing in action.
Features
Samsung has spared no expense, and you won't either.
Though Samsung routinely upgrades all of its phones to keep them competitive with the top of the market, the Note series is always stuffed to the gills with features. This time around the list is still impressive, but there are some casualties to be aware of. Inside you'll find a blazing fast quad core 1.5GHz processor, 4GB of memory, cool extras like a fingerprint sensor on the home button, and compatibility with the upcoming Samsung Pay program.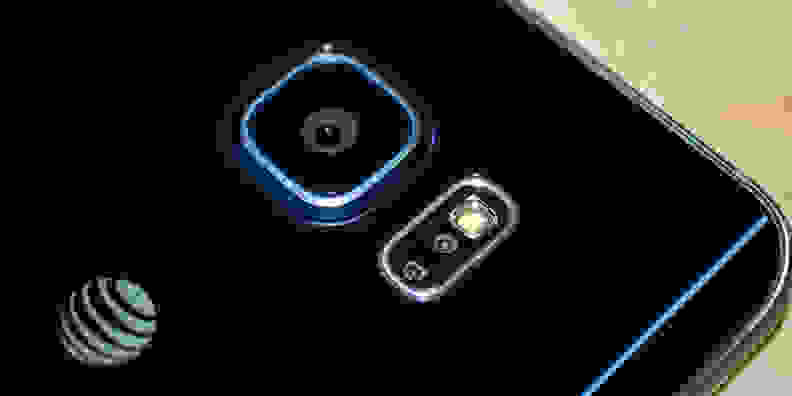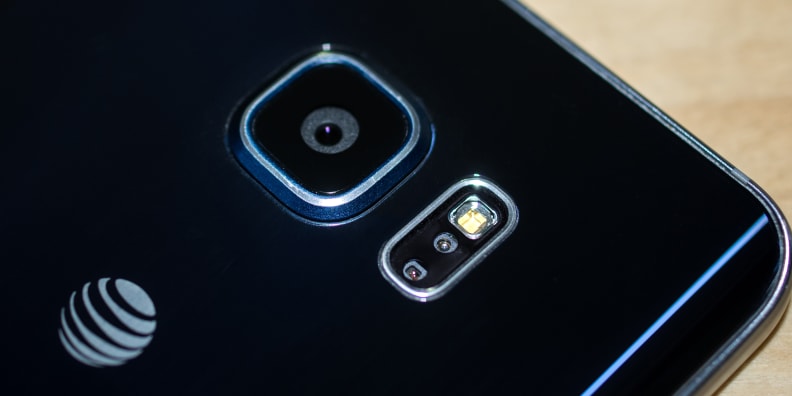 For imaging there's a 16-megapixel, 4K-compatible, 1/2.6-inch backside-illuminated CMOS sensor with an f/1.9 aperture lens. The camera is the same as the one we loved on the S6, and it also features optical image stabilization (though only at 1080/30p with video). It's complemented by a 5-megapixel front-facing camera for selfies and video calls.
The camera also supports live broadcasting through YouTube by default, thanks to Samsung's updated camera app that ships with Android 5.1.1. That update also unlocks support for RAW image capture on our T-Mobile international versions, though it may be different for AT&T and Verizon users. Either way, with 5.1.1 you should be able to use RAW with third-party apps like Camera FV-5, bringing the Note 5 on par with the (suspiciously) similar camera found in the LG G4.
Keeping the show rolling is a 3,000mAh battery that, while not the biggest on the market, supports fast wireless charging with the PMA and Qi standards. The battery is not removable, however, as the back of the phone is fused to the frame. There's also no expandable storage. Those are two crucial must-have items for many power users, and it's triggered a backlash against Samsung, as the features were clearly cut to service the phone's aesthetic ambitions.
The upgraded S-pen is of course the star of the show and it's what truly separates the Note 5 from other flagship-class phones with similar displays, processors, and image quality. Most of the functionality is identical to the Note 4, including the ability to write quick memos or access the Air Command menu. This lets you start a new memo, mark up a screenshot and send it off to a friend, or simply access any app that you designate as a shortcut.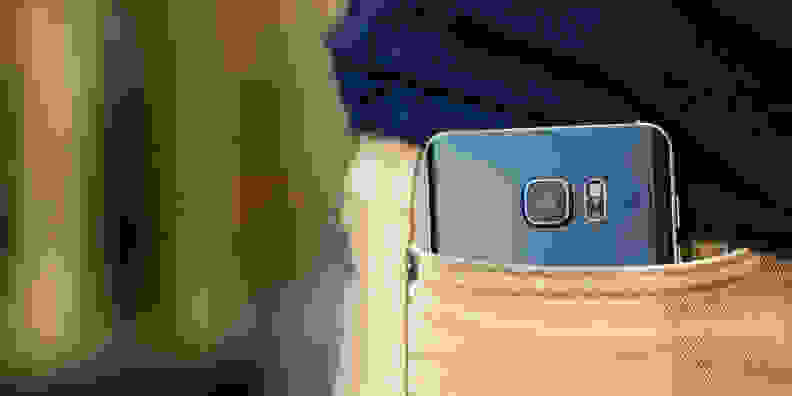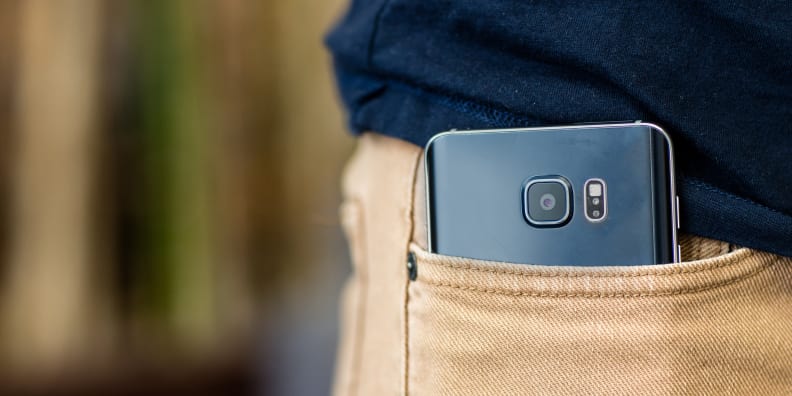 My favorite new feature is the "Screen Off Memo," though. This kicks in whenever you pop the stylus out while the screen is off, letting you write and save a note without having to actually unlock the display. Since it's an OLED screen, only the text and what you're writing actually shows up, saving your battery. It's a small thing, but it can save you a ton of time when all you want to do is write a phone number or address down—especially if you use a fingerprint to lock your phone.
Performance
Everything you expect from a flagship device
From a performance perspective, the Samsung Galaxy Note 5 almost can't be beat right now. The processor here is world class, jetting through most tasks with ease. There have been some rumors about aggressive task-killing that will limit how quickly you can flip between apps if you have too many open at once, but in general multi-tasking is as good as it is on any other phone.
The battery life, at least initially, seems perfectly adequate. It won't last you two full days, but you can easily get more than a full day—especially if you take advantage of Android's updated power-saving features. The lack of a removable battery will be a pain point for people who have grown accustomed to swapping between cells, but I generally find that the fast charging solutions (both wired and wireless) make up the difference. When you can easily get 5-6 hours of life after 30 minutes of charging, it's hard to complain.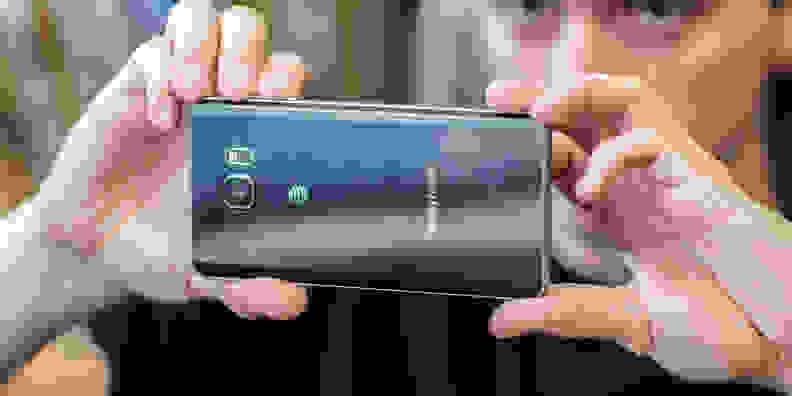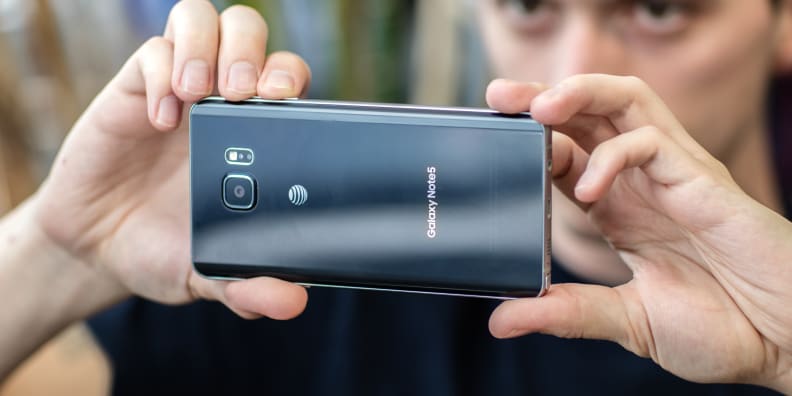 The screen itself is also very good, though we have seen better. It's a whopping 5.7 inches across, with 2560x1440 resolution, good for 518ppi. It has all the hallmark of a great smartphone display, though its profile changes depending on what mode you're in. In the default "adaptive" mode it clearly favors saturated colors and can get just bright enough that it's fully usable on a bright sunny day. If you need better color accuracy, either for watching movies or editing photos, then the "basic" mode is your best bet, though it's less pleasing to look at and not as bright.
The Note 5's 16-megapixel rear camera is easily the best we've seen in a Samsung phone to date. As we saw with the S6 Edge in our 2015 smartphone camera roundup, this sensor represents a confident step forward for the top of the market. It's the equal of the LG G4, and the addition of RAW support eliminates one of LG's chief advantages. We still prefer the manual control offered by the G4's camera app, but the image processing means you'll frequently get nicer-looking photos from the Note 5 if you're just grabbing snapshots.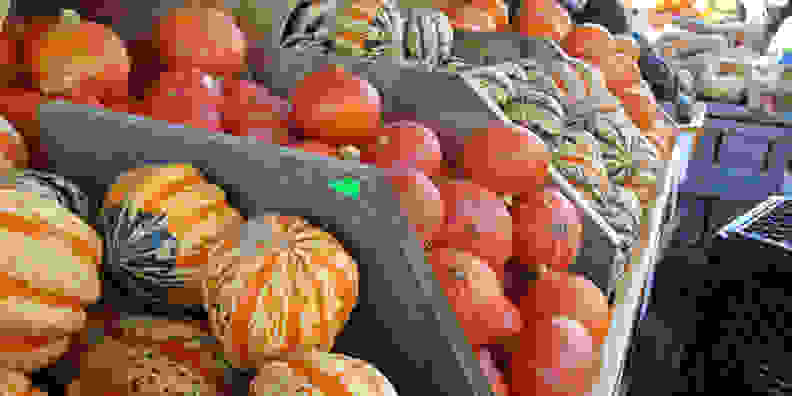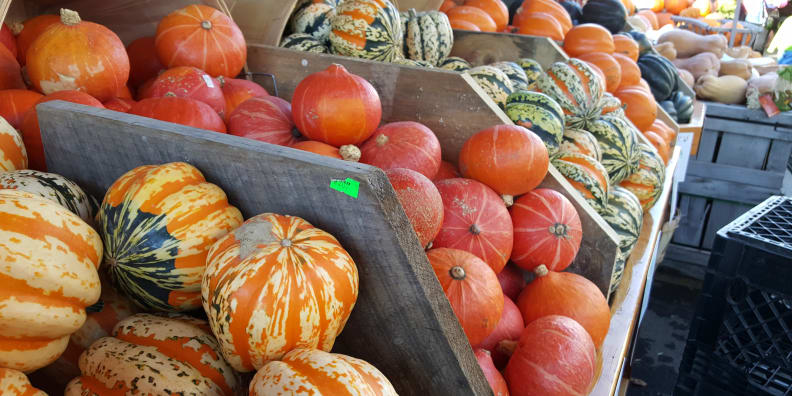 The Note 5 is particularly impressive in low light, where you can either capture a RAW file for careful editing later or rely on Samsung's better-than-average image processing. There are still some issues—Android doesn't handle RAW very well, the control could be better, and exposure and white balance are inconsistent—but this is currently one of the best cameras you can buy this side of the Panasonic CM1.
Conclusion
It has a few flaws, but the Note 5 is Samsung Mobile at its best.
Last year Samsung clearly suffered something of a crisis of confidence. While we liked both the Galaxy S5 and the Galaxy Note 4, they felt like uninspired sequels to more innovative products. Though the Note 4 showed some flashes of Samsung's future direction, this year's crop—from the S6 to the S6 Edge to the Note 5 and S6 Edge+—is something special.
Though the loss of removable battery and expandable storage is regrettable—especially given the Note 5's paltry internal storage options—it's a worthwhile trade-off given the aesthetic and design improvements. The end result is a Note that finally feels like the premium device that it has always been. This is the best that Samsung has to offer, and it's fantastic.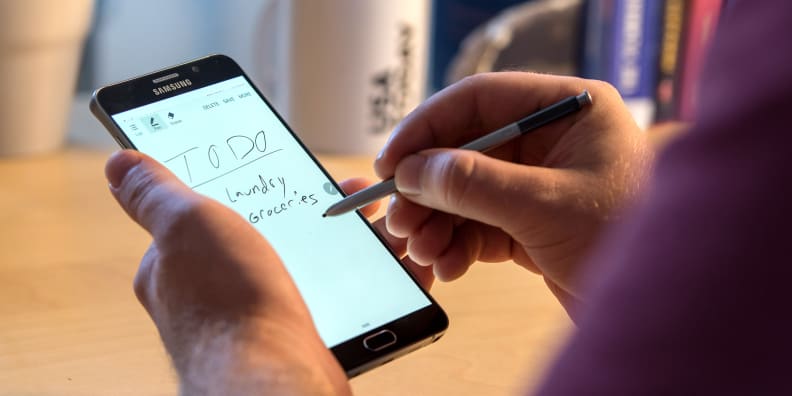 And design flaws aside, the two standout features of the Note 5—its large display and the S Pen—are better than ever. The screen is detailed, bright, and super large, but it's not so wide that the phone is impossible to hold one-handed. The S Pen once again feels great to use and features like the "Screen Off Memo" are such obviously great ideas that it's hard to believe they didn't exist already.
By focusing on the little things, Samsung's managed to make its biggest phone better than ever.
Still, we don't expect the Note 5 to appeal to a new, larger audience; if you found the Note 4 impossibly large, there's nothing here that'll change your mind. But that shouldn't diminish Samsung's accomplishments. The Note 5 is an expensive phone that lacks some must-have features for certain users, but for power users who push their phone to the limit this is one of the best devices money can buy.
Like the S6 and the S6 Edge, Samsung has clearly found its groove, exhibiting a confidence in its design that has been lacking over the last few years. None of the individual changes are that massive, but by focusing on the little things, Samsung's managed to make its biggest phone better than ever.
Meet the tester TJ Donegan
Executive Editor
@TJDonegan
TJ is the Executive Editor of Reviewed.com. He is a Massachusetts native and has covered electronics, cameras, TVs, smartphones, parenting, and more for Reviewed. He is from the self-styled "Cranberry Capitol of the World," which is, in fact, a real thing.
Checking our work.
Our team is here for one purpose: to help you buy the best stuff and love what you own. Our writers, editors, and lab technicians obsess over the products we cover to make sure you're confident and satisfied. Have a different opinion about something we recommend? Email us and we'll compare notes.
Shoot us an email