If any one company represents the "kitchen sink" mentality, it's definitely Samsung.
This year's Galaxy flagship, the Samsung Galaxy S5 (MSRP $699.99, around $80 with a two-year contract), isn't as revolutionary as past entries, focused instead on refining what is a (mostly) successful recipe. The S5 feels a lot like the S4 but adds a few new features and sews everything up in a wrapper that feels very familiar. Available from all the major US carriers, this phone represents a new high water mark for the Galaxy family.
It may not break the mold or be gussied up in fancy aluminum and glass, but it's still probably the most powerful phone we've tested to date. It's got features to satisfy users of all stripes and though it may feel almost exactly like the S4 in practice, it's the best Galaxy S yet.
Design & Usability
A nice phone, if a bit heavy on the plastics.
Though Samsung has already succeeded in invading the pockets of many American consumers, the company refuses to rest. With every new release, it continues to tweak its phones' design and operation. The Galaxy S5 is no exception, and while some of its design choices give it a legitimate edge over the competition, others hurt the user experience.
From the moment you lay eyes on the S5 you'll recognize it as a Galaxy phone, with its dimpled back and blingy chromed trim. Though at first glance it might look like it's made from a blend of metal and glass, few will be fooled; other than the display this sucker is all plastic. It's lightweight, at least—it's only a little bit heavier than the iPhone 5S despite the bigger screen—but it doesn't feel as substantial or premium as Apple's flagship or something like the HTC One (M8).
The back has a pleasingly textured surface, providing more grip than you'd get from a smoother finish. The entire back plate is also removable, which is a huge boon to road warriors who can swap the battery in and out as needed. And while the big 5.1-inch screen makes for a larger footprint, the phone's thinness lets it disappear into a pocket or purse just as easily as a smaller device.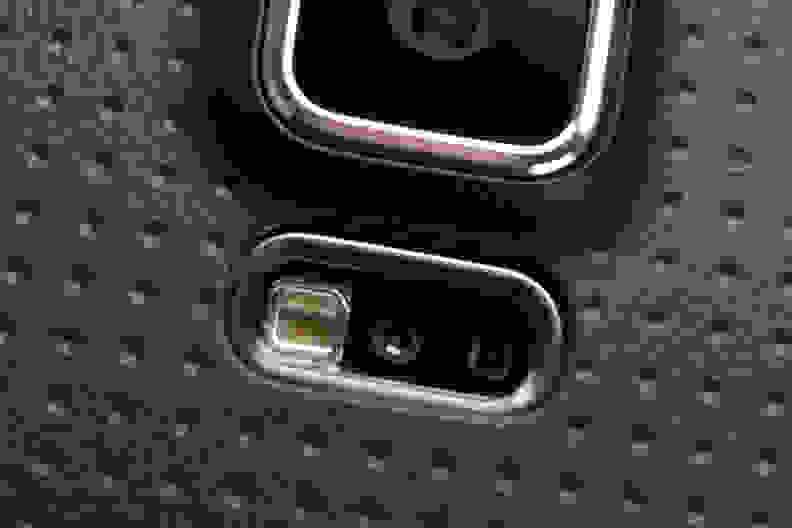 As expected, Samsung has stuck with a mixture of physical and capacitive touch buttons. Pretty much every other Android phone places the three main navigational keys right on the display, which we prefer. The back and multitasking keys are also flipped on the S5 compared to other major Android phones, so if you're converting that can take some getting used to.
Though not as large as Samsung's much larger Note-series phones, the S5 still offers plenty of screen real estate. It will feel a bit large if you're used to smaller phones like the iPhone 5S, but you get used to it after a week or two with the phone. If you've got smaller hands, however, you may find the home button and back keys are tough to reach with your thumb.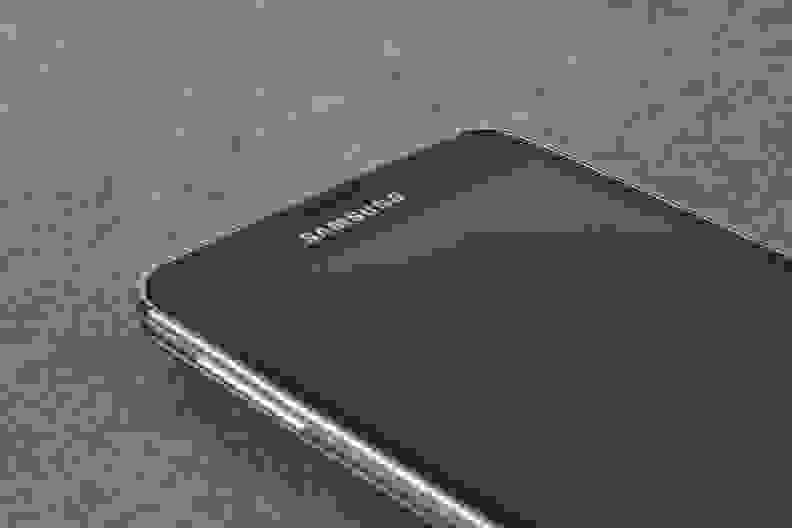 But if we're going to bash buttons, we should at least give credit where it's due. Whether it's a real difference or a mere placebo effect, the S5's physical home button feels more responsive than the on-screen equivalent on rival devices. As with the iPhone, the home button can also be used as a secondary power button, waking the phone from its slumber. Finally, it conceals one of the Galaxy S5's hot new features—a fingerprint scanner. (More on that later.)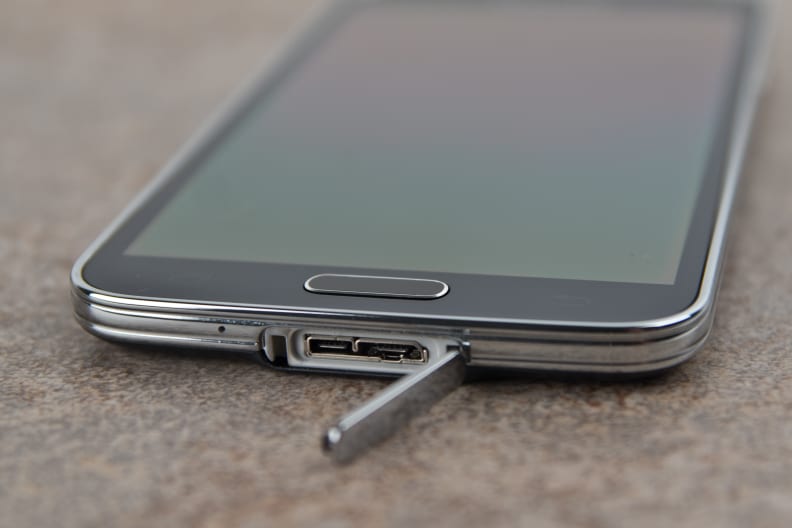 The S5 has another neat trick up its sleeve: an IP67 water- and dust-resistance rating. In addition to other seals throughout the body, the USB 3.0 port on the bottom edge is protected from the elements by a simple flap. Unfortunately, we found that the flap is hard to seat positively every time. Samsung's software does automatically remind you to make sure the cover is closed after you're done charging, but this flaw could nevertheless lead to a false sense of security.
Features
A universe of features, from the useful to the useless.
Without question, the Galaxy S5's biggest attraction is its bright, vivid 5.1-inch AMOLED display. We found that the screen had fairly low reflectivity, giving it solid visibility even in direct sunlight. The screen's full HD (1080p) resolution makes everything look tack-sharp, too. It combines for a pixel density of around 432ppi—less than the LG G3 but far beyond the "Retina" standard of 300ppi.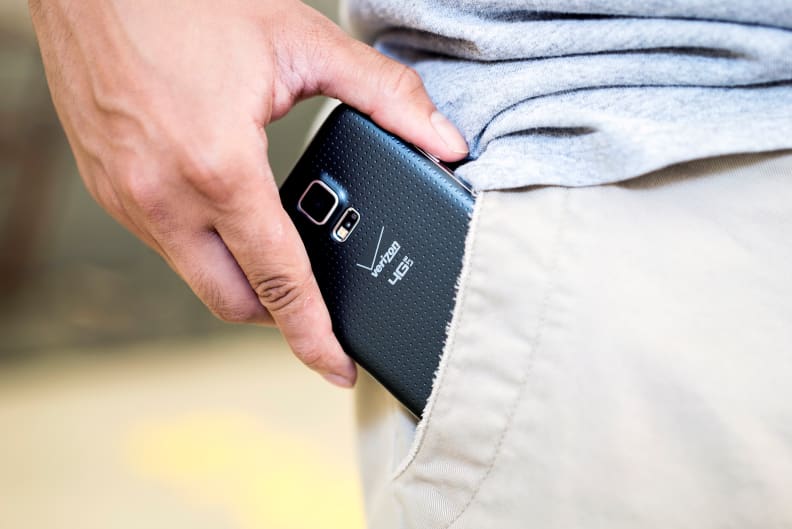 Five-inch devices are increasingly becoming the norm, with bigger phablets (like Samsung's own Galaxy Note 3 and the Sony Xperia Z Ultra) taking on the mantle of "big phones." We think this 5-inch size is the sweet spot for average users, offering plenty of real estate for ebooks and videos, yet small enough to slip into a pair of jeans without prompting "Is that a phone in your pocket, or...?" jokes.
Fingerprint scanning, this year's de rigueur feature, comes standard on the Galaxy S5. Samsung's software is easy enough to use—when it works, that is. The scanner can store three of your fingerprints, though accuracy is a huge issue and the sensor seems unusually fussy. In daily use, we saw more than our fair share of admonishing "Swipe the Entire Pad" and "Swipe Slower" messages. We were even locked out of our review phone a couple times, which is just embarrassing.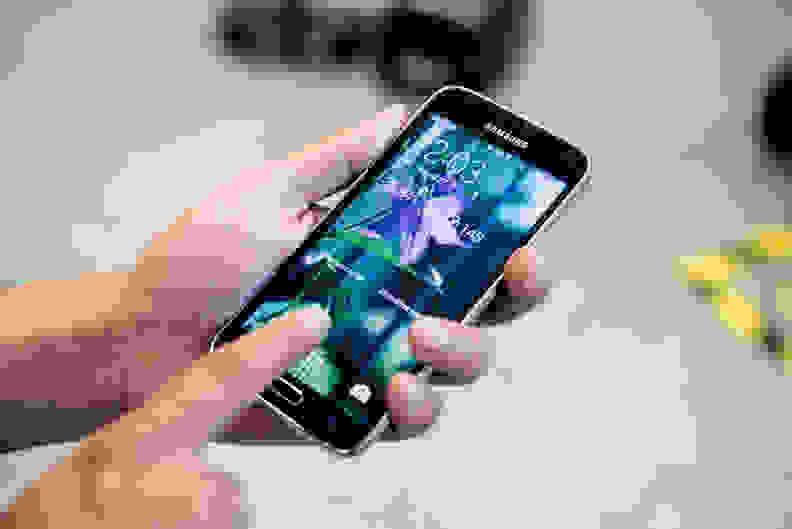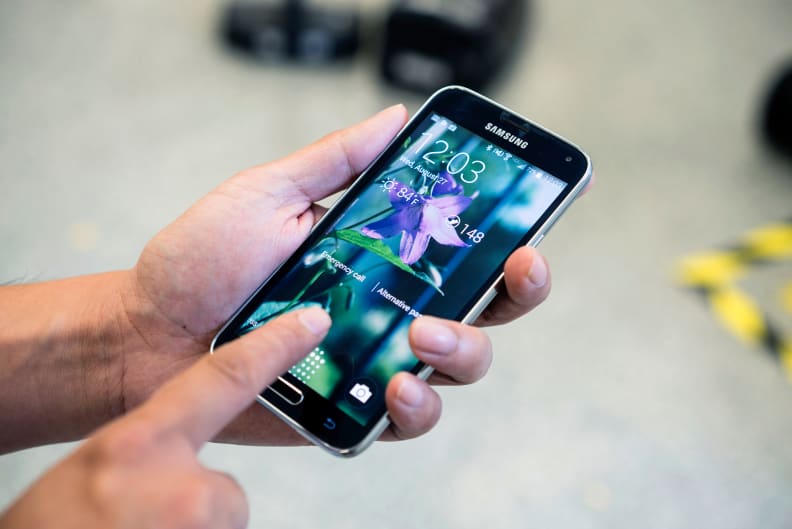 If security is a big issue for you, the iPhone 5S's fingerprint scanner gave us far fewer errors and a more pleasant user experience. If you decide to stick with the S5, unless you've got the patience of a saint you're probably better off with other password solutions. We're not really sure a fingerprint swipe will save you much time over a simple PIN in the long run, anyway.
With personal fitness tech taking off, Samsung has also integrated some unique health-tracking features under the S Health banner. Once we got the software completely up to date (a process that took longer than expected with our factory-fresh review unit), we were able to use the S5 as a heart rate monitor and pedometer.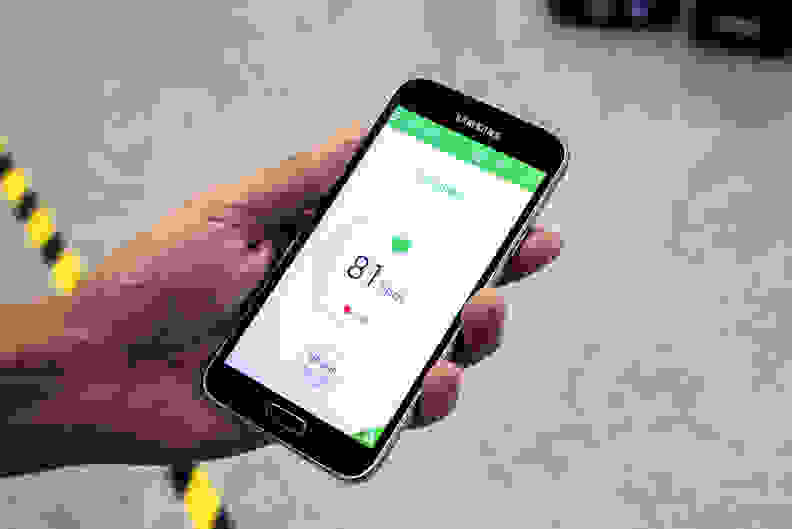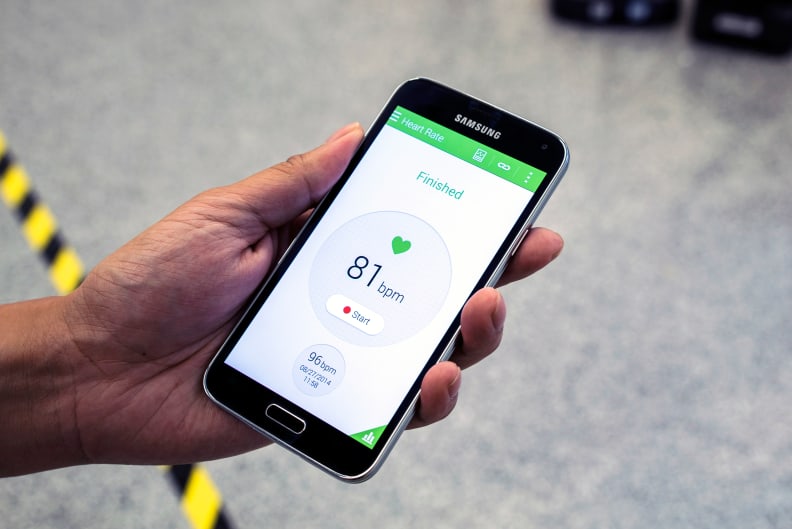 While it might not replace a more comprehensive solution like a FitBit or Jawbone Up, it feels decidedly futuristic to consolidate so much functionality into one pocketable device. Our only qualm? You have to remember to turn the pedometer on. Unlike your dedicated fitness tracker, there's a chance you might miss a walk or workout if you forget.
Even though the Galaxy S5 comes packed to the brim with an array of features, the Verizon version was still stuffed with bloatware. Nearly half of the device's already skimpy 16 GB of internal storage was already eaten up by preinstalled software that you can't delete. On top of that, Samsung and Verizon cloud services (both decidedly inferior to Google's own Drive app) repeatedly pester you to sign up.
Of course, you have the option of upgrading your storage capacity via a micro SD card, but it's still extremely frustrating to see a powerful device kneecapped with all this space-eating, potentially battery-draining clutter from the get-go. Luckily, the S5 has the hardware necessary to cope.
Performance
A shining example of what a flagship smartphone should be.
As the speediest mount in Samsung's vast Galaxy stable, the S5 is predestined to be one of the fastest phones on the market. While a device like the Motorola Moto G might offer a better price-to-performance ratio, the S5 is meant to be the crème de la crème, and its beefy hardware specs should keep it feeling zippy for a long time to come.
In our benchmark tests, the Galaxy S5 outscored the iPhone 5S and kept pace with the LG G3.
We certainly had no complaints with the powerful Qualcomm Snapdragon 801 processor's consistently quick performance, noting very few instances of noticeable lag in day-to-day operation. In our benchmark tests, it outscored the iPhone 5S and kept pace with LG's flagship G3 smartphone.
The vivid screen is also among the best we've seen on a phone. Even though it can look oversaturated, the OLED panel actually came close to hitting the newer Rec. 2020 color standard. While we'd be impressed if we saw this kind of a result from a meticulously calibrated high-end television, the fact that a smartphone is almost as accurate is astounding.
Since OLED screens can turn individual pixels completely off, the black levels we recorded in our lab are about as dark as you can get—and that means you get phenomenal contrast ratios. Of course, like other OLED panels we've seen the S5 doesn't get all that bright, either. In our lab it only hit 393 nits (cd/m2) of brightness, which is quite a bit dimmer than the iPhone 5S. Indoors you'll be fine, but on a bright day it isn't as visible despite the display's relatively low reflectivity.
Where the S5 really sets itself apart, however, is in battery life. Under heavy load via browser-based benchmarks the S5 was good for just under 5.5 hours of constant use, which was best in class and well above the iPhone 5S. In our video playback battery test it did even better, lasting over 7 hours. The only phone we've tested that had better battery life was the Moto G, which has a large battery, small screen, and a significantly weaker processor.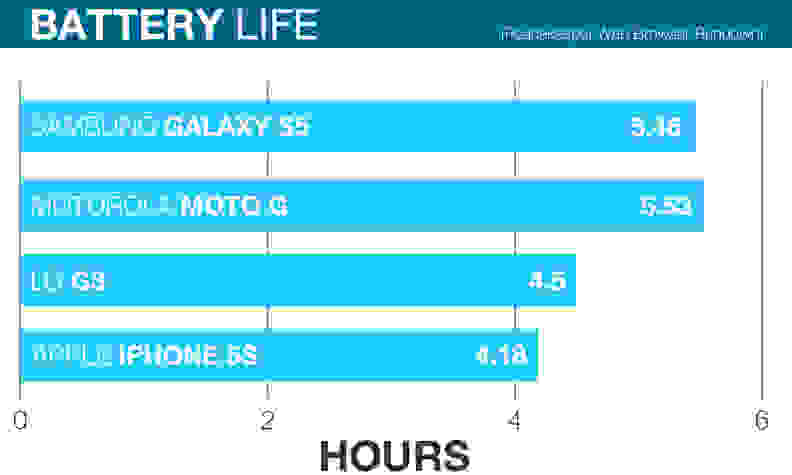 It's not as flashy as a powerful processor or super-contrasty screen, but one of our favorite features is how quickly the Galaxy S5 can charge: from 0% to almost 80% took around an hour. That's especially nice if you need a quick hit of extra battery life to make it through a busy day. When paired with the included micro USB 3.0 cable, the charger in the box puts out two amps—about twice as much as other bundled smartphone chargers. But if you're prone to misplacing your accessories, don't worry: You can still charge your phone with now-ubiquitous micro USB 2.0 cables.
Camera
Flagship-worthy, but there's plenty of room for improvement
While the LG G3 probably takes the cake for autofocus acquisition among current flagships, it has some very speedy competition in the form of the Galaxy S5. We were incredibly impressed with this phone's AF capabilities, which are aided by phase-detection pixels baked right into the 16-megapixel CMOS imaging sensor.
The advanced hardware is backed up by intelligent software, such as when the S5 handily refocuses the shot if you recompose. Shot-to-shot speed was also very quick, although the subtle animation when you press the shutter button can be hard to see in direct sunlight. As a result it's easy to wonder whether or not you've captured a photo, especially if you have the shutter sound turned off.
Beyond AF, the sensor packs some other interesting tech. Isocell, one of Samsung's newest camera technologies, isolates each sensor site on the chip, supposedly resulting in cleaner images thanks to decreased crosstalk between pixels. We can't say for certain that this isn't pure marketing mumbojumbo, but we can say that we were impressed with the shots we got out of this camera.
If we're going to kvetch about one thing, it's gotta be the lack of optical image stabilization.
In our labs, the Galaxy S5 nailed our white balance test. We recorded a color error of right around 2.8 (anything under 3 is excellent for a smartphone). White balance was also quite good, so you can rely on the phone to adjust quickly to changing light and avoid overly warm or cool color casts. It's a great example of a "set it and forget it" feature—most owners will likely keep the camera in auto mode anyway, so it's good to see that Samsung took the time to make sure they'll get decent results indoors and out.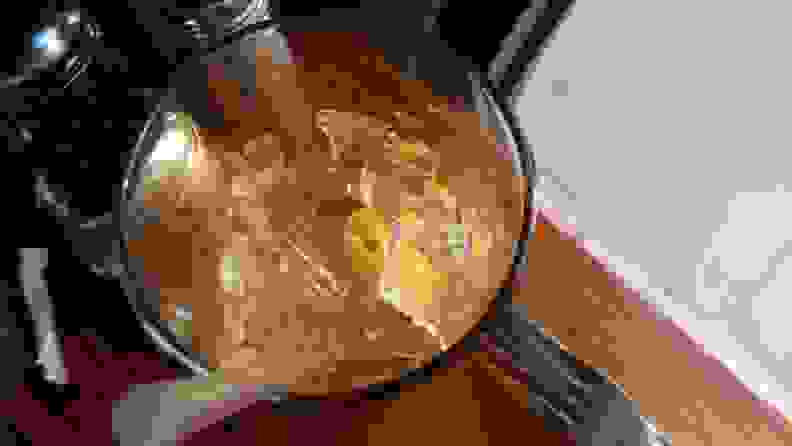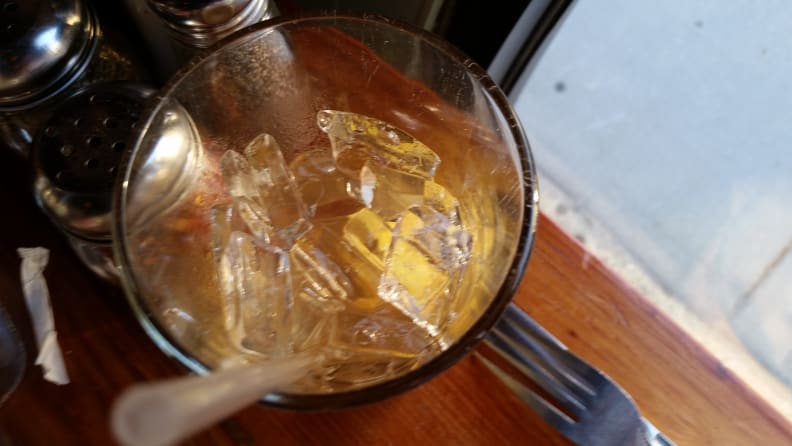 If we're going to kvetch about one thing, it's gotta be the lack of optical image stabilization. Samsung's solution is purely digital, and can lead to some image degradation. Flagships from other manufacturers—Nokia in particular—have had optical stabilization since 2012, and we're disappointed that more flagship phones don't offer it in 2014.
On the video side, Samsung's big addition for the S5 is 4K recording. While we appreciate the effort, in a device of this size it's little more than a novelty right now. Watching 4K footage on the phone means downsampling to 1080p, and getting 4K footage to a 4K monitor or TV (if you even have access to one) isn't exactly easy yet.
Conclusion
It's not the most exciting update, but the S5 is still top dog.
Whatever its flaws, Samsung continues to blaze its own trail, adding ever more features and raw horsepower to its flagship devices. Yes, the S5's plastic looks are beginning to feel very stale compared to the downright beautiful aluminum phones from HTC and Apple. But this is still a flagship phone that absolutely screams, offering fantastic all-around performance, great battery life, and a very nice (if a little dim) screen.
The S5 is like the imposing, steady patriarch of the Galaxy family. Its style is a little out of date, it's not as hip as it once was, but it's as dependable as ever.
The Galaxy S5 may not be a huge leap forward that some were hoping for. Instead the S5 is like the imposing, steady patriarch of the Galaxy family. Its style is a little out of date, it's not as hip as it once was, but it's as dependable as ever. We were certainly hoping for a little more adventurous of an update from Samsung, but that may have to wait another year. This is still one of the most powerful devices on the market and it should feel that way for quite some time.
That said, we're a little wary of recommending this device to absolute beginners. When purchased through a carrier like Verizon—such as with our review unit—it comes with an awful lot of junk pre-installed. In our mind, your first smartphone should feel like a blank canvas. To that end an Apple device like the iPhone 5C or 5S is a better, cleaner way to get started with a high-quality smartphone. And if you're in search of a more exciting physical design, Android veterans could find more to love in HTC's One M8 or even the LG G3, where the customizations are fewer, create less of a drain on the hardware, and add nearly as much utility.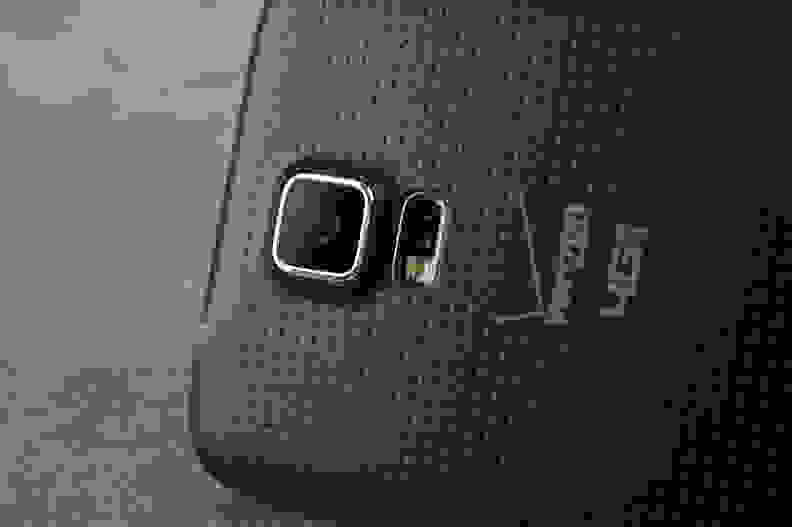 But all gripes aside, the Galaxy S5 is still probably the best all-around flagship Android phone on the market. If you need a powerful phone that can handle whatever task you throw at it, the S5 can do that. Need all-day battery life that you can rely on even through taxing tasks? Done. And if you want fun little extra features like health tracking, security, or a terrific camera... Well, the S5 has you covered there, too.
All in all, the S5 isn't perfect, but it offers top-tier performance in nearly every category. If you've got an aging Galaxy and an upgrade burning a hole in your pocket, the S5 is certainly worth the money. We hope Samsung steps out of the (dimpled, plastic) box that it's built for itself next time around, but this is still a Galaxy worth exploring.
Meet the tester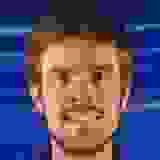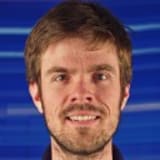 Brendan Nystedt
Contributor
@bnystedt
Brendan is originally from California. Prior to writing for Reviewed.com, he graduated from UC Santa Cruz and did IT support and wrote for a technology blog in the mythical Silicon Valley. Brendan enjoys history, Marx Brothers films, Vietnamese food, cars, and laughing loudly.
Checking our work.
Our team is here for one purpose: to help you buy the best stuff and love what you own. Our writers, editors, and lab technicians obsess over the products we cover to make sure you're confident and satisfied. Have a different opinion about something we recommend? Email us and we'll compare notes.
Shoot us an email