When you're quite literally knee-deep in tech, it's easy to forget that the vast majority of consumers are not. Let's face it: Keeping up with an ever-changing marketplace like that of the modern mobile phone is a tall order. There are bills to pay and chores to do and fantasy teams that need tinkering, after all.
Perhaps this is you. Perhaps you learn of the ZTE Grand X Max+ (MSRP $ 219.99)—with its cheap price, its huge screen, and its month-to-month wireless plans with Cricket—and get excited. Why wouldn't you? This thing's gigantic, affordable, and almost commitment-free.
I wish that were the end of the story, but it's a bit more complicated than that. How much those complications mean to you is ultimately dependent upon your personal needs, but I'd be remiss if we didn't at least examine them.
Big phones—like Google's Nexus 6 and the iPhone 6 Plus—are becoming increasingly popular as the line between "phone" and "tablet" continues to dissolve.
It was only a matter of time, then, before affordable "phablets" started sprouting up. But despite its remarkably long-lasting battery, the Grand X Max+ suffers from precisely the type of hardware issues one would expect from a 6-inch, $200 smartphone. Its processor and camera don't nearly make the grade, and its size and build combine for an inherently unwieldy package.
Design & Feel
Good one, butterfingers.
The back of the Grand X Max+ is outfitted with a glossy, reflective plastic that can best be described as "slippery." Not only can the phone be tricky to hold onto, but it'll often slide around if the surface it's resting on isn't level. Sometimes it seems to drift of its own accord, like an air hockey puck gliding along the surface of its table.
The Max+ is a huge phone. In fact, it is the phone's 6-inch body—not the slippery, frictionless material—that's primarily responsible for its cumbersome nature. Fans of mammoth smartphones will likely feel right at home with a device this big, but if you've been hanging out with a more modest, smaller-statured phone for a while, the transition will be a jarring one. On the smartphone-to-tablet scale, the Max+ feels closer to a tablet.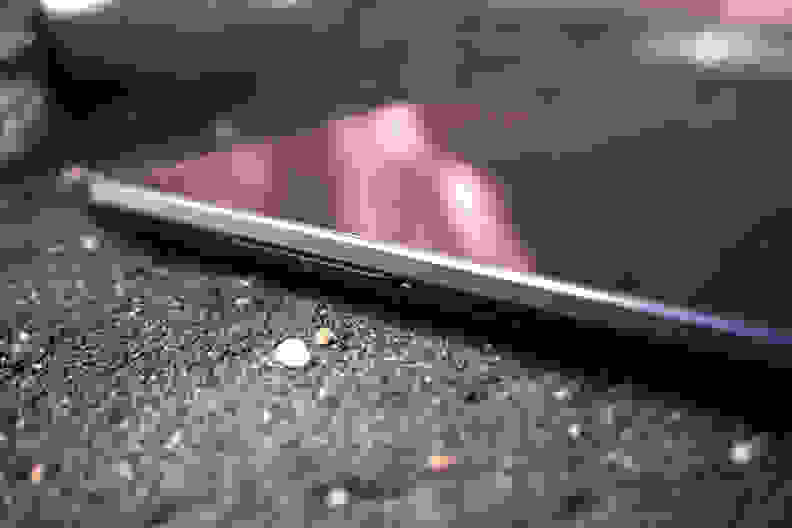 The phone's physical buttons consist of a volume rocker on the left side of the body and an awkwardly-placed power button on the middle of the right-hand side. It's a matter of preference, but I've never warmed up to power buttons that are positioned this far down the side of a phone.
The top of the device houses its 3.5mm headphone jack, and straddling the power button on the right side are the phone's SIM card slot and a microSDHC slot, which supports up to 32GB of expandable storage.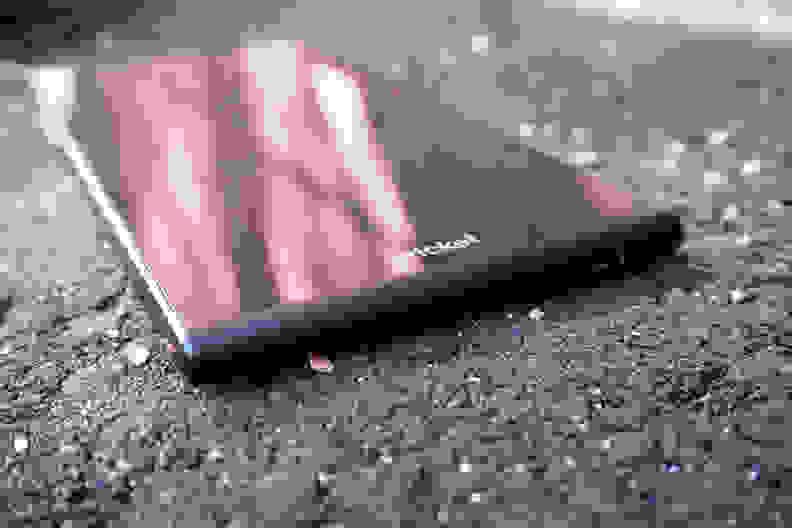 Overall, I'm just not impressed with the ergonomics of the Grand X Max+. Even after several days, I never got used to using it in a way that made me feel as though I was in control. One of the defining characteristics of a stellar phone is this sense of control and the feeling of comfort that control provides. The Grand X Max+ never gives you that sense of comfort.
Ideally, navigation between a phone's touchscreen and its physical buttons becomes a seamless exercise, with the ease of palm-to-pocket transference also playing a role in how natural the experience ends up feeling.
With the Max+, there seems to be no way for that fluidity to develop over time; the phone feels just as clunky today as it did when I first picked it up several weeks ago.
Performance
It keeps going and going and going... But not very well.
Let's start with the good news: The Grand X Max+ is packing one of the best batteries we've ever come across in our labs.
This thing is a monster. Our usage test clocked the battery at a whopping 6.6 hours of active, intense use, which is right around the highest result we've ever clocked. For comparison, the iPhone 6 clocked in at just 3.4 hours.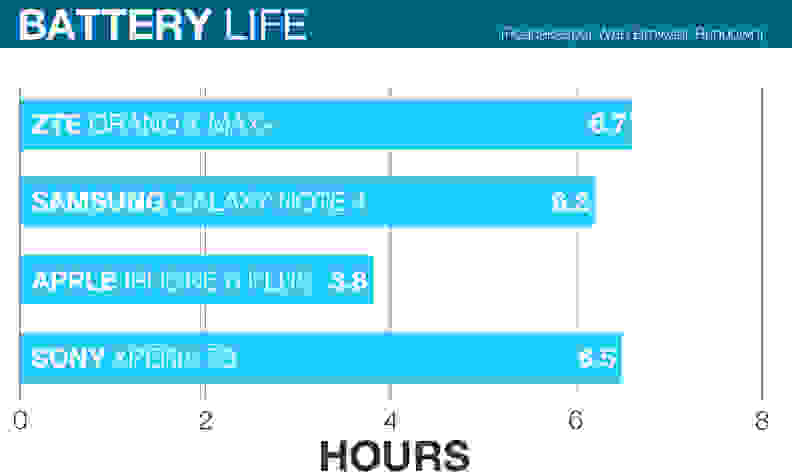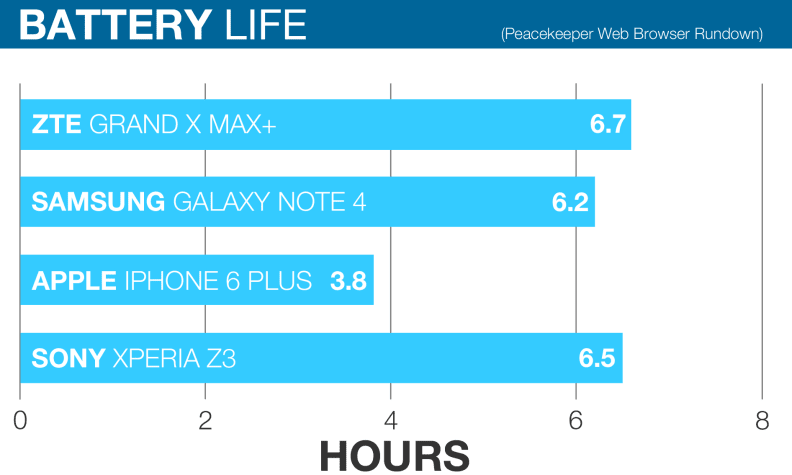 Here's the bad news: The reason the Max+ is able to squeeze so much life out of its 3200 mAh Lithium Ion battery is because its wimpy 1.2 GHz quad-core processor is markedly underpowered. Video playback, gaming, and general multitasking are all overly sluggish when even slightly pushed.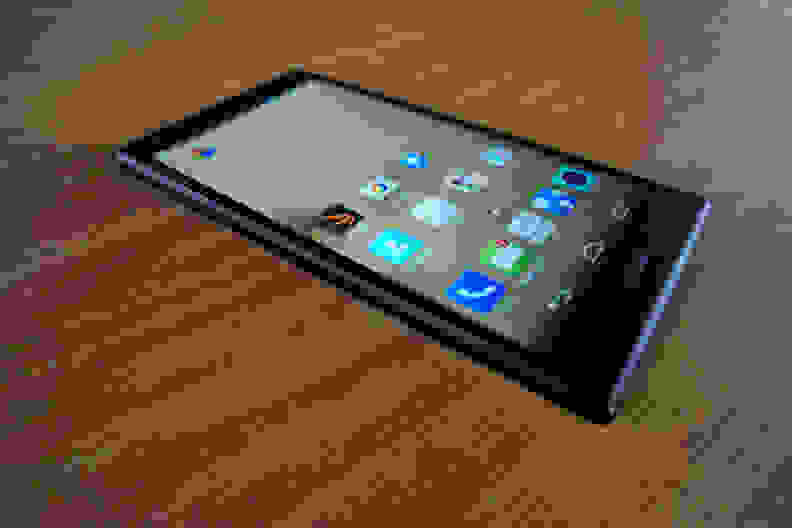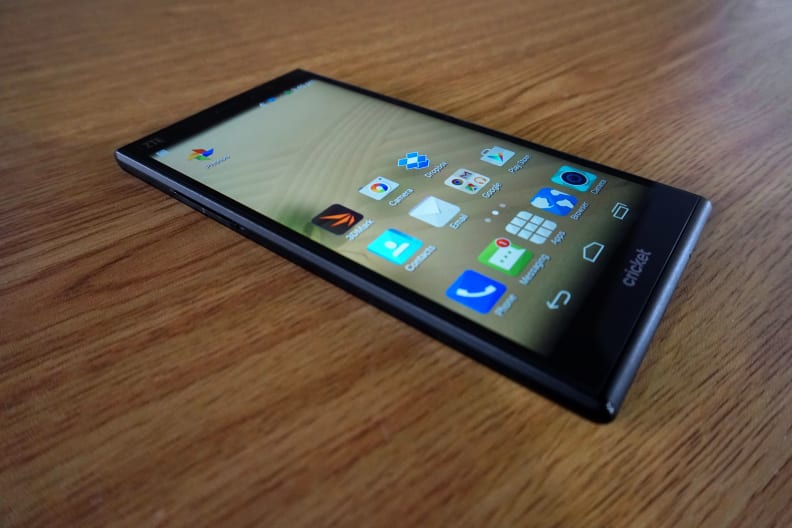 And although the Grand X Max+ provides a whopping 6-inch screen, it's a modest 720p display. No, content doesn't look nearly as pretty here as it would on a Full HD display, but for a $200 smartphone, you could do a lot worse. The Max+'s screen gets bright enough—543 cd/m2 to be precise—so it's good for outdoor use, which makes up for its low resolution.
In Use
...In which the price of this smartphone begins to make sense.
The Grand X Max+ is equipped with Android 4.4—or KitKat—which isn't the newest iteration of Android OS. Given the hardware limitations, however, you're probably better off.
My day-to-day experiences with the Max+ were often frustrating, and at best, manageable. Between the phone's unwieldy design and its rickety processor, it always feels as though you're using it with one hand tied behind your back.
Simple tasks—swiping through home screens, scrolling through menus, opening apps—are carried out with the kind of jittery performance of much older smartphones. Slightly more complex tasks, like jumping from app-to-app and general multitasking, are an exercise in patience.
The sheer size of the phone doesn't help, either. Because most tasks on the Max+ operate on a slight delay, you often don't realize that you've accidentally selected the wrong thing before your thumbs are already on their way across the screen to prepare for your next move.
The problem doesn't lay with KitKat–an operating system that I've come to appreciate immensely. Instead, the lousy experience can be attributed almost exclusively to the clumsy size and crummy hardware of the Max+. The experience is a laboring one; most of the time it feels like the phone is working against you.
Camera
Yikes.
I'll be blunt: If a decent camera is something you're after, you'll want to pass on the Max+. Like most affordable smartphones, the camera was merely an afterthought.
What makes it so poor? Well, in addition to underperforming in every-day, bright light conditions, our tests revealed unforgivably poor low light performance.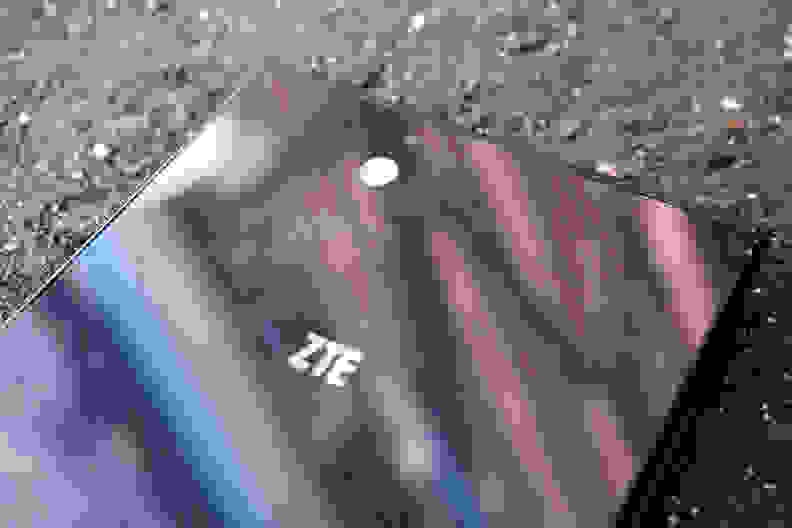 In dim lighting, the 13-megapixel camera not only crushes finer details, but creates an abundance of artifacts thanks to its overly-aggressive noise reduction software. It appears as though, in an effort to eliminate noise, the camera inadvertently creates mosaics of color that otherwise shouldn't exist. This is demonstrated in the low light crop above, which features an otherwise solid gray circle teeming with color error.
As far as your shooting options go, don't hold your breath for very much customization. ZTE hasn't blessed the Grand X Max+ with the excellent camera app featured on the Nubia 5S, defaulting to Google's simplistic app. In fact, the only wiggle room Google Camera offers is exposure compensation. The Max+'s front-facing camera is a meager 5 MP, which is also something to consider if you do your fair share of selfie-taking.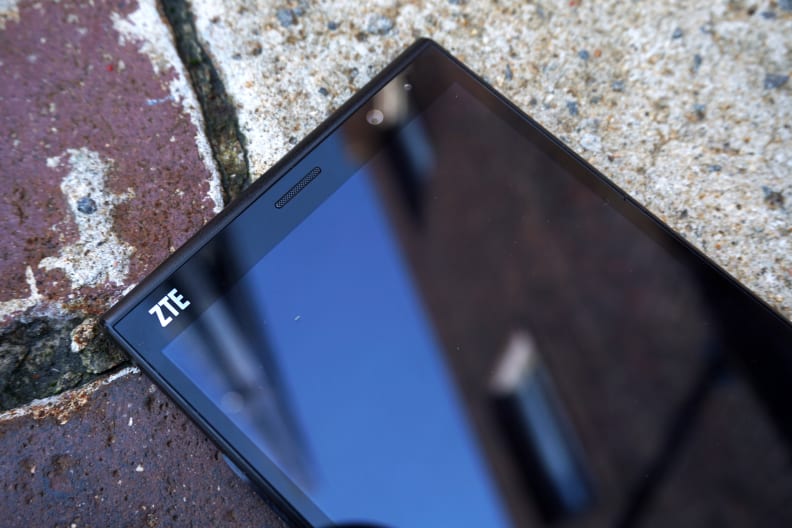 Still photography isn't the only problem area for this ZTE's camera, either. Video playback reveals a host of additional issues that will undoubtedly sour your experience, most notably is the camera's inability to render smooth, judder-free motion. It'll be fine in a pinch, but important life events deserve better.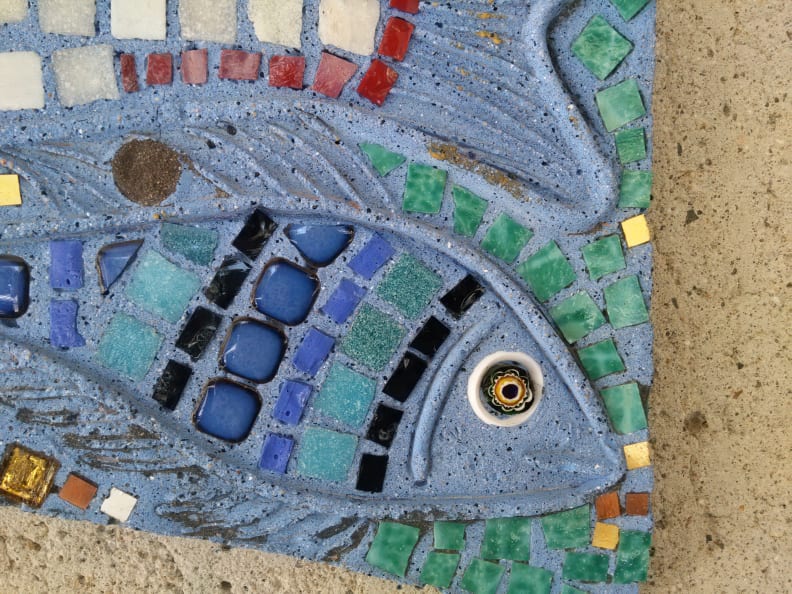 ×
ZTE Grand X Max+ Sample Photos
There's also a significant amount of frequency interference present in our test footage—an issue that particularly affects rapid-moving, detailed patterns. Things like brick walls are especially prone to issues, compounding the motion problem.
Our video sharpness tests, on the other hand, resulted in respectable thresholds for distortion in both horizontal and vertical demonstrations.
That said, although it's nice to have a silver lining, acing the sharpness test doesn't count for much if you fail the rest of your classes.
The Verdict
With a 6-inch screen and a $200 price tag, the ZTE Grand X Max+ is tempting.
There's no shortage of people looking for affordable phones, and large screens are more popular than ever. As a reviewer, even I'm tempted to look the other way when it comes to the phone's shortcomings. Heck, I want to appreciate the Max+—despite all of its software and design foibles.
After all, it is a huge device; the very fact that a 6-inch smartphone exists for this price is absurd. Its battery is an absolute beast, too, able to go longer than a day with ease. But what's the point of a long-lasting battery if the rest of the phone leaves you wanting?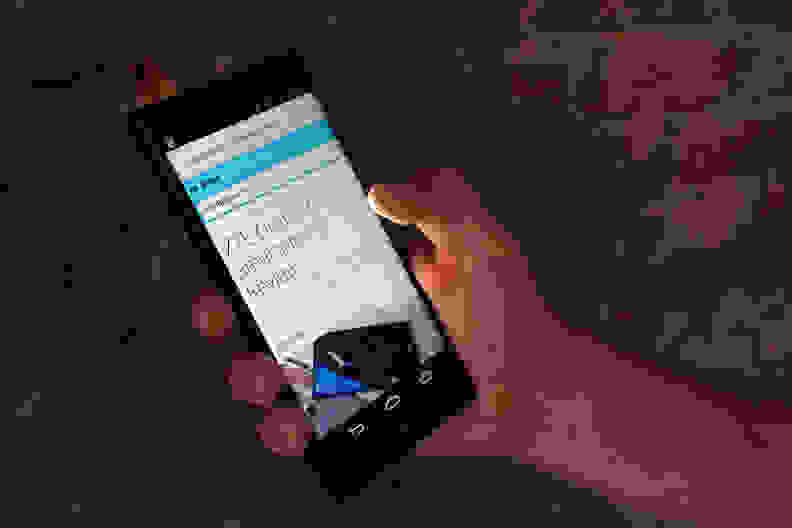 Sure, there are plenty of people out there who think, "All I need is the Internet, Facebook, and Instagram—to Hell with the bells and whistles!" We hear you. But how many of those people also want a giant, 6-inch phone? And how many more are willing to put up with a sluggish processor and a half-baked camera to get it?
Budget realities being what they are, the Grand X Max+ will certainly appeal to some. But we can't help but see its large size as simply a way to stand out amongst a crowd of low-cost phones. That's not a terrible thing, but you'll be passing over better phones—like Motorola's excellent Moto G—just to have a bigger screen.
Ultimately, the Grand X Max+ is not a long-term smartphone solution; it is a short-term compromise.
Ultimately, the Grand X Max+ is not a long-term smartphone solution; it is a short-term compromise, and only fit for someone who wants a big screen, a long-lasting battery, and doesn't care about the camera.
If that sounds like you, the Max+ might be a proper suitor. The relationship is destined to be complicated and short-lived, but at least you won't have paid a lot for the pleasure.
Meet the tester
Michael Desjardin
Senior Staff Writer
@Reviewed
Michael Desjardin graduated from Emerson College after having studied media production and screenwriting. He specializes in tech for Reviewed, but also loves film criticism, weird ambient music, cooking, and food in general.
Checking our work.
Our team is here for one purpose: to help you buy the best stuff and love what you own. Our writers, editors, and lab technicians obsess over the products we cover to make sure you're confident and satisfied. Have a different opinion about something we recommend? Email us and we'll compare notes.
Shoot us an email