Smartphones
13 apps that will help you relax—even when you're stressed out
Guaranteed to inspire instant chill, no matter how frazzled you are.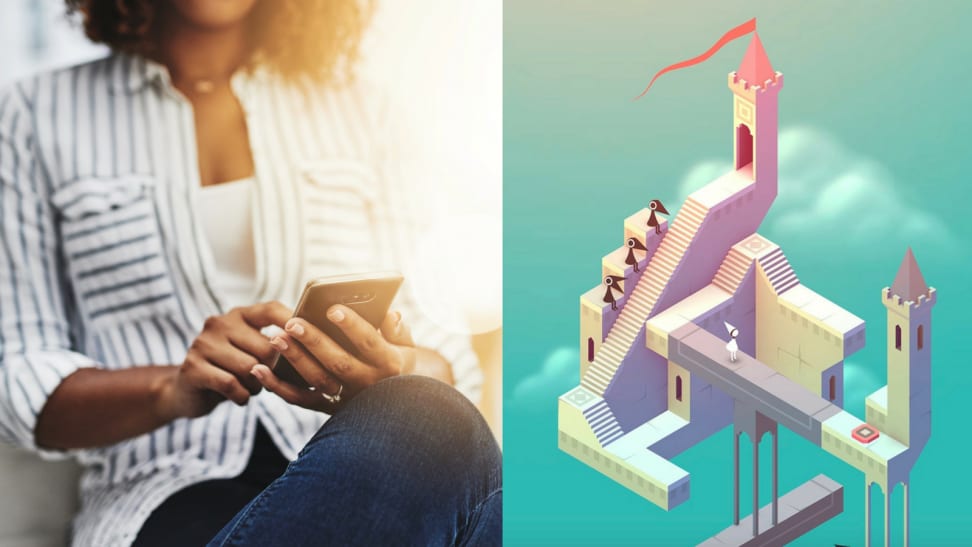 Credit: Getty Images / ustwo Games
In the olden days, when our forefathers would get stressed out, they would have to rely on relaxation methods like going for a walk or staring into space. While these are perfectly fine techniques to combat stress, today we have a few more tools at our disposal. Enter: the world of apps.
There are myriad apps that can alleviate even the worst moods, and they're literally at your fingertips. Whether you have an Apple or Android device, you can choose from several options that suit most every need—practicing beginner meditation, tracking healthy habits, and playing games that can magically ease anxiety. Some will help you make impactful life changes, while others transport you to your childhood days, when "adulting" was a word that never entered your vocabulary.
These 13 apps are top-rated and widely praised by their users. So, no matter what kind of day you're having, you can open one up and kiss stress goodbye.
1. Enjoy guided meditation and calming nature sounds
If you want to add some stress-relieving tricks to your repertoire, look no further than this Amazon Best Seller. Calm shares helpful techniques with its users through 7- to 21-day meditation challenges, body scans, nature sounds, and "Sleep Stories" (fictional stories that lull users into dreamland).
Works with: Android and iOS
Price: Free to try ($9.99+ for full access subscriptions)
Get Calm for Android
Get Calm for iOS
2. A game that's equal parts stunning and stress-busting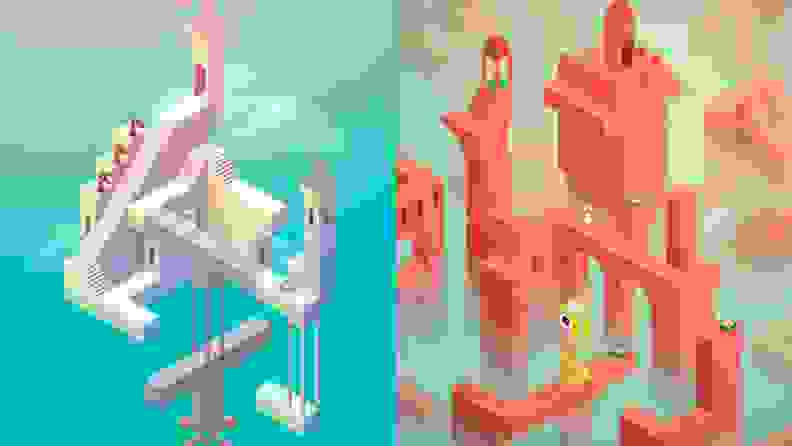 Feeling the need to zone out? Play a game of Monument Valley and watch those cares fly away. Guide a diminutive princess through mazes, buildings, and optical illusions that are exquisitely designed. Play the classic version or the latest edition, Monument Valley 2.
Works with: Android and iOS
Price: Free for Android / $3.99 for iOS
Get Monument Valley for Android
Get Monument Valley for iOS $3.99
3. Remind yourself what you're grateful for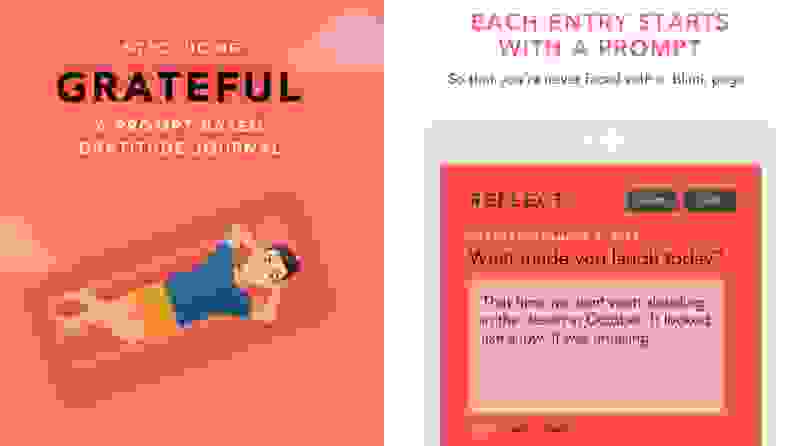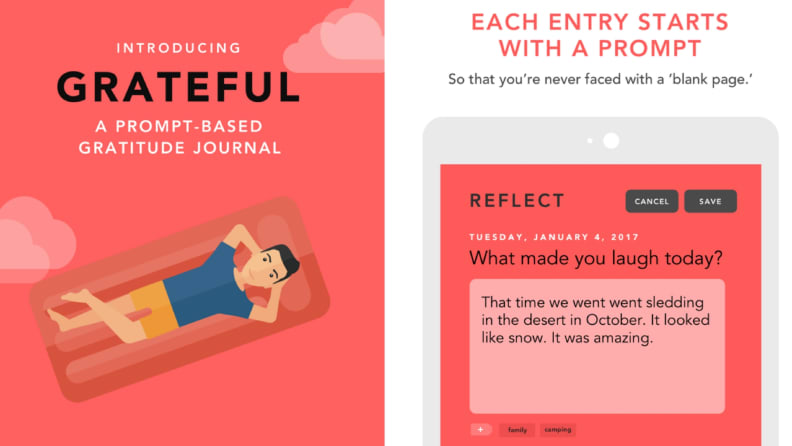 When life is less than awesome, it can be beneficial to think about the things you're thankful for—and write them down. This sweet and simple digital gratitude journal has daily prompts and shows you a timeline of past entries. Cue the warm fuzzies.
Works with: iOS only
Price: Free
Get Grateful: A Gratitude Journal for iOS on iTunes
4. Inspire a peaceful state of mind through coloring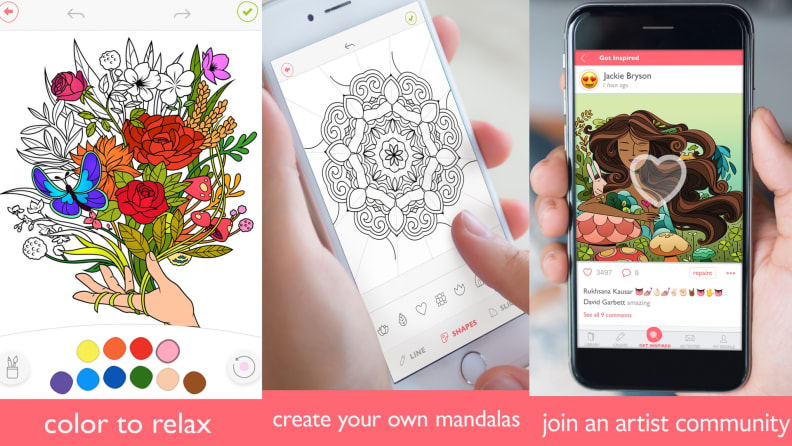 There are a lot of coloring apps out there, but the most popular one is without a doubt Colorfy. There's something particularly slick about this app, offering thousands of therapeutic "coloring book" pages with a variety of colors to choose from. You can even add filters or create your own mandalas.
Works with: Android and iOS
Price: Free
Get Colorfy for Android
Get Colorfy for iOS
5. Stay hydrated and energized for the sake of your plants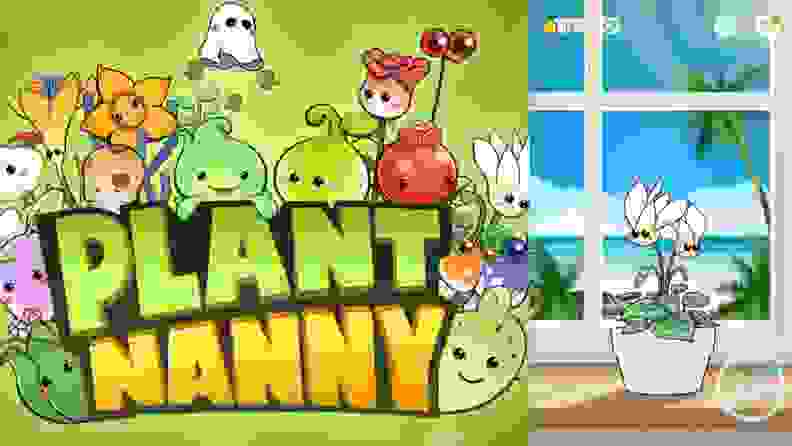 When we deny our bodies their basic needs—food, sleep, or water—we tend to feel pretty stressed out. Even on your busiest days, remind yourself to drink water with Plant Nanny, a game meets habit tracker in which you'll keep a delightful, cartoon plant alive by entering in how much water you're drinking. That's one less thing to worry about, and you can say, "Awww!" while doing it.
Works with: iOS and Android
Price: Free
Get Plant Nanny for Android
Get Plant Nanny for iOS
6. Take charge of your mental health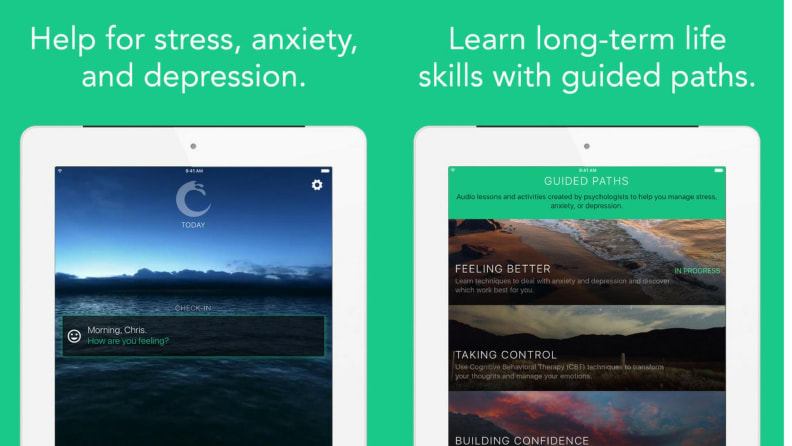 Sometimes, stress is an indicator that there's something deeper going on. If you deal with depression and anxiety on top of daily stress, turn to Pacifica, an app that shares Cognitive Behavioral techniques like mindfulness meditation, mood tracking, deep breathing exercises, and more. Although this app doesn't replace a therapist, it's a great tool to have in your pocket on those especially tough days.
Works with: iOS only
Price: Free to try ($3.99+ for full access)
Get Pacifica for Stress & Anxiety
7. Nurture a digital tree for the zen effects of gardening
Even if you don't have a green thumb, you can harness the stress-alleviating benefits of gardening through Prune. With its minimalist graphics, this app encourages you to help a tree flourish through pruning, much like caring for a Bonsai tree, while serene music plays in the background.
Works with: Android and iOS
Price: $3.99
Get Prune for Android
Get Prune for iOS
8. Customize your meditation to your needs
If you've tried and failed to keep a mediation practice, you might need to tweak your approach until it fits your personality. Insight Timer is a way to do just that. With 8,000 guided meditations to pick from, discussion groups, and a self-directed timer set to the tune of bowls, chimes, or gongs, you're sure to discover something that works for you.
Works with: iOS only
Price: Free
Get Insight Timer on iTunes
9. Do yoga anytime, anywhere you need it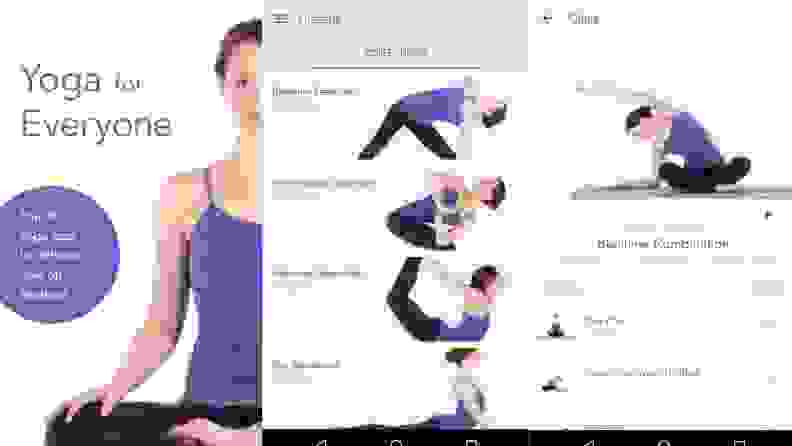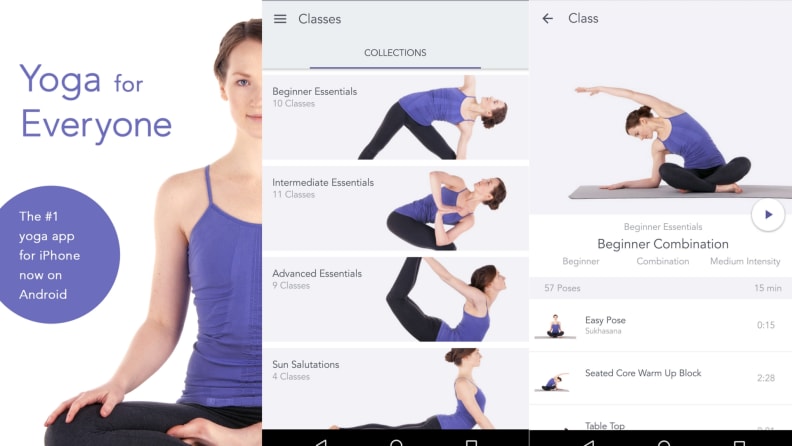 Yoga can really relieve stress, but you might not have the time (or budget) to attend a class. Gaiam, a company that makes a variety of yoga-related products, has created one more—the Yoga Studio app—for those who wish to do yoga when it fits their schedules. Readied with 65 HD-quality classes taught by the likes of Rodney Yee and other respected teachers, you can choose your desired length and skill level to customize a workout that eases nerves.
Works with: Android and iOS
Price: $3.99 on Android, free on iOS ($1.99+ for full access)
Get Yoga Studio for Android on Amazon
Get Yoga Studio for iOS
10. Raise your own koi fish into something magical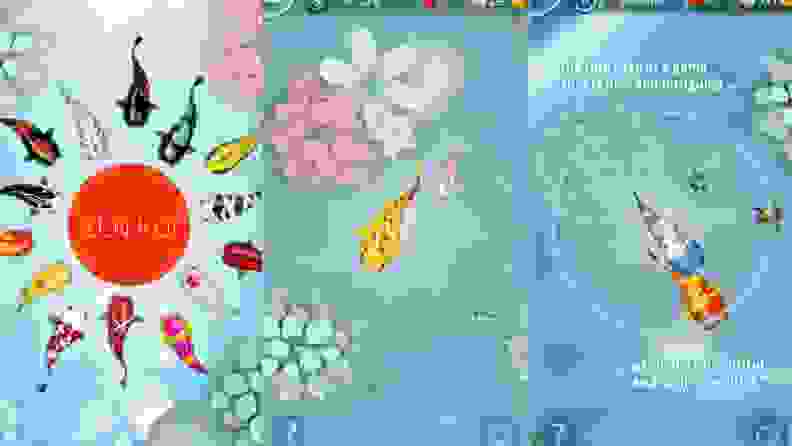 If you don't have a goldfish to watch, try the Zen Koi app instead. Set to tranquil music, this app lets you grow, breed, and feed your koi fish to level them up until they become dragons. It's a hypnotic experience that melts stress away.
Works with: Android only
Price: Free
Get Zen Koi for Android
Get Zen Koi for iOS
11. Keep track of daily habits so you can be your best self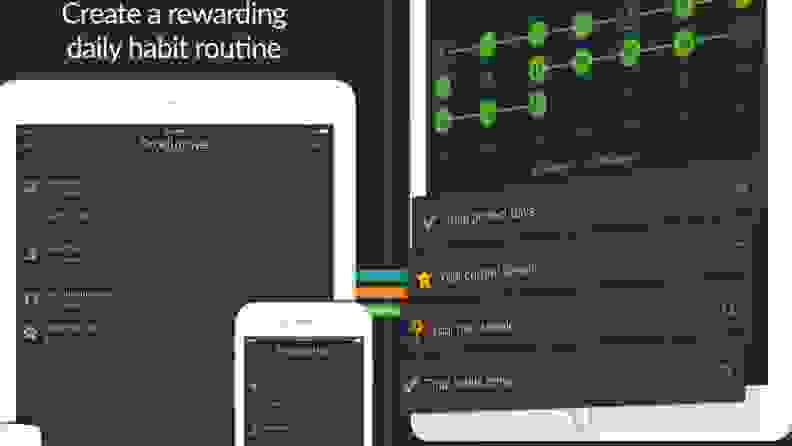 Healthy habits can keep stress at bay, but in our jam-packed schedules, it can be challenging to make time for self-care. That's where Productive comes in. Set healthy habits you'd like to start accomplishing every day, and as you do them, cross them off. It's incredibly gratifying, and it can put you on the path to a calmer, healthier you.
Works with: iOS only
Price: Free
Get Productive on iTunes
12. Create your own colorful, kaleidoscopic masterpieces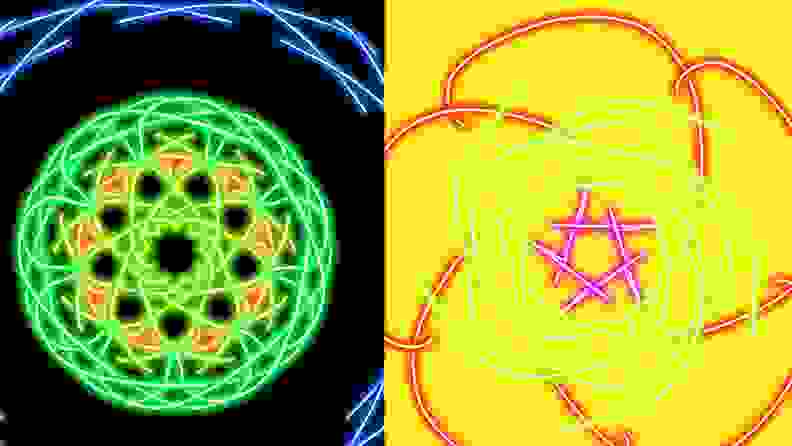 Much like a coloring app, the Kaleidoscope Drawing App lifts anxiety through art. Craft your own vibrant kaleidoscope drawings with just a few strokes, then choose the "Movie" mode to watch it move and come to life.
Whichever app you choose, it's a step in the right direction. From fun to functional, apps can inspire less-stressed, happier lives.
Works with: Android and iOS
Price: Free
Get Kaleidoscope Drawing Pad for Android
Get Kaleidoscpoe Drawing Pad for iOS
13. Relax with ambient tracks recorded 40+ years ago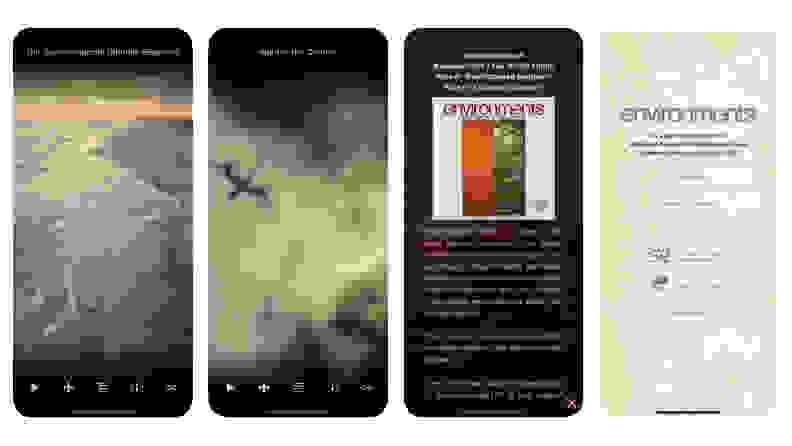 Whether you're ready to try unguided meditation, or you just need some serene sounds to relax or fall asleep to, the Environments app could be what you need. Featuring a slew of field recordings taken in the 1960s and '70s, this ambient sound app sets itself apart because each recording is a solid 30 minutes of uninterrupted recording—no loops or manmade sounds—perfect for zoning on to get work done, or decompressing after a long day.
Works with: iOS only
Price: $2.99
Get Environments on iTunes
Prices are accurate at the time of publication, but may change over time.
Up next
Get Reviewed email alerts.
Sign up for our newsletter to get real advice from real experts.