Smartphones
5 Great iPhone SE Cases You Can Buy Right Now
Here are our favorite cases for your brand new, 4-inch iPhone.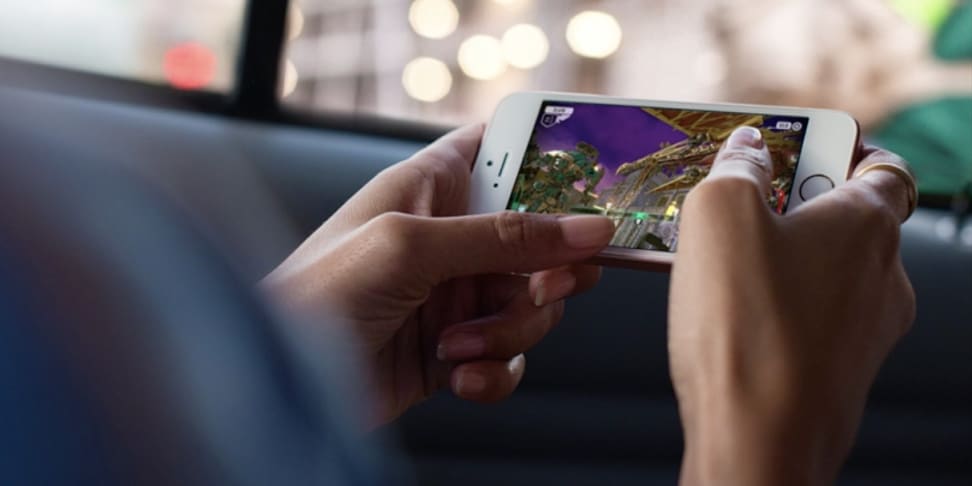 Credit: Apple Inc
The person in the promotional photo above—taken from Apple's iPhone SE announcement—is tempting fate by choosing not to put their iPhone SE in a case.
Sure, I've outright told people not to cover up their iPhones with ugly, bulky cases, but I've also admitted that it's definitely not the smartest thing to do. When it comes to durability, not all smartphones are created equal, and it just so happens that iPhones are notoriously delicate.
We should note that it looks like most cases from the iPhone 5S will be compatible with the shiny new SE. If you already have a cherished case for your 5S, you should try it on an SE to ensure a proper fit.
Unless you have a smartphone with easily replaceable parts, you'll always be risking catastrophic consequences by going case-less. If you're not one to live dangerously, here's a list of iPhone SE cases you can buy right now.
Tech21 Evo Mesh Case
Look, the Evo Mesh iPhone 5/5S case from Tech21 isn't the best-looking case out there, but it's built for protection, not aesthetics.
According to Tech21, the case is designed to absorb and repel impacts due to the "scientifically proven, hybrid impact-protection FlexShock material" it's made of. This means that the case is flexible until it receives an impact, at which point it hardens and dissipates the force.
We can't speak to the case's effectiveness until we test it out, but if you're looking for a durable case that's rather minimal in design, the Evo Mesh case might be a good one to roll the dice on.
i-Blason Armorbox case
If the Tech21 Evo Mesh case is too light on the armor for you, consider this ginormous case from i-Blason.
The Armorbox iPhone SE case looks like the type of case you see being used by hikers, construction workers, and people who use a lot of TNT.
All things considered, 13 bucks isn't that bad for a durable-looking iPhone case. There's also a built-in screen protector in case you haven't purchased any of those yet.
Trianium Scratch-Resistant Bumper Case
This clear, scratch-resistant case from Trianium is just about the closest you can get to protecting your iPhone without covering up its attractive design elements.
To be clear (heh), this case is not going to offer you much more than low-level impact protection. It will, however protect the front and back from nicks and scratches, which makes it perfect for most casual smartphone users (as well as people who prefer minimalism in their case design).
Decoded Denim Wallet Case
This one's designed with organization in mind. Part-wallet, part-smartphone case, the Decoded denim wallet case is made of high-quality leather and Japanese denim. It has three credit card slots and a pocket for your cash. And, if brown leather doesn't fit your style, you can also purchase a version of the case in black.
At $49.95, it's not exactly the most affordable option, and make no mistake: This one won't provide you with much protection from drops. That said, if you're looking for something fashionable and practical, this is one of your best options.
Apple Leather Case
Ah, the ol' Apple Leather iPhone case. If you've never owned one of these, you've surely seen umpteen of them in the wild.
It'll run you around $40 and protect the backside of your iPhone from dings and scratches. Although the leather doesn't really offer much impact protection, it's slim enough that it won't weigh down your pocket with unnecessary bulk; this is a great option for people who think less is more when it comes to smartphone cases. We especially love the brown version, which can develop a pleasingly-worn patina over time.
You can also find a complete list of Apple-approved and Apple-made iPhone SE cases on the company's website.
Related Video