Smartphones
Amazon's $50 smartphone comes with a side of ads
If you're an Amazon Prime member, you might want to listen up
Smartphones aren't cheap. Our best-reviewed phone, the Samsung Galaxy S7, is still retailing for over $650 several months following its release. Most people are reluctant to cough up the dough for a top-of-the-line device like the Galaxy S7, either because they go through smartphones quickly or because they don't see the value in paying top-dollar when there are bills to pay.
This is where the Amazon Blu R1 HD ($49.99 to $59.99 for Amazon Prime members) comes in. For a ridiculously low price, the Blu runs Android Marshmallow, comes with a quad-core 1.3 GHz processor, and offers dual-SIM and 4G LTE support.
Our version of the Blu is equipped with 2GB of RAM and 16GB of storage. There's a lower-end version with 1GB of RAM and 8GB of storage, but we recommend spending the $10 difference to get twice as much memory. 16GB is still paltry, however, so to get the most out of the Blu, you'll need to take advantage of its microSD slot, which offers up to 64GB of external storage.
The catch here is Amazon's ad service, which displays advertisements on the phone's lock screen. The ads take up the entire screen when there aren't any notifications and appear in notification-sized boxes when there are new e-mails, texts, et cetera. When you're signed into your Prime account, these ads are personalized.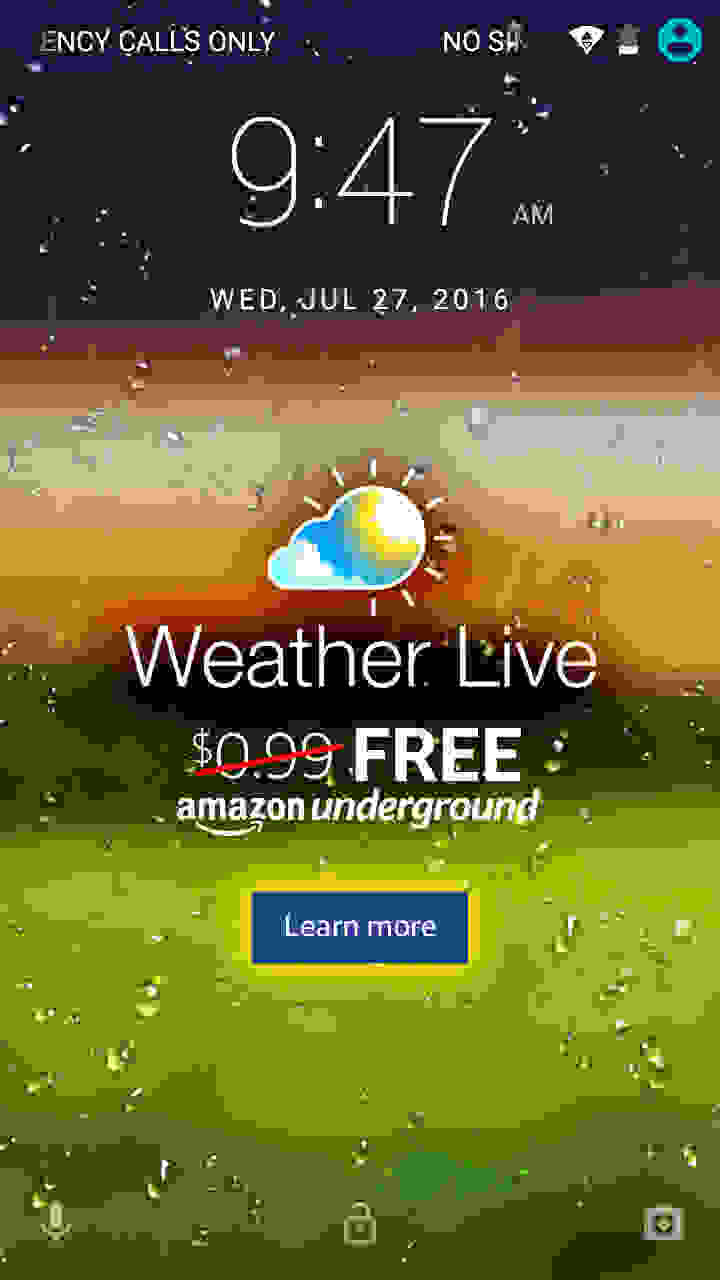 I went into the experience expecting to find the ads invasive, but truth be told, it only took a short amount of time to grow accustomed to them. It's not ideal, but you're paying $50-$60 for a smartphone, after all.
In terms of its design, the Blu R1 HD is a very comfortable device to hold and use. Its soft, rubber-like finish allows for a nice grip, its physical buttons (power and volume) are easily accessible, and it's thin enough to be unobtrusive in your pocket.
The Blu R1 HD is currently only available on AT&T and T-Mobile.
If I sound surprised, it's because almost every aspect of this phone is pleasantly surprising. Sure, you're not going to be hopping from app-to-app with the speed of a mid- or upper-tier smartphone, but the Blu feels way better than a $60 phone ought to.
Take, for instance, its battery, which averaged just over five hours in Geekbench 3 (our standard battery test for smartphones). This doesn't mean that you'll only get five hours of battery life out of the Blu, but compared to some of its higher-end competitors that struggle with battery life, these results are superb.
As expected, there are some obvious drawbacks. The Blu's 8MP primary camera doesn't really impress (low-light shots look particularly gnarly), the phone limps along when the workload gets tough, and it's currently only available in the Unites States and only works with AT&T and T-Mobile. That said, it's unlocked and supports dual-SIM, which makes it a great option for international travel.
If you're easy to please and strapped for cash (or if you're just tired of paying a premium cost for smartphones), the Amazon Blu R1 HD is one of the most affordable and painless options we've ever seen.
Related Video