Smartphones
The Best Smartphone Cameras of 2015
We put the best to the test to find out which smartphone cameras reign supreme.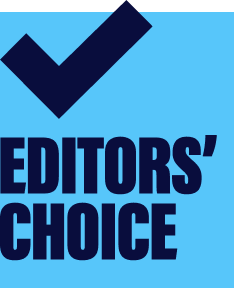 Credit:
Which smartphone has the best camera?
For many people, this simple question is the deciding factor when it comes to picking a new phone. It's not hard to see why: Smartphones are the only cameras most people have access to, and they're deeply integrated into our day-to-day lives. We no longer just call or send texts—we send photos, we Snapchat, we Instagram.
So we set out to find the best smartphone camera, putting our decade plus of experience in lab-testing digital cameras to use. We gathered the flagship phones from LG, Samsung, Apple, HTC, Google, Panasonic, and Sony to see which stands above the rest.
And what did we find out? This so-called simple question has a pretty complicated answer.
(Just want to know which phones won out? Click here to find out.)
The Contenders
The best of the best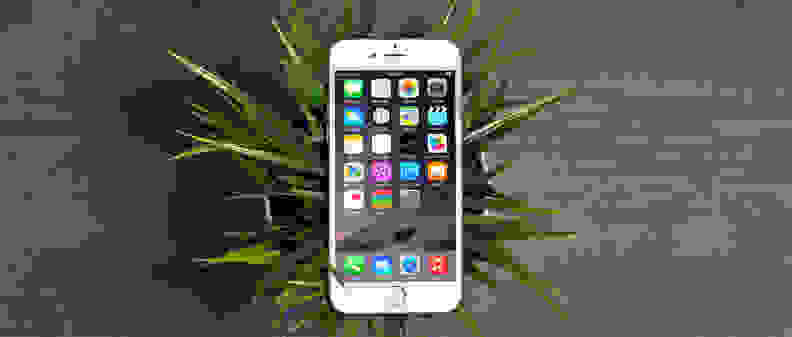 Vital Specs: 1/3.0-inch image sensor, 8 megapixels, f/2.2 aperture
Notable Features: Optical image stabilization (OIS), slow-motion video, on-sensor focus pixels
The iPhone 6 was released in late 2014, featuring an updated camera module backed up by iOS 8's improved camera API. As with previous iPhones, Apple used a camera with just 8 megapixels of resolution. That means its individual pixels are larger, which helps image quality in some ways, but it also means the iPhone has the least resolution and one of the smallest image sensors in the test group.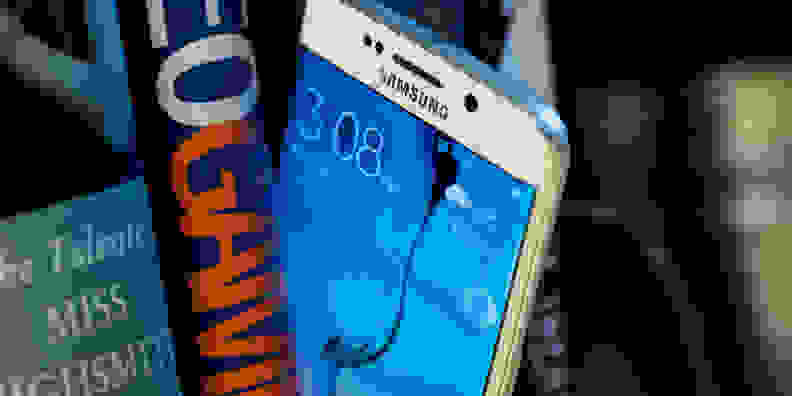 Samsung Galaxy S6 Edge
Vital Specs: 1/2.6-inch BSI image sensor, 16 megapixels, f/1.9 aperture
Notable Features: 4K/30p video, Optical Image Stabilization (OIS), on-sensor focus pixels
With the Galaxy S6 and S6 Edge, Samsung has pushed its smartphone camera to a new level. Phase detection autofocus, 4K video, optical stabilization, a large f/1.9 aperture, and 16 megapixels of resolution all add up to the brand's best shooter to date. The S6 variants also boast one of the few backside-illuminated (BSI) image sensors in smartphones, which may make them more efficient at gathering light. Just about the only missing feature is RAW shooting, which may appear at a later date, but has yet to make its way to our U.S. review models.
Vital Specs: 1/2.6-inch BSI image sensor, 16 megapixels, f/1.8 aperture
Notable Features: 4K/30p video, OIS, laser-assisted autofocus, expandable storage, RAW capture
Over the past year, nobody has put more emphasis on smartphone camera development than LG. The G4 is the company's new high water mark, with a BSI sensor that's nearly identical to the one found in the Galaxy S6 and S6 Edge. While it's likely the same Sony-produced silicon, LG has backed it up with its laser autofocus, RAW capture, a slightly brighter f/1.8 lens, and a camera app with very straightforward, responsive controls that should appeal to intermediate and advanced photographers.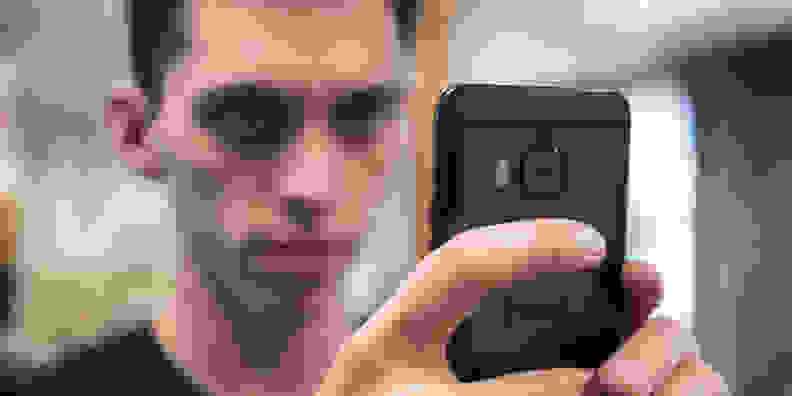 Vital Specs: 1/2.4-inch BSI image sensor, 20 megapixels, f/2.2 aperture
Notable Features: 4K/30p video, expandable storage, RAW capture
The HTC One was a breath of fresh air when it was first released back in 2013, pairing a beautiful aluminum design with a lightweight, slick UI. Its one flaw? An iffy camera. It was a problem that carried over to last year's updated One M8, but the new HTC One M9 tackles this issue with a large BSI sensor, 20 megapixels of resolution, 4K video, and RAW capture. Those specs look great on paper, but it's how they bear out in the real world that counts.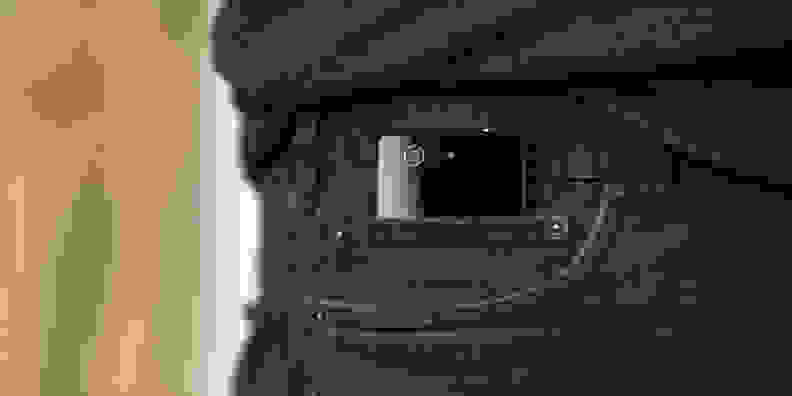 Vital Specs: 1/2.3-inch sensor, 20.7 megapixels, f/2 aperture
Notable Features: 4K/30p video, Steady Shot (non-OIS), shutter button
Sony is king of the image sensor world, manufacturing chips for virtually every high-end phone on the market (including all but one of the phones we're testing here). With a point-and-shoot sized 1/2.3-inch sensor, an f/2 aperture, and 20.7MP of resolution, the Z3 Compact should easily be among the best smartphone cameras around. But can it overcome a bloated default camera app and deliver the excellent images we've come to expect from Sony cameras?
Vital Specs: 1/3.06-inch sensor, 13 megapixels, f/2 aperture
Notable Features: Dual LED flash, 4K/30p video, OIS, expandable storage, RAW capture
The Motorola-made Nexus 6 is a whale of a phone in every respect: a giant screen, a huge battery, and the latest version of stock Android. Though its camera hardware doesn't quite match up to the best phones on the market, the barebones Android experience is excellent. And with full access to all that Android's updated Camera2 API has to offer—including RAW support—the Nexus 6 gets more from its hardware than almost any other phone out there.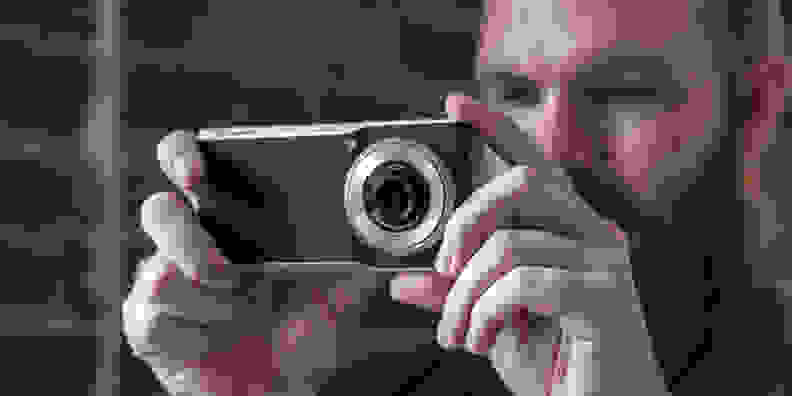 Vital Specs: 1-inch image sensor, 20 megapixels, f/2.8 aperture (adjustable)
Notable Features: Leica lens, 1080/30p video, OIS, expandable storage, RAW, shutter button
Panasonic's Lumix CM1 stands apart from the smartphone camera field with a massive 1-inch image sensor, a Leica-branded lens, and a bright f/2.8 max aperture. While f/2.8 sounds smaller than the rest of the field, it's all relative. Paired with the larger sensor, the Leica glass can swallow more light than any other smartphone lens. The CM1 is a brick of a phone, of course, but it makes fewer image quality compromises than anything else we've tested.
---
NOTES:
The obvious outlier in this group is the Panasonic Lumix CM1; its 1-inch sensor is nearly as big as the other six phones' sensors combined. It's also a significantly bigger and heavier device than the other smartphones in this group, so the sensor and lens advantage comes with some real drawbacks.
Also worth noting: All but three of our test phones—the Samsung S6, Sony Z3 Compact, and iPhone 6—currently support RAW capture. This gives them a notable edge in some tests, but the RAW shots (.DNG files) are very large (25MB+ per shot) and most users will likely never shoot in RAW. With that in mind, most of our comparisons were made using default JPEG output, with RAW performance taken into account when it made a major difference.
All of the phones were tested using up-to-date software (as of publication) and manufacturer-provided default camera apps (including the Google camera app for the Nexus 6). For tests where we needed controls that the stock apps didn't provide, we subbed in either Camera FV-5 (Android) or Manual (iOS). (And to be clear, we're only testing the rear cameras on these phones. Sorry, selfie addicts.)
Image Quality
We've been testing digital cameras for over a decade in our specialized image testing lab in Cambridge, Massachusetts. In our testing, we focus on five key metrics for still images: color accuracy, white balance accuracy, resolution, dynamic range, and low-light performance.
For this roundup, we've put these seven phones through the ringer, taking thousands of images both in and out of the lab. All of the tests that we used for this roundup conform closely to our usual digital camera test procedures, with modifications made where necessary to suit the particulars of smartphone cameras.
Color Accuracy & White Balance
Winner: Google Nexus 6
Runners-up: Panasonic Lumix CM1 & Samsung Galaxy S6 Edge
Generally speaking, all of the smartphones we tested were able to render colors accurately under the right conditions. The Nexus 6 (with the default Google Camera app) produced the most accurate colors, though it was followed closely by Samsung's Galaxy S6 Edge and the Panasonic CM1. The only phone that really struggled was the Sony Z3 Compact, which produced images that were vivid, but also quite inaccurate.
Of course, to get accurate colors you need accurate white balance. Ever walk inside and take a photo only to get a blue-tinted mess? That's bad white balance. In our testing, we measure white balance accuracy under daylight (5500K), fluorescent (3500K), and incandescent (2800K) lighting. On average, color temperature errors of 300K or less are enough to earn a passing grade.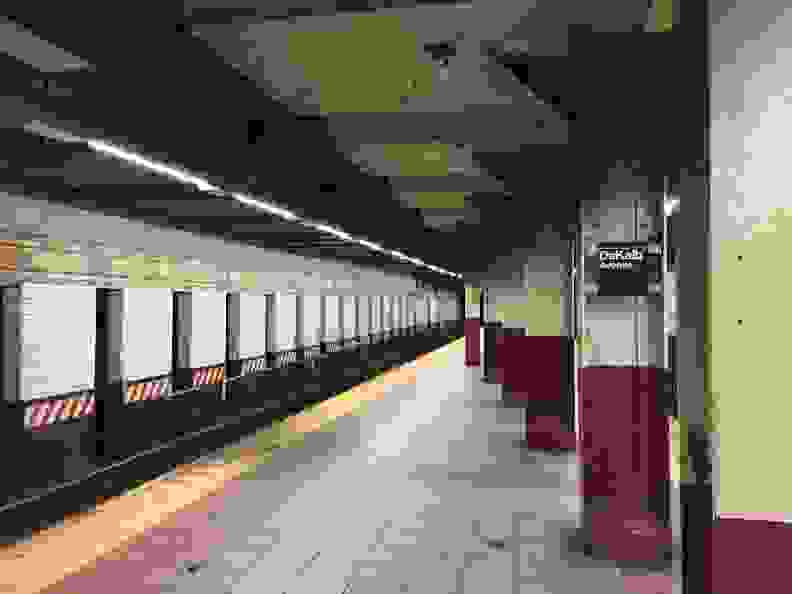 While it doesn't have the most accurate colors, the best at white balance was actually the iPhone 6, which was incredibly consistent across all lighting types with an average error of just 220K. The Nexus 6 and the Z3 Compact followed close behind, with an average error of around 340K—but there's a catch.
While both the Samsung S6 Edge and Panasonic CM1 had average color temperature errors of over 500K, this is due to huge 1000K errors under incandescent lighting. But this is an intentional choice most cameras make, since it preserves the warm look of indoor photos. Under daylight and fluorescents, the S6 and CM1 were just as good as the iPhone 6, earning them runner-up status.
Resolution
Winner: Panasonic Lumix CM1
Runners-up: Google Nexus 6 & Samsung Galaxy S6 Edge
Whether you're shooting a portrait or a stunning sunset, you want to capture as much fine detail as possible. The best cameras and lenses resolve very fine detail, producing crisp, sharp photos. In our labs, we test for sharpness with a specialized, backlit chart that lets us assess resolution in every area of an image.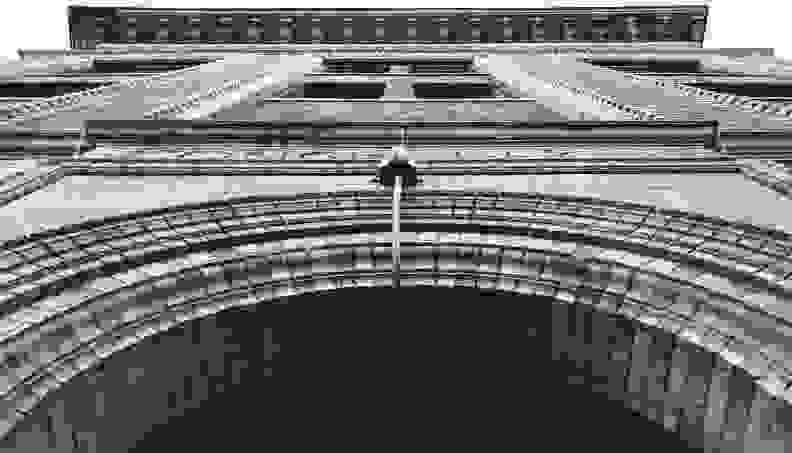 All seven test cameras did well at first glance, producing images that seem very sharp. But first glances don't tell the whole story: All of these cameras lean heavily on software enhancement to artificially sharpen their results. They do this by enhancing the contrast around objects, which tricks your eye into perceiving them as sharper.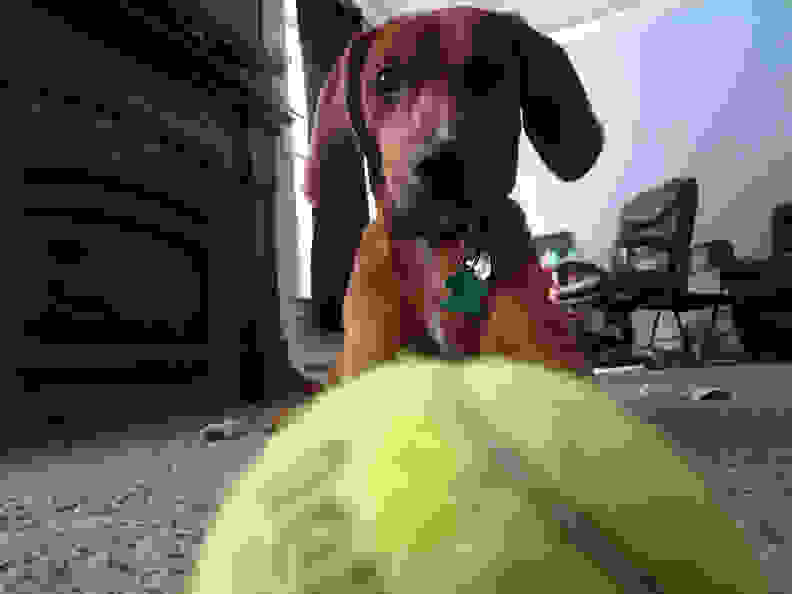 The technique works as long as you don't look too close, but it also muddies the waters. For example, the Sony Xperia Z3 Compact produces the "sharpest" shots in our test group, but only because of the absurd 41% oversharpening that's applied by default. When you remove it from the equation, the Z3 is revealed to be merely a middling performer in terms of resolving power.
If you're shooting JPEG, you'll get the best mix of legitimate sharpness and software enhancement from the Google Nexus 6 and Samsung S6 Edge, with the LG G4 and CM1 following close behind. These four produce images with the most realistic looking sharpness, while phones that overdo it (like the Z3 Compact) produce ugly haloing around high-contrast objects. The iPhone 6 shows a lot of promise thanks to minimal edge enhancement, but the 8-megapixel sensor keeps it from rivaling the top performers.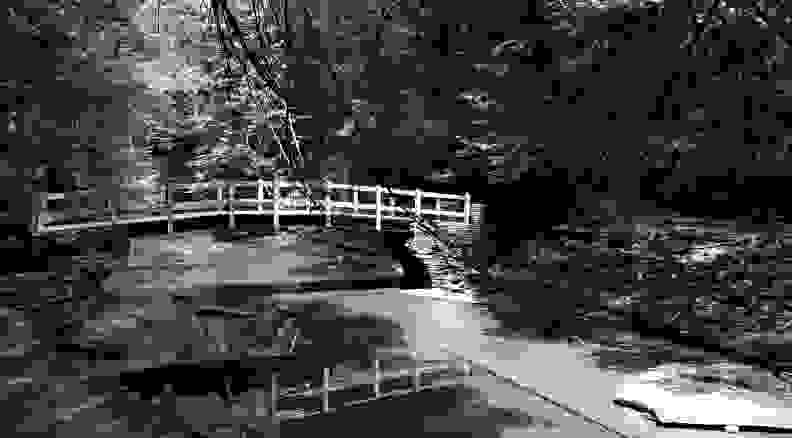 If you want to eliminate edge enhancement altogether, you can just take a RAW photo (assuming you're not using the Galaxy S6, Z3 Compact, or iPhone 6, which don't offer RAW capture). Our RAW sharpness results showed that the Panasonic Lumix CM1 was easily the best peformer, resolving about 30% more detail than its rivals. That's no surprise, since most of the phones we tested use tiny sensors and plastic lenses, while the CM1 has an all-glass Leica lens and comparably huge 1-inch sensor.
Dynamic Range
Winner: Panasonic Lumix CM1
Runner-up: LG G4
Dynamic range refers to the spread of bright and dark areas a camera can capture in a single photo, from the brightest highlights to deepest shadows. It's one of the traits that separates low-quality cameras that produce blown-out photos from high-quality DSLRs and mirrorless models that offer rich, film-like tonality.
To test dynamic range, we shoot a backlit chart composed of 21 patches of varying brightness. Each patch is half as bright—or one stop dimmer—than the patch before it, meaning every photo has up to 20 stops of dynamic range. We count stops from pure white to pure black, until the patches are no longer visible or are overwhelmed by image noise.
×
DR-3
As we expected, RAW-capable phones clearly stood above the rest in this test. That's because JPEG compression usually involves raising contrast, which irreversibly destroys dynamic range in both highlights and shadows. RAW photos preserve all the data that the image sensor captures, which is clearly visible in the samples from the LG G4 (above). The first shot is a carefully edited RAW with lots of rescued highlight detail, while the second—an unedited JPEG taken at the same time—is a shot I'd have tossed out immediately.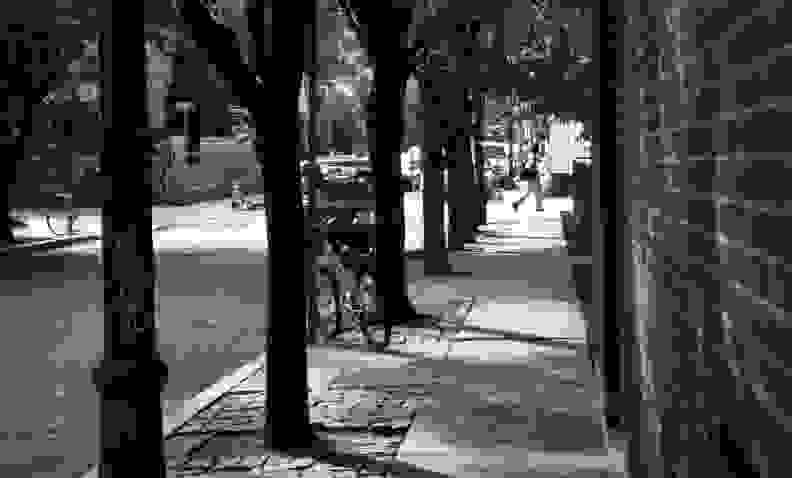 In the RAW-capable group, the best performer was the CM1, with a respectable 11.7 stops of range—on par with some entry-level DSLRs. The next best was the LG G4, with 10.7 stops, followed by the HTC One M9 (9.7 stops) and Nexus 6 (8.77 stops, noise-limited). In the JPEG division, the iPhone preserved more range than the S6 Edge, but without RAW it's impossible to know how their sensors truly compare.
Low-Light Performance
Winner: Panasonic Lumix CM1
Runner-up: Samsung Galaxy S6 Edge
When you want to take a picture with a smartphone in dim light, you really only have two options: use a tripod and a slow shutter speed, or crank up the ISO sensitivity. Bumping the ISO is usually more convenient, but it also amplifies everything the camera is capturing—including image noise. This either gives you grainy pictures or, thanks to automatic noise reduction, muddy-looking details.
To test how cameras perform in low light, we analyzed shots taken at ISO 800 and 1600 (when available). We looked at two key metrics: quantity of image noise and effect of noise reduction. Noise is easy to quantify, but noise reduction is trickier.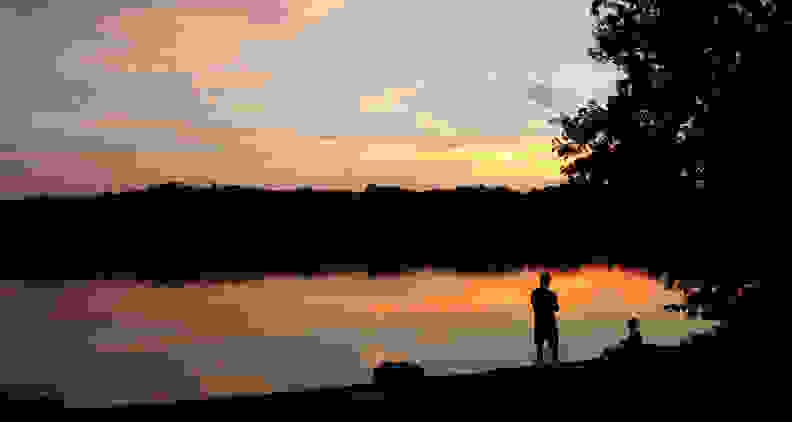 To nail it down, we use a custom "spilled coins" chart that, well... looks like a bunch of multicolored coins scattered on a table. When cameras apply noise reduction to images of the spilled coins chart, it lowers the "acutance" (or perceived sharpness) of the image, which is something we can quantify.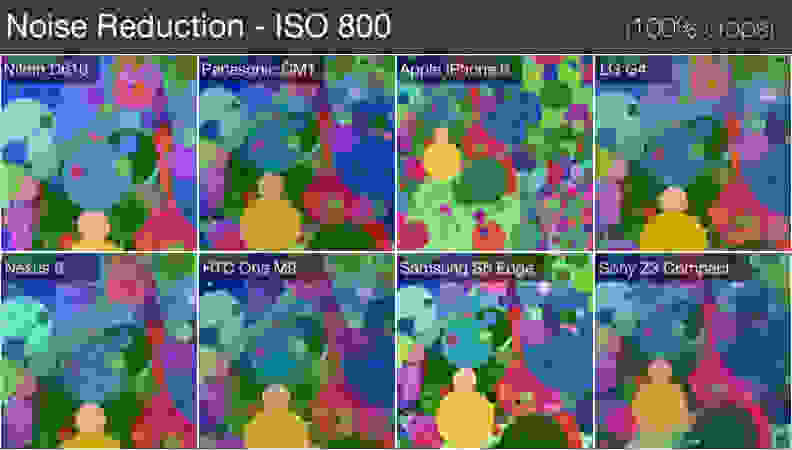 You can see the effect in the first set of samples above, which shows full-size crops from each smartphone taken at ISO 800 (with the Nikon D610 full-frame DSLR as a control sample). The effects of noise reduction are even more obvious at ISO 1600 (below).
The best overall performer was the Panasonic CM1, which produced both low noise and minimal noise reduction at ISO 800 and 1600. In the non-CM1 division, the Samsung Galaxy S6 Edge won out thanks to its intelligent noise reduction algorithm. The shots display clear signs of noise reduction when viewed at 100%, but details hold up better than in shots from other phones. The LG G4 also does well, mostly because it has a light touch, leaving most of the noise (and thus fine detail) alone.
The next best result came from the iPhone 6, which takes full advantage of its 8-megapixel camera and larger individual pixels. But the advantage is something of an illusion. When we downsample all the ISO 800 shots to match the iPhone's 8 megapixels (below), Apple's advantage quickly disappears.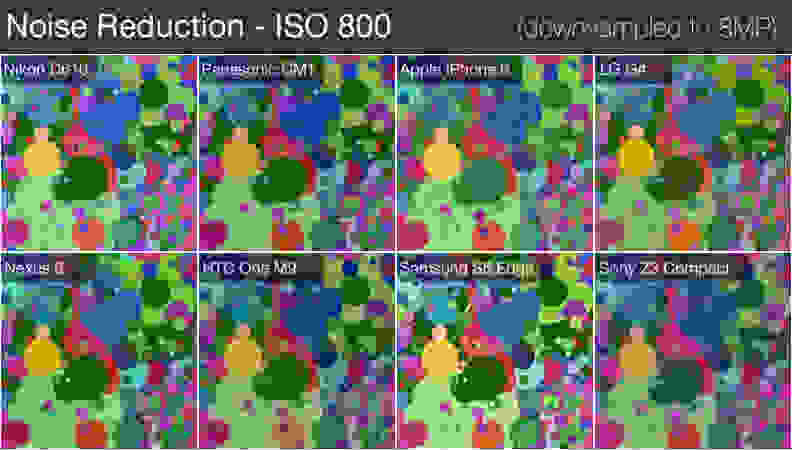 Software
Winner: Panasonic Lumix CM1
Runners-up: LG G4 & iPhone 6
The beauty of smartphones is that, in many cases, you can add the features you want by simply downloading an app. Whether you're running Android or iOS, you have countless options, and there are new apps to try every day. But even taking this into account, not all phones (or mobile OSes) are equal.
For example, Android 5.0 Lollipop supports RAW capture with the updated Camera2 API, but not all phones have adopted it. The Nexus 6 has, as has the LG G4. The LG puts its RAW capability to excellent use in the brand's default camera app, which is also the only app that can take advantage of the phone's laser-assisted autofocus.
×
Software
The Sony Xperia Z3 Compact and Samsung Galaxy S6 Edge also run Lollipop, but neither offers RAW capture—even in apps that would otherwise support it. This is a conscious choice by the manufacturers, and a puzzling one. Sure, most people are never going to shoot RAW, but most people aren't going to insert augmented reality elves into their shots either, and that sure didn't stop Sony.
The iPhone 6's stock camera app trades fine-grained manual control for a simple, intuitive user interface. Still, Apple allows third-party apps more control over things like ISO sensitivity, letting intermediate and advanced photographers find an app that suits their needs.
Most people aren't going to insert augmented reality elves into their shots, but that sure didn't stop Sony.
The Panasonic Lumix CM1 offers more control than any other phone in our test group, but it has to work around Android's limitations to support its custom hardware. The result is a hit-or-miss experience with third-party apps, but the workarounds also have their upsides. Most notably, the CM1 properly indexes RAW files. So when you hit "Upload Images" in Dropbox, the .DNGs will appear like any other image. With other Android phones—even those that claim to support RAW—these files are hidden and you can only be found by manually digging through all files.
Video Quality & Stabilization
As important as still image quality is to any camera, we can't overlook the importance of video. Sometimes a video is the best (and easiest) way to capture a fleeting moment, and with 4K/UHD video on the rise, there's bound to be more attention paid to smartphones cameras that can keep pace with the times.
In most ways, the qualities that make a camera good at shooting still photos carry over to video, as well. There are other factors at play, of course, but accurate color, reliable white balance, and wide dynamic range pay dividends in both stills and video. It's no surprise, then, that our top smartphones for video look a lot like our top phones for stills.
Bright-Light Sharpness
Winners: LG G4 & Samsung Galaxy S6 Edge
Runner-up: Sony Xperia Z3 Compact
Just as you want crisp, clear results when shooting photos, you want the highest resolution possible when capturing video. The highest resolution you can get today is 4K UHD. Remember how lifelike 1080p HD looked when you first upgraded from a standard-def TV set? A good 4K recording will give you the same eye-popping effect, offering four times as many pixels as 1080p.
×
4K-sharpness-new
Most of our test phones are capable of recording usable 4K/UHD video, with only the Panasonic CM1 and the iPhone 6 limited to 1080p. (The CM1 records 4K, but it's only at 15fps.) The 4K phones performed well in our bright-light video sharpness test, all recording around twice as much detail (above) as the 1080p-limited phones like the CM1 (below).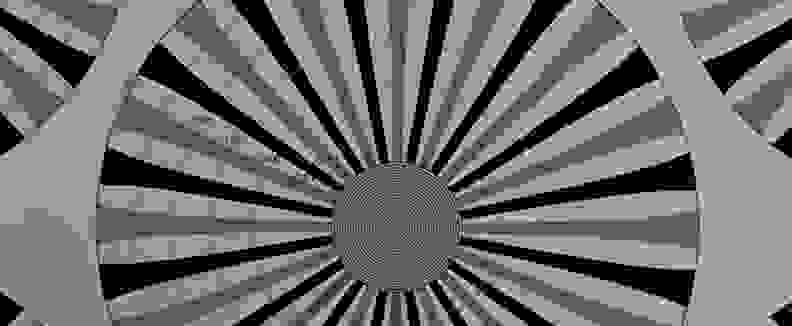 This result matches up precisely with what we've seen from all of our reviewed cameras in the past couple years. With four times as many pixels per frame, 4K/UHD video simply resolves more detail than even the best HD cameras ever could. There's no arguing with the math.
Low-Light Sharpness
Winner: Samsung Galaxy S6 Edge
Runner-up: LG G4 & Google Nexus 6
The gulf between 4K and 1080p persists even in low light, but we also see greater differentiation between our 4K combatants. In the low-light test we light our chart at an even 60 lux—about what you'd get in a dim restaurant or bar. While detail tends to hold steady in these conditions, we see more compression artifacts, noise, and other defects as the cameras are forced to compensate for the lack of light.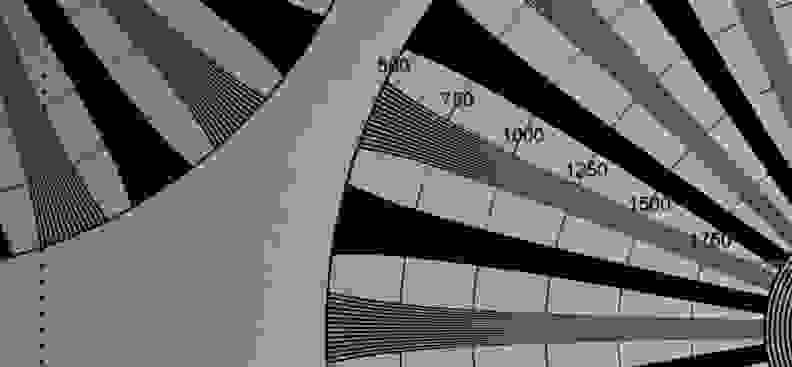 The Samsung Galaxy S6 Edge did very well here, preserving nearly the same amount of fine detail at 60 lux as it does in bright light, while keeping compression artifacts to a minimum. The LG G4 and Nexus 6 also did well, though we preferred the look of the G4's output. The worst of the 4K cameras was the HTC One M9, which was plagued by false colors, moiré, and nasty compression artifacts in all lighting conditions.
Of the 1080p group, the CM1 performed best, while the iPhone also suffered from compression artifacts, noise, and false color. The video is usable, but you won't want to show it off. The gulf in resolution remains as clear in low light as it was in bright light.
Stabilization
Winner: LG G4
Runners-up: Samsung Galaxy S6 Edge & Google Nexus 6
Smartphone cameras struggle more with motion blur than any other kind of camera. Since they don't weigh much and don't have grips, it's difficult to keep them steady while shooting video. That's why many cameras and smartphones include image stabilization, which corrects for hand shake in real time.
To test the effectiveness of image stabilization, we had to get creative. We coded our own Android app, using the built-in accelerometer to track exactly how much phones shake when you're shooting photos and video. We then built a custom shaking rig that replicates the same shake pattern for two typical scenarios: standing still (low intensity) and walking (high intensity).
To test the effectiveness of image stabilization, we had to get creative.
Of our test phones, only the LG G4, the Samsung Galaxy S6 Edge, and Google Nexus 6 feature optical image stabilization. The Sony Xperia Z3 Compact has a new Intelligent Active stabilization system, but it's digital. There are apps that can apply digital stabilization to the other phones, but we focused our efforts on these four.
All of the phones did well at the low intensity test, but the LG G4 was by far the best at the high intensity test. The Nexus 6 and the Samsung S6 Edge were also solid, but the S6 Edge can only use video stabilization when shooting 1080p video at 30fps—4K or 1080/60p are a no-go. The Z3 Compact does well in some situations, but sustained shaking seems to give it trouble and its best IS mode isn't available during 4K video recording.
Video Features
Winner: Apple iPhone 6
Runner-up: Samsung Galaxy S6 Edge
If you're more interested in video than stills, the chief feature you'll be looking for is almost certainly 4K recording. Most of our test phones include it, though in some cases you need to use a 4K-specific app or dig through a menu to unlock the feature. The two phones that don't offer what we'd call usable 4K are the Apple iPhone 6 and Panasonic Lumix CM1 (which offers 4K, but only at 15fps).
If you want slow-motion video, all but the Google Nexus 6 and Panasonic CM1 support it through the default camera app. We liked the iPhone 6's implementation best, as it captures 720p video at 240fps (compared to 120fps from the competition). It's easy to find the option in the main camera app, and the simple controls that let you capture a video at normal speed and slow it down at just the right moment.
The one feature that's missing from all of our test phones is manual exposure while recording video. Most don't even let you use exposure compensation, leaving you at the mercy of the light meter.
The Winners
Drumroll, please...
Smartphone cameras are perhaps the most exciting and bitterly contested category in consumer tech today. When most flagship smartphones offer high-quality industrial design, large screens, and blazing fast processors, it can be hard to make a device that stands out. But the camera is one place where even smaller players can make a name for themselves and attract new buyers.
With so much competition, it's no surprise that the quality of smartphone cameras has improved dramatically in just a few short years. In truth, even the worst phones in this group are still impressive compared to smartphones from just a couple years ago. But with that said, there's one clear winner that stands above the rest.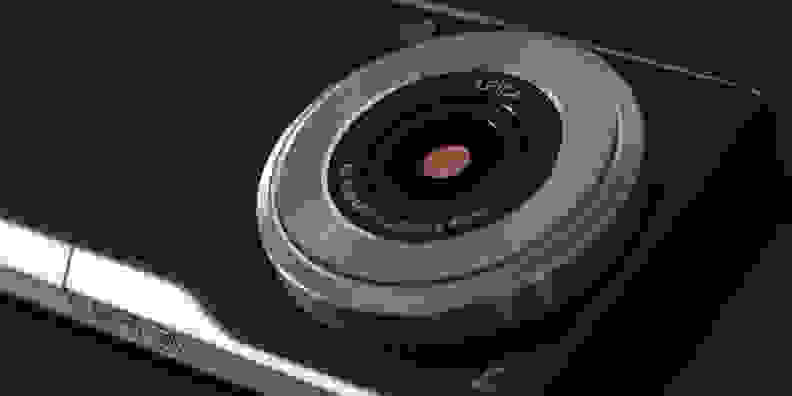 Overall Winner: Panasonic Lumix CM1
By far the best smartphone camera you can buy is the Panasonic Lumix DMC-CM1. But of course, it's also more of a camera that happens to run Android than a purpose-built smartphone. It's "pocketable," in the dictionary definition sort of way, but it's also nearly as thick as a deck of cards. And it's powerful, yes, but it's also a bit like that kid who dominated kickball because he hit puberty in fourth grade.
Ultimately, as impressive as its camera is, it's hard to envision the Lumix CM1 having any kind of mass appeal.
Instead, we feel it's an ideal camera for anyone who refuses to compromise on image quality, but also can't stomach carrying a dedicated camera around. For hardcore Instagrammers and professionals who want to post their work straight to social media, it might be an ideal choice—one that outperforms all other smartphones, but is still portable enough to travel with you everywhere.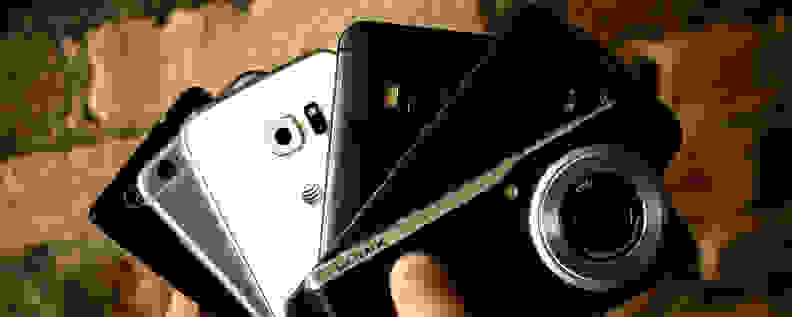 Our Pick for Most People: Samsung Galaxy S6 or LG G4
If you're looking for a more traditional smartphone that you won't be embarrassed to actually use as a phone, the top dogs are definitely the LG G4 (read the review here) and the Samsung Galaxy S6 / S6 Edge. These are cutting-edge, flagship smartphones for 2015 that also happen to offer class-leading image quality.
But while they're both phenomenal performers, they're designed with very different users in mind.
The LG G4 is ideal for photographers who crave total control, with a stock camera app that is perfectly suited to experienced photographers. The camera's sensor offers extremely good dynamic range for a smartphone, and its lens also captures tack-sharp results in both stills and video. The G4 does have some minor consistency issues with white balance and exposure, but RAW capture makes up for these quirks as long as you're willing to edit your photos after the fact.
The Samsung Galaxy S6, on the other hand, is a perfect choice for casual photographers—those who occasionally need to take manual control over exposure or edit a shot in Instagram, but mostly just want to point and shoot. This phone doesn't offer RAW capture (yet) or expandable storage, but its camera is blazing fast, reliably accurate, and does the best job of producing attractive photos without additional user input. Best of all, it can deliver the goods regardless of the lighting conditions.
All in all, we've been quite impressed with the image quality we've seen from the top-tier smartphones. Though none stack up to a true DSLR, they're getting there. With continued improvement to hardware, better software, and more control, it won't be long before a smartphone is the only camera you need.