Smartphones
This Handy, Fussy Drive Frees Your Photo-Packed iPhone
Too many photos on your iPhone? The iXpand can help.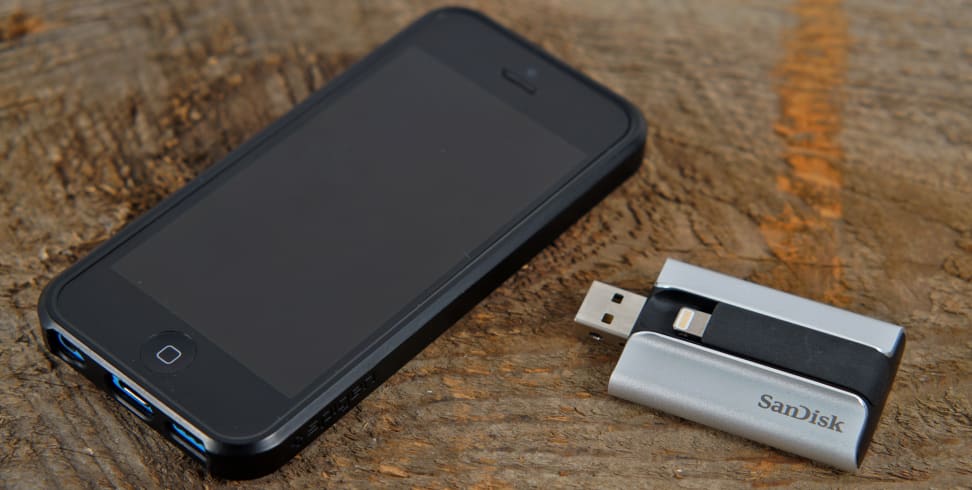 Credit:
If you opted for an iPhone with a small amount of storage you're probably sick of seeing this notification: "There is not enough available storage to take a photo." It's a frustrating problem, and one that doesn't have a lot of solutions, except to constantly upload your content to a computer or a cloud storage service. But that's not only irritating, it's also not always the safest idea.
SanDisk's iXpand may be a solution to this problem, as it provides a bit more freedom to take as many photos or videos as you want. It acts just like an external hard drive for your computer, but it connects right to your iPhone and comes in four different sizes: 16GB, 32GB, 64GB, and 128GB.
The battery could be a nuisance for folks who don't want to have to charge their storage device.
The downside? Well, there are a couple. For one, it's a bit pricey for an external hard drive. You'll have to shell out some serious dough, even for the 16GB model ($59.99). And the prices only go up from there ($79.99, $109.99, and $149.99, respectively). It's also only compatible with iOS devices, as it uses an iOS app to move your photos and videos—and only those files—off your device. (More on that below.)
The iXpand combines a USB 2.0 stick and a lightning adapter into an aluminum casing that is about the size of two full-sized flash drives. The lighting adapter articulates with the iXpand's chassis via a flexible rubber stick. There's also a small battery indicator light on the side.
That's right: This external hard drive has a battery, which could be a nuisance for folks who don't like the idea of having to charge their storage device. That said, the idea is that it won't drain the battery of whatever iOS device the iXpand is connected to. It's not ideal, to say the least.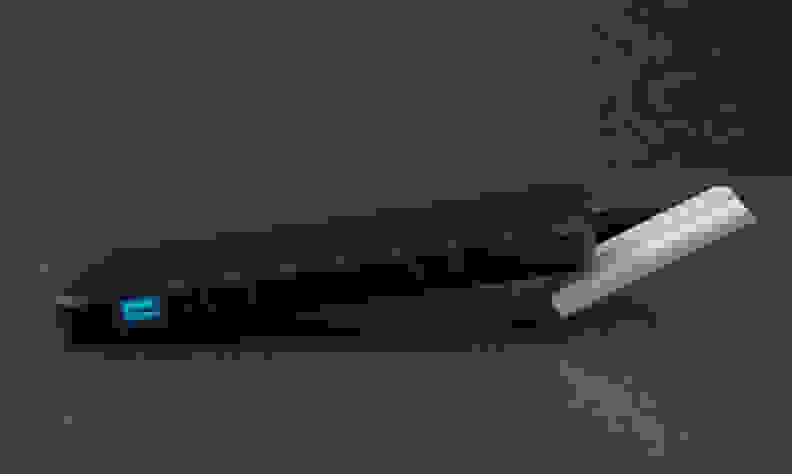 The iXpand is small enough to slip into your pocket, but a little awkward when connected to a phone, due to the awkward placement of the lightning adapter. A third of the iXpand—including the USB stick—will extend past the bottom of your phone, tipping it up at a slight angle. In order to use it comfortably I had to move my hand to hold the top of my phone or rest it screen-down on my desk.
It's small enough to slip it into your pocket, but a little awkward when connected to a phone.
Of course, like everything else these days, there's an app. Before connecting the iXpand, you'll need to download the iXpand Sync app from the App Store. Don't worry—it's free. The app is the hub that controls which content you want to sync to your hard drive. It's also used to port content from the drive to your phone. From your computer, the iXpand acts just like any other flash drive, with individual folders for each type of content.
The iXpand works in two ways. The first, and most limiting, is as a way to transfer photos and videos off your iPhone. That's super useful, but it's limited to just photos and videos. Those awesome shower thoughts you jotted down in Evernote? Sorry, no dice. That audio recording of you singing Sea of Love? Sorry—though, maybe that one's for the best.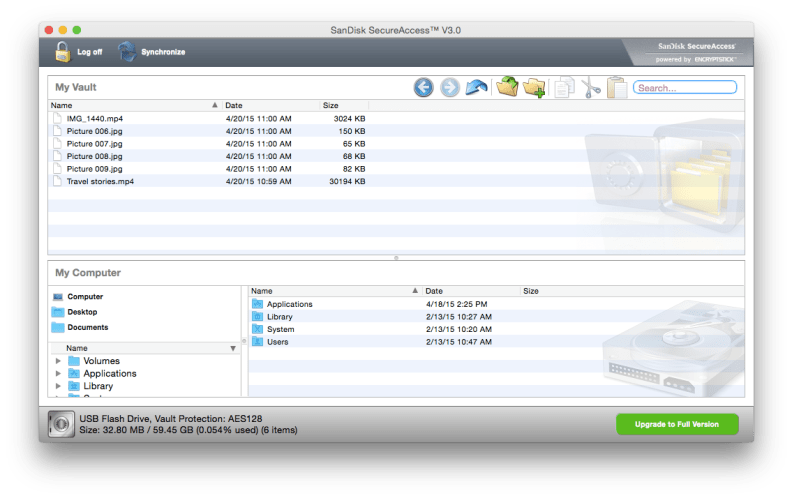 ×
SanDisk iXpand
The second way is to use the iXpand app to play media right from the drive itself. This means you can put songs and videos on your drive from your computer and play them—via the app—on your iPhone. It's not always the most useful, and you're stuck using SanDisk's app for this, but it lets you circumvent Apple's often finicky support for non-Apple media types, especially video files.
For the most part, the app is pretty straightforward. It features clear, easy-to-use buttons for adding content and sorting through all your folders. The iXpand also comes pre-loaded with SecureAccess software, which creates a folder that will safely secure files behind a password. The computer software for SecureAccess can seem a little daunting, but it isn't too hard to navigate if you know what to look for.
The iXpand solves a serious paint point for iPhone users, many of whom are stuck with a 16GB phone that's slow as molasses because it's filled with a few hundred photos and videos. That's great. But it's a problem that shouldn't exist. It should be far easier to get your photos off of an Apple device without resorting to a cloud service. And 16GB is far too little room for an iPhone running iOS 8. But when Apple is charging $100 extra just for a more sane 32GB version, you're not left with many options.
Cloud storage is an obvious, cheaper alternative, but we know plenty of folks who are more than hesitant to upload their photos to a service that may or may not be fully secure. It's obvious that SanDisk smells a business here, which is why it's charging such a pretty penny for the convenience of circumventing Apple's mistakes.
Editor's Note
This article was updated to reflect the additional media capabilities of the iXpand in conjunction with the iXpand Sync app.
Related Video