Smartphones
10 beautifully designed games you won't believe you can play on a smartphone
These games make Candy Crush look like Minesweeper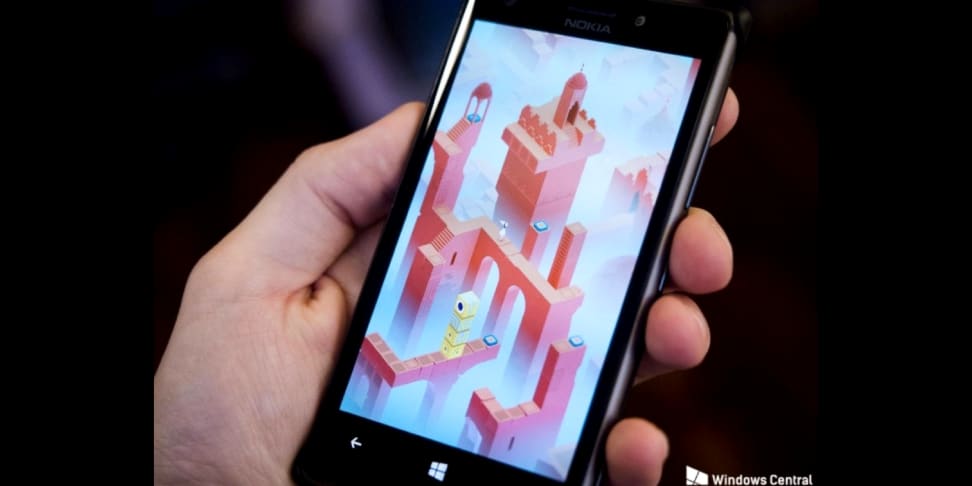 Credit: Windows Central
Mobile games get a bad rap and, as a result, are often written off. For some reason, we operate under the assumption that smartphone games aren't quality games. Sure, they're great if you're waiting in line for a coffee, but why play games on your phone if there's a perfectly good gaming console waiting for you at home? Though some gamers prefer big screen TVs and top-notch graphics, I find that mobile games are just good games.
If you're not an active mobile gamer, you're really missing out. I don't play mobile games just to kill time, I play them because I genuinely enjoy them. So, to get you up to speed, I curated a list of awesome smartphone games that are both thought-provoking and gorgeously designed. From innovative mechanics to eye-catching art, I think you'll like what I've got here. Here are the most beautifully designed games for iPhone and Android:
1. Monument Valley (iPhone, Android)
Inspired by Japanese prints and minimalist sculptures, Monument Valley is a gorgeous puzzle game that's chock-full of optical illusions and colorful characters. It's a little short for a mobile game, about three to four hours tops, but there's something really soothing and hypnotic about it.
Buy Monument Valley on Amazon for $3.99
Buy Monument Valley 2 on iTunes for $4.99
2. Reigns (iPhone, Android)
Reigns is a really innovative strategy game. It uses the same left-right swipe mechanic made popular by the dating service Tinder. Set in a fictional medieval land, you rule your kingdom by accepting or rejecting suggestions from advisors. You can play the part of the benevolent King, the wicked tyrant, or somewhere in between. Whether you're marrying the Princess of a neighboring kingdom for the good of the realm or punishing a heretic for spewing blasphemous rumors, how you rule is ultimately up to you.
3. Pokémon GO (iPhone, Android)
Ah, Pokémon GO, the poster child of mobile games. If you love 90's nostalgia, then this is the game for you. In case you've been living under a rock, it's a location-based augmented reality game that promotes physical activity. The game uses your phone's GPS to capture, battle, and train virtual monsters called Pokémon. Well, what are you waiting for? You gotta catch them all, so they say.
Download for free on Google Play
4. Lifeline (iPhone, Android)
Sci-fi lovers, rejoice! This text-based adventure game is awesome and super creepy. You're tasked with guiding Taylor, a lovable science student, off of an unknown moon. The goal is to keep him alive by helping him make the right choices. Here's what Reviewed's Samantha Gordon (my favorite purple-haired human) had to say about it:
This text-based adventure is such a unique, but enticing game. You're helping a space adventurer get off of a barren planet where they crash-landed. It's all through radio communications and the game will often pause while the character is investigating, or walking around or sleeping so you can't rush through it. It's beautifully designed and great for casual gamers, sci-fi fans, or anyone really (especially great if you have an Apple watch). So worth the $1.99 it costs, and there are a few other versions too if you like the first.
Buy Lifeline 2 on Amazon for $1.99
5. To The Moon (iPhone, Android)
To The Moon is a narrative-driven game about scientists that create artificial memories for the dying. Boy, did this game mash my heart to a pulp. The story is fantastic and totally unique, but you may want to arm yourself with a box of tissues.
Buy now on Google Play for $1.99
6. Prune (iPhone, Android)
Prune, with its meditative background music and simple interface, is one of the most zen games money can buy. The premise is pretty straightforward. By trimming the branches off of a digital tree and avoiding obstacles, you have to grow and shape it until it reaches its full height.
7. Lume (iPhone only)
In this puzzle adventure game, you have to restore power to your grandfather's house. Not only are the puzzles fun and challenging, the set is made entirely out of paper and cardboard. How's that for artistry?
8. Minecraft Pocket Edition (iPhone, Android)
You can now play Minecraft, the popular sandbox game, on your smartphone. From constructing your dream house to hunting the ever-elusive Endermen for fun, this game is a true classic.
9. Design Home (iPhone, Android)
If you're the type of person that likes designing houses, Design Home is the perfect game for just that. I'm not into these types of games, but some people love interior design. Reviewed's Kori Perten (aka the real-life pixie) raved about it:
I really like Design Home. It's simple... you just "buy" furniture and decorate rooms with it. You earn game $$ for submitting a finished design, and if other players rate your design highly, you earn extra furniture. My friend and I occasionally see furniture on the street in real life and send each other photos pointing out that it looks like it belongs on Design Home (because we are ridiculous).
10. Silly Sausage in Meatland (iPhone, Android)
Silly Sausage in Meatland isn't the most beautiful game in the world, but it has a lot of charm. It's kind of like Snake, the classic retro game, but instead of controlling a serpentine creature, it's a super stretchy pooch.
Related Video