Nobody is going to complain about smartphones that get zippier and that manage to squeeze out longer battery life each and every year. We surely appreciate phones with improved cameras, too.
And yet you often hear that we've hit a roadblock in the space, that phones are lacking true innovation.
Based on first impressions, I don't necessarily consider LG's new flagship G5 phone a major breakthrough, though I like what I see, and as with any new handset, I plan to put it through the test to come up with any kind of meaningful verdict. But at least the Korean company is taking a fresh approach, with a phone that carries a "modular" type design. LG unveiled the device here at Mobile World Congress. The thin metal uni-body Android (Marshmallow) device is slated to reach the U.S. in April.
So what exactly is a modular phone? In LG's case, by pinching a button you can remove a bottom piece of the phone and slide out the battery. That alone is a feature worth applauding because premium metal phones with removable batteries are rare.
By pinching a button you can remove a bottom piece of the phone and slide out the battery.
Moreover, you can slide in optional modular components, starting what the South Korean company calls an LG Cam Plus camera module. It helps you grip the phone like an actual camera, and has its own dedicated power, shutter, record and zoom buttons. It also supplies extra battery power.
A second module is called LG Hi-Fi Plus with B&O PLAY, and it promises to deliver high-fidelity audio playback. You can use it as a module inside the G5 or connect it to any smartphone or PC, LG says. Bang & Olufsen is teaming with LG on the product.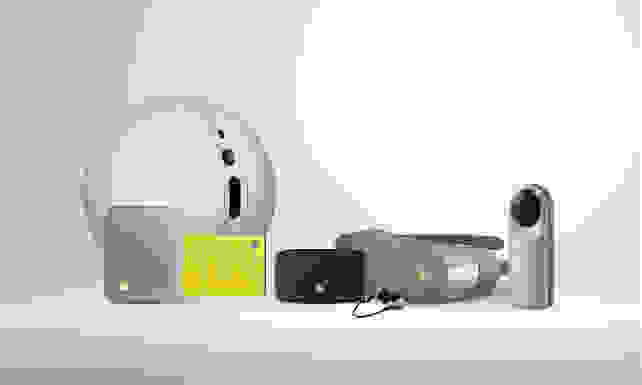 LG hasn't announced pricing for any of the modules yet. I'll be interested to see what developers might do with their own modules in the future, since LG clearly has an ecosystem in mind here.
It's also worth remembering that Google, through something called Project Ara, has also played up the idea of modular hardware. That effort, which takes a somewhat different approach, has been delayed however.
Meantime, LG is introducing other companion devices for the G5, under the marketing moniker LG Friends. It is following Korean rival Samsung's lead and moving into virtual reality with its own VR goggles. But unlike Samsung's Gear VR, you don't slide the phone into the actual headset, but rather connect the G5 (the only phone it works with) via a cable. It will be compatible with Google Cardboard content as well as 360 videos and stills produced via another new companion device LG showed off at MWC, the LG 360 Cam. During LG's presentation, a Google exec took the stage to promote the use of LG 360 Cam photos in conjunction with Google's Street View maps. Google says it will store "approved" 360 images for free without degrading the resolution.

LG says wearing the VR goggles simulates watching on a 130-inch television from about 2 meters away. I didn't get to watch anything on it yet, but I can report that these goggles, which you can fold away, are extremely light.
I'm not fully sure what to make of the last of the new accessories I saw, the bowling-ball shaped LG Rolling Bot. It connects through Wi-Fi, has an embedded microphone and 8MP camera and can serve as a rolling security camera of sorts. But LG is also playing up the play aspect of this thing — even as way to terrorize, but only in a fun way, your pets. It can shine a laser light, and you can remotely drive it using an app on your phone. It seems like a half-hearted step into the Internet of Things, but then again robots done well are engaging.
A few other notes about the phone itself: It has a 5.3-inch Quad HD display, and runs off Qualcomm's Snapdragon 820 processor — Qualcomm CEO Steve Mollenkopf also joined LG on stage.
The camera inside the G5 sports a 135-degree wide angle lens.
So did the CMO of Parrot, because you will be soon able to control Parrot's Bebop Drone 2 via an upcoming LG Controller that the G5 attaches onto.
The camera inside the G5 sports a 135-degree wide angle lens that lets you shift between standard and wide-angle shots. An always-on display lets you peek at the time, notifications and such without waking up the phone. (LG took advantage of similar technology on the LG V10 phone introduced last year.)
The new phone employs the versatile USB-C type connector that is an emerging standard. The onboard 32GB of memory is expandable through microsSD. And as with prior LG devices, the power button is on the back, though it now gains the fingerprint sensor that is on rival devices like the iPhone and Samsung Galaxy's. LG did move the volume buttons to the side.
I look forward to testing out the G5 and its modular components — and to determine if LG truly is in the early stages of something innovative.
Related Video
Our editors review and recommend products to help you buy the stuff you need. If you make a purchase by clicking one of our links, we may earn a small share of the revenue. Our picks and opinions are independent from any business incentives.