Smartphones
Google Announces the Nexus 5X and Nexus 6P
Featuring fingerprint sensors, improved cameras, and USB-Type C.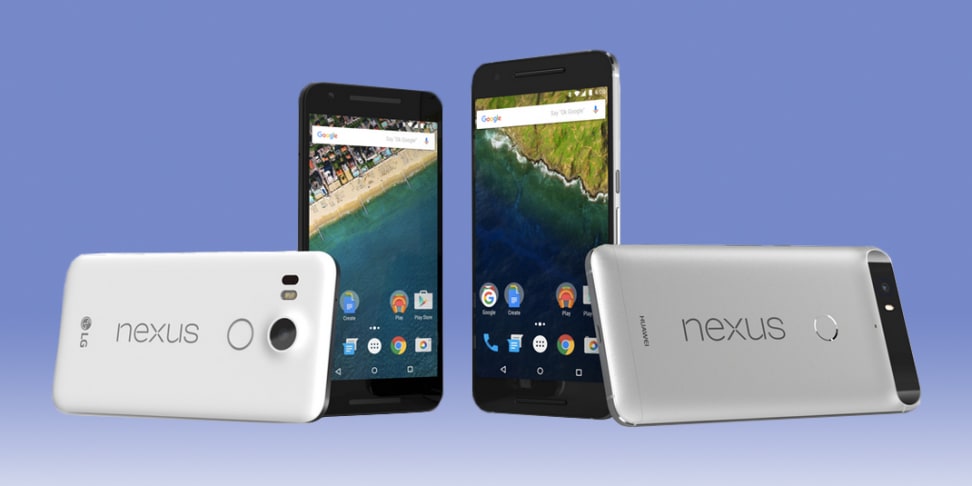 Credit: Google
It's been nearly a year since Google unveiled the Nexus 6, and this week it showed off two entirely new Nexus devices. The Nexus 6P is designed by Chinese manufacturer Huawei and features a robust 5.7-inch, Quad HD AMOLED screen, Qualcomm's new Snapdragon 810 v2.1 processor, and a fingerprint sensor.
The Nexus 6P announcement legitimized previously leaked images of the phone, which proved somewhat polarizing due to the device's unique design. Most notably, the back of the phone has a slightly raised "lip" around the top that houses the primary camera.
And then there's the Nexus 6P's fingerprint sensor, which also sits on the back of the device. It's not the first time we've seen a fingerprint sensor in this location, but it's a design choice that isn't without its fair share of detractors.
Google claims that the Nexus 6P's 12.3MP primary camera is the most impressive smartphone camera the company's ever tested when it comes to low-light performance. It also takes advantage of laser-assisted auto-focus, a feature we grew to appreciate on smartphones like the LG G3 and G4.
According to Google, the Nexus 6P charges twice as fast as an iPhone 6 Plus.
Not to be outdone by the iPhone, the 6P's camera is capable of shooting in 4K and can capture slow-motion video at a stunning 240 frames per second.
In an interesting (albeit unsurprising) move, the Nexus 6P is outfitted with a USB Type-C charging port. The new format promises faster transfer speeds and quicker charges. In fact, according to Google, USB Type-C allows the Nexus 6P to charge twice as fast as an iPhone 6 Plus. Oh, and it's reversible, meaning you won't need to fumble to correctly orient the connector.
The all-metal device comes in aluminum, graphite, frost, and gold. Here's a breakdown of the available models:
Nexus 6P
32GB: $499
64GB: $549
128GB: $649
Google also unveiled the LG-designed Nexus 5X, which is equipped with a 5.2-inch full HD (1080p) screen, a Snapdragon 808 processor, a USB Type-C charger, and a fingerprint sensor on the back of the device—just like the Nexus 6P.
The primary camera packs 12-megapixels and protrudes slightly from the back of the device, just above the fingerprint sensor. It captures 4K video, too, but its slow-motion videos top out at 120 fps.
The Nexus 5X comes with a 5.2-inch full HD (1080p) screen, Snapdragon 808 processor, and fingerprint sensor.
Unlike the aluminum-bodied 6P, the Nexus 5X is built mostly from plastic. It's available in charcoal black, quartz white, and a bluish-greenish hue called "ice blue." Here's a model breakdown:
Nexus 5X
16GB: $379
32GB: $429
Both phones are available for pre-order today on the Google Store. They come with a free 90-day subscription to Google Music and a $50 Google Play credit. They're also unlocked and will work on every major carrier.
Expect them to ship in late October.
Related Video