Smartphones
Tao Lets You Work Out While You Play Video Games
Feel the burn... in Jetpack Joyride?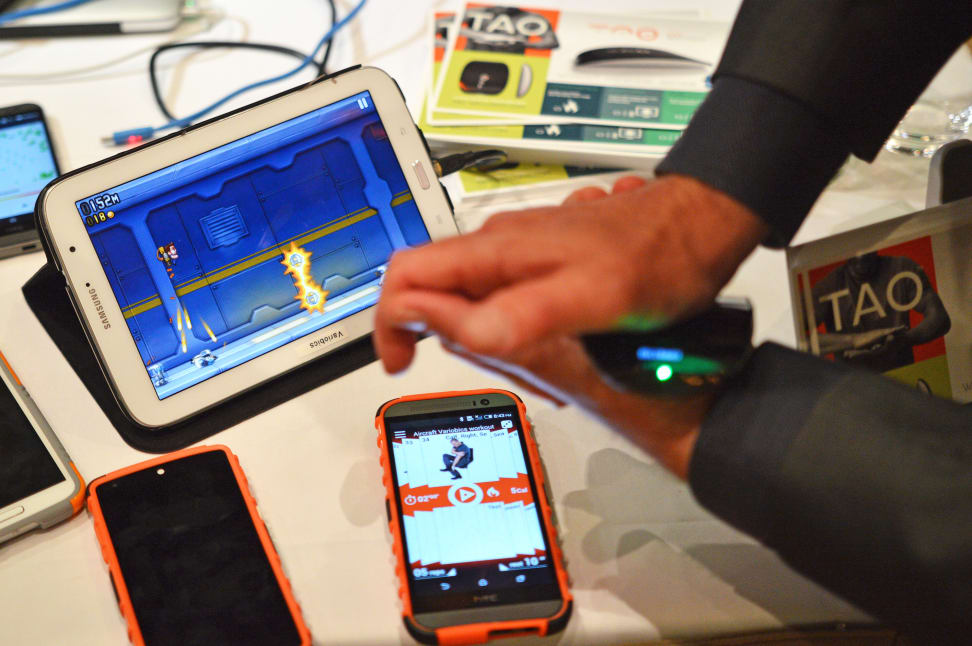 Credit:
I love video games, and I hate working out. Lo and behold, someone's created a product to combine the two.
Well, of course, lots of devices have done that (it's how a generation of kids convinced their parents to buy Nintendo Wii consoles), but few have pulled it off with mobile games.
The Tao WellShell is one of those that have. It's a small, Bluetooth-enabled isometric workout device that connects to your smartphone and helps you do simple workouts. The WellShell even tracks your heart rate, and has a built-in accelerometer.
The product first appeared at CES this January, and raised raised over $100,000 on Kickstarter to create the updated prototype that's being shown off at IFA 2014. What we saw in Berlin was a sleek little device that looked more or less like a black Apple Magic Mouse.
When the WellShell is connected to a smartphone, you can either use the included app to complete pre-defined workout programs, or connect the WellShell to simple, tap-based games like Jetpack Joyride, Flappy Bird, and Canabalt. There's no official list of compatible games, however.
I tried it out on Jetpack Joyride, and I have to say it was pretty difficult. You have to exert a lot of force on the tiny device to get your rocketman to fly, and it's really kind of impressive that it can withstand so much pressure.
You can use the included app's workout programs, or connect the WellShell to tap-based games like _Jetpack Joyride_ and _Canabalt_.
While the most natural way to use the WellShell is probably between your palms, you can also put it behind your knee, between your thighs, on your shoulder, or anywhere else you can use your body to press it. Tao Wellness President Philo Northrup told me you can calibrate the WellShell's to make games easier or harder.
The glossy black top of the WellShell is nicely designed, if quite prone to smudges and fingerprints, but the bottom looks unfinished. Northrup said the design might change to include a new bottom casing.
The final product will be available at CES 2015 next January, and it will likely cost around $100.