Smartphones
This ridiculous iPhone case makes a shot of coffee to chase away The Mondays
This colossal case turns your iPhone or Android into a coffeemaker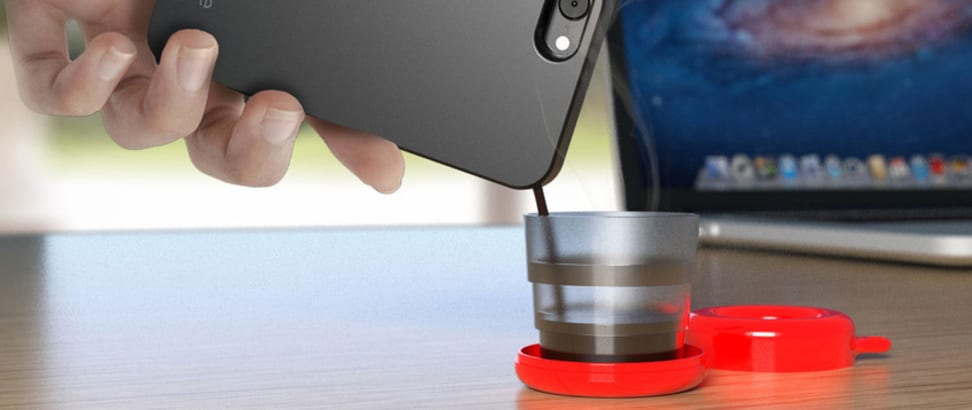 Credit: Design Boom
From clear coffee to unicorn noodles, 2017 has been the year of ridiculous cuisine trends. Well, here's another one for the books: a smartphone case that makes coffee. Is it absurd? You bet. Will die-hard espresso fans love it? Why not?!
It's called Mokase, and it's the weirdest thing I've ever seen: the phone battery heats a cartridge—which, to me, looks a lot like a communion wafer—full of pre-made espresso. It's basically just using your battery to heat up liquid.
When it's done, you just tilt and pour. However, due to the small reserve of water, the device produces less than a shot's worth of java.
Because we live in a world where everything is "smart," the whole process is initiated through an app. Just insert the wafer capsule, fire up the companion app, and press the button. It's certainly a cool and unique idea, but I'm not sold.
I mean, I love coffee as much as the next person, but my phone is my lifeline. What if the case malfunctions? If liquid seeps into my phone, my world will definitely come to a screeching halt.
Weirdly, the creators have suspended the original Kickstarter campaign, but not because it's failing. According to Clemente Biondo, one of the product's masterminds, the team wants to begin production ASAP to fill demand.
If Mokase tickles your fancy, you can pre-order it here. The case works with the iPhone 6, 6S, 7, and 7 Plus as well as a range of Samsung and Huawei phones. As of right now, the estimated shipping date is September 1st 2017, and you can get your own for about $54.26.
Related Video