Smartphones
Motorola Moto E Smartphone Review
Motorola cut this corner just a little too close.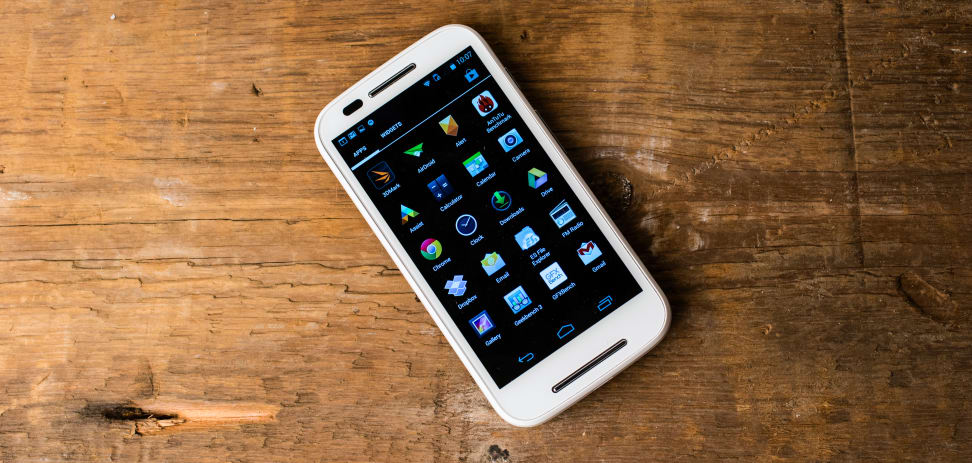 Credit:
Let's say you're a phone designer tasked with creating the ultimate affordable smartphone. Okay, let's be straight: it's gotta be cheap. $129 cheap. You can't load it up with the best Snapdragon processor or a gorgeous UHD display, but it's still has to be desirable. Stylish, even. People are going to need to want this thing.
Motorola seems to have given its designers exactly such a daunting task. The result? The Motorola Moto E (MSRP $129.99). It's got a 4.3-inch, 960x540 display protected with Gorilla Glass 3, a water-resistant design, and colorful, customizable back plates to let people accessorize. On the inside you there's a battery good for all-day usage, but you'll have to get by with a basic processor, not that much RAM, not that much storage, and an underwhelming rear camera.
As you might expect, it's a compromise. And while the lack of a flash, front-facing camera, removable battery, and LTE connectivity are let-downs, the Moto E holds its own just about everywhere else. If you need a low-cost smartphone that can still do smartphone things like browse the web, send e-mails, and make calls then the Moto E is a good place to start.
Design & Usability
Cheap, but not chintzy.
You have to give Motorola credit: the Moto E doesn't feel cheap. It's plastic, of course, but it feels like pretty much any other mid-range Android phone on the market. It's got a smooth plastic backplate paired with a decent-looking, durable glass display. It has a good heft, seals to help it resist moisture, and the 4.3-inch display size feels just right, even if you've got smaller hands.
Between the rounded edges, the sloping back, and the pop of color provided by an optional custom back plate, the Moto E feels like the result of a deliberate design process rather than a cost-slashing, bean-counting crusade. Compare it to higher-end all-plastic phones like the Samsung Galaxy S5—which is so light it feels hollow—and the E is more solid by comparison.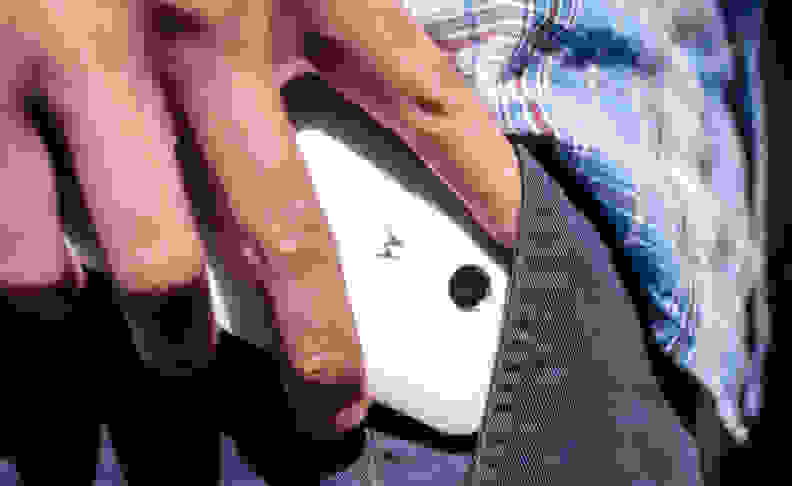 In normal operation the Moto E is just fine, thanks to the inclusion of Android 4.4 KitKat. Google's "Project Svelte" initiative lowered the memory usage across the Android operating system for 4.4, especially for the default apps like Gmail and Chrome. The result is a phone that feels snappy and smooth despite being affordable and relatively underpowered.
Using the Moto E is just about the same as any other Android KitKat phone on the market. The default apps run just fine, the included Google services such as Gmail, Drive, and Calendar cover the basics you'll want from a smartphone, and multitasking is a breeze. Even with multiple tabs open in Chrome web browsing still felt snappy. There's a slight hitch when opening or switching between apps, but it's nothing you can't get used to. All things considered, if you're upgrading from an old Android phone or a feature phone, you'll probably never know the difference.
Motorola has mostly left Android alone, but has opted to include some useful extra apps along with the default Google loadout. First, there's Motorola Migrate, which helps you transfer your data, contacts, and such from a previous phone to the Moto E. More exciting is Assist, a built-in app that we've seen previously on the Moto X. Assist can do fun things like block calls while you're sleeping or automatically respond to texts while you're driving—at least, it can on the Moto X. The sleeping functionality is here, but the Moto E has left the driving features on the cutting room floor for now.
Performance
The wheels aren't falling off, but they're wobbling something fierce.
Okay, so the Moto E feels fine during basic tasks, it's fun to use, and it costs less than a new set of tires—what's the catch? Welcome to the catch. As much as Google has done to keep Android 4.4 lightweight to help low-cost hardware, the Moto E is cutting it awfully close. While flagship phones often come with 3GB of RAM, Snapdragon 800 (or better) processors, and 16GB+ of storage, the Moto E has just 1GB of RAM, a 1.2Ghz Snapdragon 200, and 4GB of built-in (albeit expandable) storage.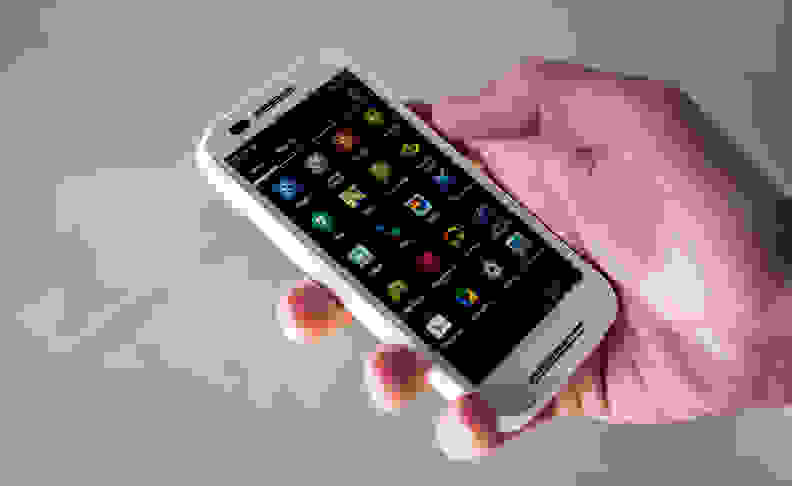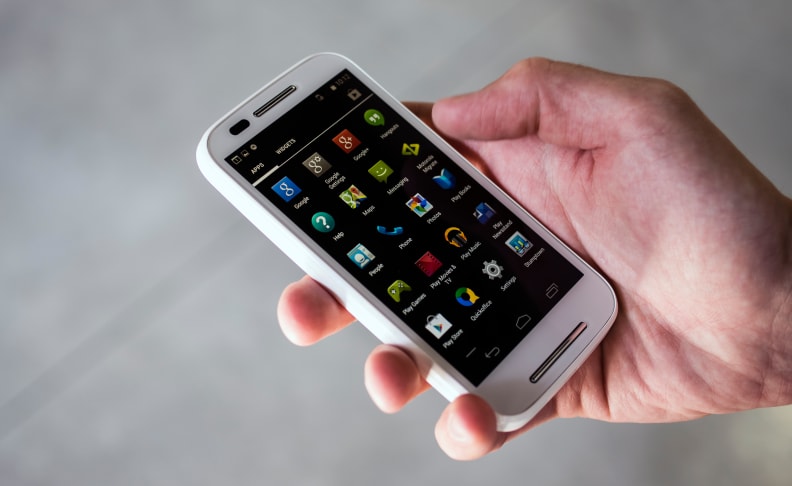 What do all those numbers mean? It means that if you want to play a game, run a bunch of apps at once, or try to do modern smartphone things like watch streaming video, the Moto E is more likely to strain under the pressure. In our performance benchmarks the Moto E routinely came up as the bottom of the barrel. The Moto G, which can be found for just $50 more on the Google Play store, ran rings around the Moto E in every performance test we could throw at it.
In our display performance tests the Moto E didn't fare much better. The Moto comes with a 4.3-inch, 960x540 (256ppi) display. That's a good ways below the "Retina" line established by Apple of roughly 300ppi, meaning if you've got 20/20 vision you can sometimes resolve the pixels in the display at normal operating distances. It's not a big deal, but most other phones look much nicer. The display is calibrated well, at least, but it's not terribly bright so despite relatively low reflectivity it's not very usable outside on a bright day.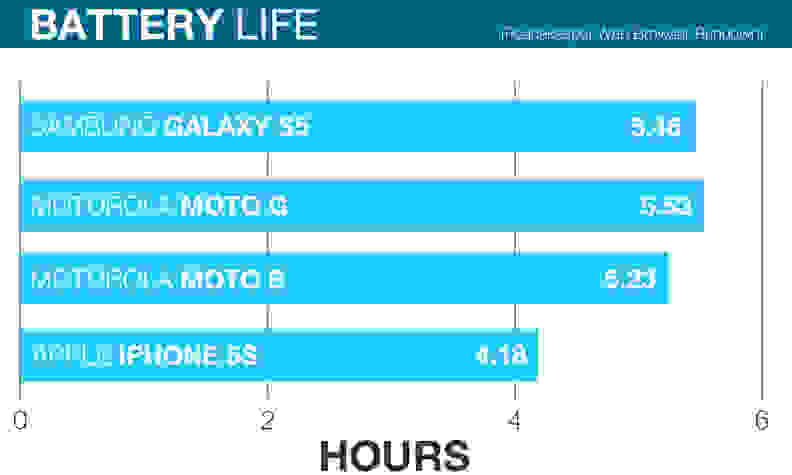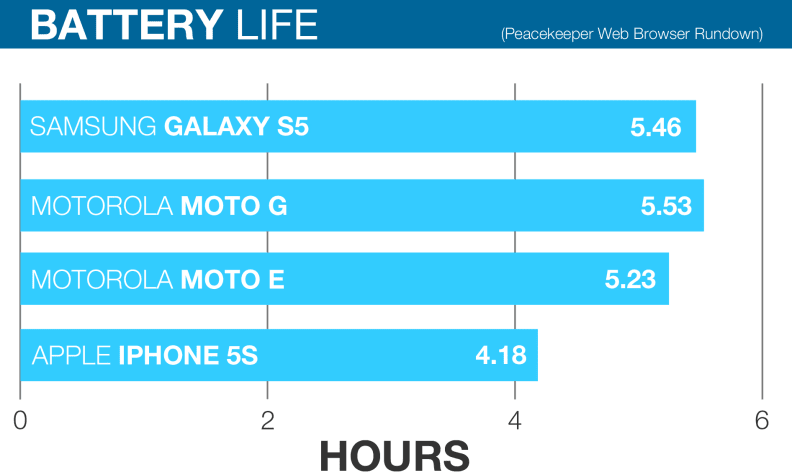 If there's a silver lining here, it's the Moto E's battery life. Though the battery's 1,980mAh capacity isn't any great shakes, powering a low-end processor and a low-rez screen doesn't take that much juice. As a result we were able to get respectable battery life, with about 4.5 hours of heavy use. That translates to just about a whole day's use under normal circumstances. Overall, as a smart device, the Moto E just doesn't match up against most of the mid- and top-tier devices on the market. That's to be expected, but given the stellar performance of Motorola's low-cost G, we can't help but feel just a little bit disappointed.
Camera
Would you expect a great camera for $129?
Given that even a bad point-and-shoot costs right around $100 on its own, it wouldn't be fair to expect the $129 Moto E to include a great camera. The Moto E's 5-megapixel rear camera slightly exceeds the low bar that we set for it, but it's still pretty bad. Also not helping: no LED flash, no front-facing camera, and no autofocus. Just like an old-school cameraphone, the Moto E has a fixed focus, making it hard to get anything to look sharp.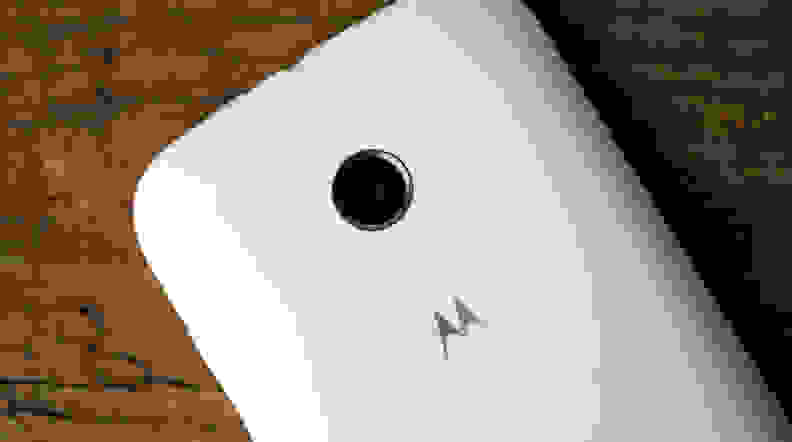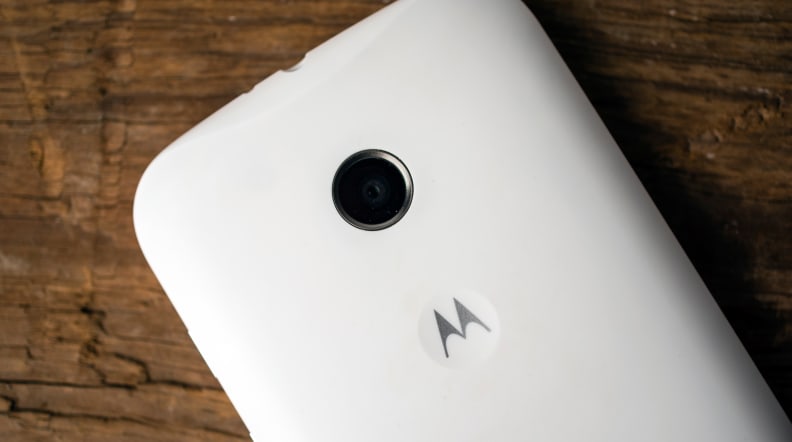 There are two thing at work here. The first, and probably the most limiting factor, is the low-end hardware. The rear camera is a much lower resolution than the 8-megapixel and 13-megapixel cameras found in most top-end smartphones. Our hunch is that it's also probably a couple of years old, while the 13-megapixel Sony-made imaging units found in many flagship phones today are brand-spanking-new. It's poor in low light, it doesn't resolve detail well, and the lens just isn't up to snuff.
Inconsistent metering constantly plagues the Moto E's images, leaving you with shots that are too bright or too dim.
The other issue is the software. While both Motorola and Google's default camera apps attempt to produce decent-looking images through post-processing, neither really succeeds. Inconsistent metering constantly plagues the Moto E's images, leaving you with shots that are too bright or too dim. The Moto E also struggled to consistently white balance accurately, leading to unexpected color shifts.
Can you get a good photo from the Moto E? Of course. But the photos from this phone aren't anywhere near the level of basic, entry-level point-and-shoots on the market today. If you're just taking shots and putting them on Facebook or Instagram it likely won't be much of an issue, but if you're documenting important experiences or capturing priceless memories you'll want to pick up a better camera. If you do opt for the Moto E as your daily camera you'll have to pick up a microSD card, because the 4GB of built-in storage will get used up very quickly.
Conclusion
Below average overall, but not bad for the money.
We began this review by wondering what a phone designer would do if they had to make a good phone for under $130. It's hard to imagine a better response than the Moto E. It's a phone that, by necessity, is defined by its limitations and its low price point, without feeling hamstrung or cheap. It certainly isn't the best phone that we've put through our labs, but it's also a phone that any of us would be happy to own if circumstances demanded it.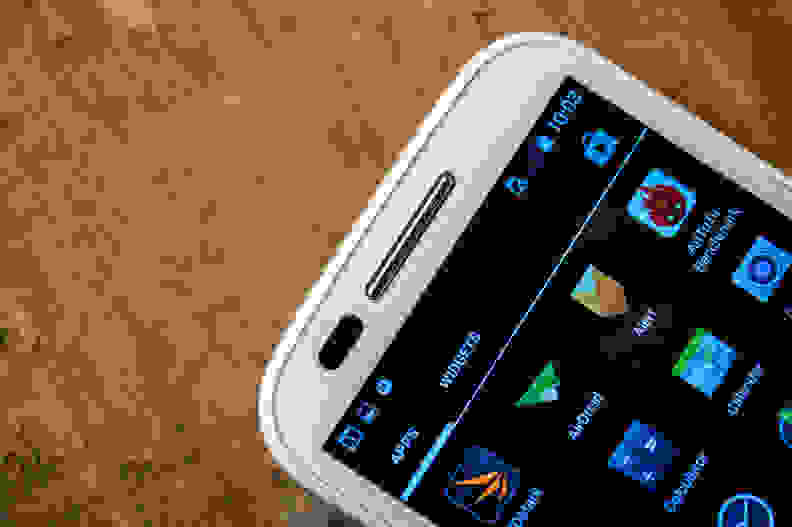 How's that possible? Because the Moto E is quite good in the areas that truly matter and good enough just about everywhere else. It's $129 right now when purchased direct from Motorola, and it will probably be found for much, much lower than that later on in its lifespan. That's astonishingly cheap for a smartphone that can do just about everything a high-end phone can do, especially compared to the $600+ price tags those high-end phones carry when not signing up for a two-year contract.
So should you pick up the Moto E? It depends on your circumstances. For our money, this phone joins two other inexpensive smartphone options out there today: the LG-made Google Nexus 5, and the E's big sister, the Moto G. The Nexus 5 has flagship-level power under the hood, a very pretty HD screen, and acceptable battery life for right around $300 off-contract. If you had a flagship phone like the Samsung Galaxy S5 or the iPhone 5S that broke and you want a replacement that feels just as powerful, go with the Nexus.
Nevertheless, the Moto E is a well executed exercise in judicious corner cutting and just about the best phone $129 can buy.
But if you need an even more affordable option, the Moto G and E are the way to go. We prefer the Moto G, which has better battery life, a far better display, and a more powerful processor for just $179 from Motorola ($220 if you want LTE). The Moto E is even cheaper than that, but we don't think the $50 of savings are worth the sacrifices between the two phones. Nevertheless, the Moto E is a well executed exercise in judicious corner cutting and just about the best phone $129 can buy.