Style
9 white pants for men that will help you brave the trend
Stay cool and relaxed this season.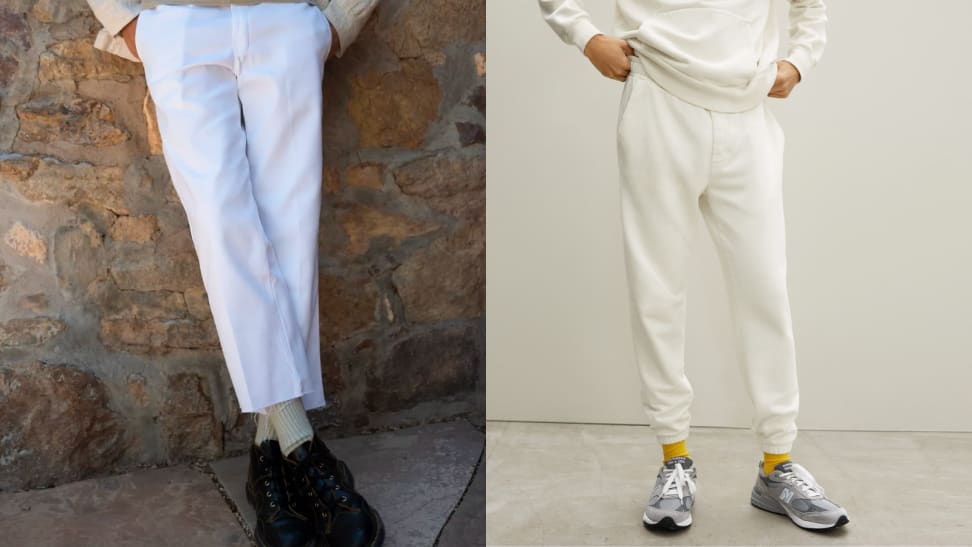 Credit: Urban Outfitters / Everlane
We're halfway into spring, which means the sun has returned and is asking, hey, remember what it's like to sweat? As a result, you're likely turning away from your favorite heavy-duty garments in favor of lighter, airier fabrics. But fear not, pants lovers: You can still wear them. But you'll be much happier if they're white.
As the sun's rays become harsher by the day, white pants can be a savior in the comfort department, as the color reflects, rather than absorbs, the sun's rays. A nice pair of linen white pants can give off a relaxed beachy vibe for any springtime occasion, while a pair of white jeans can make a casual outfit pop with radiance. And matching a pair of white pants with a white T-shirt can really make you stand out in the crowd, if you're up for a challenge and truly believe you won't make a mess of yourself.
We scoured the internet to assemble a list of some of the best white pants that retailers have to offer for men this spring—and they're all under $100.
1. These straight-fit stretch chinos
The 770 straight-fit stretch chinos from J.Crew are some of the most popular pants the retailer has to offer for men. They're stylish, they sit just below the waist, and their slight taper below the knee makes any outfit look a little neater. The fabric is a blend of cotton and elastane, offering you extra comfort and flexibility when on the move this spring. The pants are available in waist sizes 28 to 44, with a length of 28 through 36.
The 770 chinos are a favorite for J.Crew patrons, averaging a 4-star rating on the website. One reviewer notes, these are the "best chinos J.Crew has ever offered," and revealed that he bought them in four different colors because he loved them so much.
Get the 770 Straight-Fit Stretch Chino Pant from J.Crew for $79.95
2. These loose pants that taper and crop at the ankle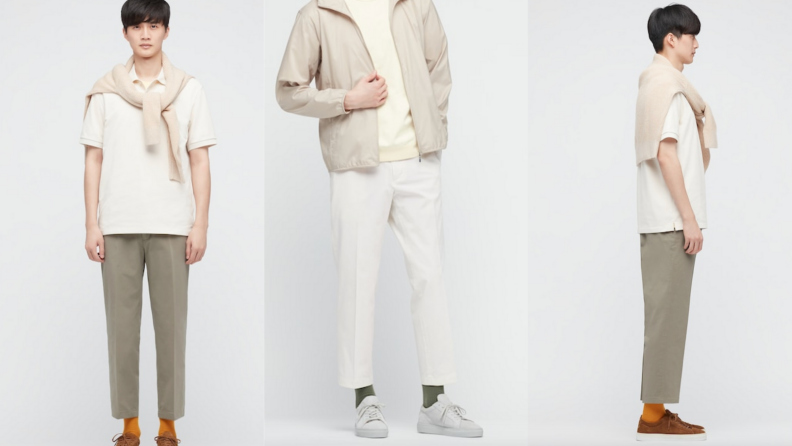 Japanese retailer Uniqlo has long been a staple for basics, so it's no surprise that the store carries a smarter, contemporary version of relaxed cotton pants. Featuring a traditional Japanese silhouette, Uniqlo's two-way stretch cotton twill ankle pants are loose and wide-fitting at the waist, but come down to a slim taper by the ankles. The cropped length keeps your ankles free and cool on a warm spring afternoon. The pants are available in men's sizes S to XL.
These stretchy pants give off a smooth, neat look that offers a versatility chinos may not. They're smart enough to wear in the office, yet casual enough to wear to the grocery store. I, Reviewed's style writer, own a few tapered and cropped ankle pants from Uniqlo and recommend them as some of the most comfortable everyday pants the retailer has to offer.
Get the Smart 2-Way Stretch Cotton Twill Ankle Pants from Uniqlo for $39.90
3. These short but loose track pants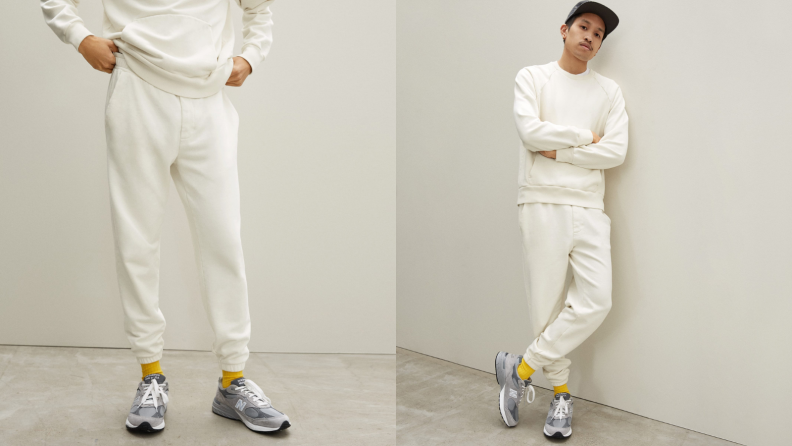 The Track Pant from Everlane is the perfect mix of athleisure and loungewear. Made up of 100% organic cotton, the sweatpant features two side pockets, one back pocket, and a hidden drawcord. Its relaxed silhouette tapers by the ankles and its shorter 28.5-inch inseam gives a cropped look. The pants are available in men's sizes XS to XL.
The "sandstone" shade is an off-white color that may make you feel more comfortable giving white a try. The pants currently hold a 4.42-star average rating on Everlane's official store, with one reviewer commenting, "The fit is perfect and the material is very breathable."
Get The Track Pant from Everlane for $58
4. These classic white jeans
When it comes to jeans, Levi's is king, and the 501s are an undeniable favorite among shoppers. The straight-leg white jeans, made of a cotton, non-stretch denim, sit right at the waist with a comfortable fit through the seat and thigh. They offer a timeless Americana look, with a button fly and five pockets. The white 501s are available in waist sizes 28 to 44, with lengths of 29 to 36.
Customers rave about the 501s, which currently hold a perfect 5-star average out of over 2,000 reviews on Levi's official web store. One shopper points out that the jeans are "reliably consistent in size, style, and quality."
Get the 501s Original Fit Jeans from Levi's for $59.50
5. These linen-blend pants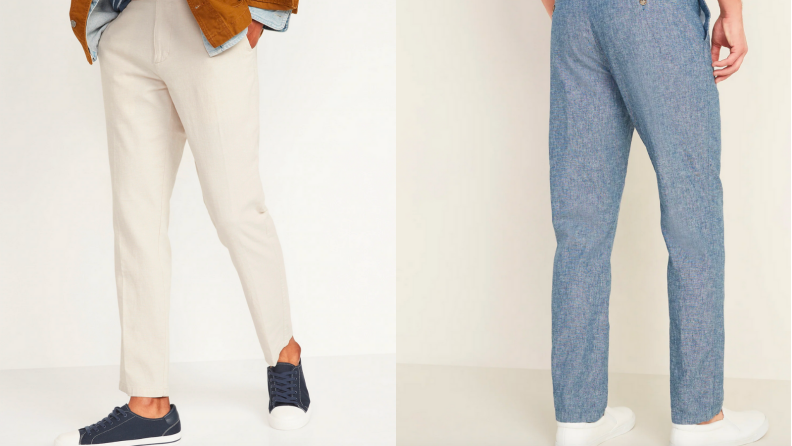 When it comes to spring or summer fabrics, linen offers a breeziness that cotton just can't compete with. But linen also wrinkles easily. Old Navy, however, has a recipe to stop that. The retailer's Slim Built-In Flex Linen-Blend pants are a mixture of 54% linen, 44% cotton, and 2% spandex, so they're very flexible and won't wrinkle as much as 100% linen pants will. These pants offer an elasticized waistband with adjustable drawstring for an easy fit and are available in men's sizes XS to XXXL. They come in both regular and tall lengths.
"My husband really like these pants," one reviewer says. "They're perfectly lightweight and breathable for summer. The elastic at the back make them super comfy."
Get the Slim Built-In Flex Linen-Blend Interior Drawstring Pants from Old Navy for $44.99
6. These flowy 100% linen pants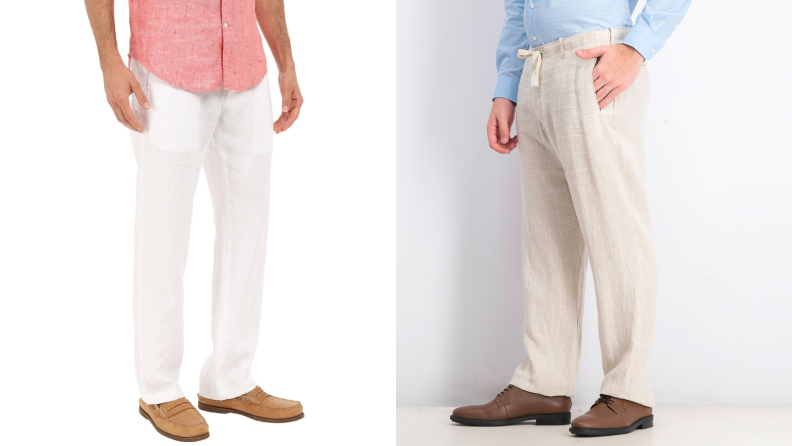 For a relaxed look that's sun-ready, Perry Ellis' linen pant offers wearers a stylish, lightweight pant. They're 100% linen, which means they're more breathable than other pants made of cotton. Although wrinkling may be an issue here, wearing full linen will keep you cool in warmer temps. Perry Ellis offers this style of linen pant in waist sizes 29 to 50, with a drawstring closure to ensure a proper fit, though reviewers recommend sizing up to avoid fit issues after washing.
These pants have a 4.5-star average rating on Amazon, based on over 1,100 user reviews. "Well made, beautiful, tight-weave linen," says one reviewer. "Light and airy without feeling flimsy! Stitching is beautiful."
Get the Perry Ellis 100% Linen Drawstring Pant from Amazon for $50.85
7. This basic and affordable chino pant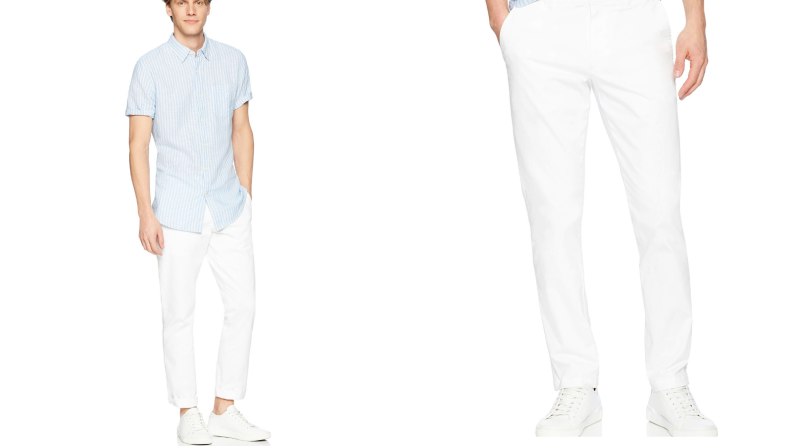 Amazon's Goodthreads brand of clothing is popular among shoppers, and its slim-fit washed stretch chino pants are a top seller for men. The pants are made up of 97% cotton and 3% spandex to give them flexibility and comfort for all-day wear. They're also tapered down to the ankle, offering a slimmer look than the casual regular-fit chinos. The pants are available in waist sizes 28 to 42 and in lengths 28 to 36.
Based on over 7,000 user reviews, these pants have a 4.5-star average rating, with many reviewers praising the modern fit of the pants and the strong stitching.
Get the Goodthreads Slim-Fit Washed Stretch Chino Pants from Amazon for $30.90
8. This workwear pant that makes you feel like a painter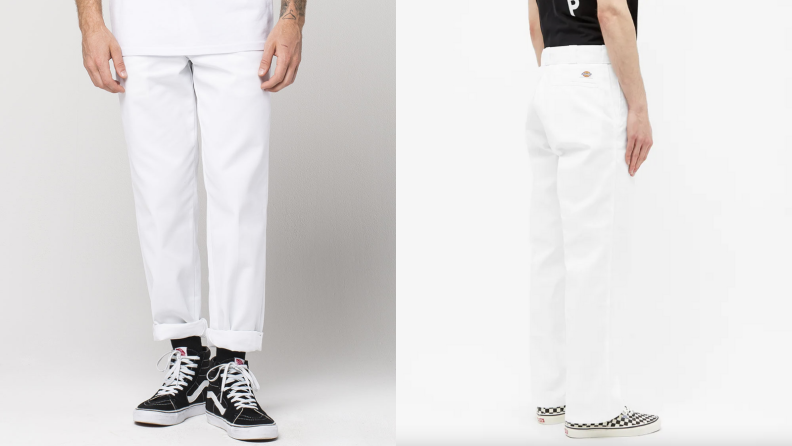 When it comes to white work pants, Dickies reigns supreme. The iconic 874 silhouette is a straight-leg work pant that that looks sharp cuffed at the ankle and is made of low-maintenance, wrinkle-resistant fabric. These pants are meant to look loose, relaxed, and casual, which is why they're preferred by skaters and painters alike. With a blend of 65% polyester and 35% cotton, these pants are both stretchy and durable, meaning they're less prone to rips, stains, fading, and even shrinking.
They're available in a multitude of waist sizes from 26 to 44, with lengths ranging from 28 to 39. The Dickies 874 Work Pant currently holds a 4.5-star average rating with over 38,000 reviews. One user says, "A tough waist band, pockets in the right places, and fits just as I'd expected."
Get the Dickies 874 Work Pants from Amazon for $25
9. These custom-tailored fit roomy chinos
These Land's End pants are a classic chino style but have been triple-washed to feel softer and broken-in right off the rack. The pants are made from 97% cotton and 3% spandex, which makes for easy maneuvering. The best part about these pants are its sizing options: Land's End offers waist sizes from 30 to 46 but also gives customers a customized inseam to make them as long or short as you'd like. Inseams range from 26 to 36 inches with cuffed or uncuffed hemming options available.
These pants are a hit with Land's End shoppers, averaging a 4-star rating from over 100 users, with most complimenting the pants on their comfort and fit.
Get the Traditional Fit Comfort-First Knockabout Chino Pants from Land's End for $59.95
The product experts at Reviewed have all your shopping needs covered. Follow Reviewed on Facebook, Twitter, and Instagram for the latest deals, product reviews, and more.
Prices were accurate at the time this article was published but may change over time.