Style
Should you splurge on Ugg slippers or save on this $40 popular dupe?
I tried to find Ugg-quality slippers for half the price.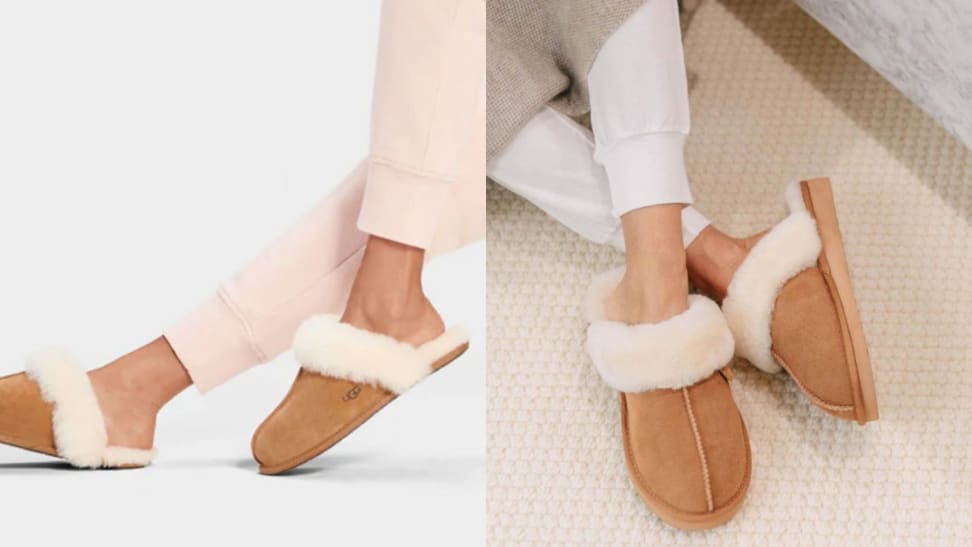 Credit: Ugg and Dearfoams
When it comes to slippers, Ugg is dominating the market. Slippers in general have become more popular during the pandemic, with sales jumping 70% between March and October 2020 compared to the same time period in 2019. Sales for Ugg slippers, specifically, have taken off and have been spotted on celebrities such as Gigi Hadid and Selena Gomez. Most pairs of Ugg slippers have thousands of rave reviews online at a variety of major retailers, such as Nordstrom, Bloomingdales, and Amazon, and they've been spotted on a growing number of celebrities recently.
Ugg slippers are not cheap though, with most pairs retailing between $80 and $130. This has led to an influx of "faux Uggs" being sold. Many of these "faux Uggs" look similar to the real thing, but they're not always the same quality.
When we recently tested slippers, we set out to find if Ugg really does make the best slippers on the market—or if other brands have options that are just as good. What we found was that the brand, Dearfoams, sells a quality, look-alike slipper that puts up a good fight against its twin: the Ugg Scuffette II Slipper. The name of the slipper is the Dearfoams Sydney Scuff Slipper. While it retails at $69, it's usually on sale, making it far less than the $90 you'd have to spend on the Ugg slippers.
So which one is best? Here are our thoughts on whether you should save on a look-alike Ugg slipper or splurge on the real thing.
What I love about the Ugg Scuffette II slippers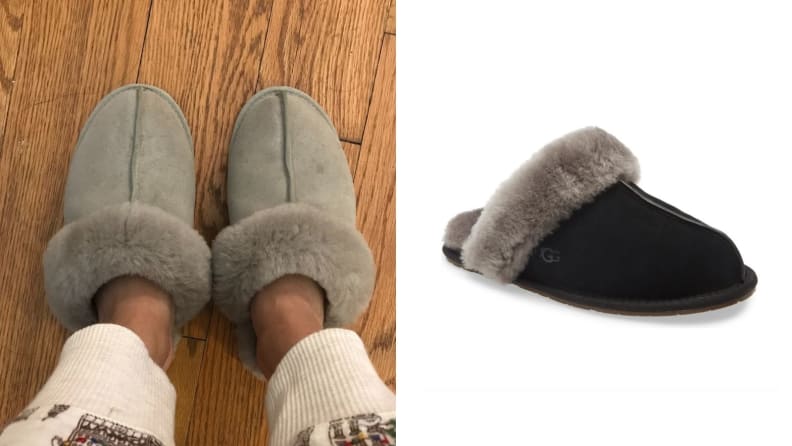 I spent a lot of time testing slippers the past couple months, and I can confidently say that the Ugg Scuffette II slippers are my favorite. The lining of these slippers is full of fluffy wool, making them feel like a giant hug for your feet. There's also extra wool at the upper edge of the slipper to keep the top of your feet warm. Despite all the warmth they provide, these slippers never made my feet feel too hot or sweaty. While these slippers did initially feel tight, they loosened up and had a snug fit after wearing them around for a few days.
The sole of the slippers is thin and lightweight, yet they have a rubber bottom that adds cushioning and makes them easy to walk around in. Another perk is that when I tested wearing them on a wet floor, they didn't slip at all, so it's safe to put them on after showering or while cleaning.
What I don't like about the Ugg Scuffette II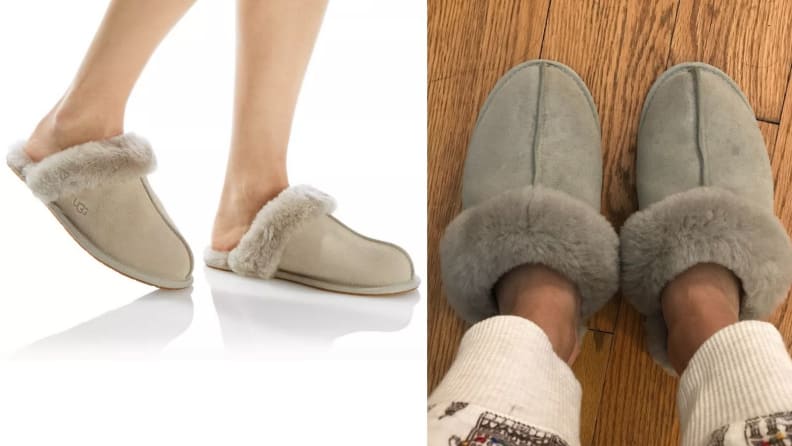 While there's not much to not like about the Ugg Scuffette II slippers, there are a few things that could be improved. The first issue is that the slippers may not be as comfortable if you are on your feet all day long with no breaks from standing or walking. While the thin sole is easier to walk in and comfortable for short term wear around the house, they do not offer a lot of extra cushion or arch support.
The second drawback is that there are no instructions on how to clean them, leaving me to guess the best cleaning option or not clean them at all. However, this issue is not specific to these Ugg slippers. Most brands do not give care instructions for slippers.
How do the Dearfoams Sydney Scuff Slippers compare to Ugg Scuffette II Slippers?
During my slipper testing, I found the Dearfoams Sydney Scuff Slipper to be very similar to the Ugg Scuffette II in terms of style and the quality of materials used. Like the Ugg Scuffette II slippers, the Sydney slippers are made with 100% shearling, which means they have real fur on the inside and suede on the outside. Unlike other Ugg look-alike slippers that often skimp on lining, these have plenty of fur to keep your feet warm and dry. Another bonus is that the sole is made to be worn both inside and outside, so you can wear them to run errands or check the mail. While the Ugg slippers could technically be worn outdoors, they are not designed for it and doing so could lead to the thin rubber sole wearing out faster over time.
Even though I found the Dearfoams to be very similar in quality compared to the Ugg Scuffettes, they have a few downsides. While they are great for wearing outside of the house thanks to the thicker sole, they are also not as flexible and therefore don't bend with your feet as you walk, making them less comfortable. This is not a big enough issue to be a deal breaker since you likely won't be going on long walks in backless slippers. However, it is important to know the Ugg Scuffettes are slightly more comfortable to walk around the house in if you are leaning towards splurging on Uggs over Dearfoams.
So should you save on Dearfoams or splurge on Ugg?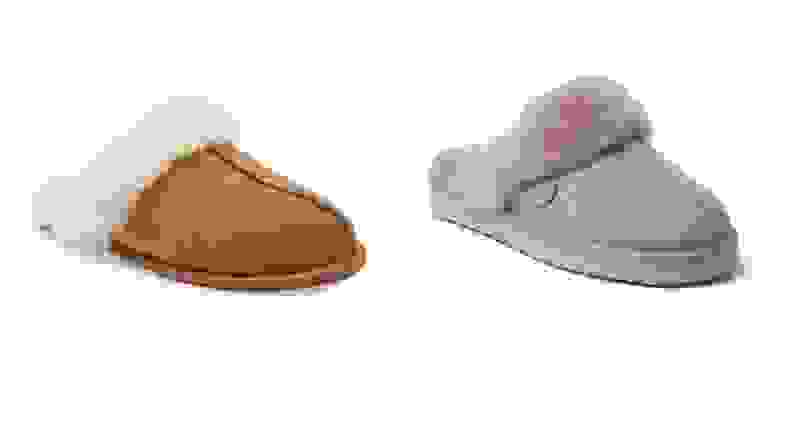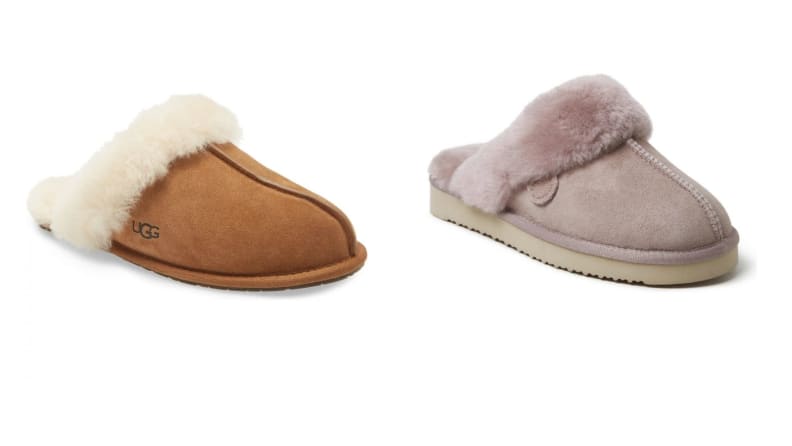 After wearing and testing both the Ugg Scuffette II Slipper and the Dearfoams Sydney Scuff Slipper, I like the Uggs better than the Dearfoams.
The Uggs have more give in the sole, making them more flexible and more comfortable for walking. And although they aren't made for wearing outside, the thinner sole makes them less clunky, so they're easier to walk in without having to worry about tripping over a chunky sole.
But if budget is your number one priority, the Dearfoams Sydney Scuff Slipper is still a great option—especially if you can get them on sale. While these slippers normally retail for $69, they're on sale at Amazon for $39.99 right now. This is a great deal for slippers made with real shearling rather than faux fur, though you'll have to deal with a stiffer sole. Even at $69, they're still a great slipper.
While the Dearfoams slippers are less pricey , if you can afford to spend the extra $21 for the Uggs, it's well worth the splurge in my opinion.
Note, however, that in general, open-back slippers like the Scuffette and Sydney Scuff aren't really designed to be worn outdoors for long periods of time. If you're planning to wear slippers both inside and outside, we recommend a full-coverage slipper, like our favorite: the $100 Ugg Ansley.