Style
A watch subscription service sounds cool—but is it actually?
I tried Watch Gang to find out.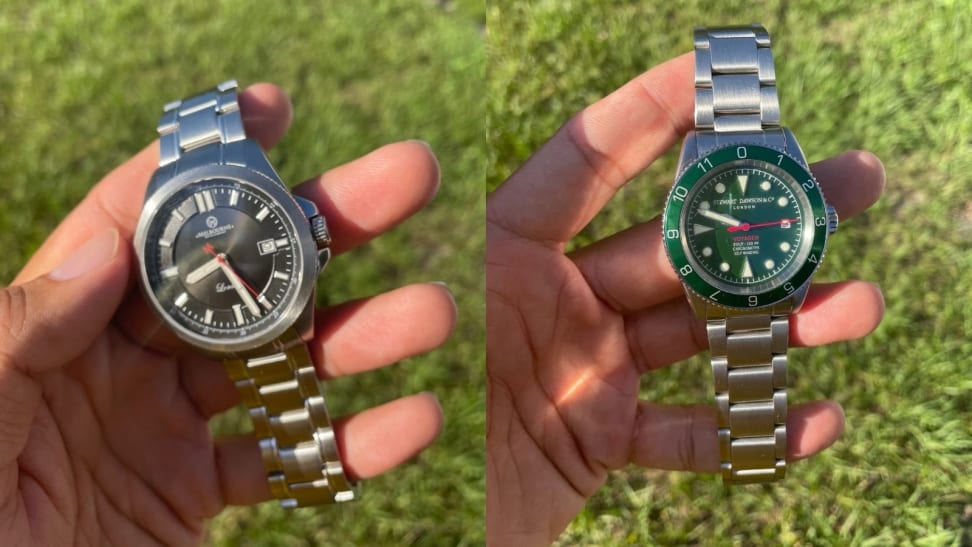 Credit:
Confession: I don't wear watches. It's not that I don't like them or find them to clash with my style—they're just intimidating. Many message boards recommend investing in a trusty Seiko and calling it a day, while some serious watch collectors spend thousands upon thousands of dollars without doubting their decision at all. I'm just not down for that investment.
But then I heard about Watch Gang, a subscription service that caters to folks like me, the casual watch fan who doesn't know where to start. For a fee, Watch Gang sends subscribers a new large-faced watch (a minimum of 40mm) every month (or every quarter). The membership tiers start at about $50 per delivery and promise timepieces worth at least triple that. A new watch every month? Brand-name timepieces? It sounded too good to be true, so I took the service for a test run to see if Watch Gang could turn me into a long-time member.
What is Watch Gang?
Each watch that Watch Gang sends its subscribers is a mystery. You aren't told the type, style, or brand in advance, but the service promises to send watches that are up to 70% off retail. You may select among three subscription tiers, and the default delivery is monthly, though you can opt for quarterly if you prefer. After you sign up, the fee is recurring, unless you cancel before the eighth of the month (per the company's terms), and you cannot return a watch you don't like or didn't mean to order. Alternatively, you can pre-pay in three-, six-, or 12-month increments to save even more in total—but you'll have to pay even closer attention to the calendar if you only want that many watches/months, because these also auto-renew if not canceled in time. Finally, there's a shipping fee of $9.82 for every watch, to cover insurance against lost or damaged packages.
Original ($49.99): This tier is best for watch newbies who want to try out different styles. It's the most budget-friendly and offers fashionable watches that include, according to Watch Gang's website, "some name brands" up to a $150 value.

Black ($99.99): A step up from the Original tier, the Black tier offers watches by "premium microbrands" and "large name brands." These watches promise to be better quality than those found in the Original tier, up to a $500 value.

Platinum ($299.99): The highest tier, Platinum, delivers you a luxury watch that retails well over the tier price, up to $1,500 per the company. These are watches from premium watch-makers.
All three tiers grant subscribers access to exclusive member content, including access to flash sales and the eligibility to be entered into multiple giveaways, where you can win luxury watches from Rolex, Seiko, or TAG Heuer. The brand also hosts daily streams over social media and an official Watch Gang trading Facebook group, where members can swap watches that are not to their style preferences.
To test the service and its goods, Watch Gang sent me two timepieces: the Melbourne Lonsdale from its February 2020 Black Tier, and the Stewart Dawson Voyager from March 2021's Platinum Tier.
How is Watch Gang's Black Tier?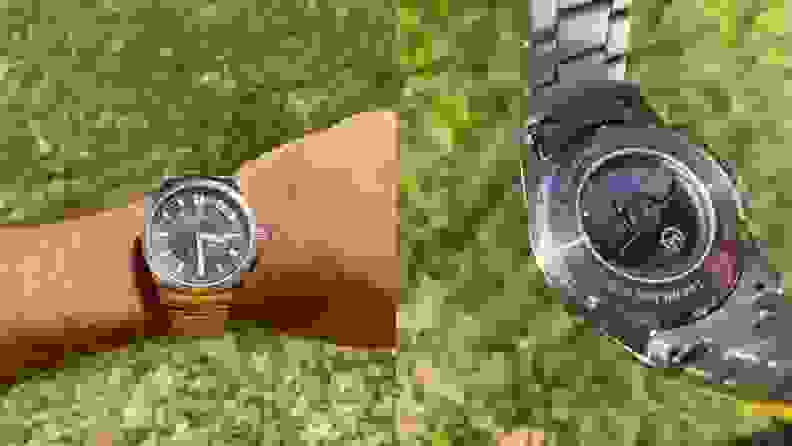 Out of the two watches I received, I dig the Melbourne Lonsdale more. The stainless steel watch is made by the Australian Melbourne Watch Company—best known for its crowd-funded debut Flinders collection—and features an art deco-inspired design. Tiny ridges on its face accent the space between each hour mark—a detail that reminds me of a 7-inch vinyl record. The short end of the red second hand shows off Melbourne's "M," which is a nice touch. I'm also a huge fan of the sunray dial, which gives off a vibrant sparkle in light or sunlight.
The watch shipped in its original packaging, which ensures safe shipping, and came with the original 24-month warranty, still honored by the manufacturer. It also means if I didn't like the watch, I'd be able to give it to someone else as a gift, sell it, or trade it in Watch Gang's official trade group.
The watch sells for $495 AUD, which, at the time of this writing, was around $380 in US dollars. For a subscription tier that costs $100, this is a great deal. However, for resellers and flippers, it might not be such a steal. I found the watch on eBay for less than $200.
How is Watch Gang's Platinum Tier?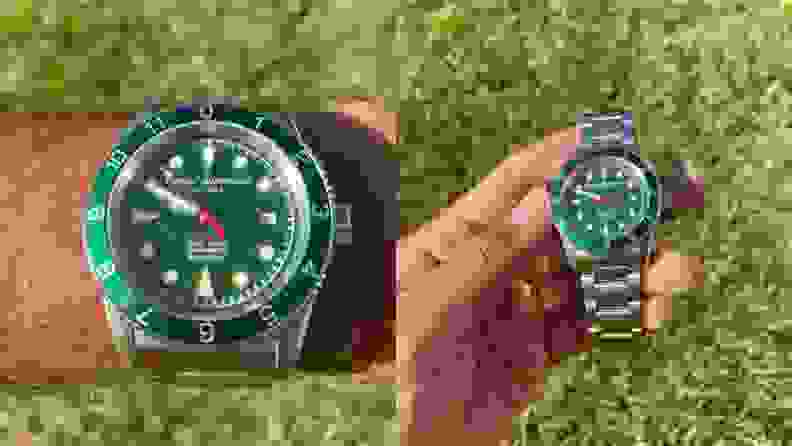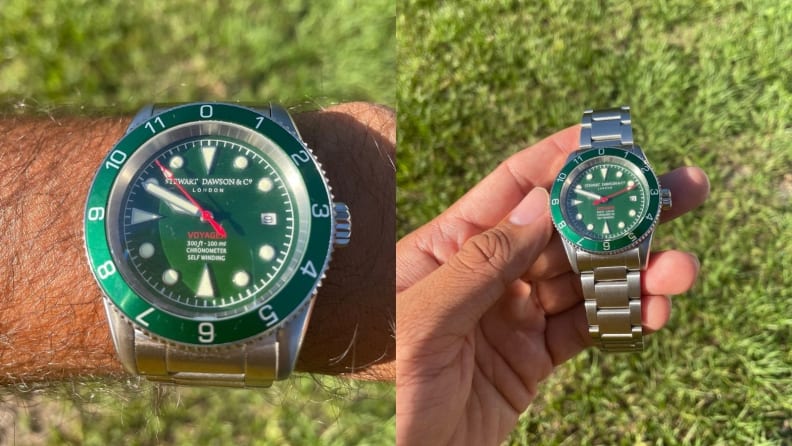 For the Platinum tier of Watch Gang, I received a Stewart Dawson Voyager watch. Compared to the Lonsdale, the Voyager is more upscale to my eye, if too luxe to suit my personal style as a laidback 30-year-old Floridian. The designer, Stewart Dawson, is a bespoke jeweler based in London, named after the company's Australian-born designer who passed in the early 1930s.
The Voyager's watch face is all green (though the company sells this watch in other shades), with each hour mark designated by an embossed circle or triangle—both shapes have a retro look to them. The face sits in a green bezel that rotates as the watch keeps time and can be set to start anywhere on its 12-hour scale, which means you could set it to indicate the hour in a second time zone if you like. (The watch is marketed to the world traveler, so this feature makes sense.) The face also features sapphire glass, which is a strong, scratch-resistant material.
The Stewart Dawson Voyager retails for €650, which equals roughly $790. This is nearly double the cost of the Platinum tier membership fee of about $300. However, I spotted a few eBay listings of this watch ranging between $195 to $280, which proves the adage that something is only worth what someone will pay for it.
How is Watch Gang's service?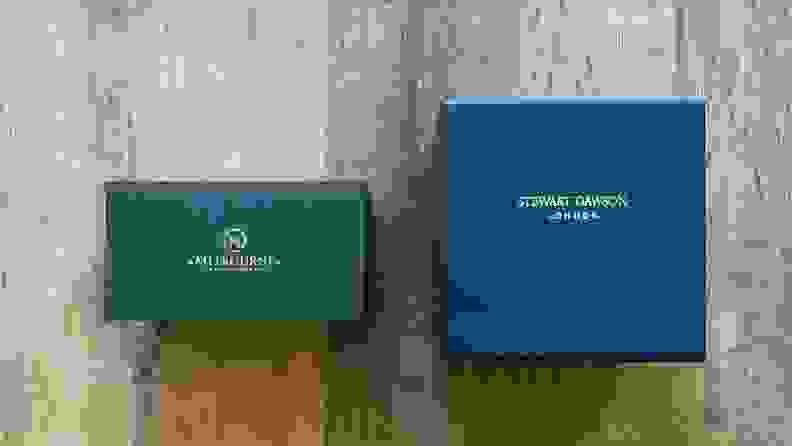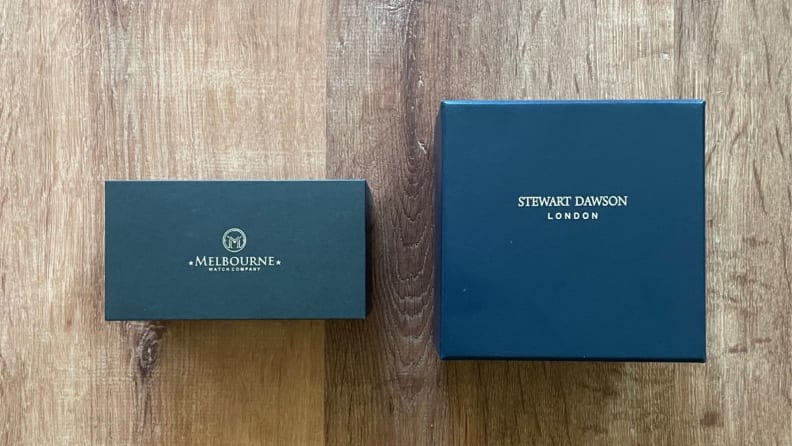 The service promises to send watches that are up to 70% off retail, and based on what it sent me, this is true. However, the watchmakers themselves aren't highly sought-after brands (at least, to my knowledge). And a glance at the resell market is proof of this. Hypothetically, if I disliked either watch, it could be a challenge—or at least a financial loss—to get rid of them, outside of eBay listings and Watch Gang's official Facebook group. But this is the risk you take in trying any "blind" subscription service.
The truth ism I like both watches I received. They're not my exact style, but they also aren't hideous or unwearable. I enjoy the Melbourne Lonsdale's intricate details and I appreciate the Stewart Dawson Voyager's upscale green luminesce. Although both brands were virtually unknown to me, each watch appears to be crafted with care. They're certainly not cheap—stylistically or retail-wise—and they offer the sophistication to meet my needs as a fashion timepiece.
Is Watch Gang worth it?
If you're a casual watch fan and you're unsure of what kind of timepiece you're looking for, Watch Gang's service could be worth it. Based on what was sent to me, the Black tier seems a reasonable bet for finding a watch that's more valuable than the $100 sign-up cost without breaking the bank—especially if you want just one watch and you luck out with something you like on the first go and you remember to cancel in time.
I can't speak to the $50 Original tier, but Watch Gang's archives point to savings there as well. Companies like Invicta, Grant Brown, and Sottomarino are just a few examples of brands sent to Watch Gang's Original members. These items range from simple divers to military-inspired field watches, priced at $70 to $295.
That said, I personally don't think the pricey Platinum tier is worth it. If you're someone who already enjoys watches enough to invest even $300, I don't see why you'd subscribe to Watch Gang at that level over simply purchasing a watch you've had your eye on. And joining Watch Gang to collect its randomly sent watches could be a bust if you receive something you're not a fan of, and doubly so when you can't flip that timepiece for at least the value of your subscription price. Watch Gang ensures watches sent out are up to 70% off retail, but these same watches may sell much lower on secondhand markets like eBay and Amazon. The way I see it, the subscription service—at any tier—may be best purchased as a novelty gift for other casual watch fanatics.
The product experts at Reviewed have all your shopping needs covered. Follow Reviewed on Facebook, Twitter, and Instagram for the latest deals, product reviews, and more.
Prices were accurate at the time this article was published but may change over time.