Digging in the Bargain Bin
Though Amazon's newest tablets bear the Kindle OS' latest-and-greatest features, the devices themselves are hit-or-miss. Sure, a 24-hour customer service video-chat app is an innovative feature, but that only goes so far, given that the HDX's access to content is limited to proprietary sources.
Though the spec sheet reads with many impressive numbers, the HDX 7" still doesn't measure up to the competition. The only thing the HDX has over the Nexus 7 is access to Amazon Prime Instant video. Otherwise, you're paying the same amount of money for ads, a worse screen, poorer battery life, and a worse selection of apps and services. Build quality is also an issue, leading me to believe that the "loss leader" strategy has finally caught up to Amazon.
Tour
Lamborghini body, Fiero Chassis
If you do get your hands on a Kindle Fire HDX 7", you'll be treated to a very light and easy to hold tablet. It's almost unnerving how weightless it is, but don't worry: you won't break it easily. Though the headphone jack and microUSB port used for charging are very basic for a tablet, the Kindle Fire HDX 7" sports a camera on either side of the unit. Additionally, the best tablet-based speakers I've ever heard reside on the top of the Kindle Fire HDX.
The best tablet-based speakers I've ever heard reside on the top of the Kindle Fire HDX.
The soft-touch backing is the perfect texture to combine with the shallow angles of the bezel, and you'll have no trouble using it for hours. Underneath the hood is a market-leading Qualcomm Snapdragon 800 processor, along with 2GB of RAM and a drive starting at 16GB of storage space.
However, the screen is a glaring problem. Not only is the backlight ill-fit for the Kindle Fire HDX's form, but you'll also notice fringing on all edges as a result. It's tough to get over very visible problems like this when you're showing off photos and video to friends, especially when there are better screens for the same price—or cheaper.
As an aside, the low price of the Kindle Fire HDX 7" was assisted in part by the display of advertisements on your lock screen unless you pay extra for them to go away. While it's not a big issue for those who simply flick them away, others may be very annoyed at the prospect of seeing ads in yet another place where there once was none.
Performance
Weird science
Despite the good score here, I'm going to roast this tablet. Oddly fitting given its name, but there are several performance issues that don't show up in the lab that any user can plainly see—the screen fringing for one is quite annoying.
If you're playing a lot of games, you can expect to see performance slowdowns rather quickly.
Additionally, the processor's performance is shockingly wonky despite sporting a cutting-edge model: from what I found in the lab, the performance takes a nose-dive the lower the power reserves get. If you're playing a lot of games, you can expect to see performance slowdowns rather quickly.
When it comes to instrument measurement, the Kindle Fire HDX is one of the best at reproducing color along the universally-accepted parameters. Additionally, a very wide contrast ratio and bright screen allow comfortable use outside. This is absolutely necessary for the HDX 7" given its high screen reflectivity.
You may be distracted by the constant color fringing on the edges of the screen.
By the numbers this tablet bests its competition quite handily in a few measures, but that's missing the forest for the trees: though that screen might hit some attention-grabbing headlines, it's grossly hindered by things that don't show up on a spreadsheet. Though image and video content will look great, you may be distracted by the constant color fringing on the edges of the screen.
Conclusion
Don't pay for ads
The idea behind the Kindle Fire HDX is something that was tried before with early Android tablets: If you can't beat the competition on equal footing, why not flank them by outmuscling the competition for cheaper? It worked for Android against Apple, but there's no reason to believe that it will work for Amazon without the user experience to match.
Though their Mayday feature is admittedly a huge feat, it's tough to overlook things like the absence of Google services. You may not think much of YouTube or an official GMail app now, but you'll notice it when it's gone. Now that the latest Kindle Fire can only reach the same price as the Nexus 7 via the support of advertisements on your lock screen, it's a tough sell—especially when there's something better out there for the same price.
The hardware of the Kindle Fire HDX 7" looks good on paper, but put together it's a mess. Though it looks fine before you turn it on, the HDX 7" has low build quality and noticeable problems. The Mayday feature may be enticing, but unless you use Amazon Prime for your streaming content, there's very little reason to buy this tablet.
A Hemi in a Hyundai
Despite the impressive spec sheet, the Kindle Fire HDX 7" falls a little short when it comes to competing with tablets in its price bracket. Amazon's line of Kindle Fire HDX tablets may be highly-touted for raw performance numbers, but the 7" model doesn't do much to set itself apart from the pack in a substantial fashion.
Screen Performance
Sharp, uneven display
Improving upon older generations of tablet, the Kindle Fire HDX 7" has a display of 1200 x 1920 pixels—giving it about 320 pixels per inch. So what? Well, this means that you won't be able to differentiate individual dots of light on the screen should you be more than a few inches away from the screen.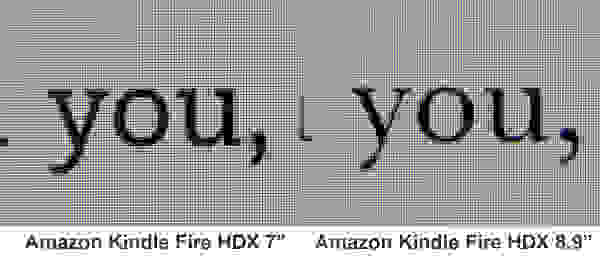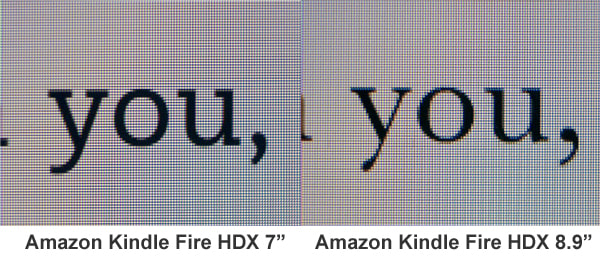 Contrast performance was mixed: though the contrast is quite good, gamma (the transition from black to white) was anything but accurate. Movie lovers will appreciate the black level of 0.33 cd/m2 , and a peak brightness of 412.32 cd/m2 when they take this slate on the plane.—a contrast ratio of 1249:1 is nothing to sneeze at for a tablet.
Color performance is very good.
Color performance is very good despite gamma issues making errors in gradients occasionally. Amazon managed to keep the Kindle Fire HDX's color gamut very close the sRGB gamut—If you're a professional photographer, this screen will be more than satisfactory—provided your pictures keep away from the edges of the screen.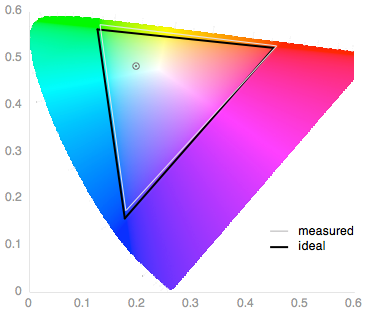 Reflectivity is poor, however. Bouncing back 11.7% of all light shone on the screen, glare becomes a very visible issue even when the tablet is angled away from bright light. Should you have the misfortune of having a bright light directly shone on the screen, 6.4% of that light will go directly into your eyes. Though it doesn't sound like much, trust me—it's a lot.
Battery Life
Paging Dom DeLuise
Battery life is somewhat low despite the Kindle Fire HDX's small screen. Reading Tolstoy's War and Peace for 6 hours, 10 minutes at full backlight and no wireless connections enabled, hopes for a tablet with long battery life are dashed quite expertly. If you need to use this on a plane to catch up on a few novels, you might want to close the window shade so you can drop the backlight as much as you can—you might be able to squeeze some extra time out of the battery that way.
Video playback is a different story, though nothing too exciting. After 6 hours and 57 minutes playing back Santa Claus Conquers the Martians, our Kindle Fire HDX quit on us. This is a more or less average result for a tablet on full backlight, but if you're watching a dark movie, you'll want to control the light around you if at all possible.
Processor
Power problems
I don't have a score for you. I don't feel that it's of any fault of my own though, so let me explain.
In efforts to prolong battery life, some tablets clock their processors down to make the most of what charge they have. In testing the processors, I noticed a steady and severe decline in performance starting when the battery hit 90% and below. The GeekBench scored started at around 2600 due to that oversized chip in there, but the performance rapidly declined.
Unfortunately, that means that I can't report a final score to you—if I said only one, it'd be a lie, and I'm not in the habit of doing that. The best I can offer is the statement that the tablet handles tasks well when the battery is properly juiced, but that performance is wildly inconsistent afterwards.
Meet the tester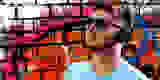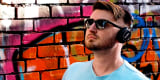 Chris Thomas
Staff Writer, Imaging
@cthomas8888
A seasoned writer and professional photographer, Chris reviews cameras, headphones, smartphones, laptops, and lenses. Educated in Political Science and Linguistics, Chris can often be found building a robot army, snowboarding, or getting ink.
Checking our work.
Our team is here for one purpose: to help you buy the best stuff and love what you own. Our writers, editors, and lab technicians obsess over the products we cover to make sure you're confident and satisfied. Have a different opinion about something we recommend? Email us and we'll compare notes.
Shoot us an email