At the top of the heap is the new iPad Air 2 ($499 MSRP), the Cupertino outfit's new flagship slate. Outfitted with a new processor, iOS 8, and double the RAM, the Air 2 promises better performance than its predecessor. On the outside, however, the Air 2 looks just like its forebear. Just how different is the newest iPad Air?
We tore it out of its carefully manicured packaging to answer that exact question. The result? One of the best tablets of the year that, while not leaps and bounds better than last year's, is still the best iPad to date.
Though by outward appearances the iPad Air 2 is extremely similar to its predecessor, performancewise that isn't the case. Poorer battery life and a not-too-different screen performance point to stagnation in design—but there is an ace up the Air 2's sleeve. That ace is a new processor that mops the floor with every other tablet on the market.
Addition by subtraction
When it comes to product design, Apple knows what works and sticks to it. As a result, if you've ever seen the iPad Air, you've seen the iPad Air 2. Really. There's so little different here, that it's really not worth discussing outward appearances. You don't really get into the dissimilarity between the two tablets until you dig into their insides like a middle-ages diviner.
On the outside, the iPad Air 2—like the iPad Air—has a very thin, aluminum chassis. While rounded on the back, it's chamfered at the edges where it meets the glass capacitive touchscreen. Like the previous model, this iPad is quite the looker, with a stunning 9.7-inch 4:3 aspect ratio LCD at a resolution of 2048 by 1536 pixels. If you've got 20/20 vision, you won't be able to resolve individual dots on the screen at typical distances; every image looks like a printed page.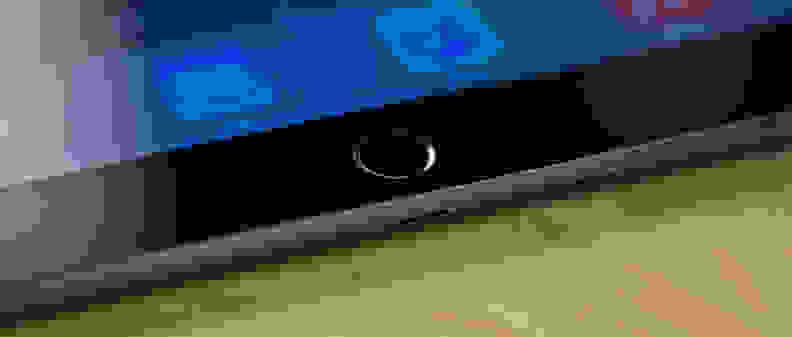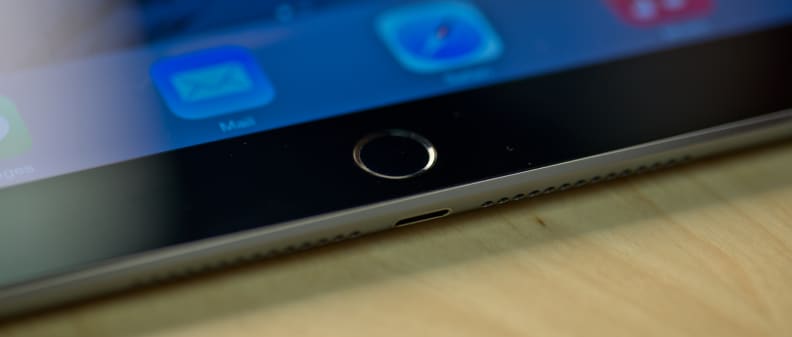 The Air design is excellent for long-term use, and compared to the chunky original iPads it's shocking how much weight Apple's been able to cut. That said, Apple's also carried over many of the design issues of previous iPads. Speakers on the bottom of the device, for example, are a pain when you're not using headphones. Perch the tablet in portrait mode on your lap and you may find yourself blocking the speaker entirely. The slim, rounded back slips into and out of bags with ease, but it also can be a pain to pick up off a flat surface if you leave it face down.
Despite the few changes on the outside of the tablet, under the hood is a different story. Built to run iOS 8.1, the Air 2 comes loaded with double the RAM (the previous version only had 1GB), a brand-new A8x processor, and they even upgraded the camera module. Though that last bit is a little like swatting flies with a sledgehammer, the former two upgrades make all the difference when it comes to performance. Editor's note: Please don't buy an iPad to use as a camera.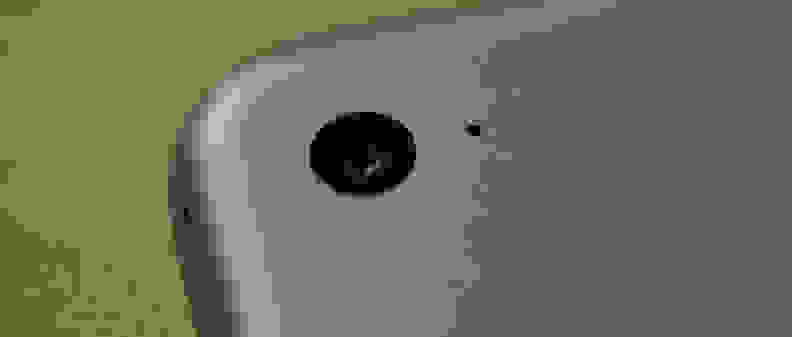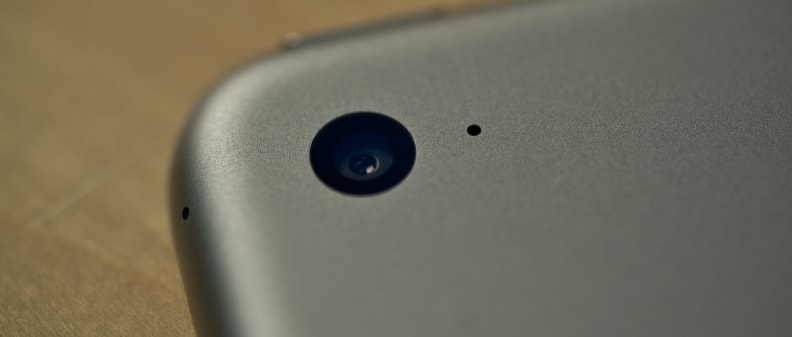 To get the boring stuff out of the way first, this screen is extremely similar in almost every regard to that found on the iPad Air. Really, it's almost stunning how identical it is in many ways. The black level is nearly identical, the peak brightness is very similar, and the pixel density is identical at 266 PPI. Seriously—compare for yourself.
Digging into the numbers a bit, the contrast ratio is a bit narrower (standing at 1106:1), though the black level sits at an acceptable 0.37 cd/m2 . Peak brightness is still a retina-singeing 409.12 cd/m2 , still acceptably strong for a brightly-lit room. Gamma is near-perfect at 2.22, and really, there is absolutely nothing wrong with the screen performance here.

It does lag behind OLED screens, but therein lies the difficulty of being a market-leader: Everyone and their grandmothers are going to compare your product to the individual best accomplishments of others. It might be true that this is the last LCD panel we see in an iPad, because frankly, OLED is the way of the future. When we start seeing tablets like the Samsung Galaxy Tab S outperforming televisions of a similar price, it's time to hang it up and adjust your strategy.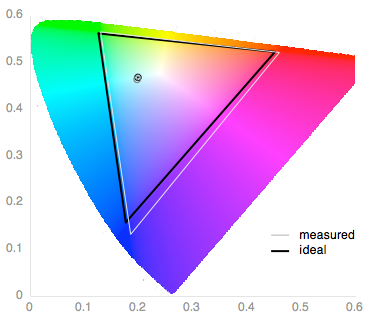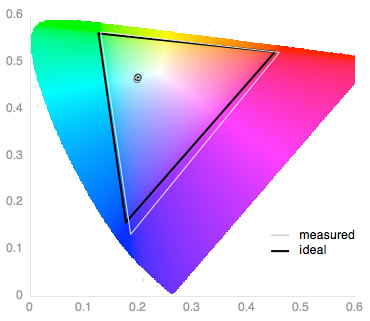 Color performance, much like the black and white, is virtually the same. A decent white point is accompanied by properly saturated colors with the exception of somewhat shifted blues. Not a huge deal, but not perfect either. Samsung, Google, and Windows have all sailed past the iPad in terms of color performance here, so it's odd, but not terribly worrying.
Apple elected to stay the course with a 4:3 aspect ratio, and it seems to work for them. Google's latest Nexus tablet even uses this aspect ratio after several devices using the 16:10 golden mean screen size. However, this does mean consequences for certain types of content. Video will have letterboxing, comic book pages will be inefficiently scaled, and the dead-center of the screen will be hard to hit in landscape orientation.
Microsoft mitigated some of these issues by switching to a 3:2 aspect ratio—the same used by 35mm film—but their Surface Pro 3 has a 12" screen. Definitely not the screen size you think of when looking for a travel buddy unless you need a tablet to be a laptop too. In the interim, 4:3 should be fine for most users.
Now for the fun stuff—I'm gonna throw a bunch of numbers at you all at once, but it's going somewhere—I swear.
The Apple iPad Air 2 has an extremely powerful processor/co-processor tandem, and it's unbelievable how far behind it leaves devices of old. Much hullabaloo was made about the Tegra K1 when it came out because of its graphics prowess, but the Apple A8x keeps pace—and overshoots it in some regards.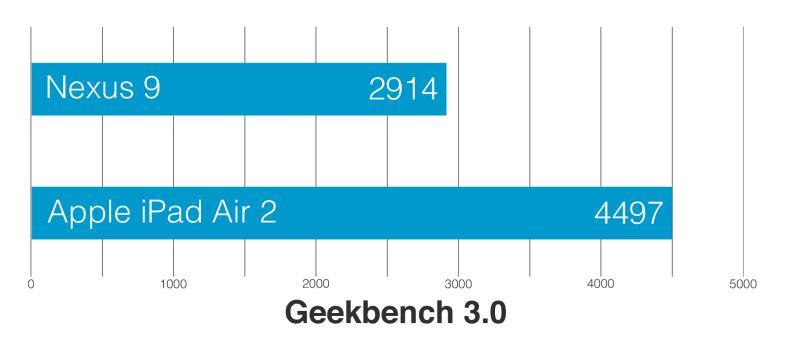 Honestly, with the rise of more graphics-intensive mobile games, I'm not too surprised that Apple is complementing their advantage in the mobile gaming realm, and it's a smart idea. Android isn't exactly a pushover when it comes to appealing to gearheads, and "strangling the baby in the crib" is a rather effective long-term strategy when it comes to giving your competition a knockout punch.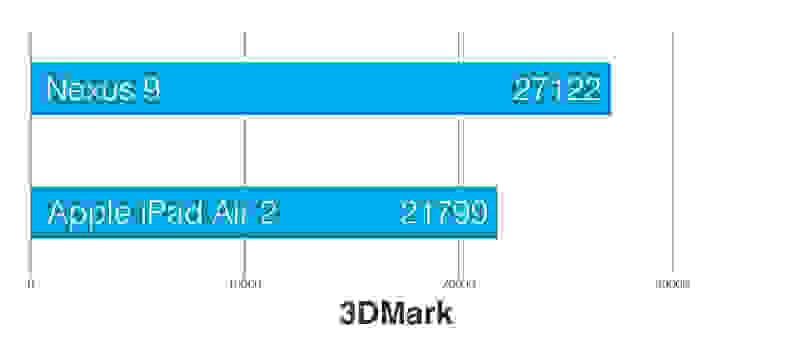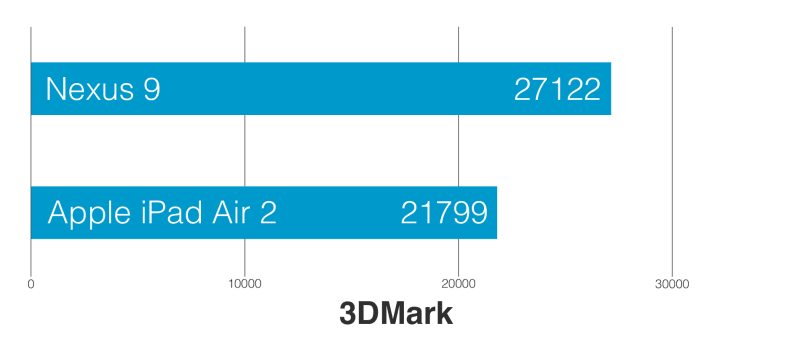 So it's true that the A8x lags a little behind in processing power when it comes to graphics, but the gap between the A8x and the Tegra K1 isn't all that huge. It's also hard to ignore that comically high Geekbench score—which encompasses raw computing power. Sure, it may not translate to games, but day-to-day operations and huge files can be churned through like they were nothing.
The A8X is more than A-OK for most tasks.
While outward appearances don't exactly scream "new and different" this new iPad Air feels much smoother than last year's model. Though Apple's never been one to burden users with stuttering software or a subpar user experience, the iPad Air 2 churns through tough tasks quicker than all other iPads. Of course, there are still a few rough spots.

For starters, the screen of the iPad Air 2 isn't any better than last year's iteration. In fact, it's marginally worse—contrast is narrower, the peak brightness is lower, and the black level is similarly average for video content. The backlight is still bright enough to overpower reflections, but it definitely has a somewhat tougher time outdoors. While the screen isn't bad at all, LCDs are showing their age compared to newer, better OLED displays.
If the biggest knock on the latest iPad is that it's not progressing fast enough, that should be a big clue that it's at a pretty good place already.
On the good side, Apple has outfitted the Air 2 with the new A8X processor, backed up by a whole 2GB of RAM. Though it's common to see 3GB of RAM on many Android devices, Apple's complete control from the hardware to the software has led to far better optimization. As a result the Air 2 held its own against even the top-tier Android device, the Nexus 9—including its crazy-fast Tegra K1 chip. The Air 2 wasn't as capable when it came to high-end graphics-intensive tasks, but for day-to-day use it actually outpointed the Nexus device.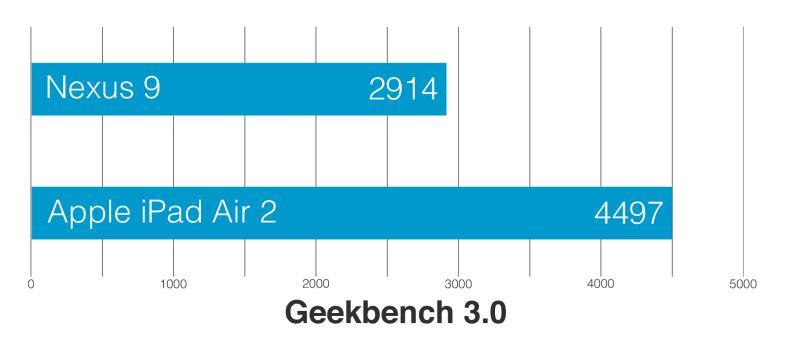 However, great power comes with great power consumption. If the iPad Air was a sensible economy car, the iPad Air 2 is a mid-life crisis convertible. The wafer thin slate was only able to replay video continuously for 5 hours, 37 minutes. Our more intensive benchmark wore it down considerably quicker, and it's hard to see under what circumstances Apple's claimed 10 hours of battery life is possible.
iOS is as smooth as ever
Last year's iPad Air was simply one of the best tablets we had seen in some time. Tablets don't change that often and the Air was the first iPad in some time that felt truly fresh. It's still a fantastic tablet, and we're happy to see Apple stick with a successful design once again. And with iOS getting a fresh coat of paint in the form of iOS 8, the experience is only better this time around.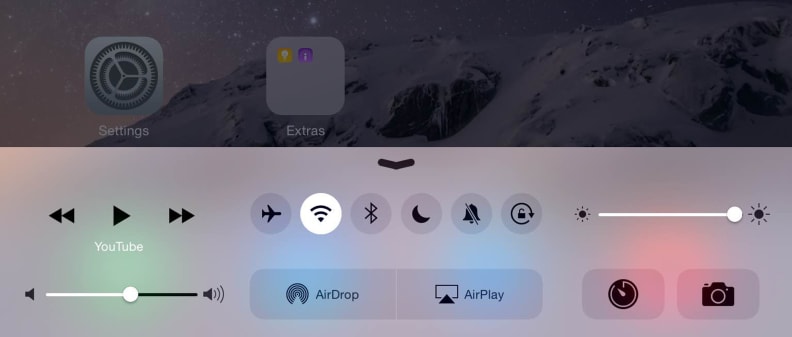 From a hardware perspective, the iPad Air 2 is perfectly capable of running all the latest apps and games. Whether you like to game on the go, stream music, or simply browse the web, the Air 2 can handle pretty much whatever you need it to. And it's all provided to you via the iPad's razor-sharp display, with a 4:3 aspect ratio that complements everything except video content whether you prefer portrait or landscape views.
From a software perspective, iOS 8 adds a few nice extras over last year's iOS 7, including widgets that can be (sort of) put in the notification menu. Like it is on every other iOS device, a quick drag of the finger from the top of the bezel down the screen will bring you to your notification center, while swiping up from the bottom of the screen calls out a quick settings panel with items like brightness, wireless, and volume controls. During normal operation of the tablet, all this gets out of the way—letting your content take center stage.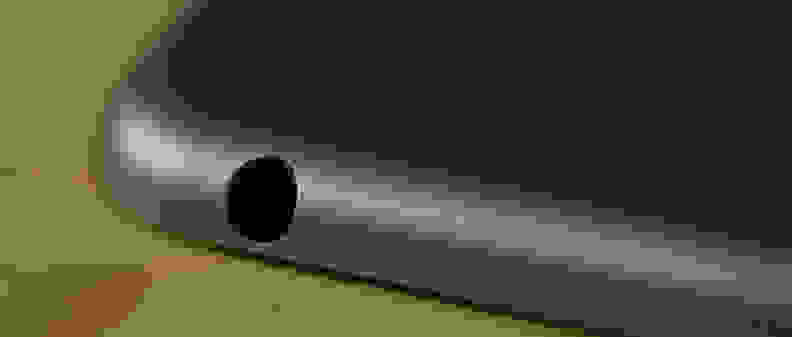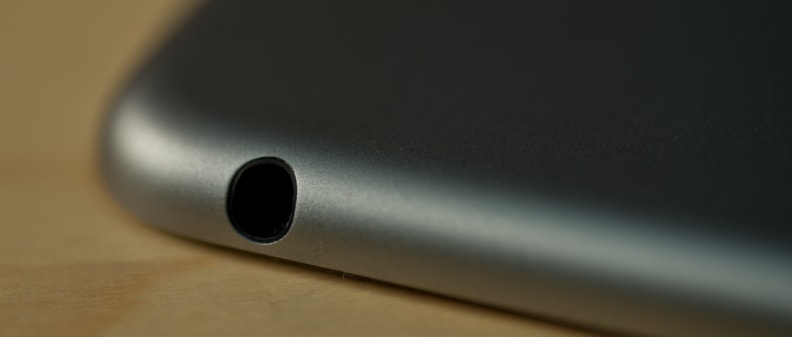 It's this kind of user experience that's been a winning formula for Apple for years. Though the options for customization and personalization are still lacking, iOS is simple, straightforward, and gets out of your way so you can enjoy what you're doing. It isn't a drastic departure from what we saw with last year's iPad Air, and you can always update last year's model to get essentially the same experience for less money.
Other than the usual Android vs. iOS talking points, the only true negative we found in our time with the Air 2 was its lackluster battery life. While the iPad will definitely last you if you're watching a movie or two, anything more intensive drains the battery far quicker than we would like. In our labs, we were only able to coax 5 hours, 36 minutes of continuous video playback out of the tablet. Toning down the backlight will net you a little more life, but it's definitely not as good as last year's.
So the iPad Air is tops when it comes to processing power, has a decent (if aging) screen, and double the RAM of its predecessor—how does the battery hold up?
The iPad Air 2 only lasted 5 hours and 37 minutes playing back video at full brightness, while cranking out 6 hours, 1 minute reading eBooks
Not well, is the short answer to that question. As discussed on the front page, the iPad Air 2 only lasted 5 hours and 37 minutes playing back video at full brightness, while cranking out 6 hours, 1 minute reading eBooks. Whether it's due to the new software, or the hilariously overpowered processor, it's clear that the new Air is less potent when it comes to battery life than its predecessor.
Browsing the web with tough assets ripped down the battery in 5 hours, 10 minutes. That's not so bad, all things considered—but you might be in for a bit of a surprise if you're stuck on the couch all day. You can absolutely milk more screen time by turning down the brightness, but if you're on the subway or at a cafe, that could mean reflectivity problems.
This Apple doesn't fall too far from the tree.
With last year's iPad Air still very much alive and kicking, Apple didn't have to change much to turn out a successful update. True to form, Apple stuck with what worked, including a few hardware advancements that enhance the overall experience in key ways. This year's iPad took an already great tablet and made it just that little bit better.
This is going to be a device that holds its own for a good, long while.
Of course, staying the course does leave the interesting question for buyers: Why do I want this tablet over the last one? In truth, for the most part last year's Air is just as good as the sequel. The new processor screams, but the Air 2's battery life and screen are slightly worse—a tough pill to swallow given the $100 price gap.
But if you just want the most powerful iOS device you can buy, this is it. It's going to be able to handle any iOS game or app on the market, standing up to just about anything available on iOS for years to come. For most users last year's Air will suffice, but this is the best Apple tablet we've tested to date.
If you're just looking for a great all-around tablet, the only tablet we'd recommend over this one would be the Google Nexus 9. It has a similar screen, a screaming fast processor, the beautiful new Android 5.0, and the benefit of better battery life. Microsoft's Surface Pro 3 is also superb if you want a full Windows experience, but it also costs significantly more. If you're in the market for a premium all-around tablet that performs well, is a joy to use, and will feel brand-new for years, the Air 2 is where it's at.
Meet the tester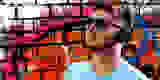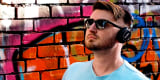 Chris Thomas
Staff Writer, Imaging
@cthomas8888
A seasoned writer and professional photographer, Chris reviews cameras, headphones, smartphones, laptops, and lenses. Educated in Political Science and Linguistics, Chris can often be found building a robot army, snowboarding, or getting ink.
Checking our work.
Our team is here for one purpose: to help you buy the best stuff and love what you own. Our writers, editors, and lab technicians obsess over the products we cover to make sure you're confident and satisfied. Have a different opinion about something we recommend? Email us and we'll compare notes.
Shoot us an email