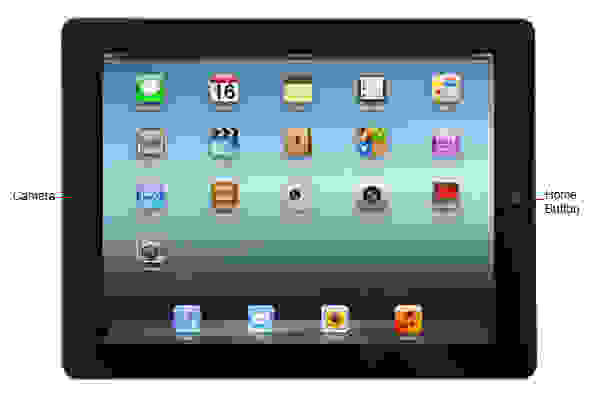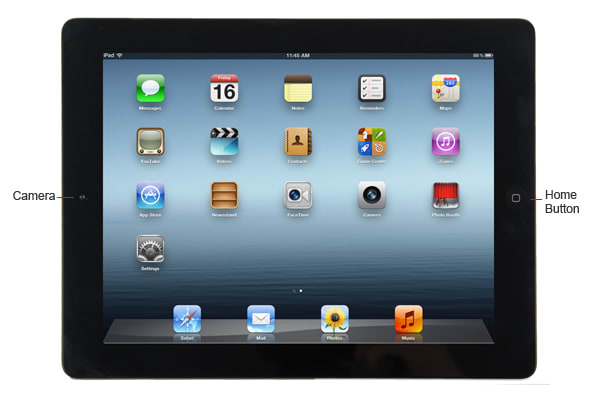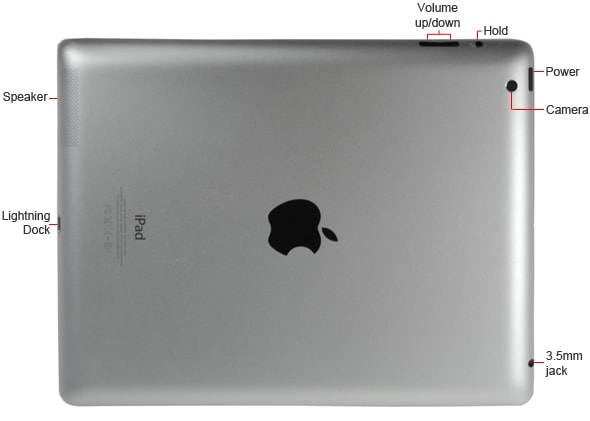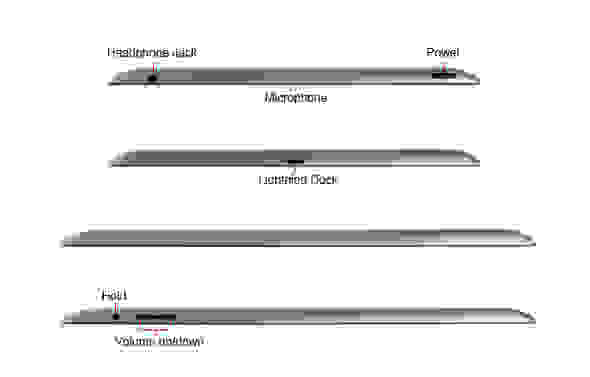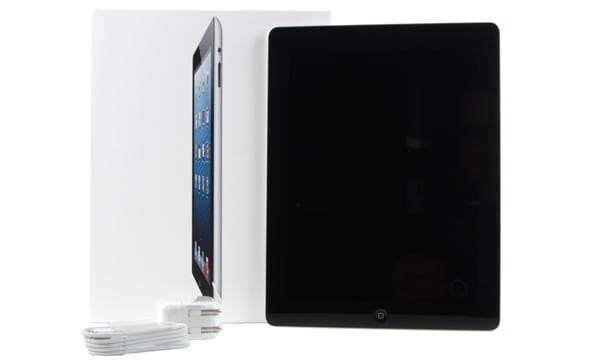 After ripping open the packaging to the like a kid at your winter holiday of choice, you'll not only find a tablet, but a USB to Lightning cable, a wall charger, and assorted documentation.
For those of you that haven't used or owned an iPad before, the first thing you'll notice about holding one is the weight. A bit on the hefty side, the can cause fatigue over long periods of time, but it could be a lot worse. The edges of the casing are rounded to a degree to fit the crook of your hand without digging into it too much, and it doesn't put focused pressure on the softer parts of your hand. Due to the weight, it's difficult to hold with one hand for any extended period of time, so avoid this if possible.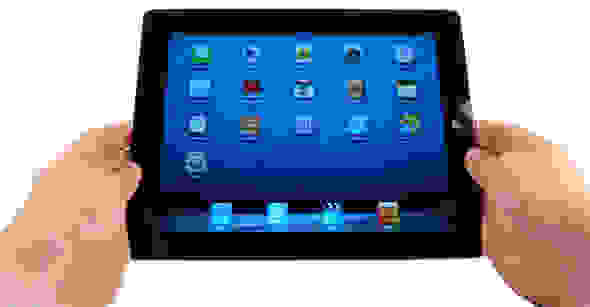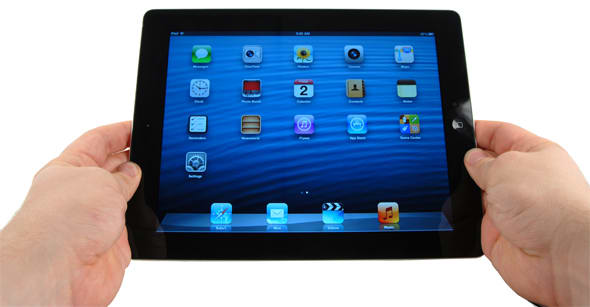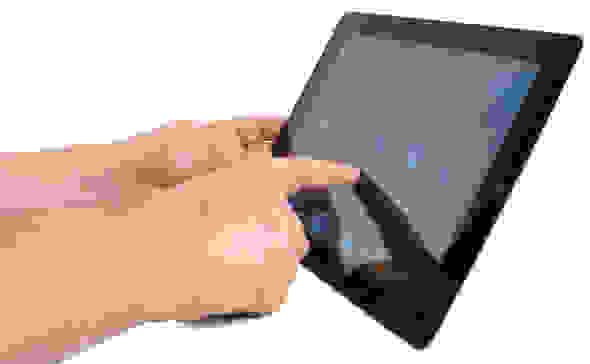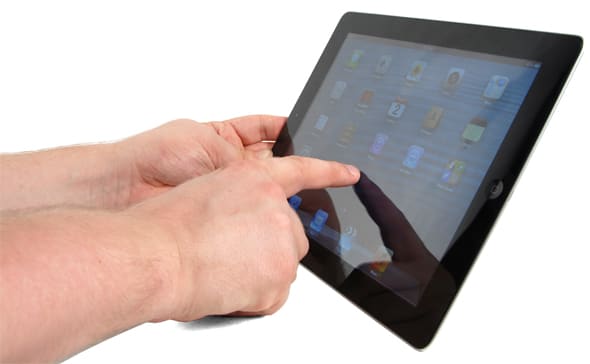 Measuring in at the same dimensions (7.5625 × 5.875 inches) and resolution (2046 × 1536) as the previous version, the newest has a beautifully crisp backlit LCD screen that not only has a resolution that puts it very close to being a retina display, but it still has the best color performance of any tablet tested so far.
Most of your interaction with the tablet will occur through the responsive capacitive touchscreen, which does not seem to have any tracking errors when running your finger over the glass.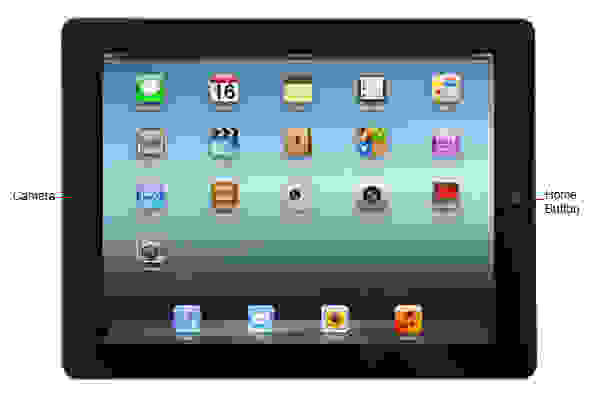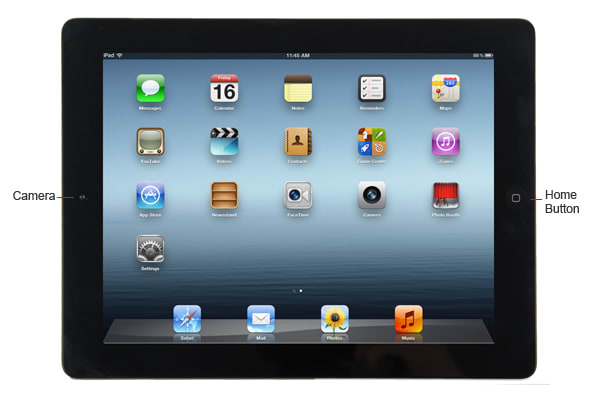 Due to high reflectivity, the isn't exactly a joy to use in bright sunlight. Because LCD screens rely on a strong backlight to shine through and display an image, bright sunlight often makes the images very hard to see unless there's an extremely bright backlight. Given that the 's peak brightness isn't much brighter than what you'd find on a TV, bright sunlight and the is a bad combination.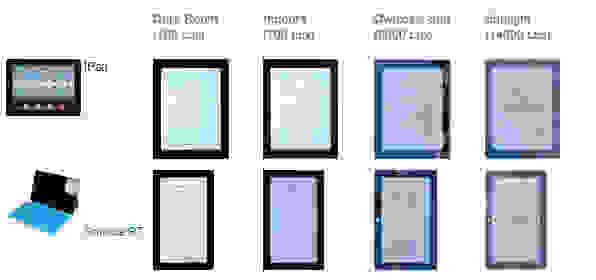 NOTE: The images above are shot with a variety of lighting sources, which may cause some color shift.
Due to the impressive pixel density, the Apple iPad has an extremely high legibility score, as text and images are rendered without much apparent "stair-stepping" or visible pixels. Unless you basically press your eyeballs to the screen, you're unlikely to notice the transition from one pixel to another.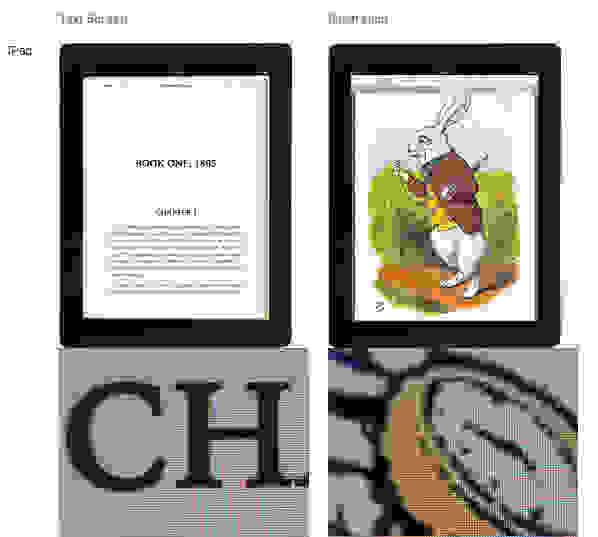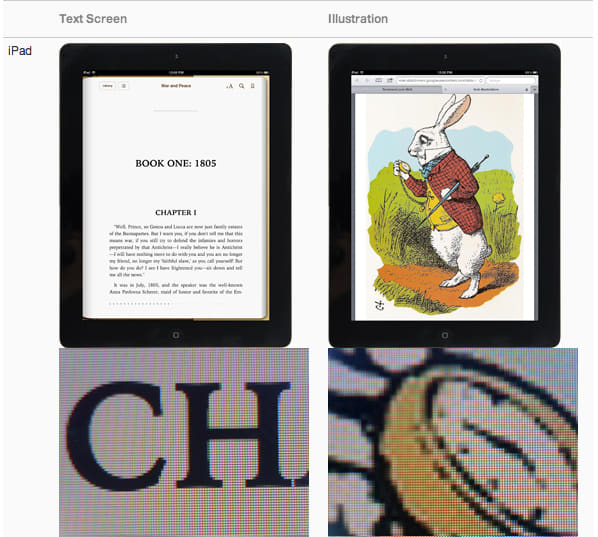 Like other tablets with a huge PPI, because the screen resolution is so large, a lot of the content that you upload may still look like it's pixellated because it was made with a smaller display resolution in mind, and you can see that by looking at the difference in the text and illustration images above. Even though text looks incredible on the iPad, the illustration still has hallmarks of resolution issues because the source material is not optimized for an appropriately-sized resolution. You will run into this problem over and over again until new content is either shot in a higher resolution, or content is released in a format that makes the best use of the screen. Currently, video bought from iTunes does not do this, as it is 1920 × 1080, not 2046 × 1536.
By having a screen that reflects about 9.1% of all light back at its user, the Apple iPad falls squarely into the "mediocre" category when discussing reflectivity. Like most other tablets with an LCD screen, the reflection pattern is also quite sharp and distracting, so avoid bright sources of light if at all possible.
A screen size of 7.5625 × 5.875 inches and a resolution of 2046 × 1536 nets the Apple iPad a pixel density of 264 pixels per inch, which is enough to make it appear to those of you with 20/20 vision like the tablet isn't using a matrix of pixels to display an image, as you won't be able to see where one pixel stops and the other begins.
Tablets have the tall order of not only producing a good quality image, but doing so with a high peak brightness to overpower ambient light. The Apple iPad has a decently bright screen, but its low black level of 0.39cd/m2 affords it not only a great contrast range of 940:1 (wider is better), but an increased ability to display detail in gradients.



The color gamut on the newest iPad is fantastic compared to all of its competitors, though there are some problems with oversaturated blues and reds. All said and done, though, a fantastic display with great color accuracy.


The Apple iPad seems to manage its power consumption about as well as the previous version of the tablet. Able to read an eBook for 5 hours, 31 minutes, and playing video back for 5 hours, 38 minutes, the iPad has middling performance in terms of battery life. All of our tests are run with the backlight cranked as high as it can go, and all wireless and extra services disabled, so you can expect using alternate settings to give you differing results.

The beautiful thing about the iPad and other tablets with capacitive touchscreens is that 99% of all your interactions with your tablet occur directly through the screen. Touching icons will open the apps, swiping your finger will change homescreens (or turn pages in eBooks). There are a bunch of gestures that you can perform to control your tablet quickly, and overall, the iPad seems to have the best stable of gestures like pinch to zoom, and multitouch support.
One thing to look out for is that the main system controls are not app-agnostic, meaning they change location/aesthetic depending on the app. Sometimes this can get confusing, but for the most part you shouldn't have any problem at all figuring out the main functions of any app.
For the media maven, the newest iPad supports AirPlay, which allows you to stream content from your tablet to an AppleTV unit hooked up to your TV. Additionally, peripherals are easily paired via bluetooth, so if you don't like using the touchscreen to type, you don't have to use it!
While most things are the same with the from the previous iteration of the to this one (802.11n wireless card, GPS connectivity, Bluetooth 4.0, etc.), Apple did replace the proprietary USB port on the bottom of the tablet with their own lightning connector, which has caused much consternation among fans, given that the replacement cables are not only expensive, but made in a way that prevents reliable 3rd party knockoffs from being usable.
If you own an AppleTV device, you'll be delighted to know that you can push video, picture, or music content to your AppleTV device for playing on your HDTV if you so choose; all you have to do is tap the appropriate icon while your media is in playback, and the AppleTV unit will stream its content directly from the iPad over your local network.
The seems to manage its power consumption about as well as the previous version of the tablet. Able to read an eBook for 5 hours, 31 minutes, and playing video back for 5 hours, 38 minutes, the iPad has middling performance in terms of battery life. All of our tests are run with the backlight cranked as high as it can go, and all wireless and extra services disabled, so you can expect using alternate settings to give you differing results.
One of the great things about tablets nowadays is the plethora of apps available for each function. Don't like the stock eReader software (in this case iBooks)? Grab the Kindle app, or the Nook app, or any one of a bunch available through the App Store. Once you've selected an app to forge ahead with, and created an account with billing info, you're ready to continue.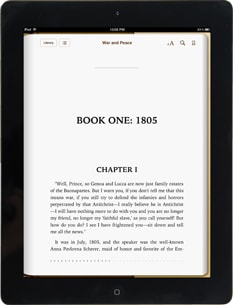 For most of the high-profile apps like the Kindle eReader app, the controls for reading a title are largely the same: tap or swipe your finger to turn pages forward and backward, tap the top to call out a menu that allows you to alter the font, size, or color of your text for easier reading. Some apps (like Kindle) even have social media functions that allow you to facebook or tweet your favorite passages, or progress in reading a book to share with your friends.
Once you've created an account with the eBook store of your choice, you need to enter in your credit card's billing info. Once this is done, all you'll need to do in order to buy a title is to find it in the store, and tap the "buy" icon, and the rest is up to the tablet. Once your card clears, the title will start downloading. Given that text files are generally fairly small, you'll be reading your new title in a matter of seconds.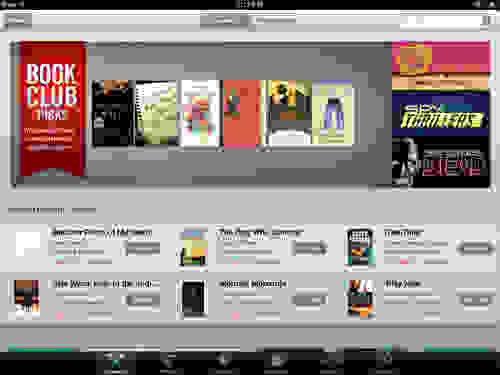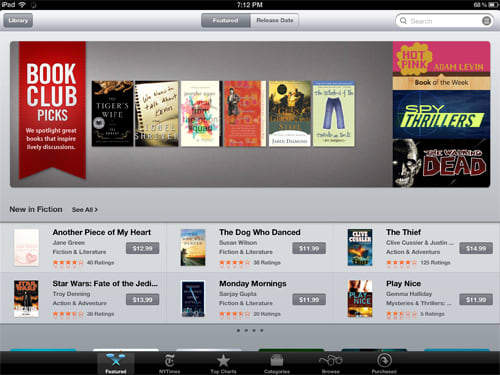 Right out of the box, your iPad can read text files, PDFs, and Apple's proprietary iBook files. By downloading another eReader app, you can expand your supported files if necessary, so if you have a large library of titles, with say, Amazon's Kindle ecosystem, you can install the app then port your library via Amazon's cloud storage.
If periodicals are more your fare, you have a couple options. Many eBook stores have the option to subscribe in the exact same fashion as purchasing an eBook: once you tap the "buy/subscribe" icon, your payment will be charged, and you will automatically receive the new editions of the newspaper or magazine.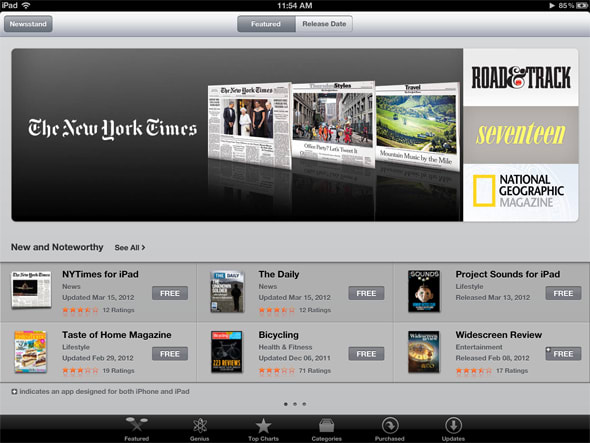 After you've synced your tablet with your iTunes library, you can explore the files uploaded onto your iPad via the Music app. Once you've tapped a song to play, you'll notice a bar at the top of the screen with all the basic controls (play/pause, repeat, shuffle, volume).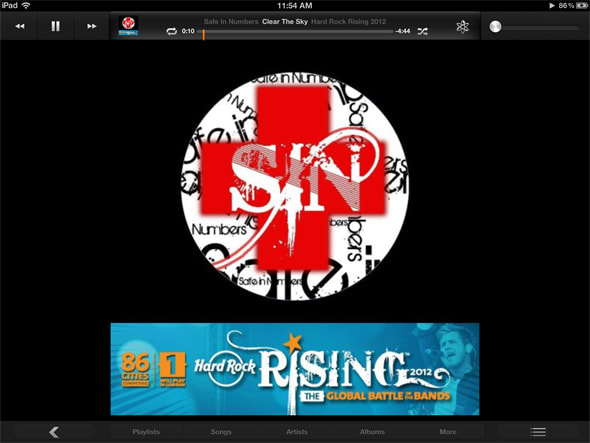 You can also build a playlist by tapping the "new" icon in the playlists bar, or you can tap any of the sorting options on the bottom of the main screen to browse your music. While in the past iTunes was a necessary evil for music file syncing, you can actually bypass that altogether now, as you can buy music straight from the iTunes store or download it onto your tablet without a sync.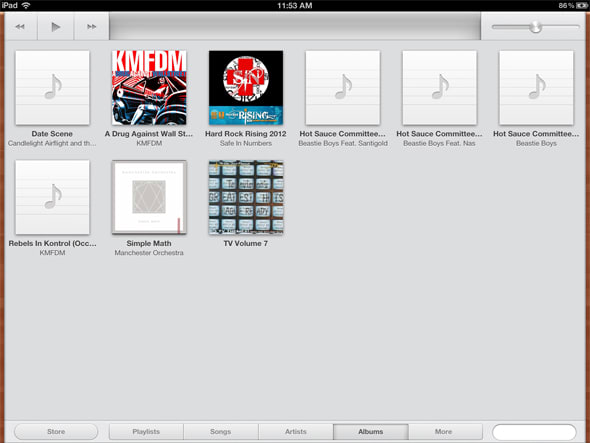 iOS 6 (the iPad's operating system) has a somewhat outdated, but still very functional stable of video controls during movie playback. If you tap the screen while your video is playing, a small bubble with a play/pause icon, and TKTKTK. While it is a rather bright and annoying overlay, it disappears rather quickly to allow you to use the full screen of your iPad to watch your video file.
Videos can either be filed in the music or TKTKTK app. TKTKTK
According to the Apple website, the iPad can handle playback of H.264, M-JPEG, .m4v, .mp4, .mov, .3gp, and .mpg files with its video player. Unfortunately, due to the fact that additional file support requires a new video player app, you'll have to try your luck in the App Store to find a video player app that supports other filetypes.
One of the major advantages of having a device with iOS on it is the ability to stream video content from all the major players. Amazon instant video, Netflix, Hulu+, you name it. The YouTube app is suspiciously missing, though after Apple's messy break from Google services, it's not all that surprising. You can still access it from the Safari Browser, however.
Clocking in at 5 hours and 38 minutes playing back the ever-so-terrible Santa Claus Conquers the Martians, the has somewhat lackluster battery life. Keep in mind, though, that there's a bunch of things you can do to raise or lower the performance, as we test with the backlight maxed out, and the WiFi turned off. Changing either of these settings will alter your battery's performance.
Included on every iPad is an email app that allows users with POP/IMAP or Exchange email addresses to sync their mail to their tablet in one unitary app. Simply follow the wizard and enter in your account information, and you'll be all set. For GMail users, you can download a free app, but it remains to be seen if it will get the updates necessary to bring it to the level of aesthetic appeal as the one available for Android.
Safari is starting to show its age, a lot. For starters, the browser (Safari) has roughly the same layout as it does on the computer. Continuity may sound ideal at first, but then you realize that having the URL bar and options at the top of the page in its old format is much less easy to use than even the new Internet Explorer on the Surface. While the tablet market will take a while to settle in on a new way of doing things, there are many options out there (specifically in Android's Play Store) that may or may not influence the most popular browsers to change for tablets. Apple seems to have elected to wait it out.
As far as apps go, no app market has as many well-polished tablet-specific apps as Apple's App Store. While Android and Windows now play catch-up, if you're looking to buy a tablet for the app experience, it's hard to argue with the iPad. There's a huge range of productivity, entertainment, news, and games apps, and just about all of the mot popular apps are in the App Store.
Apps are installed by creating an Apple account complete with billing info. By entering the App Store on your iPad (and accepting the EULA), you can search for the app you want, then tap the purchase icon. If it's free, it will just begin downloading/installing, but if it's a paid app, it'll have to clear billing first. Overall a pretty painless process.
You can also make your tablet work over your home network too, though for the iPad it requires you to either buy a paid app, or shell out for an AppleTV unit. If you choose the latter, you can stream media wirelessly like picture albums, music and video to the unit for playback on your television.
After kicking the tires on the fourth iteration of the iPad, it's easy to see that although it's an incremental update, the newest iPad is the best one of the bunch. Not only does the new processor make the experience much more rewarding, but the lightning dock connector saves a bunch of hassle when trying to jam your cable into the tablet.
While the battery tests revealed only a middling performance if anything bad is to be said about the , it's going to be about iOS 6, and not necessarily about the unit itself. In Apple's crusade to lock down many of the functions once filled by Google services and other providers, it has shot itself in the foot with a 10-guage shotgun. Maps are terrible, iOS still doesn't have app-agnostic controls, and many parts of the control scheme are now starting to show their age.
It should be noted that the iPad is still king in many respects, as not much has changed with the new update: everything that scored well last time is still fantastic. If it sounds like we're down on this version of the iPad, we're not, but where other manufacturers and developers are innovating quickly, Apple seems to be content in the short term with only incremental updates.
Meet the tester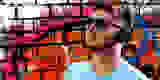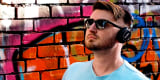 Chris Thomas
Staff Writer, Imaging
@cthomas8888
A seasoned writer and professional photographer, Chris reviews cameras, headphones, smartphones, laptops, and lenses. Educated in Political Science and Linguistics, Chris can often be found building a robot army, snowboarding, or getting ink.
Checking our work.
Our team is here for one purpose: to help you buy the best stuff and love what you own. Our writers, editors, and lab technicians obsess over the products we cover to make sure you're confident and satisfied. Have a different opinion about something we recommend? Email us and we'll compare notes.
Shoot us an email