Despite seeing a lot of the same hardware under the hood, the new mini is worse in many ways, same in others, better in none. It's a little mystifying, but at the same time, not exactly cause for concern.
It's definitely not uncommon to see market leaders rest on their laurels and push out an iterative release of an already-good product. In Apple's case, this is getting to be par for the course—and this year's iPads are proof positive that the tablet pioneer is content to milk this cash cow dry.
Enter the iPad mini 3 (MSRP $399): a slate that's identical to its predecessor in every conceivable way—outside of a couple minor changes, of course. While it may seem like it's simply hip to tee off on the big kid in the room, we ran the numbers, we ran the lab tests, and this slate really is just a minor refresh of the iPad mini with Retina Display.
If you own an iPad mini with Retina Display, don't bother with this update—this tablet is nowhere near what it needs to be to give you an incentive to replace your current slate. It's pretty much the same thing.
Meet the new screen, marginally worse than the old screen. Though the mini 3 has the same 4:3 aspect, 2048x1536 7.9-inch LCD (324 PPI), it leaves a bit to be desired.
A peak brightness of 350.08 cd/m2 is fairly decent, but it's not enough to make up for the high black level of 0.39 cd/m2. Tablets with an LCD are typically really bad here, but that's a little on the disappointing side. Greyscale transition is handled well with a gamma of 2.18.
Reflections are also mitigated about as well as any other tablet does, as the mini 3 only sends 5.3% of light directly back at the user. In diffuse lighting, the screen fires about 10.4% of all light shone on the screen back into the aether.
Meet the new iPad mini, same as the last one
If you're not familiar with the iPad mini 2 (the mini 3's predecessor), running through the spec sheet will show an identical tablet. Each has a 4:3 aspect, 2048x1536 7.9-inch LCD. Each is 0.29 inches thick, and each has the same exact A7/M7 processor/co-processor tandem under the hood. Each has 1 gigabyte of RAM, and each runs Apple's latest operating system: iOS 8.1.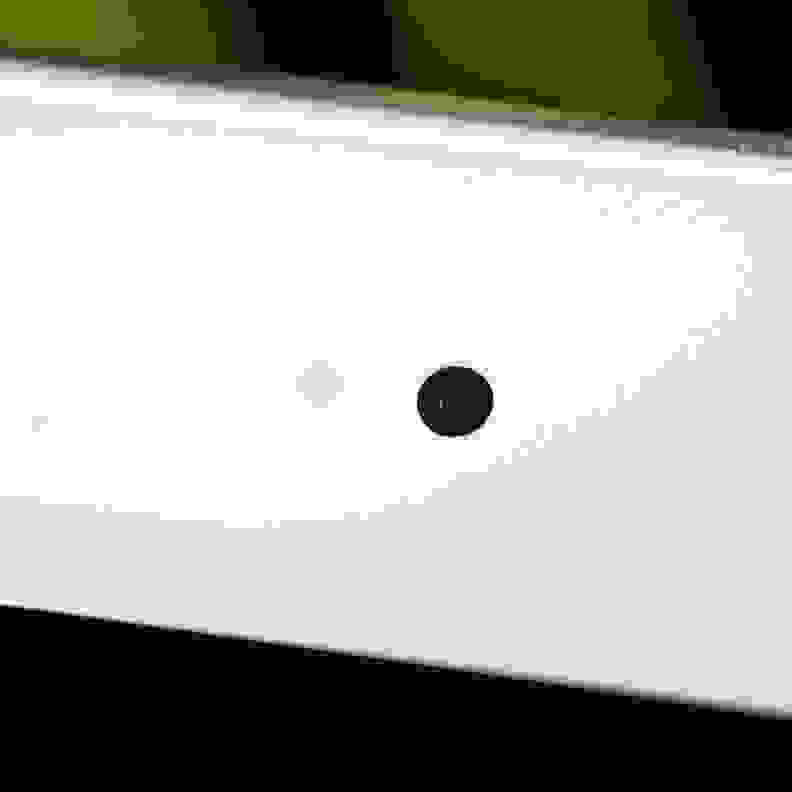 To be completely fair, there are a couple differences—and I'll list them here. The iPad mini 3 has a fingerprint scanner, and there are new storage options (64, 128 gigabytes), improved-but-still-bad camera module, as well as an added gold-colored option. I should point out that using the TouchID to encrypt/unlock your tablet is a really cool addition; Having to plug in a code every time you want to unlock your device is tedious, but using your thumbprint is much faster.
Under the hood the slate is still top-notch. The Apple A7 processor isn't as fast as the new A8, but it's still among the better chips out there. The screen is still decent, the form factor and build quality is still the toast of the tablet world. After all, an aluminum chassis is still something seldom found on other tablets—and it's got the durability you'd want for an expensive-yet-unguarded screen.
Really, the faults of this device lie only in the fact that it's such a bad value while its predecessor is still on the market. If that stops being true, however, this will be the best small Apple tablets out there by default. It's a premium device, after all. It has all the fixings of a larger option in the form of a smaller slate—everything that made the iPad mini 2 great makes this tablet similarly good.
For most, battery life is a make-or-break performance point. And while the iPad mini 3 definitely isn't a bad option, its battery life suffers from the strain of iOS 8.
While it's unclear exactly why this is the case, the iPad mini 3 is very likely the best analog we have to see if a mini 2 performs with the same software. Though the latter shipped with iOS 7, a new operating system can throw new curveballs and give us different results with the same hardware.
To that end, it's not surprising that the battery life of the mini 3 is a bit worse than that of the mini 2. In our labs, it was only able to play back video for 6 hours, 10 minutes—and read an eBook for 6 hours, 16 minutes. If that sounds a bit lackluster to you, it is; but be aware that these results were achieved by cranking the backlight to the max and turning off all WiFi.
You might be able to squeeze out a few more minutes by turning down the backlight or reducing motion settings, but your results are likely to be worse than this if you keep WiFi on. As always, your results will vary from what we get in the lab, as our data is for comparison purposes.
Not much new to say
We did our due diligence, and well, no surprises here. The iPad mini 3 is a solid performer—even if we knew that was coming. From the LCD to the battery life, the iPad mini 3 is an iPad worthy of the name. Some of the more annoying things about the tablet are made a bit worse by how far its recent competition has come.


LCDs are showing their age against newer OLED displays, and it's becoming very obvious with the iPad mini 3. A peak brightness of 350.08 cd/m2 is respectably high if you want to use your tablet in many places and have a decent-looking image, but overall contrast performance is mediocre at best. Black levels are fairly high at 0.39 cd/m2, but tablets have never really done well here. Thankfully, you shouldn't notice any greyscale errors with a gamma of 2.18.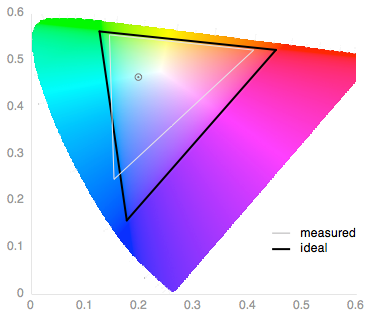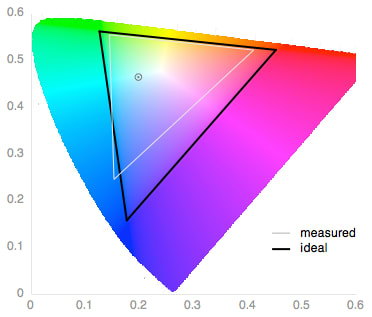 Normally with a screen this dim, reflectivity becomes a huge issue. However, at full brightness the slate does fine enough at dispelling the worst reflections. I'd caution you to keep bright sources of light away from your screen (or at least at an angle), but for the most part the coating on the mini 3 keeps the worst distractions at bay.
Color performance is lackluster, but far from what we'd call "bad." Though the display is unable to reproduce the full gamut of sRGB color values, color differences are relatively where they should be—meaning the display will look a bit washed-out compared to your HDTV, but the image will be relatively okay for general media consumption.
Battery life is about par for the course when you're comparing tablets. While we found that most devices running iOS 8 typically struggle, the iPad mini 3 holds its own in basic tasks like watching video and browsing the web for over 5 hours in a sit. If that's not enough, there's plenty you can do to squeeze a bit more juice out, like reducing motion in the settings, or turning the brightness down. Frequent flyers might want to look into an external battery pack for longer travels.
Nothing to complain about here
By far and away, this tablet's main selling point is that it's an iPad. With that comes a certain level of quality, and Apple has gone out of their way to make their tablets feel familiar to anyone who's ever owned one of their devices in the past. There's something to be said for remarkable continuity, and it's extremely difficult to get yourself into trouble navigating menus and the like. This is a very simple interface, with a very good level of control.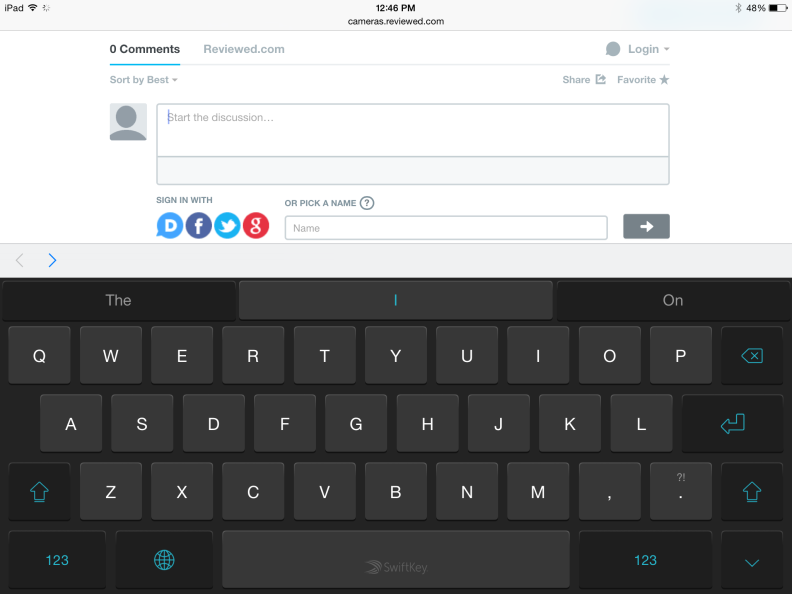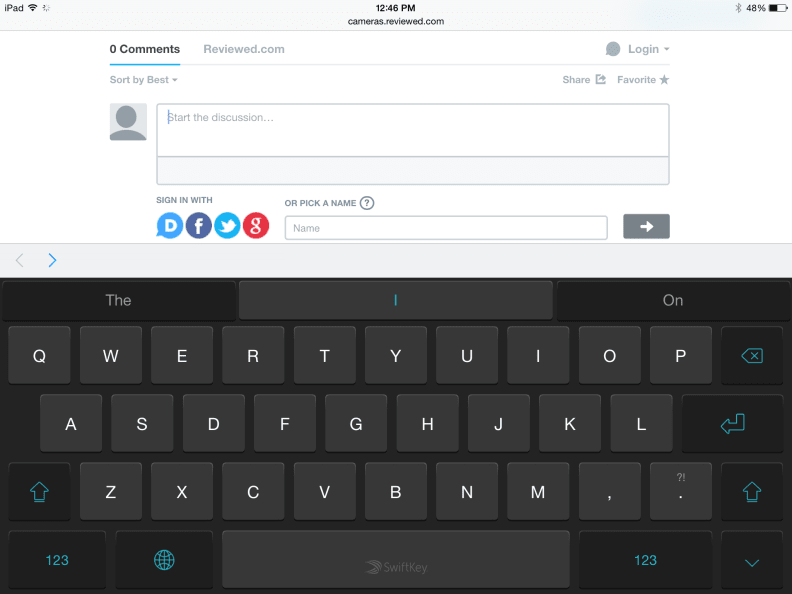 Like iOS 7, iOS 8 is designed to let your content take center stage, and relegate major design elements to the background. While few platforms really go out of their way to annoy you nowadays, it wasn't always the case that you could tune out the rest of the world if you were busy with something like a movie. It's especially appreciated on a smaller-screened device like this.
If you keep your email account or other sensitive data on your tablet, the fingerprint scanner is a huge plus. While it's probably not worth the extra $100, it's a great convenience feature to skip inputting a code every time you wake your device. It also means less time inputting your App Store password every time you purchase something online.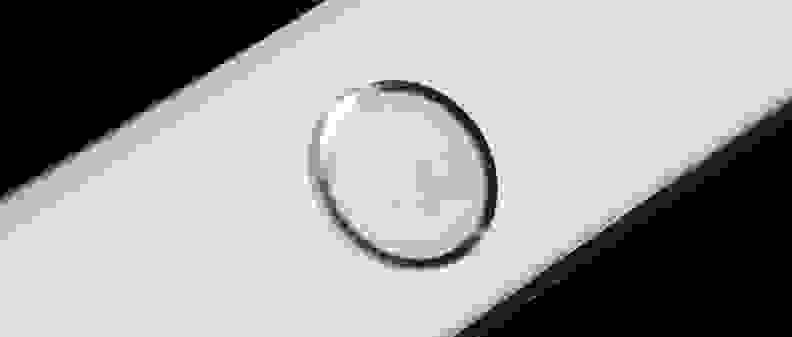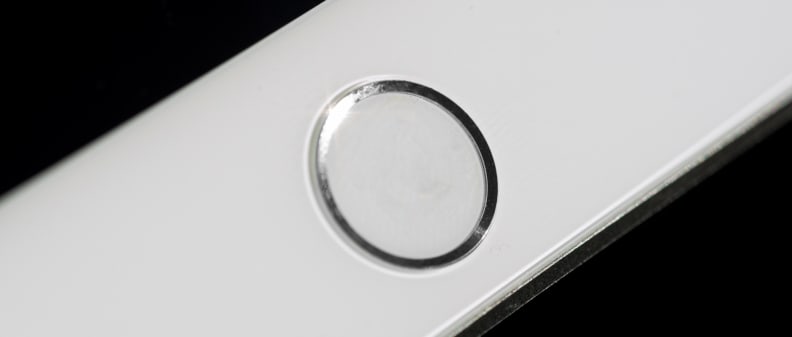 Like all the other modern iOS devices, this slate comes equipped with bluetooth, WiFi connectivity, and the inimitable Lightning connector. If you've ever fumbled with a microUSB connector in the dark, you'll love not having to guess which way to cram your cable into your iPad—the connector is reversible.
Apple's App Store remains the best app market out there, and the iPad mini 3 has far more tablet-specific apps than you can find on Android or Amazon. Whatever gripes you might have with the device itself, software shouldn't be one of them.
Cue up Sara MacLaughlin
It's easy to get a little steamed when a company sees fit to just sit on their laurels and push out a product without doing much to justify its expanded pricetag. And you'd be right to feel like looking elsewhere is the logical response. However, the iPad mini 3 is still a good tablet—it's just of questionable value while its older brother is on the market for less. You could even get the 32 gigabyte mini 2 for $50 less than the 16 gigabyte mini 3; it's a no-brainer if you don't care so much about the TouchID.
You'll be throwing a C-note into the drink to get virtually nothing more than a fingerprint scanner to unlock your tablet if you buy the mini 3 over last year's model.
To be honest, Apple's been giving its larger iPad all the attention over the years, and the iPad mini seems to take an excruciatingly long time to get the attention it deserves through major updates. If you're looking for the top-of-the-line gadget, the iPad mini is almost never it. But if you're like most people, buying the base model is what you'll be doing—and you'd be throwing a C-note into the drink to get virtually nothing more than a fingerprint scanner to unlock your tablet if you buy the mini 3 over last year's model.
By most metrics, the iPad mini 3 is a solid device: its screen is fair, it's easy to use, and it has great build quality. However, Apple's refusal to change much about its tablet puts it at a decided disadvantage when it comes to giving consumers a reason to pick the latest slate on the electronics store shelf. So many new options out there are zinging by it in the Android sphere, and it's getting tougher and tougher to appeal to new customers that aren't already inside the Apple ecosystem.
To that end, anyone who's ever used a Samsung Galaxy Tab S in stores will immediately note how much better the screen is, or just how little the device lacks. Sure, we're talking about a tablet that isn't known for the same kind of software TLC that an Apple product has, but it's still around the same price. If you're looking for an Apple tablet, your choices are limited to the Air or one of the minis, but we'd posit that there's been no better time to let your eyes wander—especially in a world where you can save a lot of money by looking further afield.
Meet the tester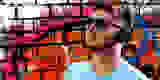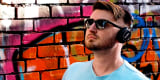 Chris Thomas
Staff Writer, Imaging
@cthomas8888
A seasoned writer and professional photographer, Chris reviews cameras, headphones, smartphones, laptops, and lenses. Educated in Political Science and Linguistics, Chris can often be found building a robot army, snowboarding, or getting ink.
Checking our work.
We use standardized and scientific testing methods to scrutinize every product and provide you with objectively accurate results. If you've found different results in your own research, email us and we'll compare notes. If it looks substantial, we'll gladly re-test a product to try and reproduce these results. After all, peer reviews are a critical part of any scientific process.
Shoot us an email