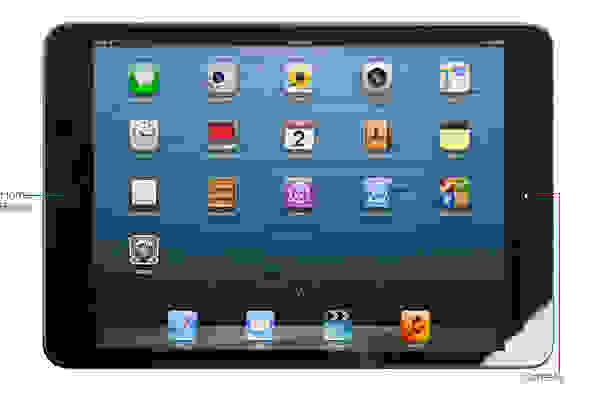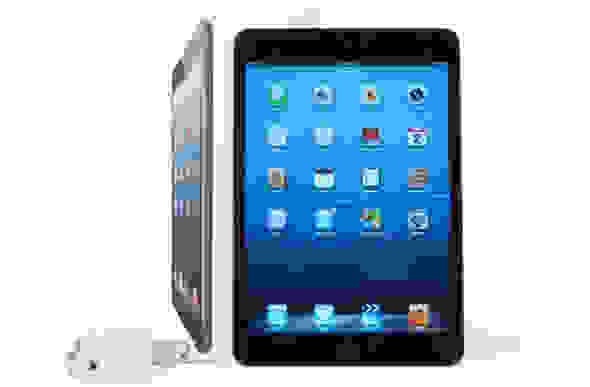 Cracking open the iPad mini's box reveals a tablet, assorted documentation, a USB to Lightning cable, and a wall charger. Unfortunately, no super-secret bonus features to be found here.
Once you start up the iPad, you'll notice right away that the unit is not only thin, but quite light. Due to its smaller size in comparison to larger tablets, it's very easy to hold with only one hand, but in doing so, you'll be liable to put your thumb over part of the screen. Depending on the level of oil in your skin, you may also discover that the back is a little on the slippery side, and doesn't grip well. Be careful with this tablet.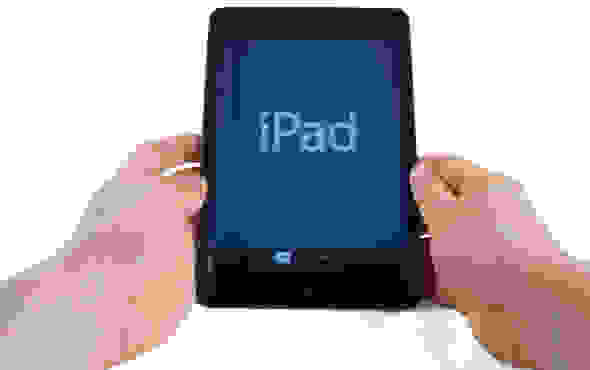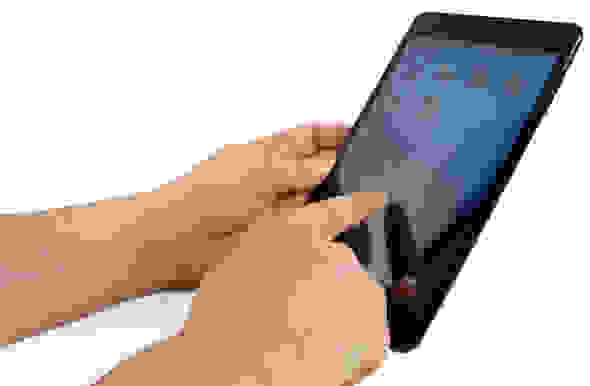 The has a relatively low resolution for a 6.3125 x 4.75 inch screen, coming in at 1024 x 768 pixels. While it does have a decently high peak brightness for a smaller tablet, it does not have the same pixel density or black & white performance of other tablets in its class.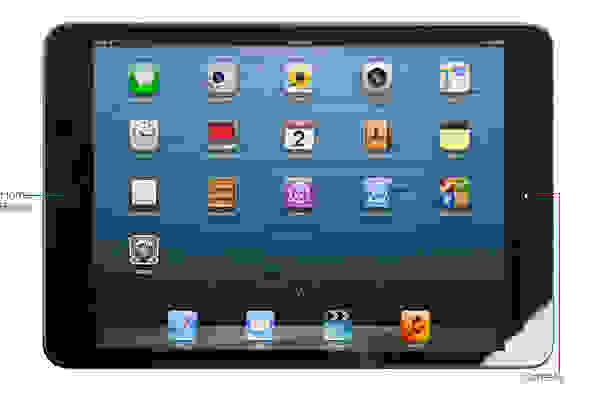 Due to a very high reflectivity, the will annoy you with the reflection pattern and suffer many of the ills that come with bright sunlight. Because LCD screens rely on a backlight to make their picture shown, if that light is overpowered by the ambient lighting conditions, your picture will look washed out or extremely hard to see. This is not a tablet for the beach.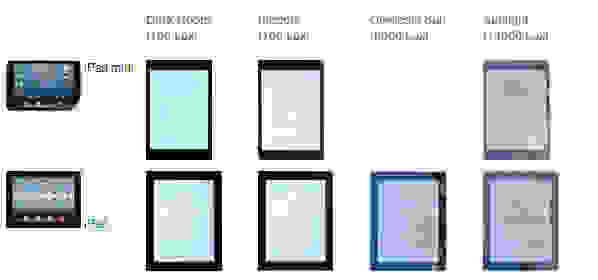 NOTE: The images above are shot with a variety of lighting sources, which may cause some color shift.
While the pixel density is fairly low in comparison to other tablets, text remains fairly crisp on the screen, though those of you with better vision will absolutely notice hallmark issues of low resolution like minor stair-stepping if you hold the tablet closer than 3 feet from your eyeballs.


When you take the Apple iPad mini out into the world, one of the most annoying things you'll notice right off the bat is just how reflective the screen of the iPad mini is. Not only is the reflection pattern very sharp and distracting, but the coating on the screen does very little to diffuse outside light at all. In fact, it will send about 18.3% of all light shone on the screen back at your eyes, making the image hard to see in direct sunlight.
The Apple iPad mini has a screen size of 6.3125 × 4.75 inches, and with a resolution of 1024 × 768, the mini has a pixel density of 162. Now, the full-sized iPad may have a retina display, but the Apple iPad mini's screen is not this good. For those of you with better vision, you'll be able to see the pixels even at a natural position holding the tablet, and all HD content will have to be rescaled for your tablet.
The Apple iPad mini has a somewhat high black level of 0.53cd/m2, though its respectable peak brightness of 405.33cd/m2 goes a long way in bailing out the contrast ratio, which sits at 765:1. There is a somewhat minor, but weird problem with the greyscale gamma, as the transition from black to white along the intensity scale is a bit off from what it should be. Thankfully, the error is more academic than anything, and not really a noticeably glaring issue.



What is noticeably bad is the color gamut, as not only are blues, reds, and greens wildly undersaturated, but the blues are shifted bizarrely like tablets of a bygone era. This was quite common in tablets of 2011, but not so much with the stable of iPads Apple released this year.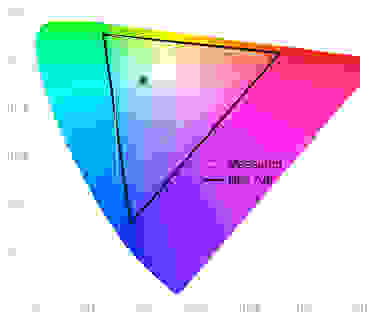 After draining the life force (aka stored charge) out of the iPad mini's battery repeatedly, we've determined its life with a full backlight and no wireless to be 6 hours and 3 minutes reading eBooks, and 7 hours, 20 minutes playing movies with terrible acting. Given that the screen is quite bright, you might be able to squeak out more or less battery life depending how you change the settings.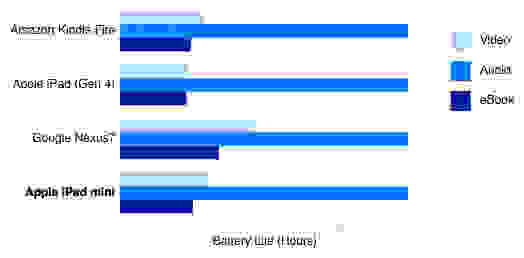 Fans of iOS will love the fact that the control interface for the is scaled for a tablet and not a phone, meaning that while things will look smaller in relation to the screen like they would on the iPad, your apps will not be re-scaled phone apps that are inefficient in using the whole screen.
Touch controls and gestures are the same as they are on the iPad: you tap icons with your finger to toggle them or open apps, you swipe your finger to move pages or turn them, you can pinch your finger in or out to zoom where applicable, and a five-finger swipe inward will bring you back to the home screen. This can also be accomplished by tapping the home button on the bottom of the bezel, but this is more fun.
Much like its bigger, badder brother, the iPad, the has a satisfyingly diverse array of connectivity options. An 802.11n wireless card, bluetooth 4.0, and wireless streaming options over your home network give you the option to pair external input devices as well as stream content from your tablet to your TV if you have an AppleTV unit. It doesn't have anything fancy like NFC, but chances are good that if you don't know what we're talking about, you don't need it.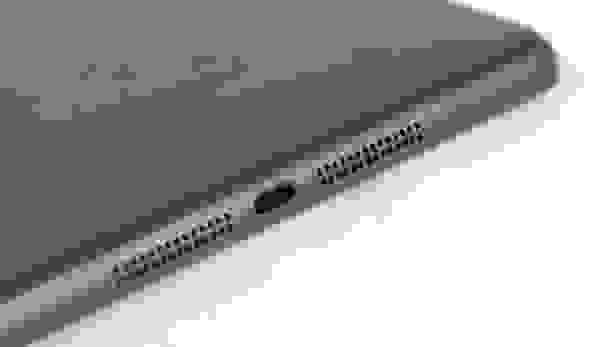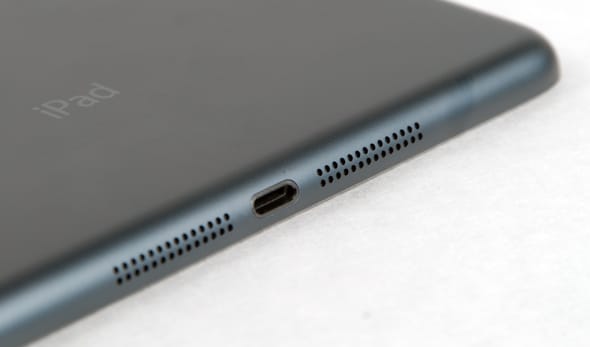 New to the latest generation of iPads is the lightning dock, which replaces the old connector port on the bottom. This time, it doesn't matter which side is facing up when you jam that cable connector into the tablet, it will work either way! Definitely less frustrating. Keep in mind though that there is no third-party cable makers, so do your best not to lose or break these cables. As of this review, there is also no plan to bring a 4G option to the mini, so users wanting to take their tablets out into the world will have to make do without a wireless network.
After draining the life force (aka stored charge) out of the iPad mini's battery repeatedly, we've determined its life with a full backlight and no wireless to be 6 hours and 3 minutes reading eBooks, and 7 hours, 20 minutes playing movies with terrible acting. Given that the screen is quite bright, you might be able to squeak out more or less battery life depending how you change the settings.
Reading a book on the is very similar to actually doing the real thing, except for the fact that the screen is lit. You can swipe your finger to turn pages forward and backward, change the font, size, and color, and in some cases facebook or tweet your favorite passages in your book. It all depends on which eReader app you use, but not only can you find most of the popular apps have relatively similar controls.
Buying eBooks (or iBooks, as branded by Apple) is a relatively painless process on the and most iOS devices. Once you've figured out which app you'd like to use as your eReader, simply create an account with your credit card information linked to it, and you'll be able to navigate the store. Find the title you want, and your card will be charged once you tap the "buy" icon. Due to the fact that text files are relatively small, you should be able to start reading your eBook seconds after your card clears.
Nowadays, eBook formats matter less and less as the prevalence of a few dwindling eBook stores are largely dominating the market, and many old formats are easily converted to a PDF file. The in particular can handle PDF, TXT, HTML, and DOC files with its own reader, as well as iBook files, and any formats belonging to apps you can download, like Kindle files or Nook files. Worst-case scenario? You can always convert old titles of your library using a program like Calibre to a file format that can be read by your device.
Periodicals are handled somewhat uniquely on iOS devices, as the newsstand app on the main screen slides open to contain all of your news apps, be they from the New York Times, USAToday, or elsewhere. If having the extra taps isn't your style, there's a few other apps like Flipboard out there that allow you to explore internet periodicals in innovative ways, often much like a magazine.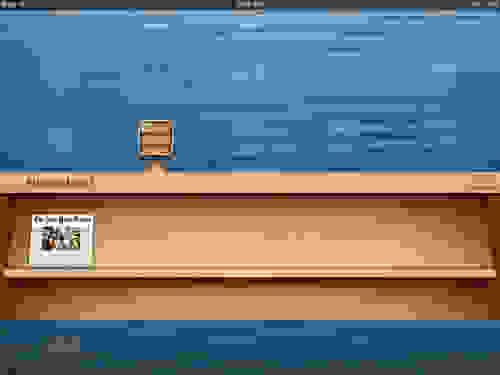 Despite competitors making music apps that are pretty to look at, Apple has stayed the course with the music player on the , opting to maintain the older look of the music player of the other iPads. Once you pick your song from any one of a number of sorting options, you can control playback with the control bar at the top of the screen. For advances options, you can open the settings menu, toggle and build playlists, or look to either side of the scrub bar for a shuffle or repeat option to your liking.
All music files are stored in a folder with the same name, accessible through the music player alone on the tablet, and you can sort your files in a number of ways, all fitting one aesthetic in either tile or list format. With iOS, there really isn't much you can do wrong here, and that's probably for the best on a mobile device.
Apple did not change much about its video playing application from iOS 5 to 6, so users who are familiar with it on their iPhone or older iPad should see no surprises: at the top there is a scrub bar that allows half-speed, quarter-speed, and fine adjustment of the progress of your video file. On the bottom there is a bubble that has your standard play/pause, track forward/backward controls. To the right of those, is a "push to AirPlay" icon that isn't immediately obvious what it is; if you have an AppleTV unit hooked up to your TV, you can push the movie file you're watching to the bigger screen over your home network by tapping this icon.
Videos are stored on the device, and can be accessed via the "Movies" app. If you want to save space on your hard drive, you can also stream them from iTunes on a home computer, provided you have enabled home sharing, and have an 802.11b/g/n wireless router.
As it currently sits, Apple allows only H.264, MPEG-4, M-JPEG, .m4v, .mp4, and .mov files to be played on their mobile devices, and they do not have any additional codec packs that are readily available via the App Store. If this poses a problem for you, you can always try converting your files using a free program online.
At the time of this article's publish, Apple has the best video streaming options on the market for movies, as they not only have Amazon Instant Video, but Netflix, and a host of other options for streaming your favorite online movie content. What is a little mystifying is that there is no longer an official YouTube app in iOS 6. There are third-party knockoff apps available in the App Store for free, but download at your own risk.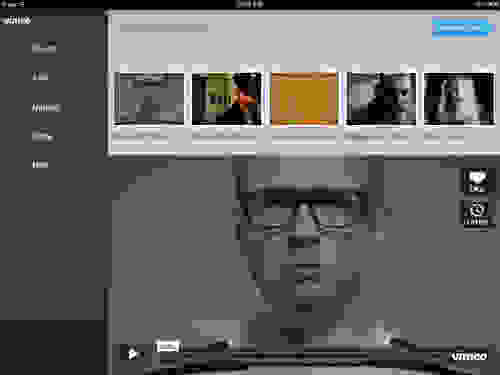 After 7 hours and 20 minutes, the 's battery lost the will to live. Considering the brightness of the unit (and that we max it out for our battery tests), the 's battery life is pretty solid. Enabling WiFi and changing the backlight will affect your battery life, as well as running other programs as well, so your mileage may vary.
Email on the is a very simple and rewarding experience on the if you have a POP3, IMAP or Exchange email address. All you have to do to set it up is to tap the Email app and follow the wizard to sync your inbox with your tablet, and you're all set! The touch controls are easy, and the interface looks a lot like what you'd see on your computer.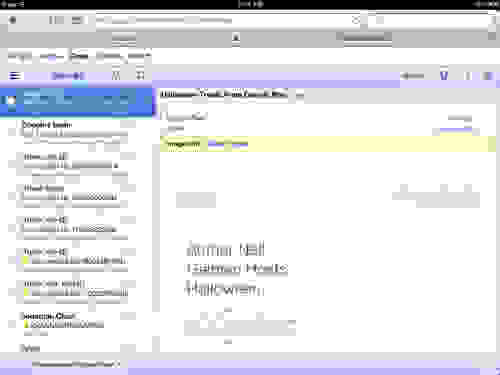 Safari, the web browser for iOS 6, is sorely in need of an update, as it suffers many of the same problems that other imported browsers from desktop systems have: namely, that it's not laid out to make the best use of how users naturally hold the tablet. Safari looks and functions much like it does on a Mac: the address bar and all of your options are on the top, though you can set that to disappear.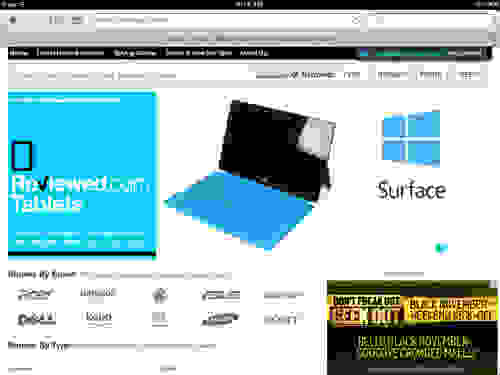 You can also bookmark sites, and use multiple windows if you need to by tapping their respective icons on the URL bar. The process is painless, and with that impressive new processor, there's no lag at all that is noticeable to the human.
One of the most notable things that the has brought to the table(t) that gives it a competitive advantage is the fact that the apps available to it are not merely re-scaled phone apps, but actual tablet apps that make the most out of the screen. Additionally, Apple does run probably the best app market out there, with a huge range of very well-polished apps that get a lot of attention form developers, meaning that you should be well-taken care of if media consumption is your aim.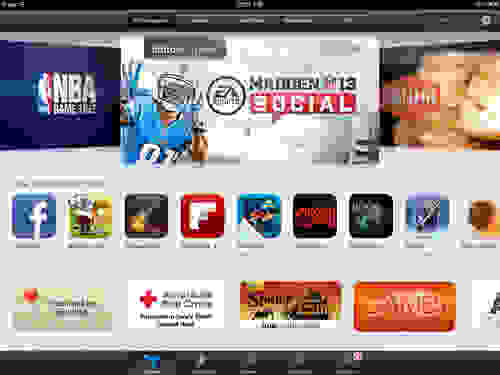 The has many of the same home network sharing features of the fully-sized iPad, which is great: you can push media content to your TV via the AppleTV box that's available for separate purchase, and you can stream media from your computer to your tablet via WiFi and home sharing through iTunes. It may not be the crazy-complicated or advanced apps of Android, but it works quite well without messing with too much.
After noting the success of the smaller form factor of Amazon's Kindle Fire and Google's Nexus7 , Apple has followed suit with their own miniaturized tablet, the . Overall, despite the polish and interesting form factor, the mini just seems like it was rushed more than carefully engineered. Not only is the tablet underspecced, but it also underperforms in just about every performance measure but battery life..
That's not to say that it's a bad tablet: in fact, the opposite is true. As a media consumption device, it's got a very portable and slick form factor, but important to note that its price and hardware shortcomings will definitely surprise and dismay some, and it definitely isn't a great value to those looking for a tablet that will remain up-to-date for a long period of time. Running iOS 6 will help it in the market immensely, but from an enthusiast's perspective, the is more of a disappointment.
At the end of the say, it's Apple's first foray into the smaller tablet arena, and it's not surprising that there are some bumps. In time, you may see following iterations of mini with different features, or enhanced specs, though the price is hard to swallow for those looking for a tablet but not willing to pay the full premium.
Meet the tester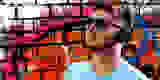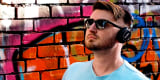 Chris Thomas
Staff Writer, Imaging
@cthomas8888
A seasoned writer and professional photographer, Chris reviews cameras, headphones, smartphones, laptops, and lenses. Educated in Political Science and Linguistics, Chris can often be found building a robot army, snowboarding, or getting ink.
Checking our work.
We use standardized and scientific testing methods to scrutinize every product and provide you with objectively accurate results. If you've found different results in your own research, email us and we'll compare notes. If it looks substantial, we'll gladly re-test a product to try and reproduce these results. After all, peer reviews are a critical part of any scientific process.
Shoot us an email