Lv. 1 Tablet
Hardware
It's not on the outside that counts, but, uh...
What is there to talk about when tasked with exposition on budget tablet design? Aside from a rectangle with rounded edges, aesthetics don't really enter into it, so I'm left with ripping into the guts of the Sero 7 Pro. As Lecter-esque as that may seem, 100% of the interesting points of the Hisense tablet are on the inside of the chassis, even if it's only just beyond the ugly grey-brown skin.
This isn't some cheap knockoff tablet that will send you into a rage-spiral.
This tablet has very comparable specs to the 1st generation Nexus 7, so you should expect some level of comfort in knowing that this isn't some cheap knockoff tablet that will send you into a rage-spiral. It has last-generation's Tegra 3 processor, 1GB of RAM, and a somewhat small hard drive—but you can add up to 32GB with a microSD card. The capacitive screen is as responsive as you can ask for, and a lot of the really infuriating points of a "bargain" buy aren't there; this won't be used as an expensive doorstop anytime soon.
I will point out that you do get what you pay for in a certain sense—this tablet doesn't have a waterproof nanocoating, nor is it going to hang tough with the more expensive options out there. That's perfectly fine if you don't need the latest and greatest features, but if you're hoping for more out of the tablet, it's a bit unfair to expect it to be something it's not.
Performance
Not the last kid picked to play
It's unfortunate for the Sero 7 Pro that it was released so late in its processor's life cycle, but it's about to get left behind in terms of performance—it'll be nary a speck in the rear-view mirror of the latest generation of hardware. At this moment it works surprisingly well: It falls slightly short of the Nexus 7 in terms of processor performance, and it has near-identical specs to the first version of the venerable pack-leader. Just be aware that the next wave of awesome tablets is around the corner, and owners of the Sero 7 Pro will feel much like a younger Chris Thomas, stuck with a MiniDisc player in the age of MP3—clinging to outdated equipment.
The processor doesn't quite keep up, but the hardware is far better than other bargain tablets.
Speaking of crushing disappointment from ages ago, the processor doesn't quite keep up with the now-ancient Nexus 7's. It may have the same listed speed and name, but it falls a bit short. It's not difficult to overwhelm the poor thing with apps made for a larger tablet, for example. Anything requiring 3D rendering makes the Sero 7 Pro heat up like nobody's business, but it's not going to scald you even if it gets a bit toasty at 106˚F.
As far as screen performance goes, we find a mixed bag of results. For every good thing like a decent color gamut, there's something really bad like a very inaccurate white point or super-high reflectivity. The latter problem is really bad: If you like to take your tablet outside like the 7" form factor lends itself well to, you'll find yourself leaving the backlight on maximum for long periods of time. By doing this, you'll simultaneously be ripping down your battery life, and it still might not dispell pesky reflections because it is just that reflective.
In Use
Not thrilling, but a nice surprise
For many things, a 7-inch form factor is just dandy—the screen is much larger than the one on your phone, but the tablet is small enough to fit in a bag easily. The Sero 7 Pro doesn't work well for reading comics or academic papers, but eBooks, video, and music are great on a tablet this size because it's very easy to hold with one hand. Additionally, the tiny tablet offers a bit of privacy in public, so go ahead and read that trashy romance novel—nobody'll notice.
Go ahead and read that trashy romance novel—nobody'll notice.
However, it isn't for everyone, and it's definitely ill-suited for anyone with impaired eyesight or uses the tablet nonstop. It travels well given that you can expect over 7 hours straight in "airplane mode." It'll last a while with a light load, but don't expect it to go the distance if you're going to be away from an outlet for more than a workday. Honestly though? How often does that happen?
Cinephiles shouldn't expect anything stellar with this screen—and honestly, why would you? It's an entry-level tablet with a common screen type: You're not getting an iPad or Xperia Tablet Z. Still, it has surprisingly high pixel density, so you won't notice many jagged edges in your images.
It shouldn't surprise bargain hunters that this tablet won't exactly stay current for long. Despite the use of an almost pristine version of the Android 4.2 operating system, it's unclear if this tablet will see any upgrades in the long term. This isn't really a huge deal, and it's actually quite nice that the OS is as current as it is without much garbage added to it.
Conclusion
Best buy under $150
To its credit, the Hisense Sero 7 Pro does undercut the current Android leader in cost, but there are huge tradeoffs for only somewhat small savings. For example, the screen is far, far worse, and the guts of the tablet just aren't quite enough to appeal to enthusiasts.
But maybe you're not looking for the best—maybe having the latest hot item isn't going to drive your purchasing decision, and you're just looking for a reliable unit that doesn't void your wallet of all its cash. If that's the case, it's tough to turn your nose up at a $149 tablet like the Sero 7 Pro. However, there's a bunch of tablets on the way that may warrant waiting just a little while longer.
If you're looking at this tablet, you're most definitely looking to either save some coin or buy for an entry-level user as a gift, so temper your expectations a bit and you'll be in love. It does just about everything a tablet should do—albeit not in any stunning capacity—and should satisfy most novice users. If you're feeling up for a trip to WalMart (or braving the online store), the Sero 7 Pro can be had for a paltry $149.99.
Under the Microscope
So the Sero 7 Pro holds up to some scrutiny, but we're too obsessed with data to leave it at that—we're going to tell you in excruciating detail exactly what it's like to use this thing, so buckle your pants and get ready. You're in for a bumpy ride with this tablet.
Screen Performance
This sad tale begins on a sweet note of fair contrast, but ends in wailing and gnashing of teeth at a lackluster performance. Sure, it's a very inexpensive tablet—and it may be a bit unfair—but the screen is among the worst currently on the market.
To start with the good: The contrast is acceptable at 801:1. You won't notice many errors in gradients or shadows (due to good gamma), but the picture is still a bit washed-out if you're used to seeing movies on the big screen or a decent HDTV.
This leads us to the bad: The relatively high black level of 0.46 cd/m2 . Usually for a decent TV we look for this number to be under 0.1 cd/m2 , but tablets almost always struggle with this. Because of that high black level, the respectable peak brightness of 368.63 cd/m2 doesn't help much, and the contrast is narrowed as a result. Reflecting 27.2% of all light shone on the screen doesn't make matters any better—outside use is frustrating as a result: It's like looking in a mirror.
Now for the ugly. I mentioned before that the color performance wasn't all that great, but at first glance the color gamut is actually really good for a tablet. So what's stuck in my craw? That white point.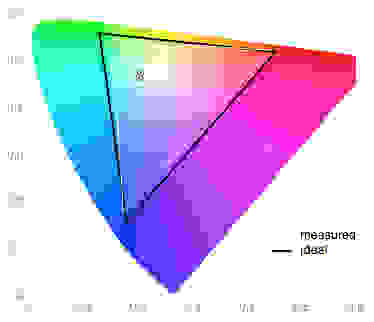 It's important for a display of any kind to have an accurate white point, as an inaccurate white point is indicative of an inability to produce accurate color values—it's a good way to figure out if your picture is going to bear an orange or blue hue. Here, we see that indeed colors will bear a bit of a blue tinge.
Battery Life
A 4,000mAh battery in a device so small makes for a long uptime. Don't believe me? Focus your eyeballs on this: It lasted 7 hours, 33 minutes playing one of the worst movies of all time on full brightness, and 7 hours, 7 minutes reading Tolstoy. That's pretty impressive, if a little horrifying from an existential standpoint. You can expect the tablet to tolerate quite a bit of your shenanigans before it offs itself and needs a recharge.
If you're looking for something to handle multiple different uses while you're stuck on a cross-continental flight, this is a pretty good bet. You may need to recharge in the terminal, but it'll survive from Boston to Chicago or Las Vegas—just be sure to keep your wireless radios off.
Processor
This section will very quickly be dated by the release of the Tegra 4 and newest Snapdragon chipsets available to tablets now, but for the most part that plucky 1.3GHz Tegra 3 processor seems to hold its own against other bargain tablets in our processor tests. You can expect very few force-closes and only moderately sluggish behavior, but if you don't try to run everything all at once you should be fine.

If you like lots of 3D-rendered games, however, you'll find that the tablet won't be able to keep up most of the time. It's a tradeoff, but one that may not be all that important to you. Expect performance close to that of the original Nexus 7.
Meet the tester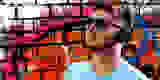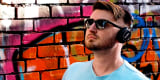 Chris Thomas
Staff Writer, Imaging
@cthomas8888
A seasoned writer and professional photographer, Chris reviews cameras, headphones, smartphones, laptops, and lenses. Educated in Political Science and Linguistics, Chris can often be found building a robot army, snowboarding, or getting ink.
Checking our work.
Our team is here for one purpose: to help you buy the best stuff and love what you own. Our writers, editors, and lab technicians obsess over the products we cover to make sure you're confident and satisfied. Have a different opinion about something we recommend? Email us and we'll compare notes.
Shoot us an email