Sure, the brushed-metal exterior is pretty, but this thing is huge.
Holding the tablet is generally not advisable without something to prop it up against, whether it's a table, a stand, or just your legs. Honestly, this is not a tablet you'll want to tote around, so forget any notion of portability that's normally afforded by a tablet. Weighing in at 5.3 lbs, this is definitely a heavyweight. This device will either stay at home, or else make you look very silly out in public.
So what does this thing do well? Content creation. Running the full x64 version of Windows 8 Pro, and using a capacitive touchscreen, this 4K powerhouse will empower artists and casual enthusiasts alike with programs and hardware that smaller computer monitors and television screens just can't match. Windows 8 was seemingly built for a tablet like this, because a lot of the more frustrating aspects of the control scheme were far less annoying than they were on the Surface.
It's certainly got the hardware, but we haven't seen a true test of performance yet.
This tablet has the hardware to back up the enormous amount of pixel-pushing that it's doing: using between 4 and 16GB of RAM, and running all this with an Intel Core i5 1.8GHz processor, those pixels are a piece of cake. For a frame of reference, Panasonic's 4K display models were running fine under a light-ish load, and a little digging showed that they only had 4GB of RAM under the hood.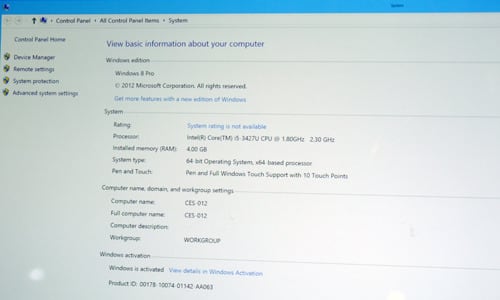 Furthermore, much like an entry-level ultrabook, the tablet will sport a comparatively large 128 solid state drive, and a microSDXC card slot for expandable memory. Unfortunately, there is no battery big enough to fit into the 18.7" x 13.1" x 0.4" casing of the tablet to power it for very long. Even by the manufacturer's optimistic battery life projections, this thing is only going to stay on for 2 hours after it leaves the power cable.
Because the tablet is seemingly supported well by its software and its hardware, what could have become a CES punchline is instead something to keep an eye on. While it's certainly possible that its enormous size will prevent it from eating up a large market share, it's refreshing to see a company take risks with tablet design, and to back that risk with serious hardware instead of putting a half-finished idea out on the table. It's definitely not for everyone, but this should hold a measure of appeal for a certain crowd.
Currently, we are unable to comment on the performance objectively, as we have not been able to run benchmarks or test the screen. While we may or may not ever see this make it to production, or into our labs, we will leave you with a parting gift that you won't find in many other places just yet: a spec list.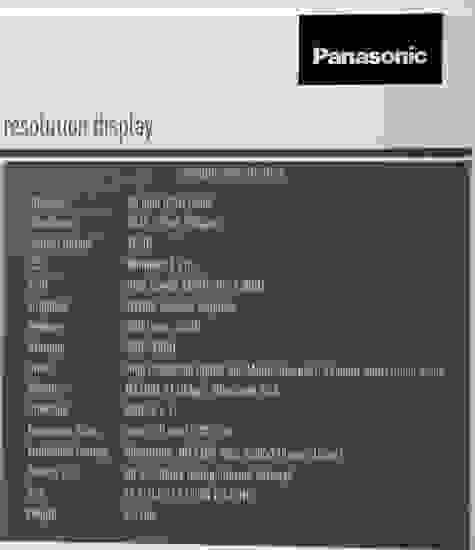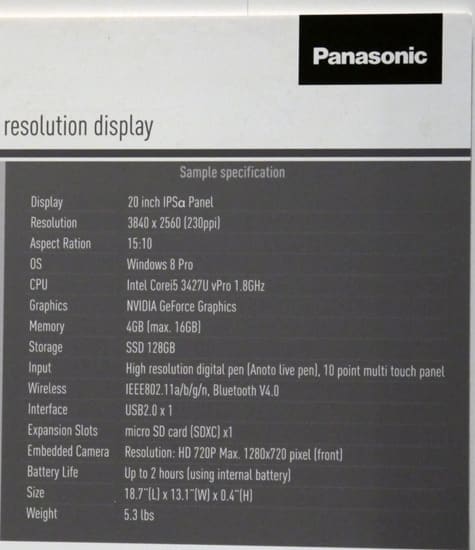 CES often showcases wacky products that are more or less complete failures, but this tablet may have dodged that bullet, however comical its size may be.
It's easy to scoff at something so ridiculously out of the norm when it comes to a product category built around portability, but maybe this product isn't doomed to fail for taking such a drastically different road. Obviously, while we do have a spec list, there isn't much that we actually know about the tablet's overall performance, and conjecture is only worth so much. How sensitive is the touchscreen? Is it good enough to make hi-res image editing software viable for use with a stylus or other pen-like apparatus? Time will tell, but currently this is not widely-available knowledge.
In the meantime, we can tell you that the hardware is certainly behind the device to make it work, but whether or not this is a viable concept for the market is a different question altogether. For starters, how many of you actually want to lug a 5.3lb screen around your house? How many of you would use it on a regular basis, especially knowing the battery life is so short?
Perhaps this monstrously huge tablet will make it to the market, and perhaps we will get to test it. If we do, we promise to give you all the juicy info on its performance, and to help you decide whether or not it has a place in your home. .
So it's come to this: a 4K tablet. While there were many rumors surrounding the potential existence of such a thing with the release of NVidia's Tegra 4 chipset, nobody expected it to be so... big (or to use a Core i5 processor). With its size come some interesting capabilities too; this thing absolutely warrants a look if you're into Windows 8 tablets as a replacement for an ultrabook or home computer. At CES today, we were able to get our hands on a couple, and this is what we found.
Meet the tester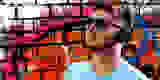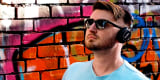 Chris Thomas
Staff Writer, Imaging
@cthomas8888
A seasoned writer and professional photographer, Chris reviews cameras, headphones, smartphones, laptops, and lenses. Educated in Political Science and Linguistics, Chris can often be found building a robot army, snowboarding, or getting ink.
Checking our work.
We use standardized and scientific testing methods to scrutinize every product and provide you with objectively accurate results. If you've found different results in your own research, email us and we'll compare notes. If it looks substantial, we'll gladly re-test a product to try and reproduce these results. After all, peer reviews are a critical part of any scientific process.
Shoot us an email