Design & Usability
True, the phone is beautiful, but design-wise, it's very much a continuation of what we've seen for some time now.
Unfortunately, the Xperia Z isn't much of an aesthetic departure from other post-iPhone devices: it's a big touch screen with some buttons and ports around its edges. Our rep was pretty excited about the side-facing power button, but we wouldn't call it a triumph of innovation. The button was easier to access when the device was turned sideways—and since this phone's forte is displaying letterbox media, this seems like a common orientation—but we thought it felt a bit awkward during normal use. Of course, preferences will vary along with hand sizes and grip proclivities, so be sure to play around with the phone before adopting or admonishing.
In terms of overall usability, we didn't see any substantial problems. Using the Android interface was very smooth and responsive, though we weren't using any particularly resource-intensive apps. We would prefer to stress test the quad-core processor with something more substantial than Google Chrome.
The one minor blemish on user experience was the Xperia Z's haptic feedback: hitting an onscreen button yields a tiny, plasticky rattle from the center of the phone. We definitely prefer the iPhone's vibration to this one's, though we doubt many will consider this a deal breaker.
Features & Performance
The Xperia Z hopes to win you over with features.
The Xperia Z's features are where it hopes to differentiate itself from other Android smartphones. Again, HD media is the overarching theme here, so naturally its 5-inch screen can display a full 1080p picture. The resulting pixel density of 443 ppi is very impressive—the iPhone 4s's much advertised "retina display" only runs 326 ppi. We're not sure the human eye would be super keen on the difference between the two, but we're at CES; maybe we'll find robot eyes soon, so stuff like this will matter.
Displaying 1080p content is somewhat resource-intensive, so the Xperia Z comes with a Snapdragon™ S4 Pro quad-core processor. That kind of power should lend impressive performance and graphics capabilities; we're excited to see how this develops as a mobile gaming platform.
You can also capture HD content with the Xperia Z: its 13MP camera is capable of capturing 1080p HDR video. While we haven't tested it yet, this camera should be a decent replacement for your pocket point & shoot. The camera's interface is very intuitive, too. Not only does it have an advanced auto mode, it even has a customizable hotbar, to let users quickly access the features they use the most. On top of that, there's also a front-facing, 2.2MP camera, which will more often than not serve as a makeshift mirror. While its megapixel count might seem a bit low, it's about standard for front-facing cameras.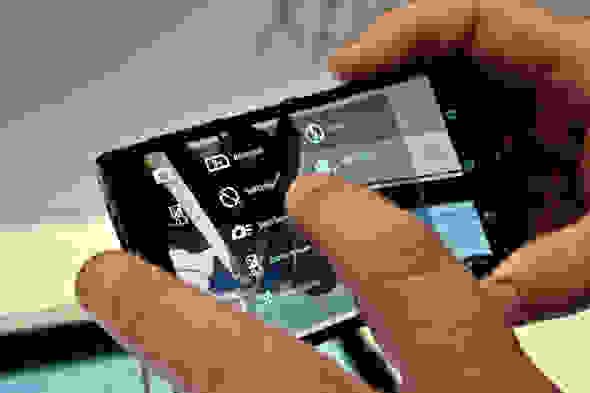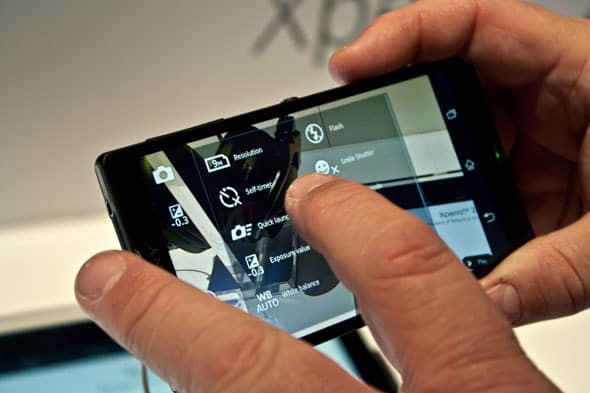 You'll also need a place to store all this HD content, so the Xperia Z comes equipped with 16GB of flash memory and it allows up to 32GB of removable memory via its MicroSD card slot.
You may have noticed the phone's various ports are covered with tiny plastic flaps, which were all the rage in cell phone design before the iPhone ruined them for everyone. These tiny plastic flaps aren't just for show, however: they help keep the phone water-resistant and dust-proof. We probably wouldn't recommend relying on the feature too much, since rubber gaskets can only seal properly when there's no debris in the way, not to mention the fact that rubber eventually ages and cracks. It should be good for one freebie toilet plunge, however.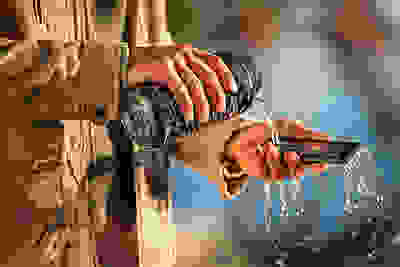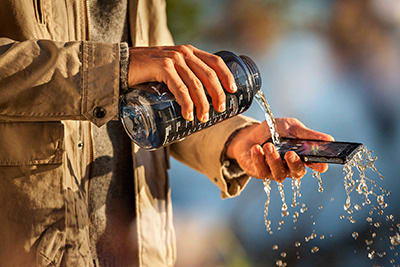 One of the features we're interested to test is the phone's various battery saving features. With the flip of a switch, we saw a phone's reported battery life jump from 3 hours to 9. For all we know, the phone could've just applied a 3x multiplier to the previous number, but it's certainly impressive if it works as advertised. Another cool feature we saw was the ability to allow or disable certain apps when the phone is in standby mode. Now you can make sure Twitter updates aren't draining your last pixel-width of battery.
Of course, like most of Sony's line-up this year, the phone supports NFC interaction. Just start tapping any two Sony products against each other and there's a 70% chance you've transmitted data between them. We're at least happy Sony is allowing their smartphone to be sociable: the iPhone 4s technically supports NFC, but Apple won't let anyone use it.
Conclusion
A smartphone that looks as if it will live up to the name
We were impressed with the Sony Xperia Z. It takes a solid operating system, improves on it with some customized UI features, and packs enough hardware to make it a compelling choice amongst all others. It's already getting positive attention from the industry, but we'd really like to get one in-house to see if its features are as sharp as they look on whitepaper.
Whether or not the Xperia Z will break from the Android crowd hinges on more than just hardware, though. We're definitely interested to see what carriers will offer this device, and how much it's going to cost. If it's placed somewhere around the iPhone's price point, the Xperia Z could be a solid contender.
Introduction
This past August saw the launch of Sony's new 4G LTE smartphone platform, Xperia. The series—which debuted with the Xperia T, Xperia V, and Xperia J—seemed to have two goals: 1.) provide consumers with the best mobile platform for viewing 1080p content, and 2.) try once again to resurrect "WALKMAN®" as a powerhouse media brand. This past December, Sony expanded the line with a budget option, the Xperia E.
At CES 2013, the company culminated its alphabet soup pantheon with a new flagship, the Xperia Z. The series is still focused on the conveyance of HD media, only the Xperia Z is also capable of producing its own; it features a 13MP camera that can capture 1080p HDR video with an improved onscreen interface.
The Xperia Z is set to launch with Android 4.1 (Jelly Bean), but will be upgraded to 4.2 shortly after its release. There's currently no information on pricing or carriers, but it should be available this quarter.
Our editors review and recommend products to help you buy the stuff you need. If you make a purchase by clicking one of our links, we may earn a small share of the revenue. Our picks and opinions are independent from any business incentives.