Tablets
World's Thinnest Bluetooth Keyboard Turns Any Tablet into the Surface You Always Wanted
Printable tech could be adapted to fit a tablet cover or case, opening up possibilities for new typing accessories.

Credit:
Tablets are basically luxury leisure gadgets, but we can't quite shake the notion that they can also kinda, sorta handle actual work. (After nearly a billion dollars in Surface RT write-offs, Microsoft probably has some insight to share on that topic.) And so, like iPhone cases and laptop bags, countless tablet keyboards continue to flood the field.
If you're going to build something that hundreds of other companies already make, you might as well do it a little bit better (or at least thinner). UK-based semiconductor developer CSR gave us a demo of "the world's thinnest wireless touch surface" at IFA 2013 in Berlin. Basically, it's a flat, flexible keyboard.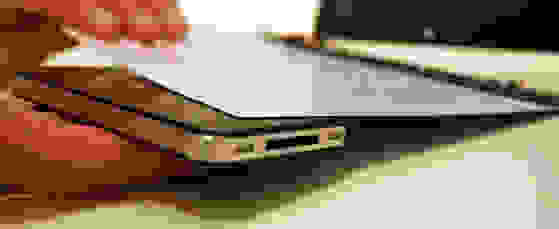 Big whoop. But Paul Williamson, CSR's director of low-power wireless tech, told us that the aim is to get this thing built into a tablet cover. Imagine the Microsoft Touch Cover, only thinner.
CSR doesn't sell directly to consumers—they really just develop the core technology, and other manufacturers build it into their own products. This touch surface concept can be ink-jet printed, and therefore adapted to any size. It also supports swipe-typing, 10-finger inputs, and multi-touch gestures—not to mention that it can work as a stylus-input slate, kind of like one of those Wacom tablets that artists and architects use. It connects to devices through the new Bluetooth Smart standard, which is said to use much less power than typical Bluetooth.
The prototypes we checked out had a few kinks—one of them wouldn't connect to a Surface tablet in the room, possibly because its battery had died, or maybe it was a bug with the syncing. The other one was synched with a laptop, and it was about as responsive as you could hope for in a flat surface with no tactile feedback. It felt a lot like typing on a tablet screen, but with the added benefit of not having a virtual keyboard taking up half of the display.
If there are any takers, Williamson predicts that it should start appearing in real life around the end of 2014. Will it change much about portable keyboards? Probably not, but it opens up some possibilities for cool new accessories that we probably haven't even thought of. Like... wearable keyboards built into your shirt?