The Best Drones Under $500 of 2019
By Adam Doud, October 31, 2018, Updated January 02, 2019
When it comes to drones, there's a lot of options. Whether it's a matter of flight time or features, you really get what you pay for. Since we've already given you our top picks for drones under $200, we thought we'd up the ante and test the next tier of drones.
Drones under $500 are in a class of their own. They have stable GPS, nice cameras, and typically include at least a 2-axis gimbal. They'll also stop and hover when you release the sticks, to the point where you could go get a drink and come back and know exactly where your drone is. They're that good.
While most drones in this price range are quite good, there are certain features that set some of them apart. From rock-solid flying to 1080 video camera, the DJI Spark (available at Amazon) is our top pick. While this drone has a lot to offer, if it's not your cup of tea, worry not. There's a drone for every type of flyer on this list. So, without further ado, here are the best drones under $500 ranked, in order:
DJI Spark
Parrot Bebop 2
MJX Bugs
UpAir One
Potensic T25
Updated January 02, 2019
Advertisement - Continue Reading Below
DJI Spark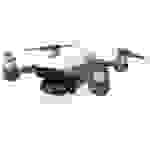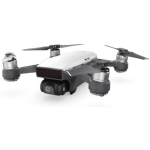 DJI Spark
Best Overall
If you want a drone that you can pull out of the box and fly with ease and precision and have great video and still photography, look no further than the DJI Spark. Flight is rock solid and if you release the sticks, the drone goes nowhere. You can pretty much set your drink down on it and use it like a tray, but, you know, don't.
It ships in a styrofoam case with four extra propellers and two extra batteries. The combined batteries gives you a total of about fifty minutes in the air. The charger can charge all three batteries at once, making it super convenient to get back into the sky as soon as possible.
The controller has an innovative smartphone cradle below the controls, so it's a super compact controller. Video streaming is fast and smooth and the controls are easy to use. However, the video signal gets a little choppy when you fly about 900 feet away.
When you really want to cut the drone loose, turn on sport mode. The Spark is capable of flying across the field at speeds approaching 30mph! This does drain the battery, but it's also a lot of fun. Zippy doesn't quite describe the drone in this mode, though, as it's almost too fast. That said, it's just as rock steady when you release the sticks.
Not only is the app's interface really easy to navigate, there's also a number of fly modes available such as Follow Me, Dronie, and Circle Shot. Dronie will fly ahead of you and take a selfie while Circle Shot will shoot a video circling around your target. This is cool if you're trying your hand at video.
How We Tested
The top three things we test are maneuverability, range, and camera. The drones were flown both in my backyard and at a local park, and I used line-of-sight and the camera's First Person View to gauge the results. I also flew them around obstacles to see not only how they respond to the controls, but how fast and responsive the video stream was.
Range was determined by the interface on the remote/app as I flew them over my neighborhood in the direction of a nearby forest preserve. I flew straight out until the video got too choppy to successfully navigate. The WiFi blanketing my neighborhood provided enough interference that none of the drones approached their maximum advertised range.
The final test we did was film video footage in all kinds of light, which was done in different weather conditions. As for my top contender, I took static video tests against test screens to determine color reproduction, sharpness, and clarity.
The Tester
I'm Adam Doud and I'm a a general technology reviewer that's been in the mobile technology industry since 2011. I've reviewed everything from phones and laptops to smarthome tech in several different publications. When I'm not reviewing drones or phones, you can find me biking in the Chicago suburbs.
The Tests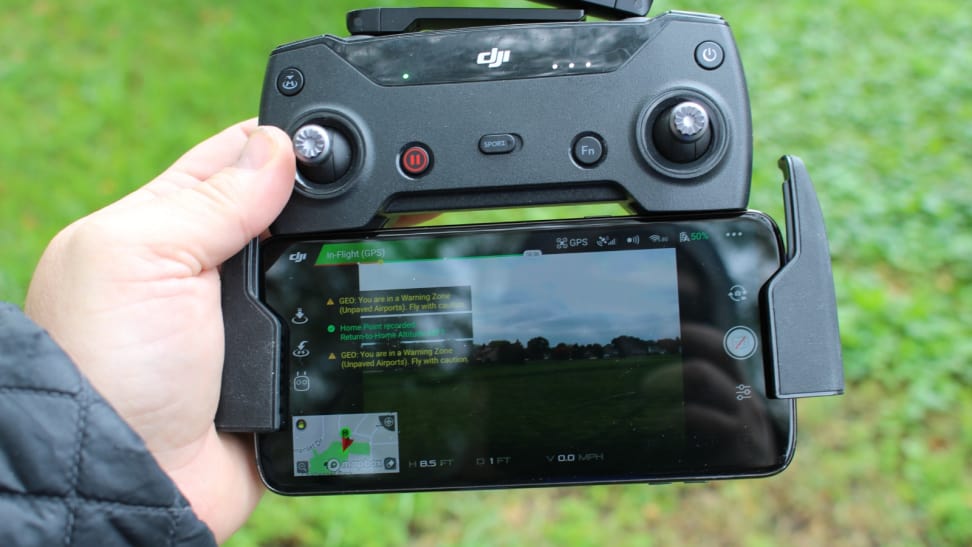 The main things we focus on are maneuverability (how it moves), range (how far it goes), and camera (picture/video quality). The maneuverability test involves me flying the drone around my backyard and at a local park. I use the camera's First Person View and my own line-of-sight to determine how easy it is to fly. I also fly around obstacles as a way to gauge the controller's responsiveness.
For range testing, I fly the drone out as far as possible. When the video stream gets too choppy to navigate, I fly it back home. This is a fairly straightforward test, as the interface on the remote/app tells me what I need to know (speed, distance, and so on). Unfortunately, my neighborhood has a lot of WiFi interference, so none of the drones on this list flew to their maximized advertised range.
The last thing we do is test the camera's picture/video quality. In addition to flying the drone in different lighting (this can really effect your footage), we also took static video tests against test screens to determine color reproduction, sharpness, and clarity.
What You Should Know About Drones Under $500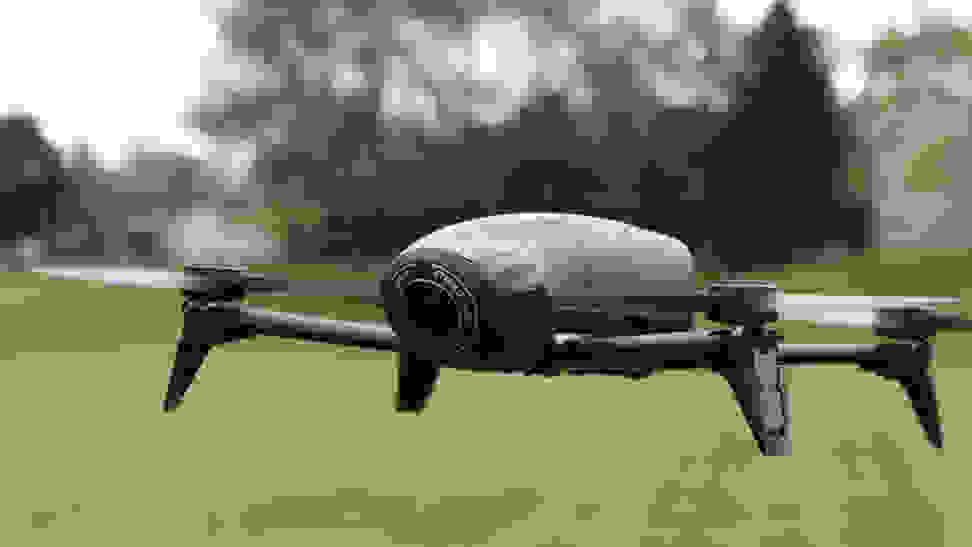 When it comes to drones, there are certain tiers at which the bar gets significantly raised. That's because when you move into the $200 - $500 range, you get into a much better class of drone. They have reliable GPS, nice cameras, and typically include at least a 2-axis gimbal. They will also stop and hover when you release the sticks on the controller.
With this kind of machine, you've really exited the "toy class" of drone. It's a little like Double A baseball in that it may not be quite good enough for "the show" but you're not exactly playing in the beer leagues either. Further, there's a huge difference in what you'll find above $500 as well, but we'll save that for a different article.
Mostly what you'll find in this class is power, build quality, maneuverability, and camera. The motors are going to be direct driven rather than geared. What that means is the shaft to which the blades are attached connects directly to the motor instead of using a gear mechanism. The main difference is that these motors are going to be more powerful, with more torque, and less prone to breakage. In toy drones, plastic gears often die before the motors or the blades.
Because of that, you'll get more power and maneuverability and better control over the aircraft. In other words, you can nudge right up to a wall or fence and be sure you won't pile into it. Additional sensors in this class like the aforementioned GPS also help considerably. Some even have additional sensors, like collision sensors (but this isn't too common among $500 drones).
The cameras in this class will take footage that you'll actually want to show off to people. For the most part, drone camera's are similar to the ones in smartphones. In this class, you'll be getting a better class of camera. Maybe not as good as the Google Pixel 3 or Samsung Galaxy Note, but these cameras get the job done. As in most things in photography, your available light will make or break you.
Finally, these drones are just built better, as there's less corners are cut. Some of the drones in the sub-$200 range are plastic frames with a thin candy shell over them. Some drones will even break apart on their first landing. You won't find that here. Drones in the $200 - $500 class are more sturdy, but make no mistake, they're still breakable.
---
Other Drones Under $500 We Tested
Parrot Bebop 2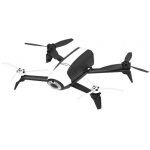 Parrot Bebop 2
While the DJI Spark raises eyebrows for the overall generic drone pilot, the Parrot Bebop is a great little machine in its own right for a very different reason. The best thing about it is that you can micromanage the heck out of it. From flight speed to camera settings, everything is user configurable from the get-go. This can lead to an initially frustrating experience, but in the long-term, you can fly this drone exactly how you want to.
The camera is a 1080p sensor with 2 axis gimbal. That means the camera is housed in the body of the drone, which gives it some protection. Video and still capture are both easy with the app interface and the app itself allows you to control everything about the drone: ascent speed, descent speed, horizontal flight speed, rotation speed. Additionally, you can change camera settings, using the remote control to control ISO and aperture. It's really incredible the amount of control you have over this drone.
The controller is far and away the largest on this list, sporting a large dome-like protrusion on the front of it, presumably for antennas or storage for a small puppy. Your phone connects to the controller with a cable that you provide. This is somewhat of a double-edged sword, as wired connections are faster and smoother than WiFi so streaming FPV video is theoretically less prone to stutters. In practice, it wasn't all that noticeable. Also, plugging the phone into the controller causes the controller to charge the phone, which drains the battery on the controller.
Speaking of which, the drone and controller charge had proprietary connectors. The package comes with one wall plug, but there are two different cables that plug into it (one at a time). The net result is that you can only charge the controller or the drone, but not both at the same time. The controller is also the only other controller that we needed to charge over our review period, as all the others used a single charge over three weeks.
The range of the Bebop is comparable to the Spark, maxing out at just over 900 feet in my WiFi saturated neighborhood before the video feed started to go. Another quirk with this drone, when landing, it drops very quickly to the ground, often bouncing when it makes touchdown. It's a very no-nonsense landing.
The app lets you fly using FPV and allows you to control the different aspects of the drone, but there is a premium app that gives you further control and access to follow-me modes. But the premium version costs an extra $19.99, which is pretty weak. Drawbacks aside, this drone is more than $20 cheaper than the Spark, so maybe in the long run it's a better deal but it still doesn't feel right.
If you want to be the master of your "dromain" (ha), the Bebop is a very capable little drone that's a little heftier than others. It also comes with two batteries in the box for a total of about 35-40 minutes of flight time. That's pretty powerful, but not quite enough to put it at the top of the list.
MJX Bugs 5W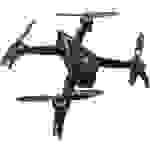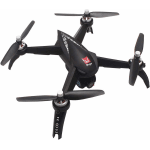 MJX Bugs 5W
The MJX Bugs is a step above most drones under $200, but it's priced accordingly. The design is very sleek and shark-like. The nose of the holds the 1080p camera, with no gimbal. One of the major downsides to this drone is that lack of gimbal. You can't aim the camera, nor can it maintain its position while flying. Meaning when you fly a drone forward, the nose tips down, as does the camera. It makes it hard to fly from a purely point-of-view (POV) perspective.
This drone is the quietest drone I've ever flown, though. It has brushless motors which by their nature are quiet, but the motors spin at a whisper. Make no mistake, you'll hear this drone, but it is significantly more quiet that the rest on this list. It's also very fast, as if the drone is always in "sport mode." Its range was also an impressive 1,200 feet in the Wi-Fi bath that is my neighborhood. None of the other drones tested got more than 900 feet.
The body of the drone is solid-feeling plastic throughout and the paint job is pretty slick. Two eyes adorn the front of the drone right above the camera. It gives the drone a "predator flying after prey" feel. Some branding on the rear arms is subtle and understated. The battery is a long unit that slides in through the back. Each battery is good for approximately 18 minutes of flight. It also ships with two batteries, which leads to pretty spectacular flight time.
The remote is rather hefty and cheap feeling. It looks and feels like the remote of a cheaper unit, complete with an LED display which is mostly useless in terms of information relayed. Seriously, MJX, just leave the screen off the next one. The app gives you FPV, camera, and video capture and basically nothing else.
Overall, this drone gives you quiet and fast flight, and a lot of time in the air with two batteries. But the limitations of the app and the camera make this drone a bit disappointing, at least in this price category. You also have to calibrate the drone before you can fly it with every battery change. You're supposed to do that on all drones, don't get me wrong, but the MJX Bugs 2W forces it, and that's a little annoying.
Upair One 2.7K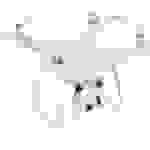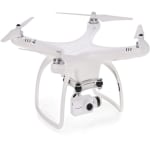 Upair One 2.7K
The UpAir One drone is basically a clone of another older popular drone that shall go nameless, but rhymes with "Plantom." When you look at this quadcopter, you see what you expect to see when you think of the generic term "drone." This is a beast of a drone which seems durable (more on that later) and comes with a beefy battery that'll give you about fifteen minutes of flight time on a single charge. One of the more attractive parts of the drone is the controller, which comes with a 7-inch screen built in for FPV flying.
This drone comes equipped with a 2-axis gimbal, meaning the camera can maintain a horizon when flying forward and back and side to side. Plus, you can tilt the camera down and up to see what is below you and out to the horizon. This makes flying quite a bit easier. But the controller also has its downsides. The integrated screen means there is no app control or additional functions that generally come with app control like follow me and so on. Also, if the controller cannot receive a signal from the drone (as happened after a particularly nasty crash) you can no longer fly with FPV.
The controller comes equipped with a few different switches that are not really adequately explained in the instruction manual. Once you figure out what they're for, they're not labelled, so it's hard to remember which one does what. A little black ink would go a long way here. Also, on a couple of occasions, I wasn't able to get the motor to shut down after landing, forcing a rather precarious battery pull (and one torn jacket) just to get the drone to turn off.
Our drone had a few glitches, but if I'm being totally fair, I can't honestly say that they weren't the result of a nasty crash or two... or, you know, a dozen. Of the drones we tested, whether by coincidence or not, this one crashed the most by a large margin. Maybe it was due overly-aggressive flying on my part, I'll own that. But it's not like I flew this drone differently than the others. I did have this drone longer than the others (by almost two weeks), but that really shouldn't account for too much wear and tear. That said, drones are going to crash, so it's fair to say that this drone acts up after several crashes which is bad. There is certainly a question of durability when it comes to this drone.
Overall, this is a drone you can pick up on a budget if you don't want a lot of bells and whistles. It's priced significantly lower than the drone that it emulates, so that's saying something. It's a very functional and maneuverable drone, as it handled our various obstacle courses with aplomb and it costs about 66% of the budget we set for this list.
Potensic T25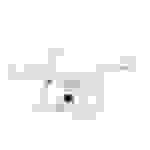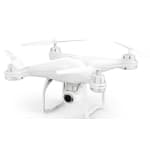 Potensic T25
Compared to the other drones on this list, the Potensic T25 is really cheap. What sets it apart from other drones in this price range is the GPS and gimbal. When you cross into the above $200 territory, you're going to start seeing gimbals and GPS on just about every drone. The T25 has both.
That said, there is a very good reason why the Potensic is in the sub-$200 range. It's very small compared to its siblings in this price range (about half the size) and it doesn't fly for as long as the others. It has an app with some follow me functionality, but it doesn't work super well. The camera does manage 1080p resolution, but it relies heavily on automatic settings to adjust for things like exposure and focus. It's passable, at best.
But there's still a lot of value in this little drone and that's why it's on this list. For the budget-conscious consumer who wants to dip a toe in the drone waters, this is a really decent option. It won't go much further than 300 feet without losing signal in FPV mode, though.
Speaking of FPV mode, the camera on this drone is capable of tilting downward so you can see what is below you. This isn't a gimbal because it doesn't help you maintain the horizon when in flight, but it does allow you a wide field of vision while in the air. The GPS is also fairly accurate. You can release the sticks on this drone and it will hover where you left it until you start flying again. It is capable of moving with some amount of precision, maneuvering through the obstacle course with only the occasional hiccup.
When you consider the other options on this list, and then consider that this costs half of the next cheapest drone, that's hard to ignore. If you're looking for a best bang for your buck kind of drone, this one is right up there. It's not a great drone, to be sure, but it is a good drone at a great price.
Advertisement - Continue Reading Below