This morning, Amazon has announced their latest move in the tablet arena by unveiling four tablets with the Kindle name: a $79 eReader, a $99 touch eReader, $149 3G touch eReader, and a $199 tablet meant to compete with the iPad called the Kindle Fire. So far, we know that the tablet will not have a camera, but we don't know of any other device limitations of the Kindle Fire.
Amazon really pulled out all the stops for their entry into the tablet arena, taking all of their new web-based features and rolling them into their new 7-inch Kindle Fire. This thing has insane features like wireless syncing, access to all of Amazon's online content including streaming from Prime, free access to cloud storage, Amazon's new application store, and even the ability to stream content to other devices. Competing Android and iPad tablets beware, Amazon is gunning for you. With a 169 DPI IPS display, dual-core processor, and Gorilla Glass screen, Amazon doesn't seem to be cutting many corners to become king of the hill.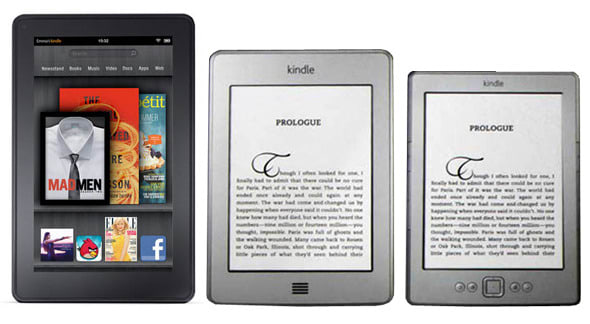 The $79 basic eReader is tiny in comparison to past eReaders fielded by Amazon. While it doesn't have a touch screen like the rest of the new eReaders, it still has the same sleek look to it. Also, not to be outdone by Apple, Amazon's new devices will be able to employ their cloud storage feature so you can bring your library with you anywhere, regardless of how much free space you have on your device.
The new touch eReaders look to be a lot like the Barnes & Noble Nook Touch, with a screen that allows touch input via an infrared grid. There do not appear to be any buttons on the front of the bezel, just a small speaker. If you'd like to upgrade to the 3G version to download books in more places than unreliable WiFi, it will only set you back $149, about half of what prior models used to cost.
It will be interesting to see how this impacts the tablet market this holiday season, but we'll report back when we have one in-house to subject to our lab tests.