Monster debuted a range of new audio products at 2015 International CES, including headphones, speakers, and a surprising step forward for smart homes.
Headphones were the name of the game and represented the bulk of announcements at their press conference. They debuted the DNA 2.0 that's optimized for mobile, and—according to the company—features "sound that's the perfect fit for the audiophile and music enthusiast." It'll be available in black, white tuxedo, and carbon fiber.
Paired with the DNA 2.0 will be the upcoming Pure Monster Sound Experience app, which will be available on Google Play and the iOS App Store. It's a fully functional music player that will seamlessly integrate with your current media library and create "sonic profiles that are carefully tuned to the sound signature of a particular era, genre, or artist." Let's face it, the Golden Oldies don't have the same kind of sound as the mixed music of the 2000's, and with this app you'll supposedly hear the songs as they were meant to be heard.
The headphone announcements continued with the latest push for plenty of products geared toward sports. Monster wants to stress that sports headphones aren't an accessory but equipment that's just as important as any other gear you might use.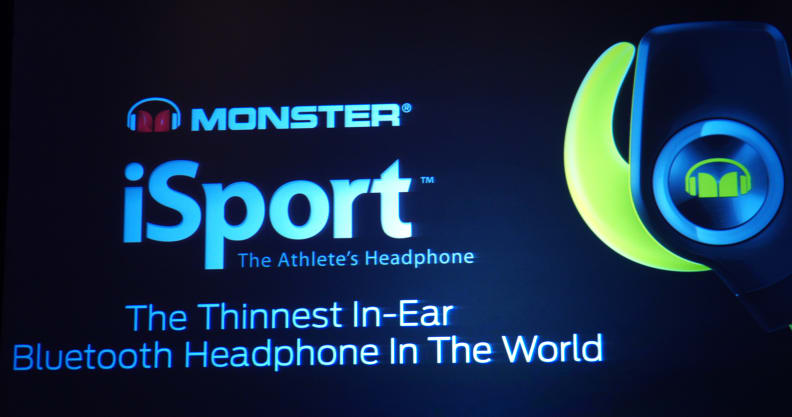 Monster claims the iSport SuperSlim is the thinnest wireless in-ear, due to a rectangular battery and folded circuit board. It has a 50-foot wireless range, ear clips that ensure they won't fall out, 5+ hours of consistent playback time, and sound that's—supposedly—as good as wired headphones. It'll be interesting to see whether they live up to the hype presented at the conference, but if you need to wear a helmet while you play, these in-ears may be just the thing you're looking for.
It wasn't all about headphones though, Shaquille O'Neal took to the stage to debut the SuperStar Backfloat. It's a new model in the portable speaker lineup that's waterproof and floats on its back. It has an all weather outdoor design that's supposed to be perfect for pool parties and active lifestyles.
Monster went on to discuss its long-standing tradition of partnering with other companies, including Adidas and the UFC (Ultimate Fighting Championship). Each collaboration will bring with it a dedicated lineup of products. The most exciting collaboration came from an unlikely source: Qualcomm. Monster will become a part of the Qualcomm AllPlay Smart Media Platform and in 2015, Monster wants consumers to benefit from audio connected smart homes, meaning if you have smart door locks, your speakers will welcome you home as you enter the house.
The key to Monster's product line is diversity and the company has a history of stretching itself across the departments of retail stores. They introduced a brand new HDMI cable that comes with a performance indicator to quickly notify you if you're benefiting from a SD, HD, or 4K video signal. They also announced three new levels of Monster Power: Gold, which has USB plugs, Platinum, which cleans the noise introduced from walls and components, and Black Platinum, which features power line communication that connects with your WiFi.
2015 seems to be an exciting year for Monster and its corporate partners, and we'll be sure to give you all the details as we get the products into our labs for testing.