Panasonic is unloading a host of announcements this morning, including two new fixed-lens cameras and some additions to the G-series of interchangeable lenses. The company is also announcing an upcoming firmware update for its popular Lumix LX5.
Highlighting this round of announcements is the brand new Lumix FZ150, which will now be the top-end model of the FZ series. This will be a step up from the FZ47, which is currently our top fixed-lens camera. The FZ150 will be a 12.1-megapixel, 24x ultrazoom capable of full-HD 1080p video recording at 60 frames per second. The MOS sensor is capable of 12 frame per second continuous shooting at full resolution, and records up to 220fps high-speed video at QVGA resolution. Panasonic is also emphasizing the FZ150's 0.1-second "Light Speed" autofocus. This isn't just marketing baloney either, we spent some time with a prototype FZ150, and can vouch for the AF system's speed. The FZ150 will be available in black, for an MSRP of $499.99.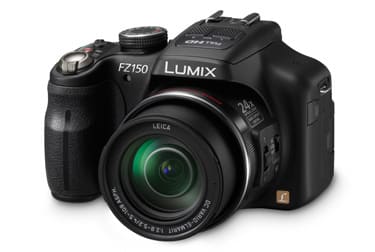 The second camera announced this morning is the Lumix FX90. This will be a Wi-Fi enabled model that allows photo uploads to various networks (such as Facebook, Flickr, Picasa, and YouTube) via a new cloud-based service called Lumix Club. The camera itself features a wide-angle F2.5 lens with 5x optical zoom, as well as a 3.0-inch, 460,000-dot touchscreen LCD. The sensor is a 12.1-megapixel CCD, capable of 1080p video recording in AVCHD format. Pricing and availability for the FX90 will be announced approximately one month prior to shipping, according to Panasonic.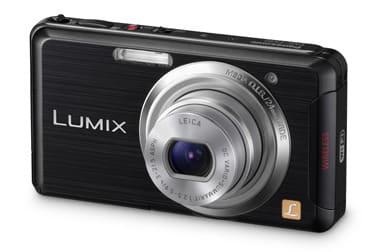 The company is also adding two new "Vario" class lenses to its G-series today. These lenses will be the first of Panasonic's new "X" designation for high-end lenses that are compatible with both the G-series mount and the Micro Four Thirds standard. The first lens is a 14-42mm that retracts to minimize its size without compromising focal length, and supports an aperture range of f/3.5-5.6. The second is a tele-zoom lens that extends from 45-175mm at f/4.0-5.6. Both lenses feature electronic powered zoom operation and a "Nano Surface Coating" designed to minimize reflection, ghosting, and light flare.

Finally, a firmware update for the Lumix LX5 will become available on September 13th. The new software will speed up autofocus time and add a new High ISO Noise Reduction mode for images shot at ISO 1600 and 3200. The company also claims automatic white balance will be significantly improved for low light situations. Firmware 2.0 will also add an option for the popular Miniature Effect Mode, extend the shutter speed limit from 60 to 250 seconds, and the LCD monitor's settings will be adjusted for better accuracy.
{:{PhotoGallery article.attachments}:}