Google thinks the future of mobile computing is in the cloud, and that means many of today's top Android smartphones lack removable memory. That leaves owners with a mere 16, 32, or 64GB of storage to work with—a pittance if you're shooting high-res stills and 4K video.
Debuting today at the CES 2015 in Las Vegas, the new SanDisk Ultra Dual USB Drive 3.0 looks to address that key shortcoming. It's a high-end storage solution specifically tailored to Android smartphones and tablets, freeing up valuable storage space.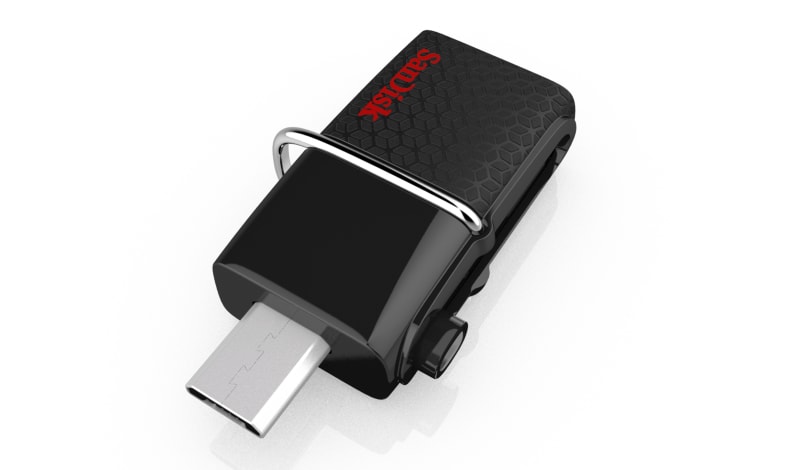 To use it, you simply plug it into the micro-USB port on your phone, then transfer files to and from the drive, just like you would with an external hard drive on a PC or Mac. Its 16 to 64GB of storage isn't much by PC standards, but for mobile it's massive. Prices will range from $22.99 to $64.99.
The Drive makes file transfers between devices extremely quick thanks to the USB 3.0 functionality.
SanDisk also used the occasion to reveal two new SSDs: the SanDisk SSD Plus (for laptops and desktops) and the SanDisk Ultra II mSATA (best for laptops and tablets).
Solid-state drives offer a huge upgrade over traditional hard disks when used as startup drives; SanDisk claims these units offer 23x the speed of a typical HDD, meaning your device will go from off to on in the blink of an eye.
The new drives should also be more resistant to impacts and vibrations, according to SandDisk, lending consumers peace of mind "even if their computer is dropped or damaged."
The SanDisk SSD Plus will be available in 120GB and 240GB capacities for $69.99 and $109.99, respectively. The SanDisk Ultra II mSATA can be found in 128GB, 256GB, and 512GB capacities for $73.99, $115.99, and $220.99, respectively.