In one of two history-making announcements today, Sony is taking the wraps off its first ever full-frame SLT camera—the A99. It looks to be a solid competitor to Nikon's D800 and Canon's 5D Mark III, replacing Sony's previous flagship, the A900. Also joining the ever-growing Alpha family is the NEX-6, which is positioned between the existing NEX-5R and NEX-7.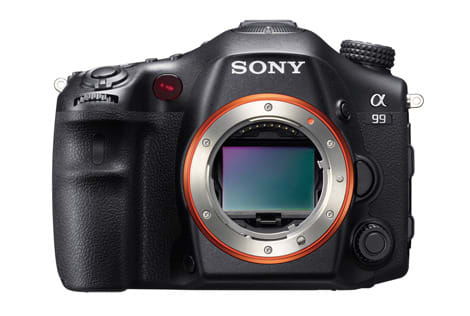 Taking its place at the forefront of Sony's increasingly impressive camera lineup, the A99 is highlighted by an all-new 24.3-megapixel full-frame (35.8 x 23.9mm) sensor and a new processor that can pump out images at a rate of 10 frames per second. The sensor's ISO range spans 100-12800 by default, but can be expanded to ISO 50 on the low end and ISO 25600 on the high end (the latter available only with multi-shot noise reduction).
The body is similar in size and handling to the diminutive A77, albeit augmented with a few handy new flourishes including a silent front control dial. Sony's dual-hinged articulating screen is also unchanged here from the A77, allowing for shooting in nearly any orientation, and the EVF is also pretty much identical aside from a lower magnification factor thanks to the larger sensor.
According to Sony, A99 will be available for purchase in October with a MSRP of $2799, which neatly undercuts the latest titans from the Big Two and definitely gives photographers who want to upgrade to a full-frame camera something else to think about.
Check out our first impressions review of the A99 for more details and commentary.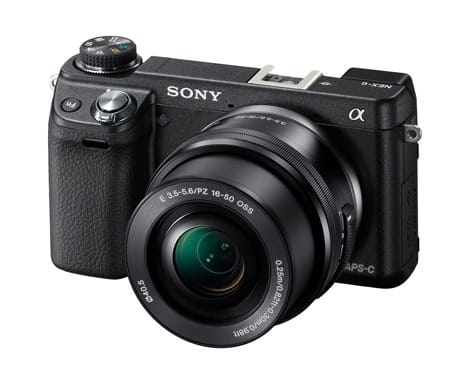 Though it's positioned as a junior varsity version of the NEX-7, in fact the new NEX-6 might outshine its older sibling in some areas. It shares much of the current flagship's design, from its built-in EVF to its approximate size and weight. While it loses a few of the NEX-7's features (like the "Tri-Navi" control scheme) and has a lower-resolution sensor at 16.1 effective megapixels, it's worth bearing in mind that the new sensor (shared with the NEX-5R) is a full generation ahead of the 24-megapixel unit used in the NEX-7. The camera also gains WiFi connectivity, finally gets a convenient shooting-mode dial, and inherits the NEX-5R's combination phase/contrast-detect autofocus system.
With a MSRP of around $850 for the body only—several hundred dollars cheaper than the NEX-7 at launch—the NEX-6 should be a very enticing alternative for budget-conscious enthusiast photographers. The camera will be available as a kit with the 16-50mm powered zoom lens for a total price of $1000.
Also announced today are three new E-mount lenses—very welcome news for those who have been frustrated by the NEX system's shortage of first-party glass. The ostensible headliner is a new 16-50mm f/3.5-5.6 kit zoom, which features camcorder-esque variable-speed power zoom ideal for video recording. Another new 10-18mm f/4 zoom covers the wide end, while a 35mm f/1.8 prime should be an answer to many users' prayers for a quality normal lens. All three lenses feature Sony's OSS in-lens image stabilization technology.
If you want to read more about what the new NEX-6 offers, take a look at our first impressions review.
---