If you're not familiar with Voxx Electronics Company, you're probably familiar with many of its properties. Voxx is the parent company of brands such as Klipsch, RCA, Jensen, and Acoustic Research (AR), and at its CES press conference, it rolled out a list of new and changing collaborations and products.
Though Voxx had a lot to show the assembled journalists in a very small amount of time, it seemed company reps were only scratching the surface. For the most part, they focused on home and personal audio, car safety, and home entertainment. Here's what we saw.
808 Audio
808 Audio, a producer of headphones and Bluetooth speakers, showed off several new products. First up were the new Performer headphones—a range that includes both wired and wireless headsets.
Besides offering high quality sound and noise cancellation, what makes these headphones new and exciting is ear cup suspension technology. 808 worked with a team of DJs and producers to create a headset that wouldn't cause pain during long listening sessions. Comfort is the key word with the Performer series. The Performers will cost $79.99, or $99.99 for the Bluetooth wireless version.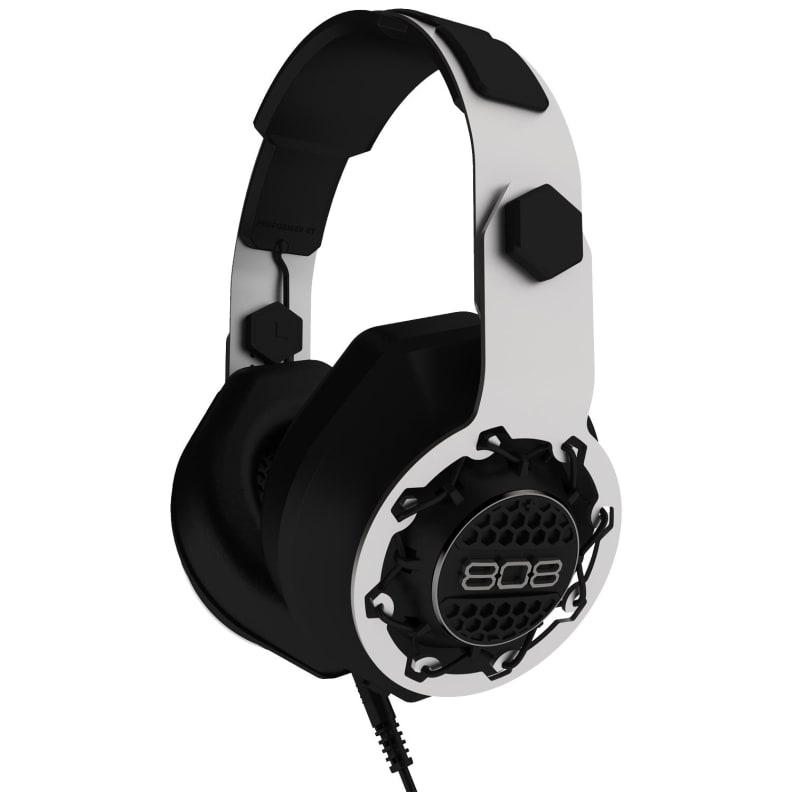 Next we saw a line of wireless bluetooth speakers including the NRG Glo, a hand-sized wireless speaker with color visualization that makes you feel like you're at a rave (or seasick, depending on your tolerance for that kind of thing).
Also included in the wireless speaker range is 808's VS, a handheld speaker with full stereo sound, enhanced bass, and 12-hour battery life. The VS will cost $59.99 at retail.
Acoustic Research
Wireless connectivity remained a focal point when the discussion shifted to AR's range of portable speakers.
Larger than 808's handhelds, AR's speakers are designed to give consumers better sound for outdoor events. Controlled via your smartphone or tablet, these products are fully sealed against the elements.
The largest of the group is the Hatteras, priced at $219.99, followed by the Glendale at $119.99 and the Pasadena and Orleans at $99.99.
AR is also expanding its range of mobile chargers, including the rather sleek and fashionable PowerCompact and Vitacharge models. The PowerCompact is built to look like a compact makeup mirror, and provides a full battery charge for an average smartphone. The Vitacharge series are compact charging solutions that come in many different colors—perfect for people who don't want to carry around a black brick for extra juice.
The PowerCompact will cost $29.99, while each Vitacharge will run you $24.99

Advent Next Gen Navigation
Next on Voxx's long list of collaborations were new applications for Car Connection 2.0, Advent's on-board navigation system.
The new apps are aimed at helping distracted drivers avoid accidents. They include a Lane Departure Alarm, Forward Collision Warning System, and audio/video recording for your car. The system is supported by 19 insurance companies, who will take data from your car to adjust your premiums.
Baby On Board
The new Baby On Board alarm tries to eliminate heat-stroke deaths related to children left in hot cars.
Baby On Board knows if you've left your child in the car, and sounds a keychain alarm.
It's a weight sensor that attaches to a child's car-seat. A Bluetooth proximity sensor detects if you've left your child in the car seat and sounds a keychain alarm if you go further than 30 feet away.
When linked with Voxx's Car Connection 2.0 telematics system, Baby On Board can also send out a mobile alert to let mothers know if their baby has been left behind by distracted grandparents or lethargic babysitters.
Baby On Board is expected to retail for $59.95.
360fly
Announced at last year's CES, the 360fly 360-degree camera impressed us with its immersive viewing experience and sleek design.
This year, Voxx announced further development of the concept, including a website that will act as a sort of YouTube for 360-degree videos. Previously, you could only watch 360-degree videos on a computer; the new site and app will make sharing and viewing them on your phone as easy as watching a how-to video on tying ties.
Viewers can share, browse, and interact with 360-degree video at 360fly.com, and through the 360fly mobile app for iOS and Android. Acting as the camera's sophisticated remote and viewfinder, the mobile app allows users to quickly playback, edit, and share their unique video content.
The 360fly is almost ready for retail, with availability expected in Q1 2015.