With Dynex's latest 32-inch TV, the DX-32L100A13 (MSRP $290), the budget-friendly arm of Best Buy is hoping to acquire those hard earned greenbacks from you. After spending some time with this rather homely TV in our lab, we think that consumers in the market for a TV this size might want to take a look at it. This LCD may not have a native 1080p resolution or produce great sound, but the picture quality is acceptable.
Not only is the DX-32L100A13 boring, it is also cheaply made.
The DX-32L100A13 is everything you would expect for the low asking price: a thick piece of plastic with a screen and an uninspired base. Everything feels cheaply made, which does have the benefit of making this TV extremely light and easy to move around. With that said, I'll take a heavy TV made with quality in mind over a lightweight, cheaply built product any day of the week.
The remote matches the low quality design of the TV.
The remote matches the low quality design of the TV. One thing I should point out is how unresponsive this remote is. There were numerous times when I had to check and see if someone took the remote's batteries out because it would not power the TV off or adjust the volume. This remote needs to be pointed directly at the sensor on the TV for consistent results.
The DX-32L100A13 has plenty of ports. Connections are located on the TV's left side and are easy to access. The avalable ports include: a headphone jack, an antenna in, digital and analogue audio out, component and composite video connections, a VGA connnection, three HDMI ports and one USB slot. This Dynex does not swivel, which can cause problems on bigger TVs when trying to access ports. Since this TV is so small and lightweight, the lack of rotation is merely a minor annoyance and does not hinder access.
The menu is your basic "box in the middle of the screen" design.
Dynex's menu interface is like your first car: it may not be pretty, but it gets the job done. The designers went with the bare minimum needed for a menu, which is basically an ugly box in the middle of the screen with settings to change. Our main gripe with this menu is that it has a USB tab, but we could not access it, even with a USB drive plugged in.
The Dynex menu is separated into five tabs: Picture, Audio, Settings, Channel, and USB. Channel is only available if your cable is plugged in through the antenna input and USB is only available when a flash drive is in the USB input, although as mentioned, we could not access this sub-menu even if a USB drive was plugged in.
The viewing angle is subpar, but colors, blacks, and whites look good.
The color and contrast results for the Dynex DX-32L100A13 were actually pretty good, especially for a TV that costs around $300. The colors that this TV is able to display are not too far off from the industry standard range of colors. The DX-32L100A13 runs into some trouble transitioning from different shades of colors, but the end result is a decent picture. Contrast was surprisingly good—this budget TV was able to get very deep black levels and a bright peak white level.
The total viewing angle of 17° is pretty bad.
One thing that the DX-32L100A13's low price of admission will not get you is a good viewing angle. The total viewing angle of 17° is pretty bad. Luckily, this little Dynex makes up for its viewing angle failings by having decent motion performance. There was some blurriness on moving pictures and some color trailing to be found, but nothing too distracting.
The DX-32L100A13 may not be pretty, but it has beauty on the inside.
The Dynex DX-32L100A13 surprised us. I didn't think that a TV for this price would produce decent results in our tests, but I'm happy to report that we were wrong.
Is this TV perfect? Not even close. The sound quality is lackluster, the viewing angle is awful, and the design borders on ugly. TV enthusiasts will probably dismiss this LCD based on its 720p resolution. If 1080p is a requirement for you, look elsewhere.
If you do not care about resolution and want something small for cheap, the DX-32L100A13 becomes less of an ugly duckling and more of a brick house. It offers very good contrast and decent colors, as well as ample ports to plug your favorite gadgets into. We could think of worse ways to spend $300.
We did not expect to be blown away by the DX-32L100A13's performance, although we did come away pleasantly surprised. The viewing angle was atrocious but the motion performance did well for a TV with a refresh rate of 60 Hz. This Dynex's colors were decent while the contrast was very good. The screen uniformity was quite excellent—a pure white screen was crystal clear and a pure black screen was equally flawless.
"Narrow" is an apt description of this viewing angle.
The DX-32L100A13 does not have a good viewing angle. Its total viewing angle of 17° was trounced by LG's 32-inch LM6200 model, although that TV costs over twice as much. More on how we test viewing angle.
Surprisingly deep blacks and bright whites.
The DX-32L100A13 was able to get very dark and exceptionally bright, which led to a rather impressive contrast ratio of 4749:1. A black level of 0.06 cd/m2 is very dark, while a brightness of 284.92 cd/m2 will produce scintillating whites. More on how we test contrast.
The DX-32L100A13 produces some decent colors.
The color gamut for the Dynex DX-32L100A13 shows that this TV can produce very accurate blues, while the reds are going to look more vibrant and almost pink at some levels. The greens produced are slightly undersaturated, meaning that they will appear duller. Overall, this color gamut is shows a decent range of colors. More on how we test color performance.
Meet the tester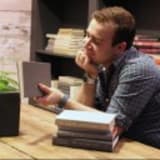 Josh Fields
Staff Writer
@reviewedtech
An enthusiast of all things tech, Josh is one of Reviewed.com's resident television experts. When he's not looking at bright TV screens in a dark room, he's probably reviewing a laptop or finding a new snack at 7-11.
Checking our work.
We use standardized and scientific testing methods to scrutinize every product and provide you with objectively accurate results. If you've found different results in your own research, email us and we'll compare notes. If it looks substantial, we'll gladly re-test a product to try and reproduce these results. After all, peer reviews are a critical part of any scientific process.
Shoot us an email