Testing is carried out before and after calibration in order to gauge how far away a TV's out-of-the-box performance is from the ideals we calibrate for. Calibrating the H3 was something of a fool's errand, however, because it lacks even the most basic calibration controls.
I began in "User" mode with the "Warm" color temperature setting. The only change I made during the calibration process involved lowering the contrast from 50 to 19.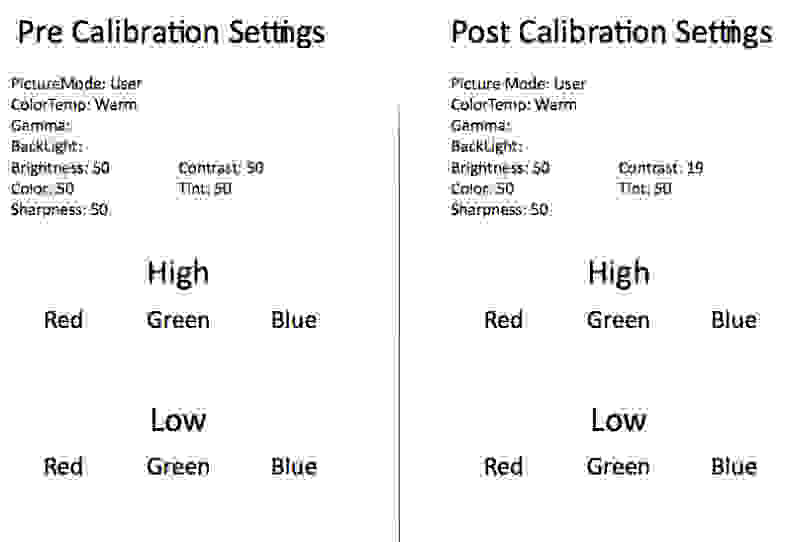 Of the many reasons not to buy the Hisense 32H3 (MSRP $179.99), awful core performance stands out the most. To make matters worse, the H3 also suffers from a cheap design and offers almost no software options for customizing its picture. At this price, we might have forgiven these issues if this bargain TV even came close to performing at an acceptable level. It's great that a manufacturer is willing to sell an HDTV at this price, but given its flaws, it's just not worth it.
If you can afford to spend a little bit more, there are much better televisions on the market that trump the H3 in both performance and value. In fact, the excellent E-Series from Vizio offers a 24-inch model that's for sale at online retailers for a comparable price. As it stands, there's really no reason to purchase the Hisense H3, unless you're absolutely dead-set on finding the cheapest possible HDTV.
The bare minimum
I give Hisense credit for thinking somewhat outside-the-box when designing the H3. Much like the H7, the H3 features a modern glass stand that compliments its small frame quite nicely. Unfortunately, the stand only looks nice. The assembly screws don't fit properly, so it wobbles around like it might snap off at any minute. This wasn't just a bad sample—we received two units, and both had this problem.
The assembly screws for the TV's stand don't fit properly, so it wobbles around like it might snap off at any minute.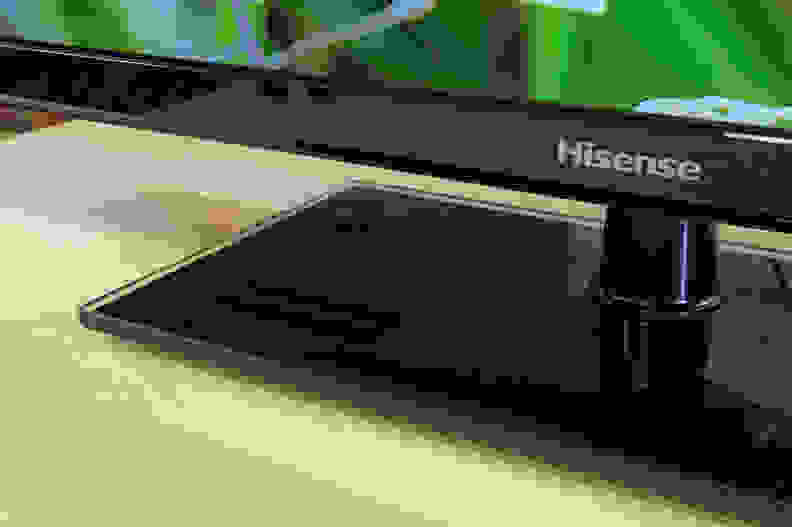 The H3 is partially traditional, if only because it hides its video connections on the back of the panel. You'll find three HDMI inputs, a VGA port, AV/Component inputs, a coaxial connector, a PC/DVI audio input, a single USB 2.0 port, and a headphone jack.
Naturally, at this price, you won't find any flashy extras. The H3 includes a very basic remote control and batteries. Likewise, the TV's menu software is bare-bones and a headache to navigate.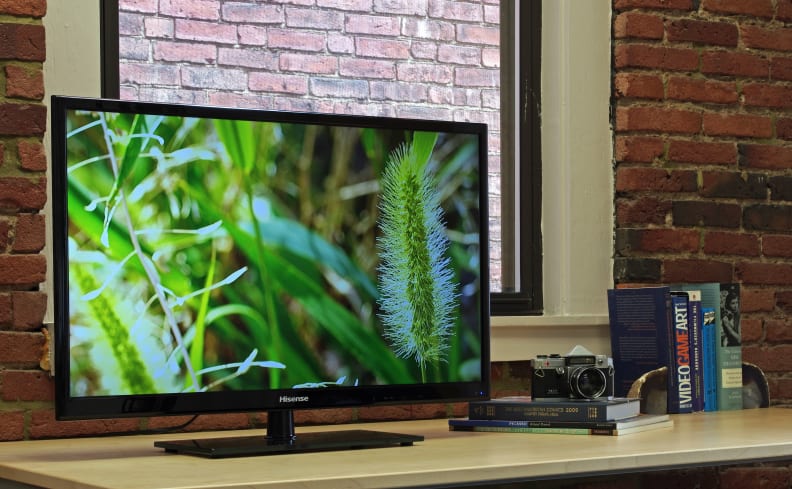 ×
Hisense 32H3
A TV's grayscale is made up of a combination of red, blue, and green sub-pixels. Televisions with proper grayscale measurements emphasize these sub-pixels evenly, so shades of gray, white, and black appear true-to-life and not polluted by color. Over-emphasis of red sub-pixels, for example, might lead to slightly peach-colored grays. TVs are art reproduction devices, after all, so proper sub-pixel emphasis is absolutely critical in maintaining the integrity of a filmmaker's work.
We measure grayscale error over a 10-point scale from dark to light, with each point representing a different shade of gray. These measurements are represented by DeltaE, where an ideal reading should total 3 or less.
The Hisense H3 initially carried a DeltaE score of 9.93. After calibration this dropped to 9.88, signifying that calibration did almost nothing to correct its grayscale error. There's no way around it: Grays on the H3 are polluted by color.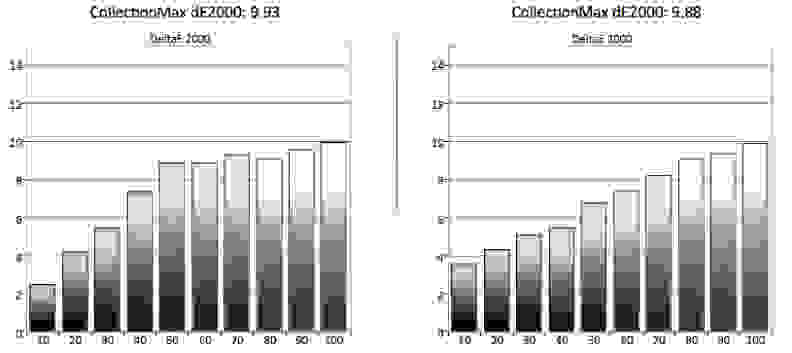 Our RGB balance test measures a TV's ability (or, in this case, an inability) to emphasize its sub-pixels evenly. The H3 struggles mightily to manage its sub-pixels in a way that doesn't drastically emphasize blue.
There is an international standard for measuring the accuracy of a television's color output. This standard, known as Rec. 709, is visually represented by points on a color gamut. There are three primary color points (red, green, and blue) and three secondary points (cyan, magenta, and yellow.) In the center of the color space is a single point for white.
The H3's color gamut is severely askew. Other than blue, none of its color points come close to meeting the Rec. 709 standard. Its white point in particular is significantly blue-shifted. This isn't a minor issue that's only noticeable with the proper equipment–this is readily apparent when watching a movie. Yes, it's that bad.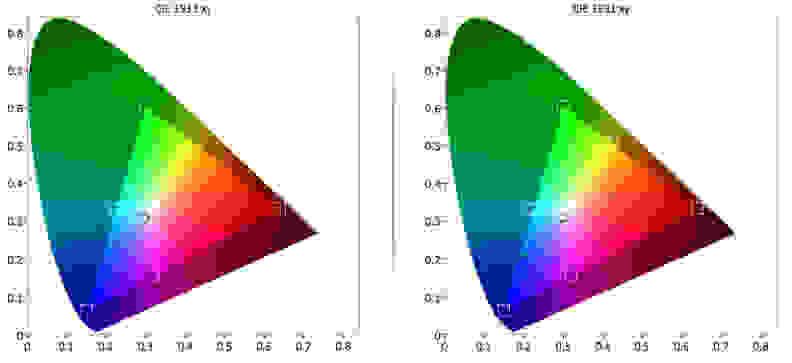 It came, it saw, it failed all of our tests.
Generally speaking, people don't expect entry-level TVs to dazzle them with picture quality. Every now and then, however, we discover one that performs above its price and pedigree. The Hisense 32H3 is not one of those TVs.
Blue-tinted skin tones take center stage, but choppy, broken movement plays a critical supporting role in this disappointing farce.
Right off the bat, The Dark Knight on Blu-ray did not look normal. Blue-tinted skin tones take center stage, but choppy, broken movement plays a critical supporting role in this disappointing farce. The H3 certainly doesn't suffer the worst black levels I've seen recently, but its shockingly poor color performance is another story. Greens and reds stray quite far from ideals, meaning content simply doesn't look as filmmakers intended. For more on the H3's technical struggles, check out the Science page.
With its sub-Full HD resolution (720p,) poor color, and terrible motion performance, I can't recommend the H3 for movies, sports, games, or even basic cable. From a performance standpoint, there's just nothing positive worth noting about the Hisense H3.
A television's contrast ratio is determined by dividing its maximum level of brightness by it's lowest level of darkness. We consider a TV's black level the cornerstone of its performance, so contrast ratio is an excellent indicator of overall picture quality.
A measured contrast ratio of 1333:1 for a TV of this caliber is average, but not particularly good. Given the problems the H3 has with its color output, however, it's probably the best one can hope for.
You get what you pay for.
Typically, even low-end televisions have a place within the consumer hierarchy. Know this: The Hisense 32H3 (MSRP $179.99) is the lowest of the low-end.
The only rational reason for purchasing this TV is to buy the absolute cheapest option available.
The only rational reason for purchasing this TV is to buy the absolute cheapest option available with no consideration for performance. You can't really do any worse than this from a performance standpoint, and in terms of value, the H3 doesn't offer anything that makes its price an actual steal. What you see is what you get–and what you get here just isn't great.
Our viewing angle test is a way to calculate how far away from a head-on angle a user can sit before the picture quality begins to deteriorate. Wide viewing angles are ideal because they provide the most viewing flexibility.
For the Hisense H3, I measured a total viewing angle of 104° (or ±52°.) This is slightly above average for a TV of this caliber. However, this is a 32-inch TV, so a wide viewing angle really only goes so far.
Gamma is the measurement of how evenly a TV distributes luminance from its darkest shade of gray all the way up to its peak brightness. The ideal gamma reading for a darkened room is 2.4, so our testing is based on how closely a TV maintains this average.
The H3 averaged a gamma of 2.29 after calibration.

Meet the tester
Michael Desjardin
Senior Staff Writer
@Reviewed
Michael Desjardin graduated from Emerson College after having studied media production and screenwriting. He specializes in tech for Reviewed, but also loves film criticism, weird ambient music, cooking, and food in general.
Checking our work.
We use standardized and scientific testing methods to scrutinize every product and provide you with objectively accurate results. If you've found different results in your own research, email us and we'll compare notes. If it looks substantial, we'll gladly re-test a product to try and reproduce these results. After all, peer reviews are a critical part of any scientific process.
Shoot us an email