Pros
100-inch projector screen

110-watt, subwoofer-driven audio

Breathtaking 4K picture
Cons
Subtle HDR and black levels
While that might sound like an egregious amount of money, it's also worth considering what you'd normally be paying for a screen this big. There's a 100-inch Sony from last year that's $60,000 (what??), and a few 85- and 90-inch TVs that run between $5,000 and $8,000. So, not so egregious after all. That's not to mention the Laser TV is also equipped with a smorgasbord of forward-facing features, like 4K resolution and High Dynamic Range compatibility.
What it all comes down to, though, is screen size. It's hard to express just how majestic content looks on a screen this massively huge. While the price tag is a bit insane for most people, know that you're not just getting a 100-inch screen here: you're getting a high-performance product with some very smart, user-facing features.

The Hisense Laser TV is available in one screen size:
100-inch (100L8D), MSRP $10,000
In case you haven't gathered, the Laser TV isn't a TV—it's a projector; technically, a short-throw DLP. That said, we've decided to test and review it within our TV testing rubric, judging its various qualities as though it were simply a $10,000, 100-inch LED or OLED TV.
And considering Hisense calls it a "Laser TV," I'm willing to bet the intention here is to forget whether the light is coming from the back (traditional TV) or from the front (DLP), and focus on the bright, colorful 100-inch "screen" in front of you.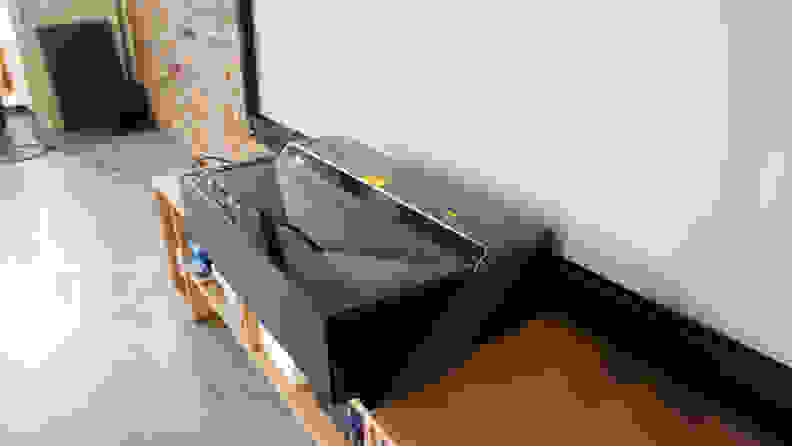 To that end, the Laser TV boasts a similar list of features to other high-end TVs on the market this year:
4K (3,840 x 2,160) resolution
High Dynamic Range (HDR) compatibility
Smart features
110-watt audio (including wireless subwoofer)
100-inch ambient light rejection screen
While it's down to around $8,500 on Amazon right now, that's still a ton of money. On the other hand, getting a 100-inch 4K/HDR "TV" that's good for that price isn't actually all that crazy.
We received our Hisense Laser TV on loan from Hisense, and performed our evaluation using the same methods and testing rubric as every other TV we test.
A big, breathtaking picture
There are many little details to the Hisense Laser TV. You have to mount the ALR screen somewhere. You have to control the ambient lighting enough that it isn't competing with anything too bright. There are methods to avoiding image keystoning, and placing the projector unit properly. It's a little more work and activity than simply plugging in a TV and turning it on.
However, once you've got all the setup out of the way, you're in for a real treat. I don't have as much experience with projectors as I do with TVs, but I do remember my first experience with them: I went to my uncle's house, where he had a projector set up. The screen was huge, but the picture contrast was horrendous outside of total darkness, and the colors were washed out. It felt like watching TV through a series of screen doors.
The Laser TV is not like that.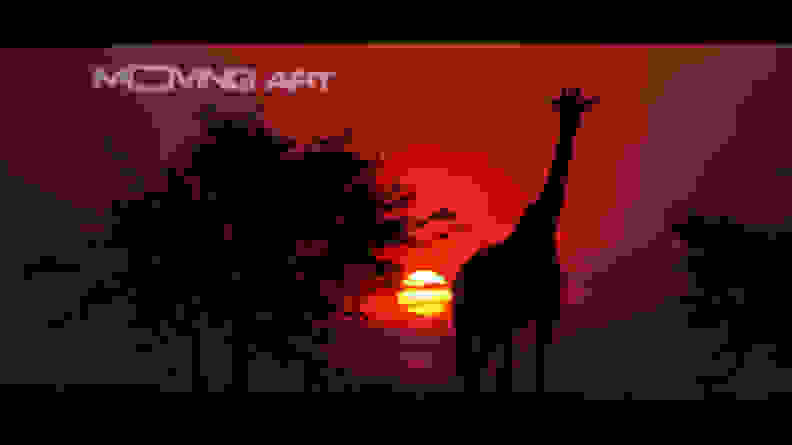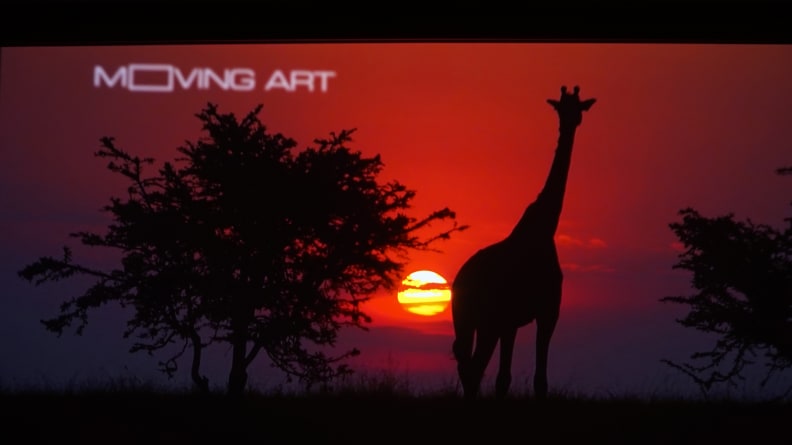 Even watching in our TV lab, which has floor lamps and two high-set windows, the image looked awesome. So good, in fact, that upon watching some of the 4K Moving Art nature documentaries on Netflix, I distinctly remember saying, "Holy [redacted], that looks amazing."
It's not that the Laser TV looks vastly better than similarly priced TVs. In fact, I immediately noticed the hallmark drawback of projectors: rather flat contrast, owing to illuminant black levels.
The Laser TV's bright, colorful 100-inch image is hard not to smile at.
In the TV's "Theater" mode, I measured an ANSI reference brightness of 142.70 nits, and black levels across content between 0.01 and 0.3, which mean shadows are much brighter than the average VA/full-array local dimming equipped TV.
However, you can still expect a contrast ratio around 10,000:1, which is really good for a projector. What's more, the DLP technology makes for rich, vivid colors, and seeing a bright, colorful 100-inch image in the soft, natural rendering that sets projectors apart from the harder, more "solid" rendering of pixel-based flat-panel displays is really something. Big, rich, red-feathered macaws and sunset-backed silhouettes of elephants the size of bay windows are hard not to smile at.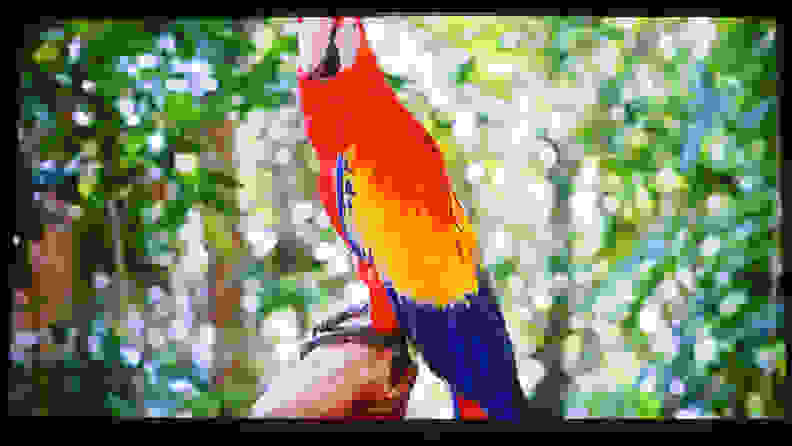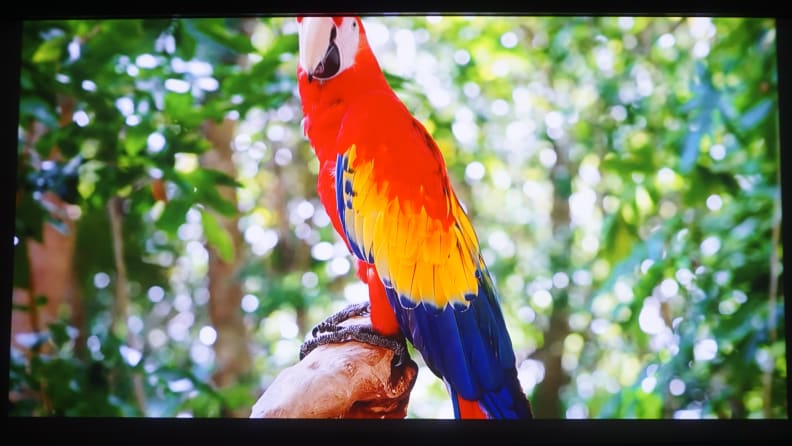 Enjoying everything on the Laser TV means going in knowing that it's going to look like a projector. There are advantages: better viewing angles than LED TVs; the complete lack of pixels giving everything an organic, "flowing" appearance; smoother-than-average motion and trailing during panning and fast shifts. However, the disadvantages—namely, somewhat "bright" black levels—are sort of part and parcel to projector technology.
This means at first glance, especially if you're an attentive home theater enthusiast who is used to LED or even OLED TVs, you're definitely going to notice (and probably be bothered by) the brighter black levels. But after a few hours or days, you get used to them, and start to notice just how rich and vivid the picture is.
Big screen, big audio
One of the pitfalls of premium TVs is that they typically don't have the richness and clarity of audio to match their big, beautiful pictures. Flat LED TVs and super-thin OLED models just don't have room in their chassis for big enough speakers to get more than, usually, 20 watts of audio power (10 per two speakers).
Fortunately, while the Laser TV's ASR screen is very thin, the projection unit itself is quite hefty, and has room for four embedded speakers and comes with a wireless subwoofer, which allegedly totals 110 watts of audio. Unlike a lot of pricy TVs, the Laser TV's audio quality actually lives up to the huge, impressive viewing experience.
I cranked the speakers up almost to maximum while watching various types of content—4K and otherwise—and the volume and breadth of the Laser TV's audio really made a difference. While it doesn't have quite the same immersive quality as full surround or a Dolby Atmos setup, it still sounds much, much better than average TV speakers.
Smart, convenient features
The Laser TV has "smart" features (built-in apps like Netflix, Hulu, YouTube, and so on), but that isn't what I'm talking about here. Hisense has put effort towards addressing the common pain points of projector installation and functionality, specifically floor/short throw types.
For example, the Laser TV has an "eye saver" function that triggers when you (or your child, or your dog, or whomever) gets too close to the unit/lamp. It automatically dims and refreshes, in order to safeguard any eyes that wander too close to the extremely bright Laser TV lamp. I was blinded by it three or four times during setup (for some reason, the eye saver function was disabled), and I can tell you, it's something you want to avoid if possible.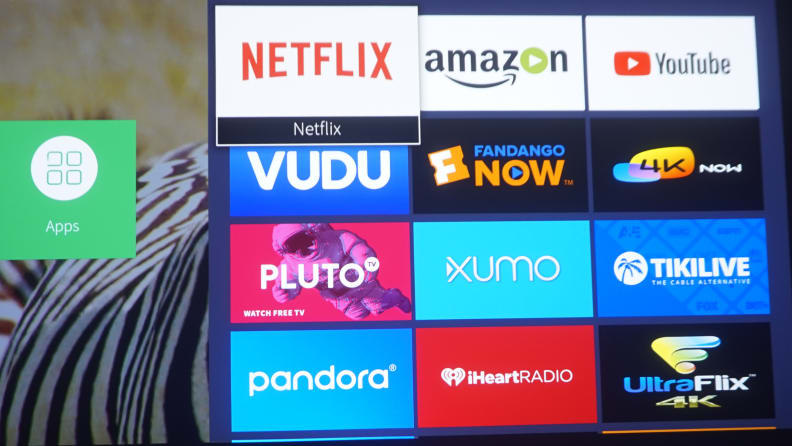 Hisense has also made the entire screen wall-mounting process a lot easier, via a simplified mounting system that includes two "remotely" adjustable mounting brackets and a guide map for mounting the included screen safely. We didn't actually mount the screen (brick walls), but as far as mounting brackets go it's one of the simpler systems I've seen.
As design goes, the "short throw" style and screen are great
While people don't usually think much about "design" where projectors go (especially when they're installed on the ceiling or hidden in a compartment), the Laser TV sits on the floor (about 8 1/2 inches from the screen), and shines light up/at an angle onto the mounted screen. That means it at least has to look a little attractive, as you're probably not going to very easily stow it away.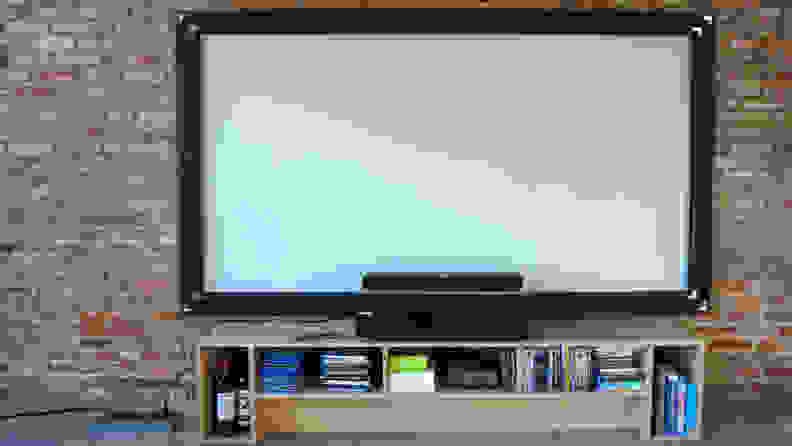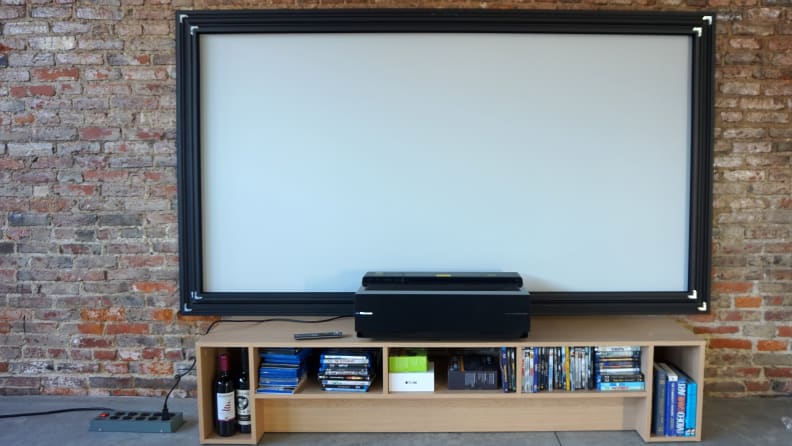 Fortunately, it's a handsome little box. The primarily charcoal chassis is highlighted by silver bands that run diagonally along the sides. The "front" of the Laser TV (the part you'll be seeing while you watch it) displays the Hisense logo, but is otherwise clean and minimal. On the other side, you'll find the audio-video ports: two HDMI, digital (optical) audio out, analog audio out (nice!), a coaxial jack, two USB 2.0 ports, and an ethernet input.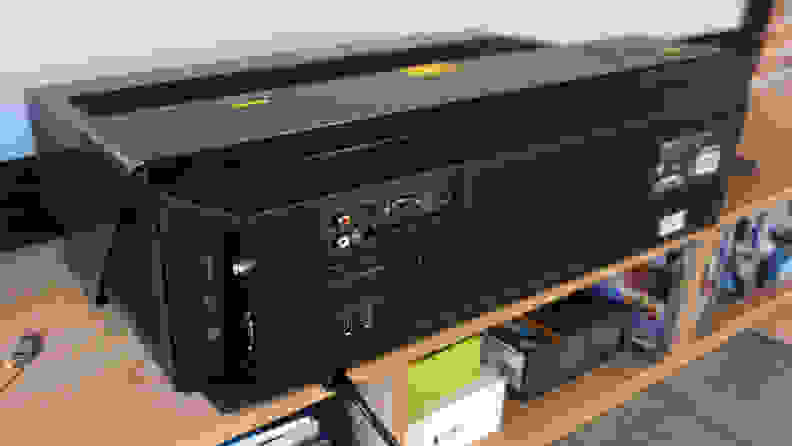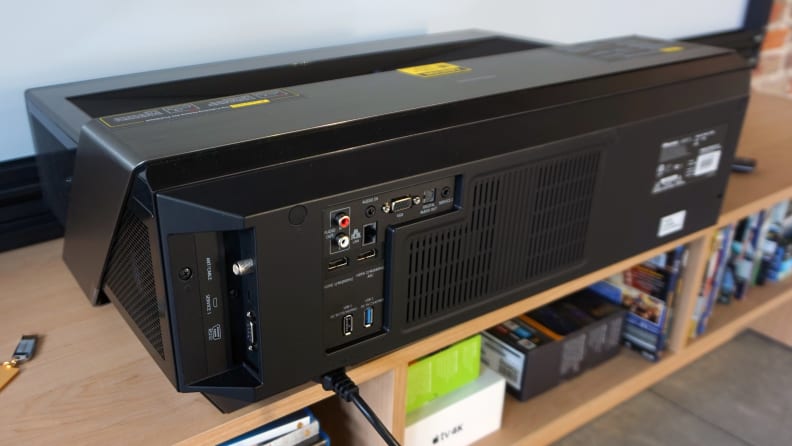 The included remote is pretty snazzy, too. It has a silvery, metal chassis and firm, well-spaced buttons. Otherwise it looks about the same as the remote included with most upper-tier/premium TVs. Finally, the included 100-inch screen is fetching enough. The 100-inch white material is bordered by finely-worked black filigree. It's a pretty heavy piece, but it's very minimal, and mounted on the wall is no more intrusive than the average edge-lit LED TV.
Still kind of a pain to set up
From unboxing it to watching something on Netflix, the Hisense Laser TV is a much simpler and easier process than both standard projector installation (I assume) and even standard wall-mounting of a TV.
However, it also requires quite a bit more planning—and use of power tools—than the average TV setup, which just entails stand installation and plopping it onto a table or dedicated TV stand.
Not great for HDR
HDR, or High Dynamic Range, is the next big thing in display tech—whether it's a TV, a computer monitor, or a projector. HDR comprises a new ecosystem of content that has been graded to take advantage of the higher light output and color space modern displays are capable of. Where standard TV brightness used to be around 100-120 nits, modern HDR displays are capable of brightness up to 400, 600, or even 1,000 nits.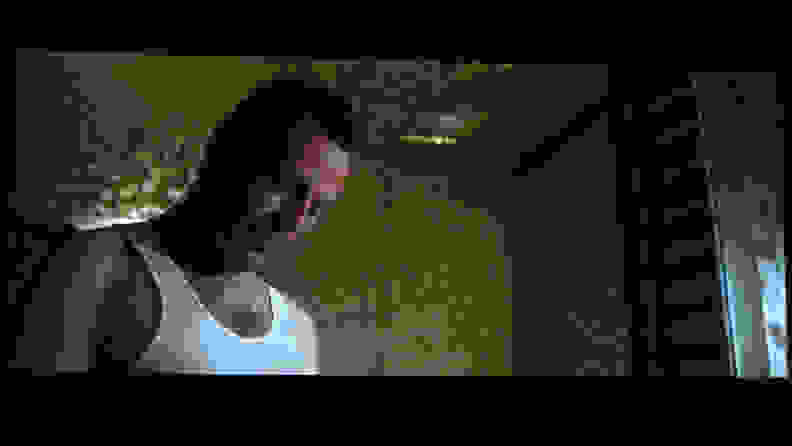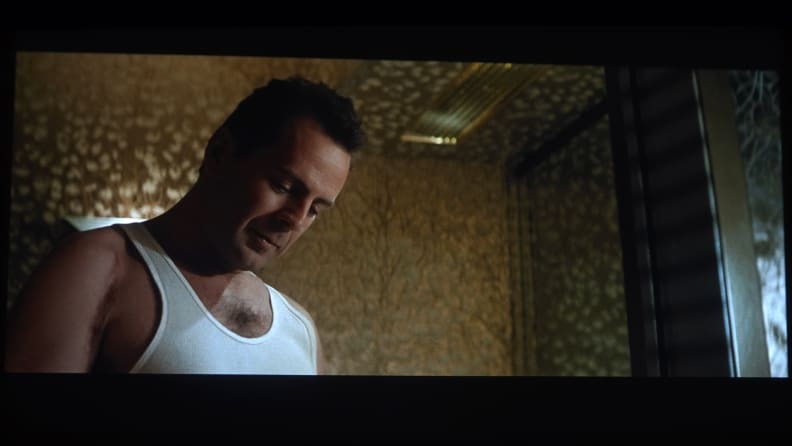 This higher brightness allows for more color saturation than ever before, too. Unfortunately, this is one area where the Laser TV isn't massively impressive. While it looks fine during HDR content (and can certainly play the content), it just doesn't get very bright.
The highest result I measured was around 170 nits, which isn't too much brighter than the TV's non-HDR performance. Likewise, while the Laser TV produces more saturated colors, it fails to fully saturate red and to get much extra green saturation when displaying the DCI-P3 (HDR graded) color space.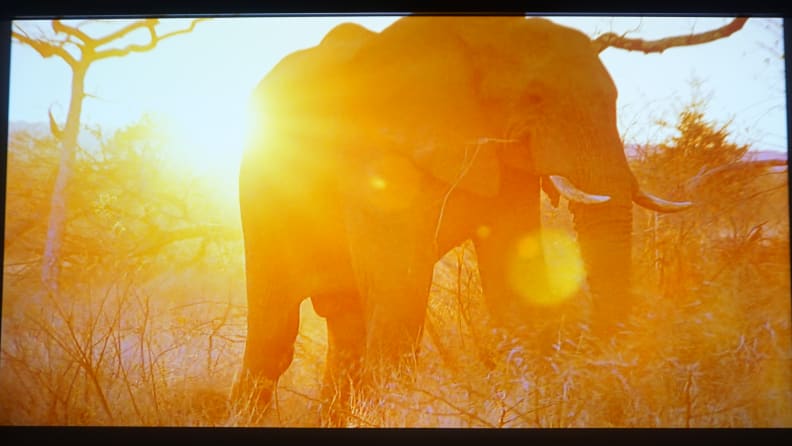 That doesn't mean HDR content doesn't look awesome, as—at 100 inches in size—almost everything I watched looked pretty great (bright black levels not withstanding). But the Laser TV simply doesn't have the capabilities of the most expensive LED and OLED TVs.
Black levels really take some getting used to
As I stated in the previous section, because it's a projector, the Laser TV doesn't have the same deep, dark black levels as modern VA-panel and full-array local dimming equipped TVs.
And with the proper understanding of display functionality, you normally wouldn't expect it to: that's not really the "draw" here. But if you've only watched (good) TVs your entire life, the difference in black level/shadow tone may simply take some getting used to.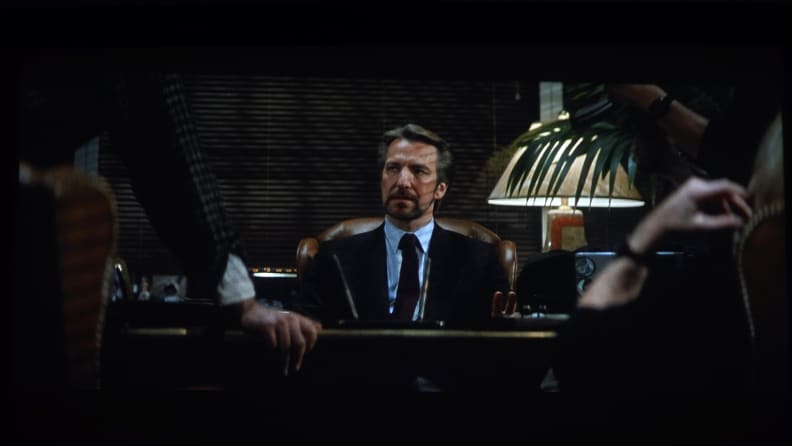 No matter what, a five-digit price tag is hard cheese to swallow
We score products based on their "apparent" value, which usually means the price as pertains to the performance metrics, technology at hand, design, and a comparison to similar products in the marketplace. The Laser TV is hard to "place" in a value sense because it's such a unique product. It's as expensive as 65-inch OLEDs were a couple years ago, but from a strict performance standpoint, does not perform to those standards.
It's hard to simply say, "This is a great buy!"
On the other hand, it's 35 inches bigger, and includes a pretty respectable home audio setup right in the box (four harmon/kardon speakers and a wireless subwoofer). It also looks much nicer than almost any LED TV I've seen anywhere near this size, as the lack of a backlight element means you won't have viewing angle issues, flashlighting, color trailing, or any of the other problems commonly associated with LED arrays being stretched too "thin" for the screen size they're supporting.
All that said, it's hard to simply say, "This is a great buy!" It is likely a great buy for particular people, however.
Yes—if you simply won't settle for a double-digit screen size
The main draw of the Hisense Laser TV is how big it is, without a doubt. This is the first extended period of time I've spent watching a screen this big (outside of, say, a movie theater), and I'm afraid the more time I spend with it, the less I'll be satisfied by the 50-inch TV in my bedroom. You can't really argue with a brilliantly red macaw who is four feet high and buffeted by luscious ambient piano filling the space with 100+ watts of audio.
On the other hand, wow, even at the current sale price around $8,500, that's a lot of money. You can get something like the 65-inch LG C8 OLED (we expect this to be our next #1 TV) for around $3,500—a full five grand less, which leaves you plenty leftover for a separate audio solution, an AV receiver, a 4K Blu-ray player, or any number of home theater enhancing upgrades that might make up for not getting the 100-inch screen experience.
However, while black levels are king, rich color is a must, and appreciable HDR is the future, I still can't fault anyone for going with sheer screen size. Not only are 80-/90-/100-inch LED screens impractical, they often have a host of performance issues without meticulously crafted local dimming and jam-packed full-array backlights. If you want a bright, vivid, 100-inch viewing experience, this might be the only real option for you.
Meet the tester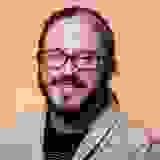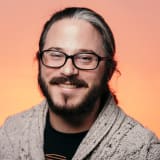 Lee Neikirk
Editor, Home Theater
@Koanshark
Lee has been Reviewed's point person for most television and home theater products since 2012. Lee received Level II certification in TV calibration from the Imaging Science Foundation in 2013. As Editor of the Home Theater vertical, Lee oversees reviews of TVs, monitors, soundbars, and Bluetooth speakers. He also reviews headphones, and has a background in music performance.
Checking our work.
Our team is here for one purpose: to help you buy the best stuff and love what you own. Our writers, editors, and lab technicians obsess over the products we cover to make sure you're confident and satisfied. Have a different opinion about something we recommend? Email us and we'll compare notes.
Shoot us an email