Well, the JVC "Emerald" EM32T ($299) is proof that the Japanese manufacturer should probably stick to gracing the cover of LL Cool J albums—this TV has few redeeming performance characteristics, and struggles to produce a high-quality image.
The good, the bad, and the ugly
The JVC EM32T is wallet-friendly, but it's just not a top-notch TV. Time in the lab revealed problems with gamma correction, color production, and RGB balance—three key elements of a good picture. It wasn't all a sob story, though.
Sports fans be wary: the EM32T struggles with complex motion.
Our first tests evaluate dynamic range: black level, peak brightness, and fluctuations in luminance. Film-lovers will be glad to know that the EM32T is perfectly capable of a convincingly dark black level, promising to lend depth to shadowy areas while preserving the details that lurk within. Hockey enthusiasts can rest assured that light levels won't constantly fluctuate between disparate levels of white within the picture.
This JVC's static contrast ratio is above average—it achieves a decent amount of brightness while maintaining black integrity. Unfortunately, dynamics must be appreciated from a head-on view, as watching from off-angles results in severe degradation of the picture. Strap-in front and center for this one, and don't even think about wall-mounting it.
The EM32T simply doesn't saturate its colors quite enough.
The biggest problem with this TV, however, is its color production. The EM32T simply doesn't saturate its colors quite enough, meaning many hues lack the vibrancy and flashiness required by HDTV standards. This won't be as noticeable while watching older content, but the newest Blu-rays and video games will suffer. Sports fans should be wary, too: The EM32T's 60Hz panel struggles with complex motion, and there's no processing modes available to smooth out blurriness and interlacing.
At the end of the day, this TV is only suited for older content at 720p or less—it lacks the efficacy to present the newest high-resolution content in a flattering manner. Sadly, a native resolution of 1280x720, 60Hz refresh rate, and undersaturated colors clip this TV's wings.
For all of the hard data and my calibration settings for the JVC EM32T, check out the Science Page.
Angular, understated, and boring
After scouring a few sources for reader reviews, we've noticed a consistent complaint about this TV's design: There are no on-set controls, just a single button for power. This means functions like changing the channel or volume are impossible if you lose the remote. As one irritated consumer put it, "Hope you like whatever volume the TV was at last time you had the remote." What a crazy oversight.
This is a $300 TV, and it looks like one. Like most budget bin TVs, the JVC "Emerald" EM32T sounds a lot flashier on paper. In reality, there's nothing sparkly or gem-like about this TV. Hey, at least it isn't claiming to break the sound barrier.
Like most budget TVs, the JVC "Emerald" sounds a lot flashier on paper.
We can certainly see someone favoring this TV's design, on the other hand. The EM32T is all angular lines and black plastic—not the worst-looking budget TV around.
Assembly consists of attaching the TV's flat, rectangular base to a short neck via a single screw and hex wrench—which, thankfully, is provided. While thin at its edges, the Direct-LED EM32T thickens towards the center of the panel, describing a total depth of about five inches.
As for the apparently drastically important remote? It's about as plain as they come, featuring big, squishy gray buttons and a numeric keypad.
Functions like changing the channel are impossible if you lose the remote.
The EM32T's IR sensor can be a bit sluggish picking up on signals at first, but with a little aiming you'll be flipping through channels and pumping up the jam in no time.
If you're one of those ahead-of-the-curve televiewers who owns a number of high-definition playback devices, be wary: The EM32T only has inputs for two HDMI and one component, limiting you to three HD sources total. The component hooks double as composite (AV) connectors, and there's also a coaxial jack for cable and a single USB input.
The simple, homely interface is fitting.
The JVC Emerald EM32T doesn't connect to the internet or produce 3D images, but its on-board software is a perfectly acceptable suite of audio-visual controls. Pressing "menu" on the remote will bring up a simple vertical interface along the left side of the screen; sub-menus include Input, Picture, Audio, and Setup.
Dynamic contrast and adaptive backlight settings automatically adjust the TV's LEDs.
The Picture and Audio sub-menus are by far the most esoteric systems within this TV's software. The former allows for multiple picture pre-sets—including a lag-reducing game mode—as well as 2-point white balance and a number of advanced settings.
JVC's CrystalColor setting boosts the perceived saturation of colors on-screen, whereas dynamic contrast and adaptive backlight settings automatically adjust the TV's LEDs to best suit the viewing environment. These may sound fancy, but they're fairly standard, and we recommend turning them off first thing to determine if you really need them.
The Audio menu includes individual sliders for treble, bass, speaker balance, as well as a simple EQ system for fine-tuning how the speakers interpret each frequency range. Users will also find a film mode, analog and digital noise reduction, and a sleep timer that will automatically shut the TV off after a certain amount of time passes. Like most TVs on the market, the EM32T can play media—pictures, music, and video—from an external drive via USB.
In case you were wondering, none of this is worth getting excited about. We'd be making a fuss if some of these settings were missing, of course, so kudos to JVC for including them—but the lion's share of these interface options are standard TV fare, and most of them are redundant.
A bad choice for technophiles
This JVC is capable of an acceptable picture, but only when it's sourcing sub-1080p resolution content. While a 32-inch TV for $300 is a great deal if you're upgrading from one of the old boxy sets, the EM32T is going to look very unimpressive if you've already been in the HD game for a while.
If you're planning on watching lower resolution cable content or VHS tapes, this "Emerald" is the gem for you. Things like new game consoles and Blu-ray discs look very lackluster on this set, however, so it's truly only suited for the content formats of yesteryear.
Thirsty for a more up-to-date 32-inch TV? These similarly-priced competitors offer a cool quaff:
The JVC EM32T ($299.99) may be priced fairly, but its picture contains some very notable errors that potential buyers should be wary of. Despite a healthy contrast ratio, this LCD fosters a very narrow viewing angle, making family movie night or multi-tasking while watching a risky endeavor. Its biggest offense, however, is that it fails to saturate its colors to the full degree required, meaning many hues lack the vibrancy and richness they are due.
The JVC EM32T was easy to calibrate—it simply doesn't have the available controls to allow much, if any, correction of its picture performance. Below you'll find the EM32T's picture pre-sets in the Movie picture mode, alongside our final calibration settings.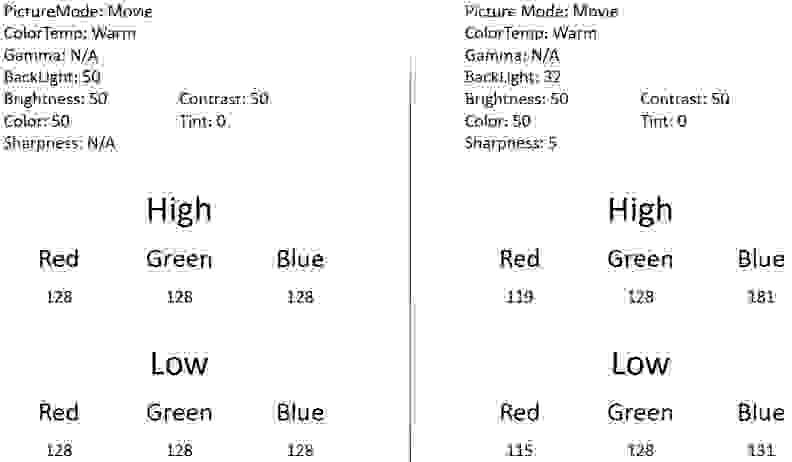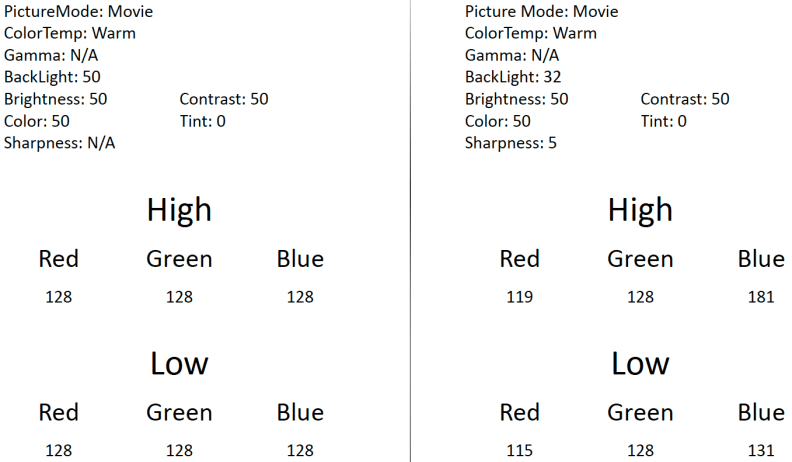 Other than reducing the EM32T's backlight from 50 to 32, there wasn't much we could do to correct its inherent errors. Lacking gamma and color management controls, the only option was to use 2-point white balance controls to remove the excessive amount of red from its RGB balance—which resulted in an arguably better grayscale, but very little improvement otherwise.
Contrast ratio is the measure of a television's peak brightness divided by its minimum luminance. The resulting number, expressed as X:1, is a telling sum of how immersive a TV's picture will be.

The EM32T tested with a black level of 0.039 cd/m2 , which is an excellent result for any LCD, and is especially awesome for one in this price range. We also measured a correlated peak brightness of about 170 cd/m2 , which is more than enough brightness for most rooms. The resulting contrast ratio—4354:1—is a terrific result.
The EM32T tested with one of the worst horizontal viewing angle results we've seen all year. Viewing angle is an important determinant of a TV's flexibility, and is especially important if you're considering wall-mounting it.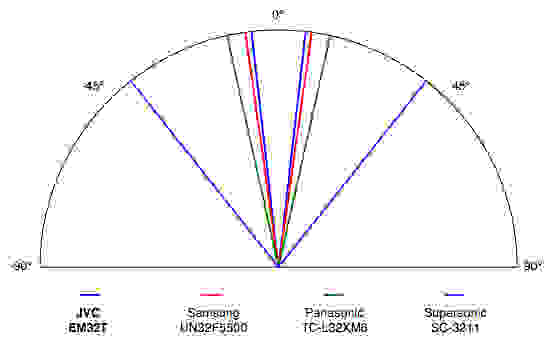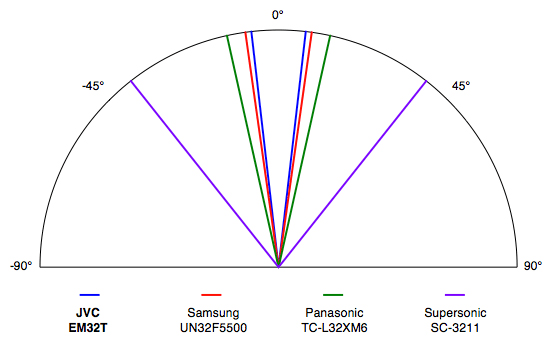 We tested a total viewing angle of 13°, or ±6.5° from center to either side of the screen. UGH! This is an absolutely terrible result. Blacks turn gray and blue-ish at off angles, and the TV's overall luminance drops drastically.
The EM32T tested with a very high amount of error within its grayscale. The sum of error within the grayscale is expressed in DeltaE. Using our test equipment, we measured a total DeltaE of 9.52 prior to calibration—3 or less is considered acceptable. Despite making huge corrections to 10-90 IRE during calibration, the end result was actually worse: 9.57 DeltaE. The EM32T lacks 10- or 20-point white balance controls, so correcting the huge degree of error at 100 IRE was impossible.
The reasoning behind all of the error found within the EM32T's grayscale is an improper balance between its red, green, and blue sub-pixels. Prior to calibration, this JVC was employing much too little blue (and, conversely, too much red and green) within its balance.


Using the TV's high/low white balance control, I was able to correct the majority of the RGB balancing errors—yet the TV automatically pushed the imbalance into 100 IRE, resulting in a similar degree of error within that step alone.
Without a doubt, the EM32T's biggest issue is its color production. Testing revealed undersaturated red and improperly hued cyan and magenta, resulting in an imbalanced D65. Because the TV lacks any kind of color management system, correcting these errors was impossible.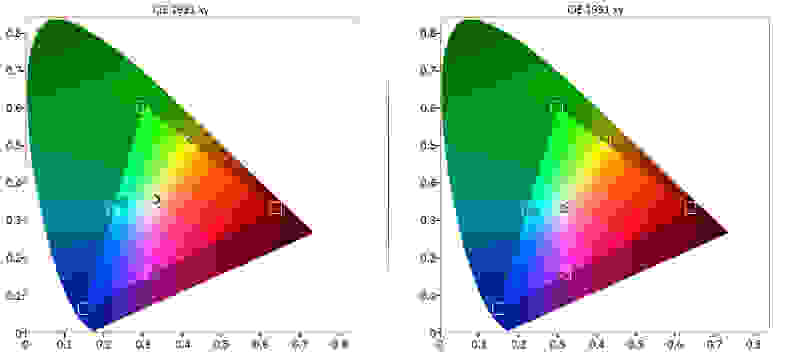 Meet the tester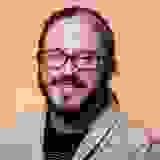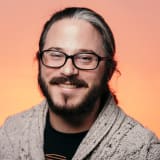 Lee Neikirk
Editor, Home Theater
@Koanshark
Lee has been Reviewed's point person for most television and home theater products since 2012. Lee received Level II certification in TV calibration from the Imaging Science Foundation in 2013. As Editor of the Home Theater vertical, Lee oversees reviews of TVs, monitors, soundbars, and Bluetooth speakers. He also reviews headphones, and has a background in music performance.
Checking our work.
We use standardized and scientific testing methods to scrutinize every product and provide you with objectively accurate results. If you've found different results in your own research, email us and we'll compare notes. If it looks substantial, we'll gladly re-test a product to try and reproduce these results. After all, peer reviews are a critical part of any scientific process.
Shoot us an email