Nothing to praise, nothing to condemn.
Once you've set up the LW5300, the first thing you'll notice is that it's relatively easy on the eyes, as far as TVs go. It doesn't have any obviously ugly features to the front, but it is very standard-looking. It should fit right in with an entertainment center or on a wall, where it'll fit in without being the most noticeable thing in the room—for better or worse.
If you're someone who loves having a mix of older and newer external media sources, the LG 42LW5300 is a great TV for you to consider, as it has a refreshingly good array of options for you on the back of the TV set. Overall the set includes 3 HDMI ports, a USB port, 3.5mm headphone/audio in ports, optical audio out, an RS-232C input, a set of composite ports, and two sets of component inputs. The multiple composite/component ports are great for gamers, as you could hook up plenty of older consoles, as well as two different component devices, such as an Xbox 360 and your cable box, without the need for frequent switching.
No internet features, but decent local media playback options.
Using the USB port on the side of the TV set, you can play back photo, music, or video files using the somewhat rudimentary interface included with the set. After you select your parent folder from the main screen, you can view files individually, or in a predetermined order using the directional keys on your remote. Beware, though, that many files that are claimed to be supported sometimes run into scaling or other compatibility issues, so read up on it in the manual provided.
Overall, the menus are debatably attractive…
The menus of the LG 42LW5300 are very much like those found on the higher-end LG televisions of this year, minus the Home screen. Each menu section is represented by an icon on the left of the main screen, with the list of menu options and items in the largest box. Overall, the menus are debatably attractive, but they do tend to get in the way by being somewhat large and opaque.
On the whole, we were impressed with the LW5300's performance.
This LCD delivers some very impressive color production abilities for an MSRP of $899. Its overall color accuracy and integrity is very good, and its contrast ratio—while only a little above average—suits the make and model of this product just fine. A couple of places we couldn't really support were in viewing angle and motion. While motion effects can help smooth things out, you're also running the risk of encountering the dreaded soap opera effect. All in all, though, the LW5300 is a solid performer.
Passive 3D glasses make for an affordable 3D experience.
Cost benefit aside, the 3D performance for this TV could stand some improvement, as the depth of the image just isn't there and we were absolutely underwhelmed by the 3D experience overall. The loss of resolution is noticeable when viewing 3D content and, to put it mildly, we're not fans.
…3D isn't the revolutionary viewing experience that 1080p has been.
That isn't to say we have any love lost for 3D in the first place. It's a new addition to the market and it will take plenty of time to develop. We're still of the opinion that it isn't a compelling reason to go out and buy a totally new set; It's nice to have, and purchasing a 3D-enabled set will certainly future-proof you, but 3D isn't the revolutionary viewing experience that 1080p has been.
For the price, the LG 42LW5300 is not a bad entry-level TV.
For an MSRP of $899, you're investing in solid color accuracy and some of the best 3D color performance we've ever seen—in short, you could do a lot worse than bringing this LCD TV home. It may not be the best choice for videophiles, but a bright screen and the novelty of 3D may be enough for newer consumers looking to upgrade to a modern set. We're also big fans of the inclusion of so many ports and options, allowing enthusiasts and gamers alike to hook up all their various devices without issue.
Using a polarized-lens approach to 3D content, the LG 42LW5300 makes some significant tradeoffs to reduce the cost on the consumer, but like most other 3D TVs, we feel like this may not be ready for the big leagues quite yet. Even though we're not big fans of 3D in general, it doesn't feel like you're paying extra for the capability here; this is a well-performing television that would be correctly priced even without the 3D included. At its price point, this is a top contender, but those wanting better contrast performance and high-end features included will want to look to the high end of the market. For the rest of us, this is a solid buy.
For a TV more on the side of entry-level than high-end, its color adherence and integrity was top-notch. Its contrast ratio wasn't huge, but offers enough black/white differentiation to satisfy the needs of the general public. We took a few issues with its motion and viewing angle performance, however, which we'll detail below.
A notably narrow viewing angle spells out some problems for the LW5300.
The LG 42LW5300's total viewing angle of 42° does a number on this set's overall flexibility. If you put a TV in a large room, you probably would prefer to be able to watch it from more than one chair/area without losing contrast performance (and, in turn, your ability to see what the screen is displaying). The LW5300's viewing angle is just small enough to cause problems in this regard, and likewise will result in a risky experience if you try to watch with a big group of friends.
It's a bit of a letdown, given that this set has all the makings of a nice addition to a basic home theater setup. You can still comfortably spread out on the couch in front of it, but having the whole family over for the big game might not work out so well.
Motion is very important for all kinds of content and the LW5300 stumbles in its execution.
A television can have perfect color accuracy and a massive contrast ratio, but if it can't handle basic motion on screen, none of its content is going to look good. The LW5300's motion performance wasn't atrocious, but it did show some notable blurring and interlacing during our complex motion tests. LG's ClearMotion setting can help to remedy this problem to some degree, but not entirely; you're running the risk of over-smoothing familiar content to the point that it looks alien. The LW5300's motion performance could be a lot worse, but the problems we saw are worth mentioning and should be kept in mind by film fans and gamers if they're considering purchasing this television.
Not the Achilles heel of this television, but certainly not its moment in the sun.
The LG 42LW5300 is an exceptionally bright set with great uniformity across the screen. We measured its peak brightness at 408.82cd/m 2, which was well above most of its competition in this part of the market. Unfortunately, the set is let down a bit by a sub-par black level, which only got as dark as 0.28cd/m 2. This is quite a bit higher than we like to see, even from entry-level LCDs. The result is a contrast ratio of just 1460:1, a disappointing result given the stellar peak brightness.
We saw a similar issue with LG's 47LW5600 set as well, which measured with similar black levels, though a slightly worse peak brightness. It's comforting knowing that stepping up to the LW5600 won't ease the issue, but there are plenty of similarly-sized displays from other companies that offer better black level performance.
Meet the tester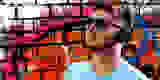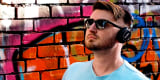 Chris Thomas
Staff Writer, Imaging
@cthomas8888
A seasoned writer and professional photographer, Chris reviews cameras, headphones, smartphones, laptops, and lenses. Educated in Political Science and Linguistics, Chris can often be found building a robot army, snowboarding, or getting ink.
Checking our work.
We use standardized and scientific testing methods to scrutinize every product and provide you with objectively accurate results. If you've found different results in your own research, email us and we'll compare notes. If it looks substantial, we'll gladly re-test a product to try and reproduce these results. After all, peer reviews are a critical part of any scientific process.
Shoot us an email