During calibration, we were able to subtly adjust its grayscale and color performance to better match HD standards, but unfortunately, there's really no way to get around the overly luminous black level. The TV looks great in normal or bright ambient lighting, but won't suffice for "movie night" or theater viewing, especially when compared to other LCDs with better black levels.
The 50LF6100 (MSRP $799) is a mid-size, entry-level Full HD option from LG that delivers smart functionality and a direct LED backlight. This series, which is also available in 55- and 60-inch sizes, is one step up from LG's LF6000 series, and adds smart features.
When I tested the 50-inch LF6000, I found it to be a solid performer for the price, mostly owing to its direct LED (or full-array) backlight. For $100 more, the LF6100 should deliver the same excellent performance, alongside smart functionality.
Yet while the software, smart features, and design are all top-notch, the LF6100 unfortunately suffers from disappointing contrast performance, enough to hurt its chances at supremacy. It doesn't help that the TV utilizes an aggressive, software-based contrast enhancement that (apparently) can't be turned off.
While the LF6100 is by no means a bad deal—it's a well-built smart TV with decent color and a great viewing angle—there are better overall performers out there for the same price, such as Sony's 50-inch W800B or Vizio's 2014 E Series.
A minimalist design that's flexible for varied lighting conditions, but may over-extend your TV stand.
The 50-inch LF6100 is identical to the 50-inch LF6000 in both design and physical features. A matte, gunmetal bezel wraps the screen and decorates the LF6100's two caltrop-shaped feet, though they're primarily black plastic.
Below the screen, you'll find the usual etched "LG" insignia, but otherwise the bezels are clean and uninterrupted. The hybrid bright/dark coloration of this TV's bezels emphasize neither shadow nor specular elements by contrast, giving the LF6100 equal footing in bright and dark rooms.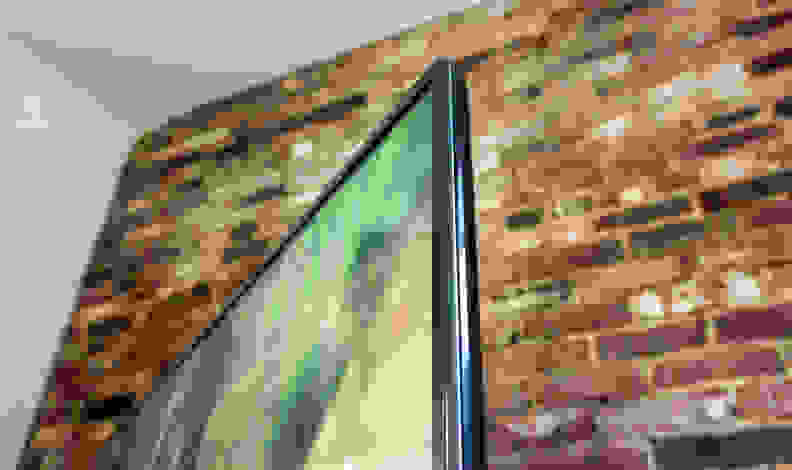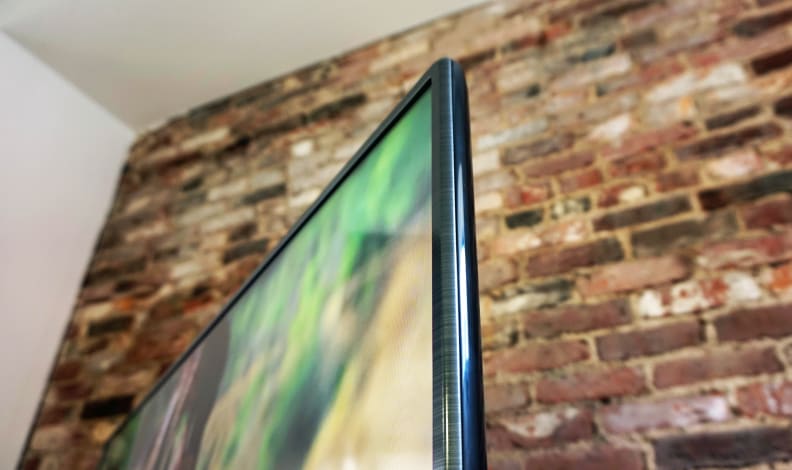 Utility elements, like inputs and control buttons, are hidden away on the back of the TV. One small gripe I have about the LF6100 is the port placement; while it utilizes both rear- and side-facing ports in the modern style, they're placed almost directly in the center of the TV's rear casing, which could make them hard to access if you're trying to reach around from the front (especially on the larger sizes, like the 60 inch version).
The LF6100 may not fit on your TV stand if it's narrow, as the feet are set very wide.
Otherwise, port variety and placement are fine. Side-oriented ports include three HDMI inputs and three USB 2.0 inputs—which is a pretty solid spread for an entry-level TV. Naturally, the rear-oriented ports are more "static" in nature, and number shared component/composite inputs, digital (optical) audio out, RF (coaxial) in for a cable/antenna direct line, LAN (ethernet) input, and an RS-232 control port.
Like the LF6000, and many of LG's 2015 TVs, the 50LF6100's two stand "feet" are set wide apart, almost to the edges of the panel. This isn't a problem if you're going to wall-mount this TV, but consumers should keep it in mind if their TV stand is narrow—the 50-, 55-, or 60-inch LF6100 may not fit.
You don't get LG's signature "Magic Remote" with this TV, but the included remote offers higher usability than the simpler version offered with lower-end models. Highlights include quick-menu and smart buttons for easy access to settings and apps, rockers for channel/volume adjustment, and dedicated play/pause buttons for streaming services. The remote is easier to use for some tasks than the motion-based Magic Remote, but obviously lacks the speed and precision for typing in URLs or passwords. My only complaint about it is the navigational buttons, which could use a bit more definition, especially considering there's no backlight here.
We calibrate each TV we review for two reasons. First, an informed calibration gives us a comprehensive idea of the TV's out-of-the-box strengths and weaknesses compared to industry standards. Second, the calibration process reveals the full extent of a TV's capabilities. This second part is important for high-end TVs, but it also reveals a lot about more affordable midrange and entry-level models.
I calibrated the LF6100 in the ISF Expert 1 picture mode, aiming for a reference brightness of 40 fL and a gamma standard of BT.1886, the new standard for TVs that adheres roughly to a 2.35 gamma power law. The LF6100 is equipped with a BT.1886 preset, so it should be able to hit that spec; it also allows for a full CMS, 2/20 point white balance, and color space selection.
Below, you'll find the default settings for ISF Expert 1 alongside my final calibration settings. Note that while my settings may improve some aspects of your display's performance, they are not a viable substitute for a paid calibration, as panels and performance eccentricities vary from model to model, even within the same size and series.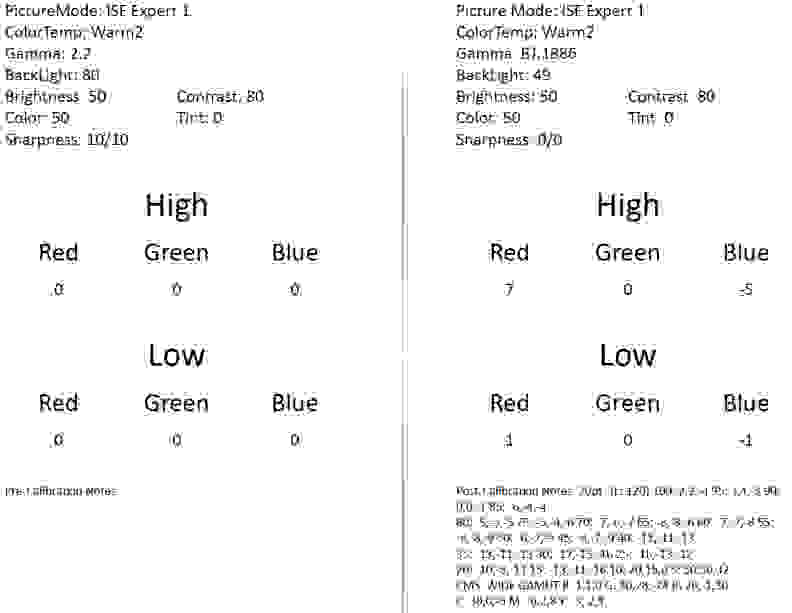 It's not as good as webOS, but it works.
LG's new-and-improved webOS 2.0 smart platform is one of the better smart software packages in 2015, but you don't get it here. The LF6100 instead utilizes a clean, truncated version of the company's 2013 software. So, sadly, you'll find none of webOS's bubbly animations or cute characters here—but without the Magic Remote, we imagine webOS wouldn't be very easy to use, either.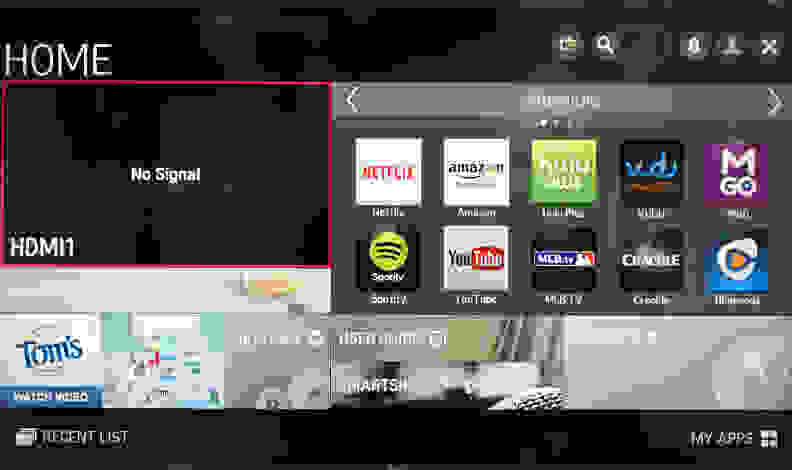 What you will find is a decent selection of apps and services, including heavy hitters like Netflix, Hulu Plus, VUDU, and Amazon Instant Video. If you've got cable or satellite service, the "Playing Now" option can be set up to reflect current programming from your provider. There's also a web browser that functions well enough, but isn't the best way to browse the web compared to a PC, smartphone, or even browsing on a TV with a better remote. Scrolling through pages using the "channel" pad is easy enough, but dragging your cursor via the remote's navigational button to select things on a page is sluggish.
There's a web browser here, but it doesn't compare well to the experience on a PC, tablet, or smartphone.
You can also access personal content wirelessly on your home network (or with a physical connection over USB) via LG's "SmartShare" function, which is helpfully baked right into the smart menu. While not all file types are supported, the most common formats for images, music, and video should stream directly to the TV. Ideally, you should be able to access any smartphones, computers, or tablets on the same network, but they'll all need to be capable of sharing media over a WiFi or Bluetooth connection, so older devices may not work.
Like other LG models, the LF6100's software settings and picture customization options cover all the bases. In particular, the 50LF6100 provides users with the same suite of calibration controls as LG's high-end models, including 2- and 20-point white balance (grayscale) controls, a full CMS, a gamma slider, and a few software enhancements to reduce analog noise, enhance sharpness, or smooth out motion performance. LG also includes all of the basic picture, sound, network, and tuning (OTA) controls.
Contrast—the difference between bright and dark elements on screen—is a major part of an immersive picture. In fact, black level (or minimum luminance level) is widely regarded as the most important aspect of picture quality, as a good black level improves not only perceptible contrast but the integrity of low-light colors and even motion performance, to some degree.
This is where the 50LF6100 falls pretty short, especially compared to many of its similarly priced peers. I measured a black level of 0.17 cd/m2 , which is much, much brighter than the three comparison TVs—two 2014 models and the 2015 LG one step down from this one. The corresponding (ANSI) reference white of 182 cd/m2 provides ample brightness, however, meaning the LF6100 can function healthily in normal or brighter ambient environments.
As it stands, however, this TV's default contrast ratio (in ISF Expert 1) is only 1071:1, whereas the comparison models we chose all live within the 3–4 thousand range.
Our viewing angle test measures the full extent of a TV's screen flexibility—basically, how far you can watch from off-center before the picture degrades to a certain point. We measure full-field (or 99%) black/white screens with a Konica Minolta LS-100 luminance meter at 10-degree increments from the center to either side of the screen, marking when the TV's contrast falls below 50% of its original value.
The LF6100 tested with an excellent viewing angle, especially for a transmissive (LCD) television. I measured a total viewing angle of 93°, or ±46.5° from the center to either side of the screen. This is one big advantage of the LF6100's IPS panel. The downside, of course, is poor black levels.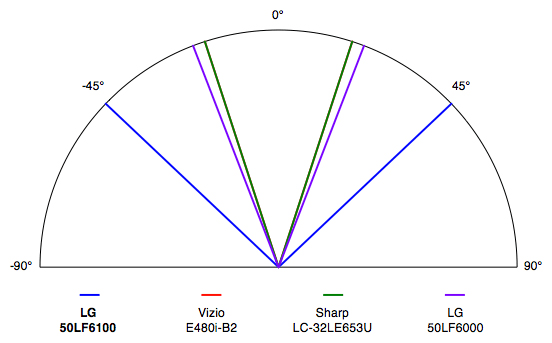 A solid handful of positive qualities held back by a shallow contrast.
After time in the lab with LG's 50LF6000, we were expecting similar results from the LF6100—and for the most part, the LF6100 boasts quite good overall performance. Unfortunately, it lacks the stellar contrast abilities we measured from the cheaper series, meaning it struggles to produce a fully immersive, lifelike picture.
Like the LF6000, the LF6100 wields a direct (LED) backlight with baked-in local dimming that automatically adjusts the backlight depending on what's on screen. Tests revealed somewhat predictable performance from this TV's IPS (In-Plane Switching) panel type, meaning luminous black levels that can't quite capture the shadowy, inky look that's such a necessary part of good picture quality. I measured black level from various test patterns and during actual content, and the result was repeatedly disappointing.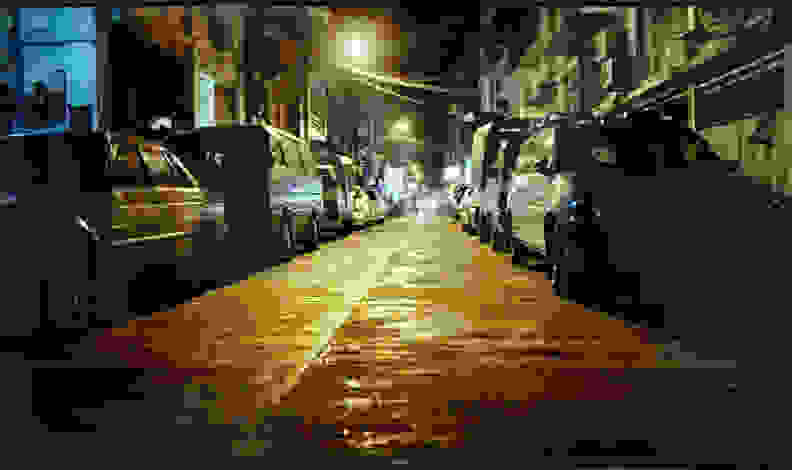 On the other hand, you won't notice these somewhat bright shadow tones as much if you're watching in normal or high amounts of ambient lighting, and the IPS panel provides notable advantages in other areas. For one, the LF6100 boasts a very good viewing angle for an LCD display, and at 10 feet away you'll have a huge amount of seating flexibility with a span of about 30 feet.
I was expecting good color performance, too, as that's another hallmark of IPS displays, but the LF6100 struggles to completely and accurately produce HD color. It's not bad by any means, but given a proper calibration (with a focus on accuracy for luminance, saturation, and hue), the LF6100 simply can't produce fully saturated green, even when the color gamut is set to Wide.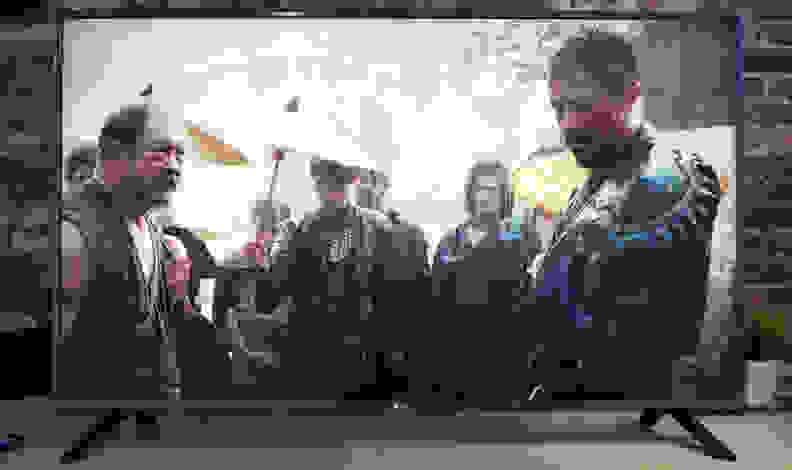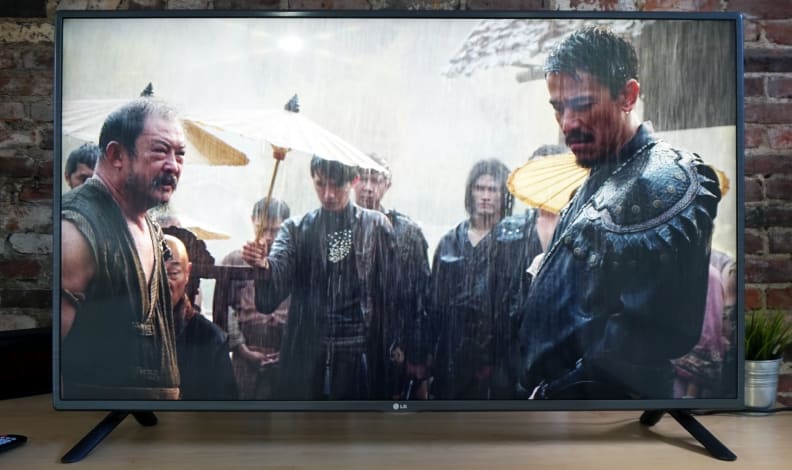 Fortunately, the LF6100 handles fast, moving content with aplomb. Customizable de-judder and backlight shuttering complement the panel's native 120 Hz refresh rate to render smooth, blur-free motion. Thanks to the LF6100's high brightness output, activating the backlight-dimming LED Clear Motion means you can have sharp resolution retention during motion without sacrificing overall visibility.
Finally, the LF6100 provides clean, color-free neutral shades, especially in the ISF Expert 1 picture mode. Many larger TVs in this price range suffer from a blue- or orange-tint that gives content a murky appearance, but the LF6100 looks mostly clean and bright right out of the box. And included 2- and 20-point IRE grayscale controls mean you can maintain this neutrality across various picture modes and gamma settings with an informed calibration.
To check out our pre- and post-calibration results for the 50LF6100, check out the Science Page.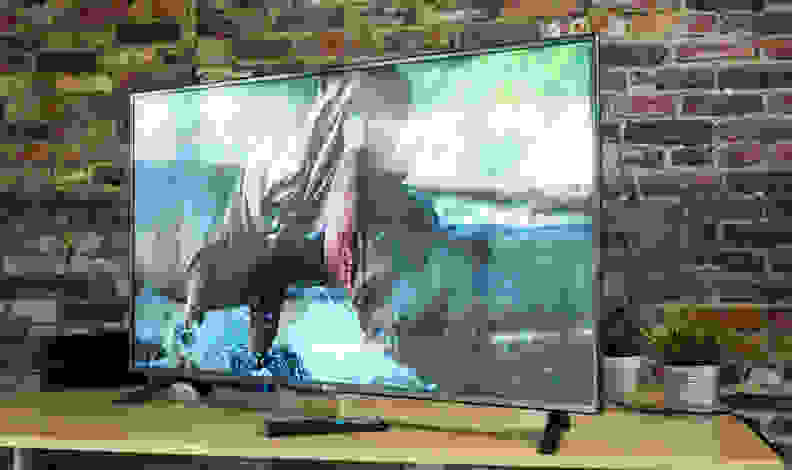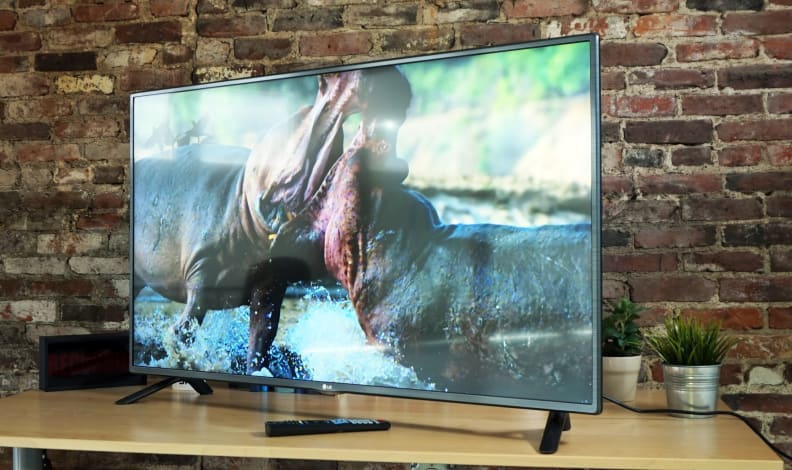 A color gamut is a visual illustration of a TV's white, primary, and secondary color points compared to an international standard, such as Rec.709 (the HD standard for TV color). Testing revealed that the LF6100 actually struggles a bit to match the HD color standard fully; out of the box, it presented with a slightly undersaturated green that pushed towards a yellow hue. Fixing this hue problem caused green to become even more undersaturated—even in the Wide gamut mode, the LF6100 was unable to fully cover the Rec.709 gamut.
Other than green, however, the LF6100 presents with very accurate colors. Its primary red/blue and secondary cyan/magenta/yellow colors are almost all perfect, though prior to calibration, magenta was a little too blue, but this was easy to fix using the TV's Color Management System, which was very responsive.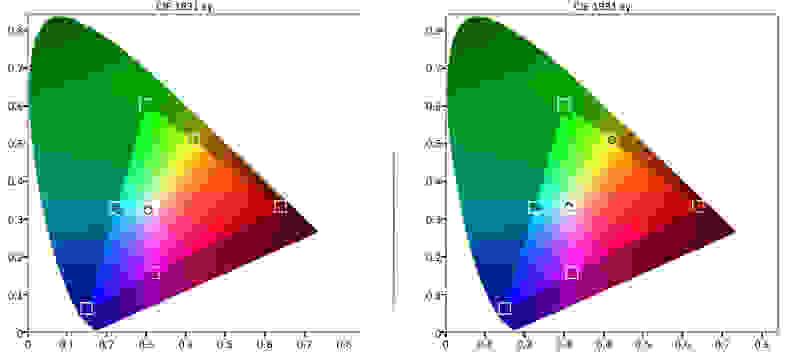 A good value value for bright roomers, but there are better theater options out there.
The 50-inch LF6100 lives right on the cusp between one of LG's higher-end, webOS equipped TVs and the more affordable entry-level that lack smart features. It would be a solid overall value if it performed a bit better for dark-room viewing, as these black levels are really only suitable for a lit environment. While the smart features are useful and the design is definitely top-of-the-charts for this price range, the lack of viewing flexibility is a shame.
The LF6100 is a great value as long as you watch with lights on or near windows.
If you're not as concerned about smart features but you want the same svelte design and crisp, modern interface, check out LG's 50-inch LF6000, which boasts much better contrast performance and is about $100 cheaper.
If you don't mind a cheap build quality, you can find a similarly sized 2014 Vizio E Series for a couple hundred dollars less. That TV's full-array backlight and hardware local dimming capture solid contrast, though its viewing angle is much worse.
Or, if you don't want to sacrifice viewing angle, color accuracy, contrast, or build quality, you could also get Sony's 50-inch W800B—one of 2014's best Full HD TVs—for about $700 online.
That said, the LF6100 is still a great value for customers who want smart functionality and home networking options without paying more for the LF6300 series with webOS. If you know you're going to be watching with lights on or ambient light from windows, you'll be perfectly pleased with this TV's wide viewing angles, color accuracy, and smooth motion performance.
In displays, the grayscale (spectrum of neutral shades from black to white) is created via a combination of a TV's primary colors (red, green, and blue). TV grayscale elements should adhere to a set of color gamut coordinates (roughly x=0.313, y=0.329) and a correlated color temperature of 6500K. However, when the primary colors aren't emphasized evenly, grayscale elements don't look right. Such error is expressed as a collective called deltaE (or dE), where a dE of 3 or less is ideal.
The LF6100's grayscale tested with a dE of 4.96, which is not too bad, but is higher than the 3 or less ideal. During calibration, we were able to reduce discrepancies in the LF6100's RGB balance and reduce the dE to 2.85. This is not as low as I would have liked, and seems related to calibrating the LF6100 to a BT.1886 gamma.


This behavior is a little bizarre if we observe the actual RGB emphasis. Prior to calibration, the LF6100 exhibited a heavy emphasis on the blue sub-pixel, with semi-nominal green emphasis and under-emphasized red. During calibration, I honed the emphasis almost perfectly using the TV's 2/20 point grayscale controls, which should have resulted in a much lower dE. This means the errors in our post-calibration grayscale were related to luminance rather than color balance.

The LF6100 tested with a gamma sum of 2.13 prior to calibration, which is "brighter" than what the TV was aiming for (2.2). This sum is the result of too small an increase in luminance between 90 and 100 IRE. The resulting post-cal 2.23 gamma is misleading, however, as the log-log generated line does not account for some of the subtleties and differential curve in the newer BT.1886 standard.


Meet the tester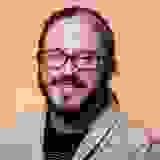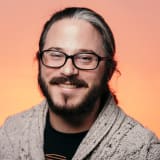 Lee Neikirk
Editor
@Koanshark
Lee has been Reviewed's point person for most television and home theater products since 2012. Lee received Level II certification in TV calibration from the Imaging Science Foundation in 2013. As Editor of the Home Theater vertical, Lee oversees reviews of TVs, monitors, soundbars, and Bluetooth speakers. He also reviews headphones, and has a background in music performance.
Checking our work.
We use standardized and scientific testing methods to scrutinize every product and provide you with objectively accurate results. If you've found different results in your own research, email us and we'll compare notes. If it looks substantial, we'll gladly re-test a product to try and reproduce these results. After all, peer reviews are a critical part of any scientific process.
Shoot us an email