televisions
LG 50LF6100 LED TV Review
Good design and decent smart features can't save this TV from middling contrast results.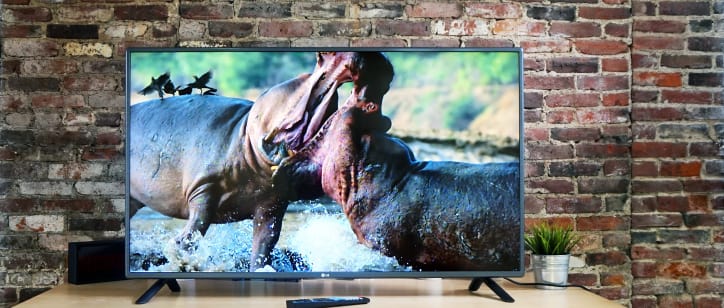 The 50LF6100 (MSRP $799) is a mid-size, entry-level Full HD option from LG that delivers smart functionality and a direct LED backlight. This series, which is also available in 55- and 60-inch sizes, is one step up from LG's LF6000 series, and adds smart features.
When I tested the 50-inch LF6000, I found it to be a solid performer for the price, mostly owing to its direct LED (or full-array) backlight. For $100 more, the LF6100 should deliver the same excellent performance, alongside smart functionality.
Yet while the software, smart features, and design are all top-notch, the LF6100 unfortunately suffers from disappointing contrast performance, enough to hurt its chances at supremacy. It doesn't help that the TV utilizes an aggressive, software-based contrast enhancement that (apparently) can't be turned off.
While the LF6100 is by no means a bad deal—it's a well-built smart TV with decent color and a great viewing angle—there are better overall performers out there for the same price, such as Sony's 50-inch W800B or Vizio's 2014 E Series.
Design & Usability
A minimalist design that's flexible for varied lighting conditions, but may over-extend your TV stand.
The 50-inch LF6100 is identical to the 50-inch LF6000 in both design and physical features. A matte, gunmetal bezel wraps the screen and decorates the LF6100's two caltrop-shaped feet, though they're primarily black plastic.
Below the screen, you'll find the usual etched "LG" insignia, but otherwise the bezels are clean and uninterrupted. The hybrid bright/dark coloration of this TV's bezels emphasize neither shadow nor specular elements by contrast, giving the LF6100 equal footing in bright and dark rooms.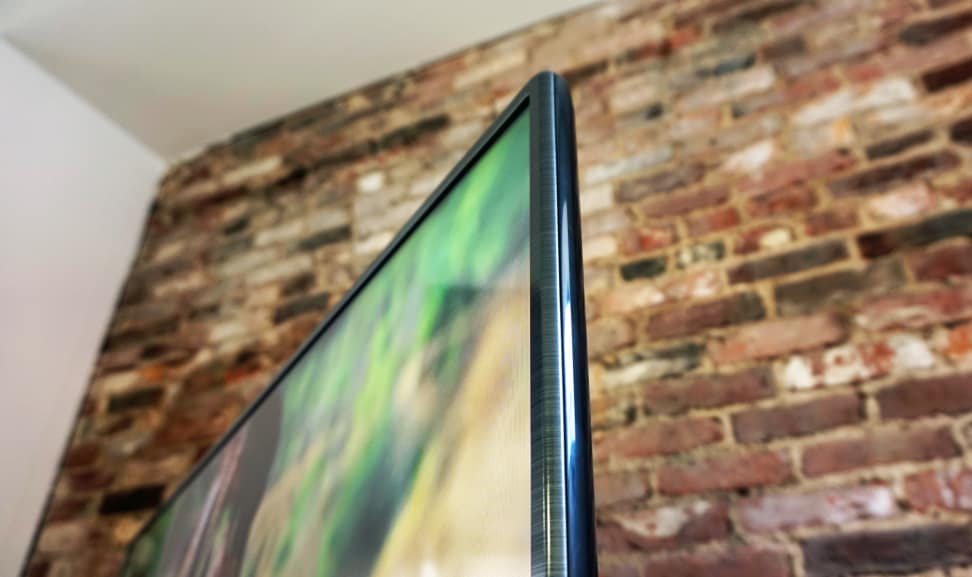 Utility elements, like inputs and control buttons, are hidden away on the back of the TV. One small gripe I have about the LF6100 is the port placement; while it utilizes both rear- and side-facing ports in the modern style, they're placed almost directly in the center of the TV's rear casing, which could make them hard to access if you're trying to reach around from the front (especially on the larger sizes, like the 60 inch version).
The LF6100 may not fit on your TV stand if it's narrow, as the feet are set very wide.
Tweet It
Otherwise, port variety and placement are fine. Side-oriented ports include three HDMI inputs and three USB 2.0 inputs—which is a pretty solid spread for an entry-level TV. Naturally, the rear-oriented ports are more "static" in nature, and number shared component/composite inputs, digital (optical) audio out, RF (coaxial) in for a cable/antenna direct line, LAN (ethernet) input, and an RS-232 control port.
Like the LF6000, and many of LG's 2015 TVs, the 50LF6100's two stand "feet" are set wide apart, almost to the edges of the panel. This isn't a problem if you're going to wall-mount this TV, but consumers should keep it in mind if their TV stand is narrow—the 50-, 55-, or 60-inch LF6100 may not fit.
You don't get LG's signature "Magic Remote" with this TV, but the included remote offers higher usability than the simpler version offered with lower-end models. Highlights include quick-menu and smart buttons for easy access to settings and apps, rockers for channel/volume adjustment, and dedicated play/pause buttons for streaming services. The remote is easier to use for some tasks than the motion-based Magic Remote, but obviously lacks the speed and precision for typing in URLs or passwords. My only complaint about it is the navigational buttons, which could use a bit more definition, especially considering there's no backlight here.
Software & Smart Features
It's not as good as webOS, but it works.
LG's new-and-improved webOS 2.0 smart platform is one of the better smart software packages in 2015, but you don't get it here. The LF6100 instead utilizes a clean, truncated version of the company's 2013 software. So, sadly, you'll find none of webOS's bubbly animations or cute characters here—but without the Magic Remote, we imagine webOS wouldn't be very easy to use, either.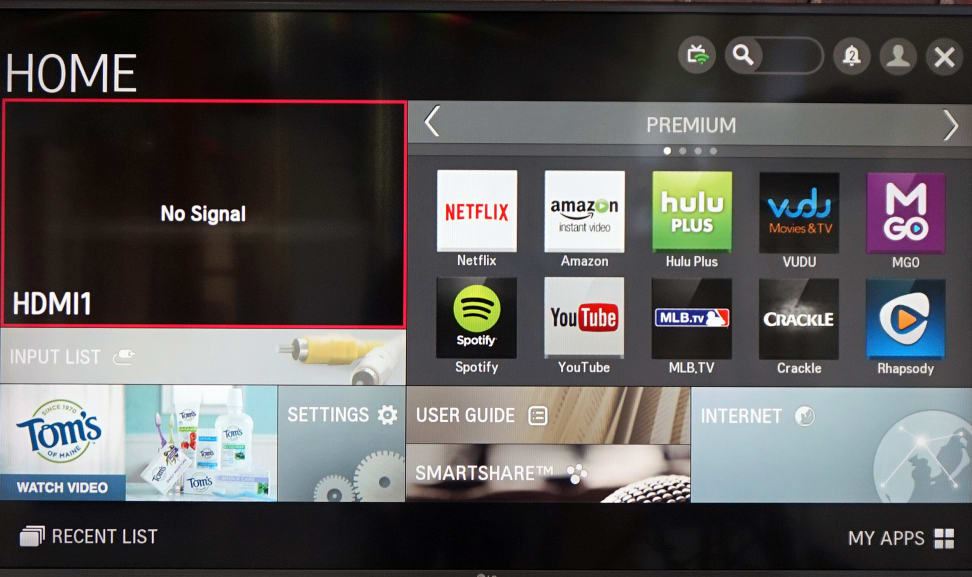 What you will find is a decent selection of apps and services, including heavy hitters like Netflix, Hulu Plus, VUDU, and Amazon Instant Video. If you've got cable or satellite service, the "Playing Now" option can be set up to reflect current programming from your provider. There's also a web browser that functions well enough, but isn't the best way to browse the web compared to a PC, smartphone, or even browsing on a TV with a better remote. Scrolling through pages using the "channel" pad is easy enough, but dragging your cursor via the remote's navigational button to select things on a page is sluggish.
There's a web browser here, but it doesn't compare well to the experience on a PC, tablet, or smartphone.
Tweet It
You can also access personal content wirelessly on your home network (or with a physical connection over USB) via LG's "SmartShare" function, which is helpfully baked right into the smart menu. While not all file types are supported, the most common formats for images, music, and video should stream directly to the TV. Ideally, you should be able to access any smartphones, computers, or tablets on the same network, but they'll all need to be capable of sharing media over a WiFi or Bluetooth connection, so older devices may not work.
Like other LG models, the LF6100's software settings and picture customization options cover all the bases. In particular, the 50LF6100 provides users with the same suite of calibration controls as LG's high-end models, including 2- and 20-point white balance (grayscale) controls, a full CMS, a gamma slider, and a few software enhancements to reduce analog noise, enhance sharpness, or smooth out motion performance. LG also includes all of the basic picture, sound, network, and tuning (OTA) controls.
Picture Quality
A solid handful of positive qualities held back by a shallow contrast.
After time in the lab with LG's 50LF6000, we were expecting similar results from the LF6100—and for the most part, the LF6100 boasts quite good overall performance. Unfortunately, it lacks the stellar contrast abilities we measured from the cheaper series, meaning it struggles to produce a fully immersive, lifelike picture.
Like the LF6000, the LF6100 wields a direct (LED) backlight with baked-in local dimming that automatically adjusts the backlight depending on what's on screen. Tests revealed somewhat predictable performance from this TV's IPS (In-Plane Switching) panel type, meaning luminous black levels that can't quite capture the shadowy, inky look that's such a necessary part of good picture quality. I measured black level from various test patterns and during actual content, and the result was repeatedly disappointing.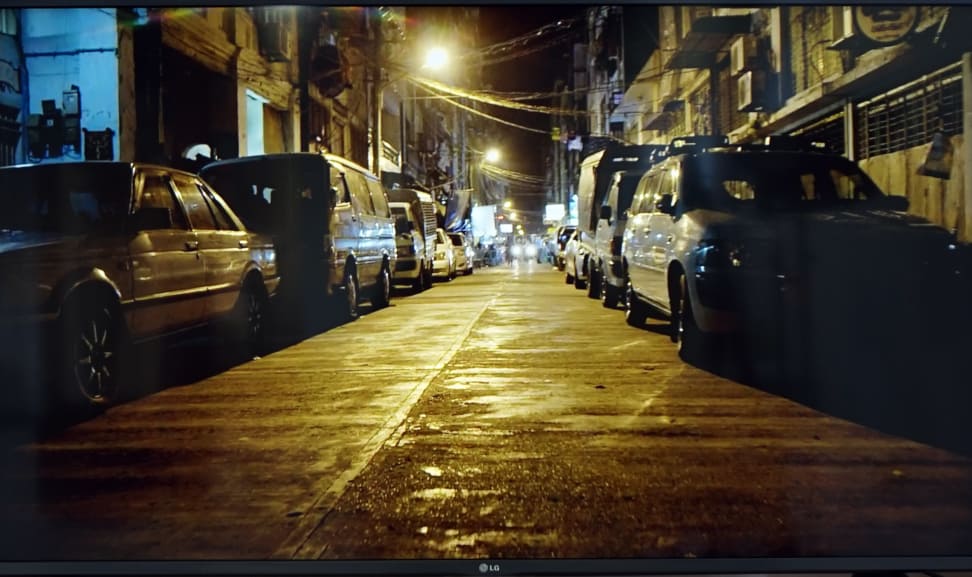 On the other hand, you won't notice these somewhat bright shadow tones as much if you're watching in normal or high amounts of ambient lighting, and the IPS panel provides notable advantages in other areas. For one, the LF6100 boasts a very good viewing angle for an LCD display, and at 10 feet away you'll have a huge amount of seating flexibility with a span of about 30 feet.
I was expecting good color performance, too, as that's another hallmark of IPS displays, but the LF6100 struggles to completely and accurately produce HD color. It's not bad by any means, but given a proper calibration (with a focus on accuracy for luminance, saturation, and hue), the LF6100 simply can't produce fully saturated green, even when the color gamut is set to Wide.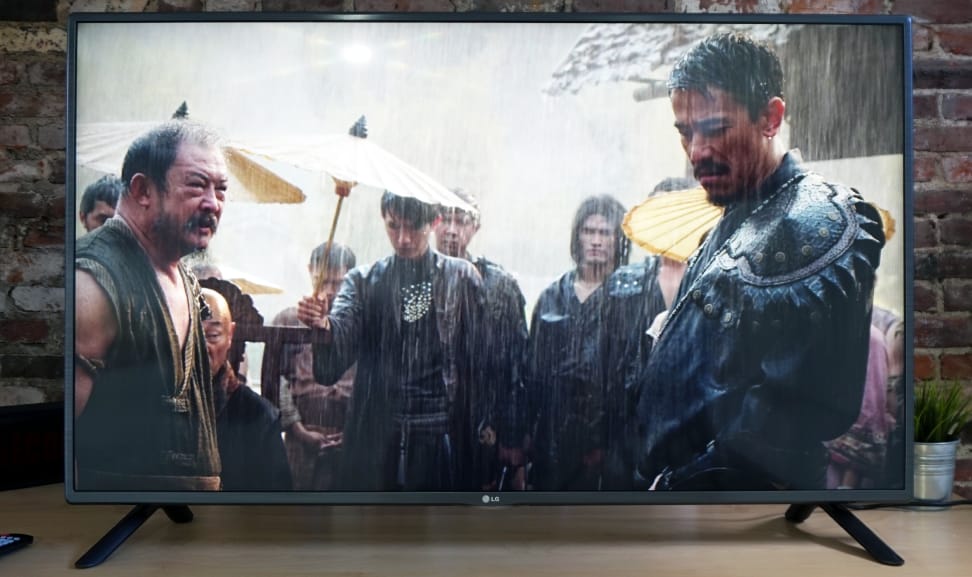 Fortunately, the LF6100 handles fast, moving content with aplomb. Customizable de-judder and backlight shuttering complement the panel's native 120 Hz refresh rate to render smooth, blur-free motion. Thanks to the LF6100's high brightness output, activating the backlight-dimming LED Clear Motion means you can have sharp resolution retention during motion without sacrificing overall visibility.
Finally, the LF6100 provides clean, color-free neutral shades, especially in the ISF Expert 1 picture mode. Many larger TVs in this price range suffer from a blue- or orange-tint that gives content a murky appearance, but the LF6100 looks mostly clean and bright right out of the box. And included 2- and 20-point IRE grayscale controls mean you can maintain this neutrality across various picture modes and gamma settings with an informed calibration.
To check out our pre- and post-calibration results for the 50LF6100, check out the Science Page.
The Verdict
A good value value for bright roomers, but there are better theater options out there.
The 50-inch LF6100 lives right on the cusp between one of LG's higher-end, webOS equipped TVs and the more affordable entry-level that lack smart features. It would be a solid overall value if it performed a bit better for dark-room viewing, as these black levels are really only suitable for a lit environment. While the smart features are useful and the design is definitely top-of-the-charts for this price range, the lack of viewing flexibility is a shame.
The LF6100 is a great value as long as you watch with lights on or near windows.
Tweet It
If you're not as concerned about smart features but you want the same svelte design and crisp, modern interface, check out LG's 50-inch LF6000, which boasts much better contrast performance and is about $100 cheaper.
If you don't mind a cheap build quality, you can find a similarly sized 2014 Vizio E Series for a couple hundred dollars less. That TV's full-array backlight and hardware local dimming capture solid contrast, though its viewing angle is much worse.
Or, if you don't want to sacrifice viewing angle, color accuracy, contrast, or build quality, you could also get Sony's 50-inch W800B—one of 2014's best Full HD TVs—for about $700 online.
That said, the LF6100 is still a great value for customers who want smart functionality and home networking options without paying more for the LF6300 series with webOS. If you know you're going to be watching with lights on or ambient light from windows, you'll be perfectly pleased with this TV's wide viewing angles, color accuracy, and smooth motion performance.
Our editors review and recommend products to help you buy the stuff you need. If you make a purchase by clicking one of our links, we may earn a small share of the revenue. Our picks and opinions are independent from any business incentives.
Our editors review and recommend products to help you buy the stuff you need. If you make a purchase by clicking one of our links, we may earn a small share of the revenue. Our picks and opinions are independent from any business incentives.
Advertisement - Continue Reading Below
Compare Prices
Our editors review and recommend products to help you buy the stuff you need. If you make a purchase by clicking one of our links, we may earn a small share of the revenue. Our picks and opinions are independent from any business incentives.
Advertisement - Continue Reading Below
Advertisement - Continue Reading Below
Advertisement - Continue Reading Below
Advertisement - Continue Reading Below
Advertisement - Continue Reading Below
Get Our Newsletter
Real advice from real experts. Sign up for our newsletter
Thanks for signing up!