Incredibly, LG announced yesterday that its brand-new 55EC9300 OLED TV (MSRP $3,999) will hit shelves later this month for sale prices of $3,500. In addition to super-deep black levels and vividly saturated colors that far outshine LCD and even plasma TVs, the 1080p, 55-inch EC9300 also impresses with elegant design and the company's hype-worthy webOS smart platform.
While the EC9300's lowered price tag is sure to thrill certain deep-pocketed buyers, it comes with a bit of a tradeoff; while the TV's black levels are truly stellar, it struggles more than other OLEDs to really nail home-theater standards. For instance, the TV pleases with highly saturated colors, but it doesn't perfectly adhere to international color ideals without informed calibration.
Barring its handful of mild flaws, the LG 55EC9300 is still a great value if you're looking for the ultimate TV trifecta: gorgeous design, ultra high-end extras, and solid picture quality.
Editor's Note
We reviewed the 2014 iteration of the LG 55EC9300, but LG has updated the model for 2015, maintaining performance and adding updated processing. The price has also been adjusted to an MSRP of $3,499, though you can find this TV online for under $2,000.
The Picture
Nothing short of stunning, even with a few flaws
Picture quality is the biggest allure of OLED TVs, and the 55EC9300 has it in spades. Testing revealed the same fathomless black levels and massive contrast that we've tested before on other OLED models. Black areas of the screen truly lack light, making for a very impressive picture. By contrast, bright elements seem to jump right off the screen, full of light and color.
Motion handling looks ship shape for the most part, though I certainly found room for improvement. While the TV handles movement well enough on the whole, it just lacks the kind of breathtaking efficacy I saw in other areas of this OLED's performance. Luckily, LG includes the same motion assistance mode (TruMotion) that we found on the company's Gallery OLED. The TruMotion setting is customizable to suit a range of content types; the feature doesn't perfect every instance of judder or blur, but it does enough to satisfy all but the most blur-conscious viewers.
The EC9300 performed well producing blue and green primary colors, but its red production is not as colorful and rich as it should be.
This wouldn't be a modern TV without color—OLED TVs are also renowned for their ability to produce very clean, accurate hues. For the most part, the EC9300 performed well in this regard, particularly with blue and green primary colors; but its red production is undersaturated, meaning red isn't as colorful and rich as it should be. We did find that the TV's red production can be corrected with an informed calibration, but it's a shame that the TV doesn't adhere to HDTV color standards right out of its box. On the other hand, the EC9300 also offers a wider color gamut, which purposefully exceeds the standard spectrum for those who prefer super-saturated colors.
Despite this TV's incredible black level, it ramps up in brightness in a way that's better suited for a room with normal or higher amounts of ambient lighting.
Another performance drawback I noticed is image retention which refers to ghost-like leftover shapes from previous content. In other words, I would exit a menu screen only to see a momentary trace of its former shape over top of new content. This effect can be distracting at first, but will fade over time. Just be warned that it may really bother you for the first 12-24 hours of use. The burn in on my sample eventually lessened in severity over time, but it took many days before it became undetectable to the naked eye.
Last but not least, consumers considering purchase may want to keep in mind that, despite this TV's incredible black level, it ramps up in brightness in a way that's better suited for a room with normal or even high amounts of ambient lighting. Dark and middle gray tones above black are too luminous for an ideal home-theater setup; for example, if you're watching a dim, wintery scene, highlights of white within dirty snow are so luminous that your eyes will struggle to see the subtler, darker details around them. You can fix this with an informed calibration session, but it's a shame that the TV isn't already set up for dark-room viewing out of the box.
The Look
A new leaf
LG's first OLED TVs broke the mold with new, cutting-edge design choices. From curved, transparent stands to wall-mount only gallery frames, LG really kept things fresh in the design department. Of course, many consumers want something more recognizable to decorate their entertainment stands, and that's one of the EC9300's strengths.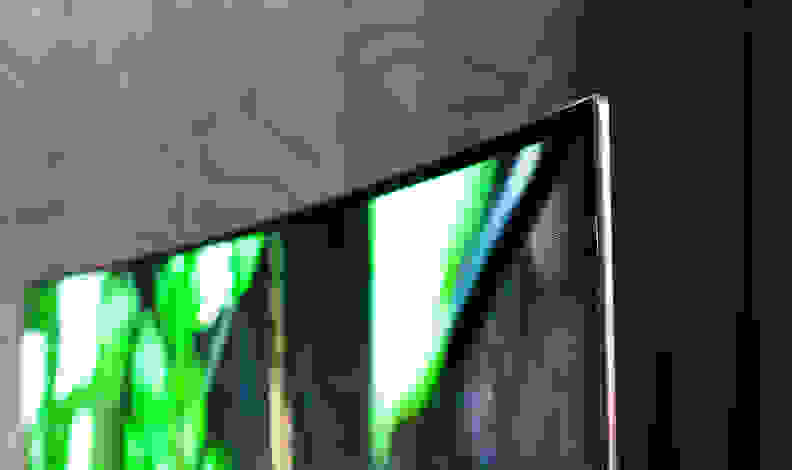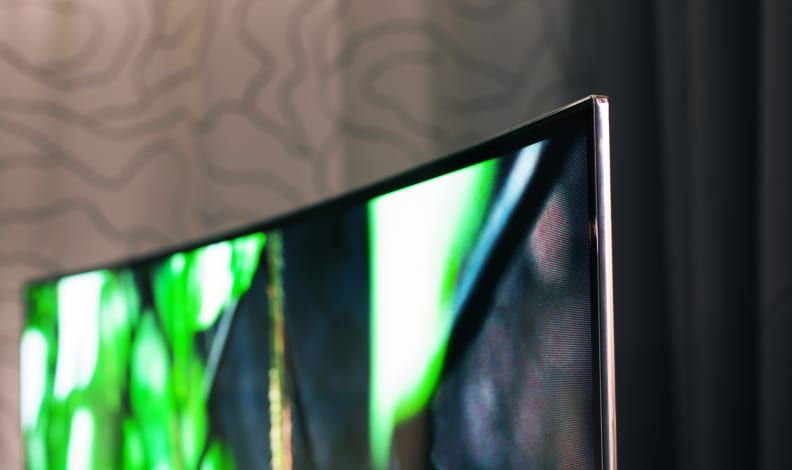 A leaf-shaped, metallic stand complements the super-flat OLED panel handsomely. The stand's convex curve actually softens the inverse curve of the panel, lending a welcome subtlety to the TV's appearance. The whole product is beautifully simple, and deftly avoids unnecessary embellishment. Rather than ostentatiously subverting "normal" design, the EC9300's approach feels more like a next-generation norm.
The Magic Remote is a small controller that uses a generated infrared signal to cast a cursor onto the TV's screen, kind of like the remote for the Nintendo Wii.
Like every other LG for the past few years, the EC9300 comes with the company's signature Magic Remote. The Magic Remote is a small controller that uses a generated infrared signal to cast a cursor onto the TV's screen, kind of like the remote for the Nintendo Wii. The Magic Remote makes it very easy to jump through the TV's menu interface or browse the webOS platform, but also requires a more granulated operative approach than a traditional controller—in other words, it may frustrate you at first.
On the back of the panel, users will find a healthy spread of ways to turn the EC9300 into a veritable media center. Ports on the rear include one HDMI input, a shared component/composite cluster, an RF (cable/antenna) input, a digital audio out, and a LAN (ethernet) in. There are also three more HDMI inputs on the side, stacked vertically with three USB 2.0 inputs and an RS-232 control port.
The Experience
webOS, where have you been all my life?
The EC9300 is not my first rodeo with LG's new smart TV platform, webOS. At CES 2014 and again while reviewing LG's 55LB6300, I found webOS to be a fresh, intuitive smart TV experience. The platform's app store wasn't unavailable at that time, however, so I was eager to take another look.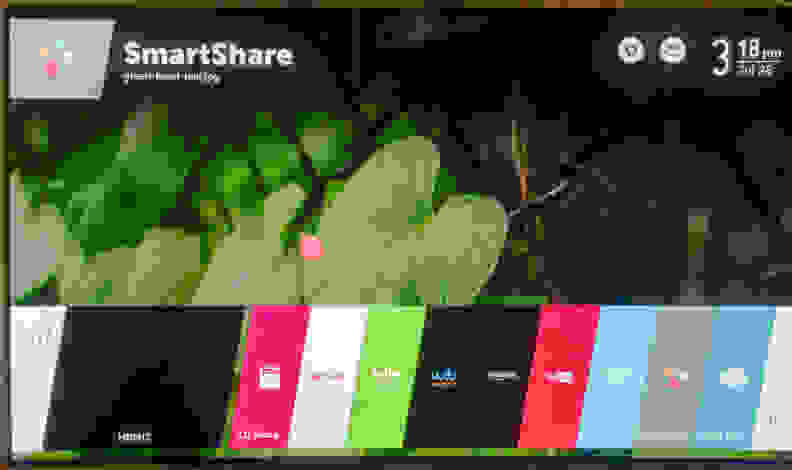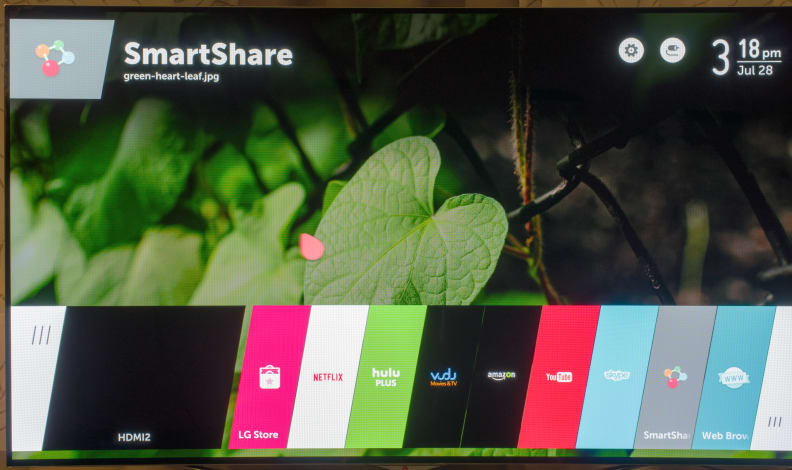 This time around, everything's accessible, and the platform feels much more complete. Getting the ball rolling is an appreciably fun experience thanks to the cutesy cartoon animations that accompany the setup process. Once you've connected to the internet, accessing webOS is as easy as pressing the little "Home" key on the Magic Remote. Apps line up horizontally in colorful wedges along the bottom quarter of the screen, so you can keep watching TV while you browse.
Say you open Netflix; you can back out, hop into LG's app store, download a game, and then jump right back into Netflix without rebooting the whole app.
The best thing about webOS, however, is that you can utilize multiple apps at the same time. Say you open Netflix; you can back out, hop into LG's app store, download a game, and then jump right back into Netflix without rebooting the whole app. This might sound like a basic necessity in today's digital age, but it's quite advanced within the world of the smart TV.
Picture quality aficionados and D.I.Y calibrators will be happy to know that the 55EC9300's on-board menu software is also very exhaustive. There are multiple picture modes to choose from, such as the Cinema, Sports, and ISF Expert modes. The EC9300's Expert Control menu contains 2- and 20-point white balance controls, a gamma pre-set selector, and a full CMS (Color Management System). These extensive controls allow an informed calibrator to tweak this OLED to almost perfectly match the ITU's specifications for HDTVs.
The Verdict
Easily the best OLED value so far
For $3,500, the EC9300 does a lot of things right. The sleek leaf stand and super-thin panel feel very futuristic, and the TV's smart platform is arguably the most pleasant interface we've ever used. Prices on OLED TVs stood at $15,000 this time last year; with a price drop this big, we're convinced that affordable OLED could be just around the corner for many consumers.
If you've been yearning for flashy new TV tech, but want to avoid ostentatious design and hard-to-use features, the EC9300 is a truly brilliant choice.
Of course, at its current price of $3,500, the EC9300 is nowhere near cheap. At 55 inches, it also isn't particularly large. The combination of great extras, almost-perfect picture quality, and frills-free design lend it a huge helping of value, however.
If you've been yearning for flashy new TV tech, but want to avoid ostentatious design and hard-to-use features, the EC9300 is a truly brilliant choice. While it isn't the best-performing OLED we've ever reviewed, it's still an OLED—and it's affordable enough compared to the first models to claim the title of best OLED value, hands down.
Behind The Screens
The LG 55EC9300 (MSRP $4,999) boasts a lot of value with a combination of sleek design, LG's vaunted webOS platform, and the core performance that's natural to OLED TV panels. I tested the same incredible black level and massive contrast as with previous OLEDs, but the EC9300 also exhibited a few flaws that weren't present on LG's EA9800 and EA8800. This TV undersaturates red, follows an overly steep gamma curve, and creates mild but present banding when transitioning between color gradients.
Calibration
Because it has a gamma pre-set slider, both 2- and 20-point white balance controls, and a full CMS (Color Management System), calibrating the EC9300 was no short-term task. We calibrate each TV we review to both test its out-of-the-box performance and to show consumers what level of performance it's capable of with an informed calibration.
Calibrating the EC9300 involved reducing its Oled Light to match the 40 fL output ideal for home theater viewing, as well as adjusting the Gamma pre-set to help it achieve a 2.4 gamma curve. The most arduous task was correcting the TV's RGB balance, however, as it tends to over-emphasize blue and green at the expense of red across the entire grayscale spectrum.
Below, you'll find my 2- and 20-point white balance settings and CMS settings alongside the out-of-the-box pre-sets.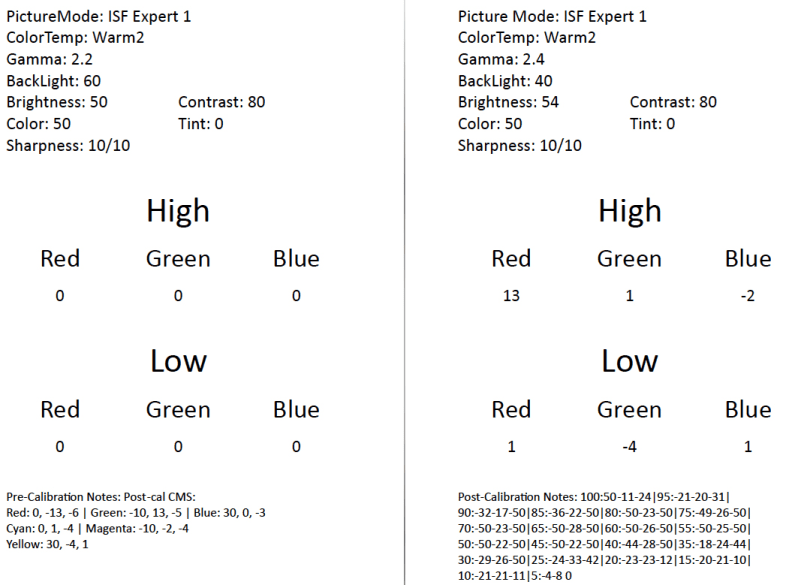 Contrast Ratio
Contrast ratio, the measure of a TV's maximum light output divided by its darkest black level, is an area where OLED TVs truly excel—in fact, it may be their greatest strength. Because OLED (organic light-emitting diode) cells turn on and off individually (based on content), they are able to get extremely bright while simultaneously maintaining very dark, practically pitch-black shadows.
The EC9300 tested with a severely dark black level of 0.001 cd/m2, an amount of light so small that it's almost impossible to detect with the naked eye. In its ISF Expert 1 mode, the EC9300 pairs this black level with a peak brightness of 121.30 cd/m2, though it grows much brighter than this depending on content. The EC9300's contrast ratio of 121,300:1 is leagues beyond anything from past years, plasma or otherwise, and is in-line with the other OLED TVs we compared it to.


Viewing Angle
Our viewing angle test measures how much flexibility a TV accords viewers who prefer watching from off-angles, away from the center of the screen. Due to panel design and self-lighting pixel cells, this is another area where OLEDs perform above and beyond other TV technologies. Like the other OLED TVs we've tested, the EC9300 boasts a total viewing angle of 178°, or ±89° from the center to either side of the screen. This means you can watch the TV from practically any angle, making it a great choice for large rooms or wall-mounting.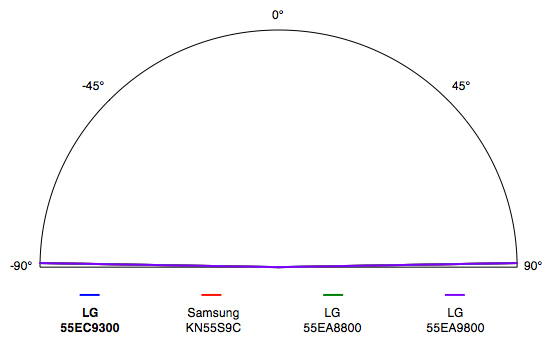 Color Gamut
A color gamut is an illustration of the span of colors a television produces. When a TV's colors are 100% saturated (fully colorful), they should match an international color standard called Rec. 709. We measure each TV's primary and secondary colors against this standard.
In the case of the EC9300, I found that the TV produces accurate blue and green primaries, but tends to undersaturate red in both the Cinema and ISF Expert modes. This causes yellow to skew a bit towards green, and magenta to skew towards blue. Using the TV's CMS (Color Management System), I corrected the errors with color production, but it's a shame that the TV doesn't come pre-calibrated to the proper color ideals.
It's also worth mentioning that the EC9300 supports an "expanded" color gamut that increases the saturation and vivacity of colors by 10-20%. It might make some content look unnatural, but it really adds a fresh look to things like cartoons, nature documentaries, and some video games.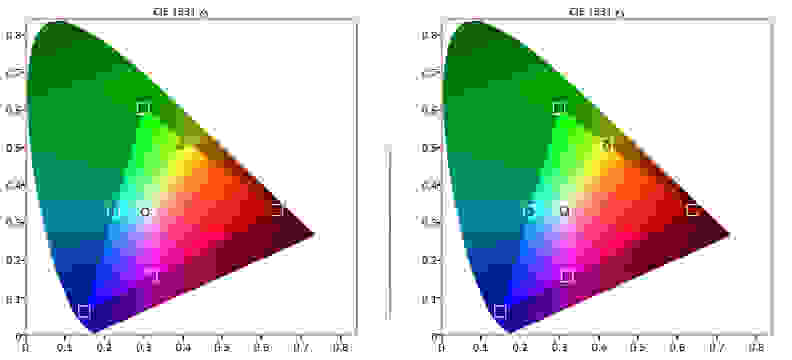 Grayscale & RGB Balance
In display tech, the grayscale refers to the range of neutral shades a TV produces, from blacks, to dark grays, to bright whites. Using an additive color process, TVs produce shades of the grayscale by combining red, green, and blue sub-pixels. The ideal shades of the grayscale adhere to a correlated color temperature of 6500K, which is the international standard for movies and TV shows. Error within grayscale accuracy is measured as a collective called DeltaE, where an ideal result is a DeltaE of 3 or less. When steps of the grayscale do not meet 6500K, they tend to be tinted with excess blue, red, or green, depending on the nature of the imbalance.
Prior to calibration, the EC9300 tested with a DeltaE of 6.04, which is more grayscale error than we like to see. During calibration, I reduced the grayscale DeltaE to 2.78 using the TV's 2- and 10-point white balance (grayscale) controls.

Error within the grayscale is usually the result of an imbalanced sub-pixel emphasis. A closer look at the EC9300's RGB balance revealed that it tends to over-emphasize the blue and green sub-pixels at the expense of the red sub-pixel, which maybe responsible for the undersaturated red point detailed above. Using the grayscale controls, I added some red back into the white balance, smoothing out the sub-pixel emphasis to achieve the DeltaE of 2.78 mentioned previously.
Gamma
Gamma, usually expressed as numbers like 2.0, 2.2, or 2.4, is an evaluation of how much luminance a TV adds at each step between its darkest and brightest light output. Gamma ideals change depending on how bright (or dark) the viewing room is. Most TVs adhere to a gamma of 2.2 by default, ideal for a dim room, but we calibrate to a 2.4 gamma because it's more suitable for a dim or dark home-theater environment.
This is one area where the EC9300 does not behave ideally. Because it's capable of such extreme brightness, it tends to add too much luminance at each output step from black to white, adhering to a gamma of 2.11 by default. This gamma curve means excessive luminance is added at each step, resulting in the loss of subtle details within gradated areas of the picture.
Using the 10-point white balance control, I was able to remove enough green (the most luminous sub-pixel) to decrease this brightness and achieve a gamma of 2.42, which is very close to the home-theater ideal.
Meet the tester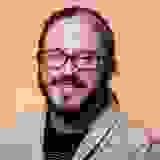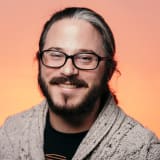 Lee Neikirk
Editor, Home Theater
@Koanshark
Lee has been Reviewed's point person for most television and home theater products since 2012. Lee received Level II certification in TV calibration from the Imaging Science Foundation in 2013. As Editor of the Home Theater vertical, Lee oversees reviews of TVs, monitors, soundbars, and Bluetooth speakers. He also reviews headphones, and has a background in music performance.
Checking our work.
Our team is here for one purpose: to help you buy the best stuff and love what you own. Our writers, editors, and lab technicians obsess over the products we cover to make sure you're confident and satisfied. Have a different opinion about something we recommend? Email us and we'll compare notes.
Shoot us an email