Introduction
As we expected, the 55LM9600 is no slacker either. The 3D is still just as good as it was, with comfortable glasses and even more comfortable content, and crosstalk problems appear to be a thing of the past. Likewise, the Magic Remote is still in full force, making it extremely easy and intuitive to navigate LG's content-heavy Home menu, use the built in internet browser, and change settings and inputs on the fly.
Like the LM6700, the LM9600 is also a strong core performer, though not quite as effective as its sister model. Its got a good selection of ports, a sensible design, and the same great menus and software features that we found so pleasing about the LM6700 series. The whole TV makes for a winning package, and if you can get past its somewhat irregular appearance, the LM9600 may be one of the smartest buys of early 2012.
Design
The LG 55LM9600 has a very similar—if not identical—design scheme to the 47LM6700, another LG from 2012; its highlights include a thin silver bezel, a minimalist stand, a slim side profile, and LG's signature Magic Remote. These features combine into a futuristic frame that houses and draws attention to the LM9600's screen. While this design might be a bit sci-fi for some users, we personally find it to be an attractive, slightly defiant paradigm shift from the boxy TVs of yesteryear.
Despite their new design schematic, LG has not made changes to the more subtle aspects of the LM9600's build. The stand allows for forward and backward swivel, as well as a very mild amount of tilt. A good selection of ports grace the back and side, easily accessible and clearly labeled. The LM9600 is also VESA certified (400 x 400).
Again like its sister model, the LM6700, the LM9600's manual controls are tucked away in a recessed spot on its back, aesthetically hidden but still fairly easy to locate. We have our qualms about this placement; as the saying goes, "Out of sight, out of mind," but it's the out of sight part that worries us. LG continues to use this placement scheme, however, so someone out there must dig it.
With this kind of design scheme, users are going to wax and wane in their appreciation. We find it attractive, but can see where plenty of folks might find it to be too outlandish.
Overall Design
The LM9600's silver bezel and stand are streamlined to be as minimalist as possible, supporting its monolithic screen while managing to stay pretty well out of the way. The stand can be a bit of a nuisance, however, as its curved design gives it less overall surface area; because of this, the whole TV has more of a tendency to wobble than TVs with the traditional "big rectangle of plastic" stand, and it's harder to slide around on a flat surface. The LM9600 would probably look and work best after it had been wall-mounted, but that's up to the user.
Front
The LM9600 is very screen-oriented: there's not much to see in terms of the stand and bezel, so even when it is balanced upon its thin metal bar, it looks a little like an imposing black rectangle that floats magically in place.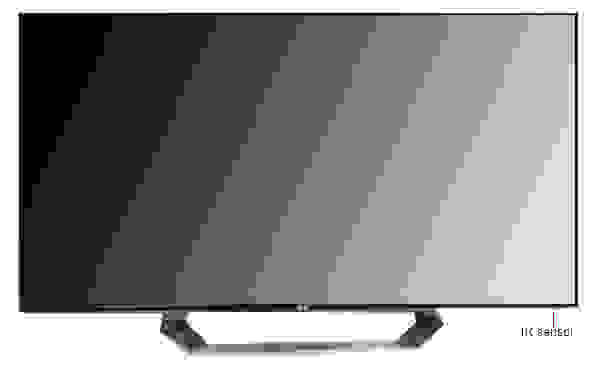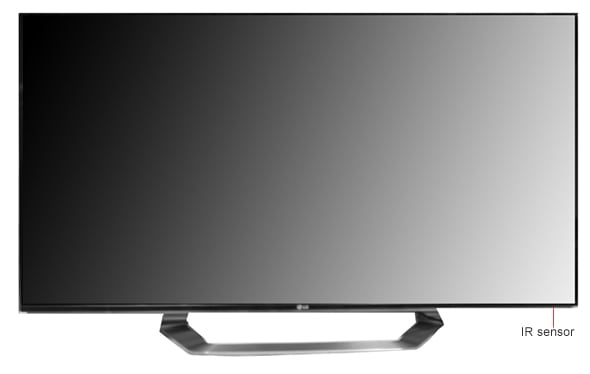 Back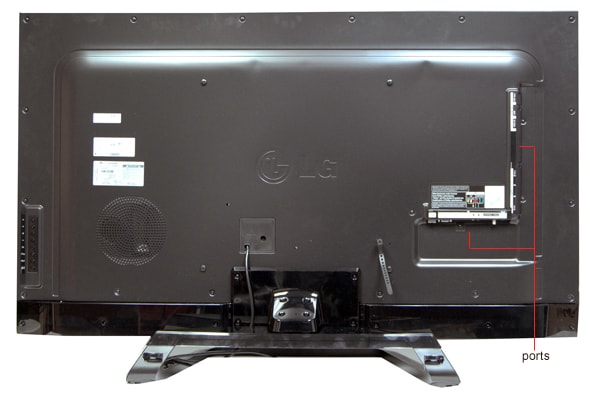 Sides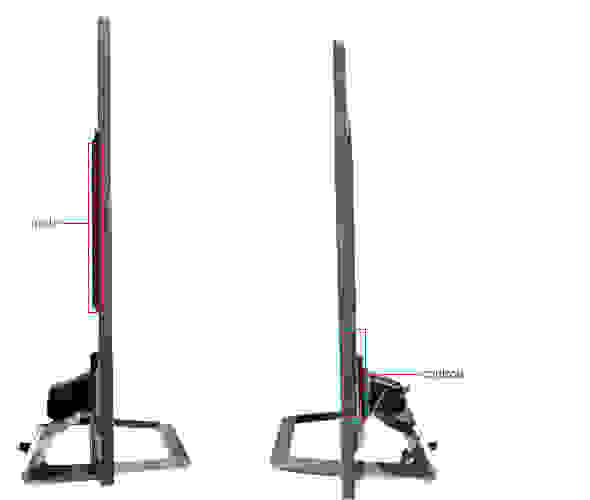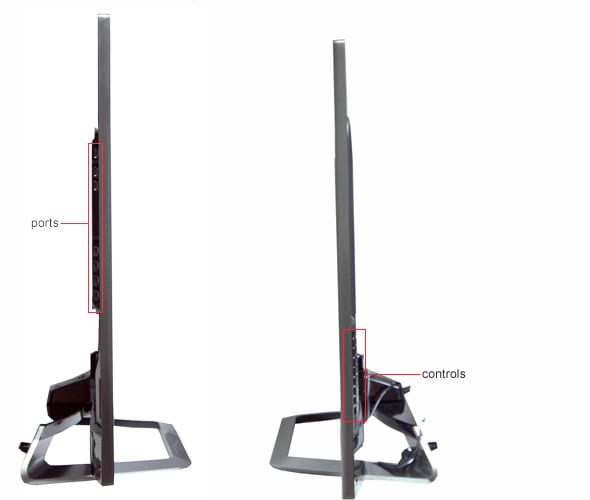 Stand/Mount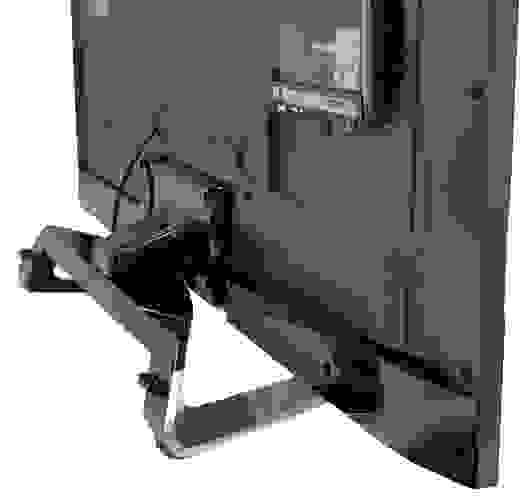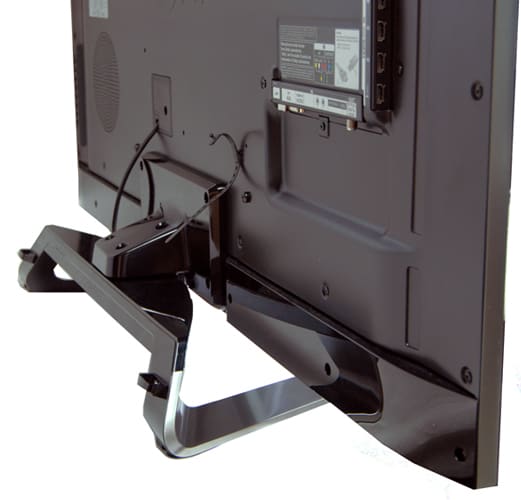 On-set Controls
The LM9600's manual controls are tucked away in a recessed area behind the TV itself, on its right side. They are simple enough, and from bottom to top are fairly intuitive for anyone who's used a TV since about 2004, but we still don't like their hidden placement. The fact is, without visual data, its pretty hard to tell which of the buttons your fingers are touching without checking and counting the entire row. The buttons give good tactile response, but their individual etchings don't give much sensory feedback unless your fingers are baby soft.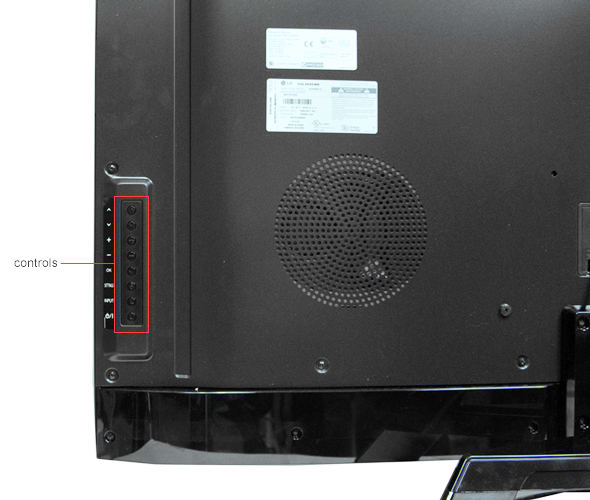 Remote Control
LG's Magic Remote works quite well, so we know they aren't just cashing in on the gimmick of motion control. It makes for a slightly more "fun" control experience for users, but was clearly manufactured and designed with right-handed people in mind, as it tends to jump and stutter--and get all kinds of confused--when held in the left hand.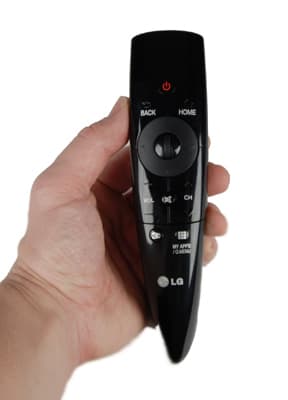 In the Box
In the box, users will find the TV, stand, stand mount, 8 screws, manual, warranty info, remote (with batteries), 3 pairs of 3D glasses, and a cleaning cloth.
Connectivity
Like many HDTVs, the LM9600's HDMI and USB inputs are located along its left side. There are 4 HDMI ports and 3 USB ports, with the USB ports serving different functions: one is designated for a hard drive connection, the second is for a media device, and the third for apps updates.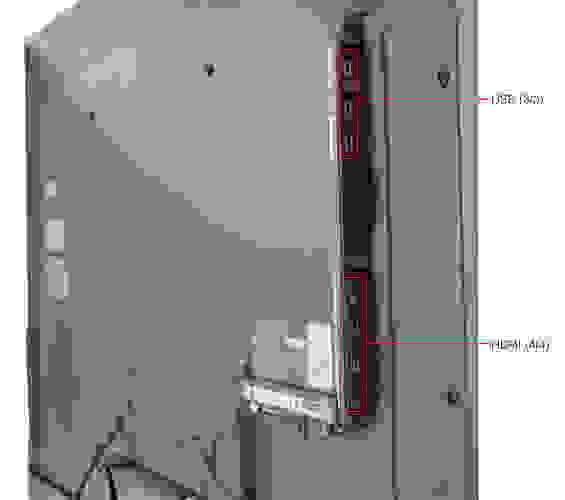 A recessed area on the back of the TV houses the rest of the ports: component and composite inputs, PC input, cable/RF input, PC audio input, optical/digital audio input, and a wired (LAN) input can all be found here.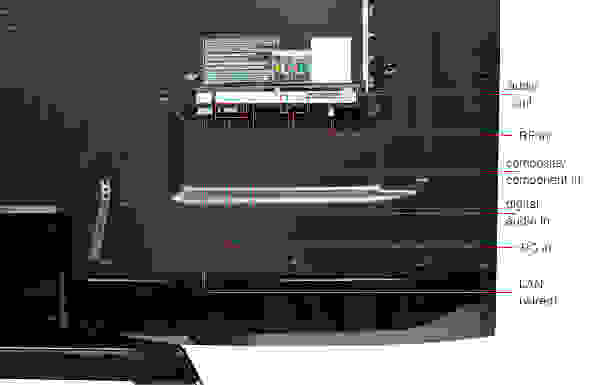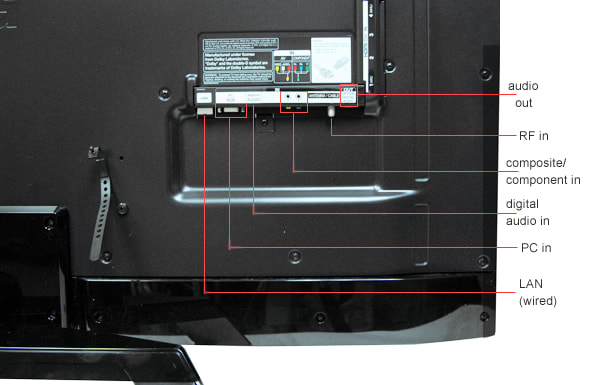 Other than its dedicated USB update and wired LAN inputs, the LM9600 does not have a plethora of multimedia ports; that is to say, it has the basics, but nothing we'd call "fancy." Still, it allows for firmware updates; picture, music, and video playback; and portable hard drive access.
The ports on the LM9600 follow a standard design scheme, with more commonly accessed/changed ports (HDMI and USB) located along the left side, while the rest of the available ports (composite, cable, audio inputs) are located within a recessed area on the back of the TV. This has proven to be a good port set-up in the past, and is doubly ease to use when combined with a display that swivels.
Performance
The 55LM9600 is bringing a lot to the table, including a huge amount of smart content, a motion-based infrared wand remote, and a pretty sizeable screen at 55-inches. But one of the most important aspects of any TV is its core performance, and you'll be happy to know that the LM9600 delivers in that area as well. It didn't test a massive contrast ratio, but over 2000:1 is plenty of black-white differentiation in our book; in this same vein, its color accuracy and color temperature weren't perfect, but they were still very good.
Tested against the comparison models we pulled (and we purposefully put it up against some stiff competition), its viewing angle and screen dynamics were well within acceptable range. More importantly, it tested well in areas that are usually quite spotty: audio and 3D. These two features tend to be weaker points for many TVs if they get mentioned at all, but the LM9600--like the LM6700--showed us a clean, subtle application of 3D that felt refined and even tasteful when compared to the kind of 3D that leaves you with a headache and a bunch of crossover. Its audio wasn't surround system worthy, but for a TV of this size, it was plenty loud and had good diversification between treble and bass amplitudes.
It's great that LG has given us such a solid model as a base for so much content and so many extra features, because at $3000, anything less would be a huge party foul. For that kind of price, we expected a little more from this TV in contrast and color performance. Smart content is not an excuse to skimp on core performance.
Contrast
After comparing it to its sister model, the LV6700, we were impressed with the LM9600's contrast ratio. It fell short of the other two comparison models, with Sony's LCD and Samsung's plasma testing much deeper overall black levels. The LM9600 makes up for its unimpressive black level by testing a comparably high peak brightness--over 200 cd/m2 brighter than the LV6700. More on how we test contrast.


Color & Greyscale Curves
Other than its grayscale ramping up a little too quickly, these color curves are actually quite good. A bit bumpier than we'd like, but during live viewing, we didn't notice any major banding between color groups. For the most part, the whole color spectrum is going to be well represented and consistent. More on how we test color performance.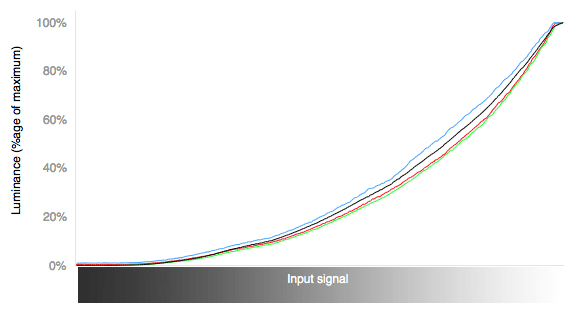 Color Temperature
As you can see from the chart, the LM9600 has some notable errors with color temperature consistency, and lots of this will be visible during viewing—though we didn't notice anything too glaring through subjective viewing, it's clear that something is amiss with the way this TV handles color temperature production. More on how we test color temperature.
Color Gamut
This kind of gamut test is what we hope for; all the colors are spot on, but unfortunately, the LM9600 missed the white point, which explains the color curves performance above. Considering what a relatively bright TV it is, you might notice some visual errors in whites and light grays, but their steady temperature should keep them from being too distracting. More on how we test color temperature.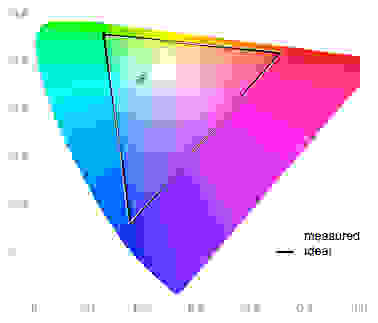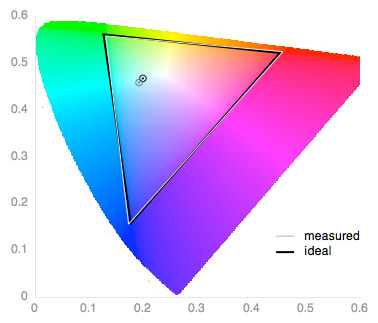 Picture Dynamics
We were very pleased with the LM9600's picture dynamics. It tested consistent whites and blacks, without a lot of blemishing or forced brightening/dimming. It doesn't have the biggest contrast ratio on the market, but it performs well during dynamic shifts in content none-the-less. More on how we test picture dynamics.
Resolution & Formats
The LG 55LM9600 supports all NTSC and ATSC formats.
Viewing Angle
A huge viewing angle is the forte of plasma televisions, but the LM9600's moderate 34-degrees from center isn't bad for an LCD. It tested with a marginally wider viewing angle than the LV6700, and a much wider viewing angle than the Sony Bravia we pulled for comparison. All of them were crushed by Panasonic's plasma, but that's to be expected.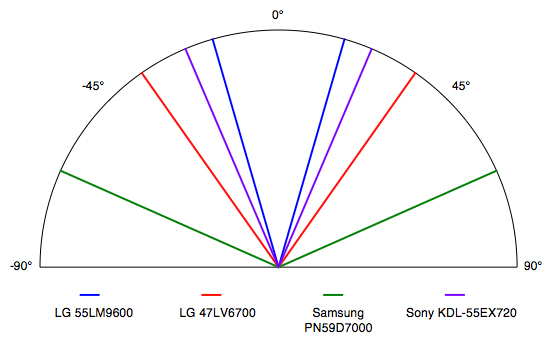 Motion Performance
During our standard motion performance tests, we challenge each television to accurately display moving pictures across their screen without exhibiting color trailing, artifacts, or shape distortion, and the LM9600 did just that. It had absolutely no artifacts, and maintained complex moving pictures and their subtler details quite well. Hatched brickwork and faces maintained their contrast and color integrity during motion, and bands of contrasting lines kept their individuality. This is great motion performance, no matter which way you slice it.
Screen Uniformity
Overall, the LM9600 tested with good screen uniformity. It had the same problem that so many televisions do, however, showing us some mild flashlighting at the lower corners of the screen during our black uniformity test, with the bezel causing a small but noticeable shadow around the edges of the screen during our white uniformity test.
Audio Quality
The LG 55LM9600 has 3 on-set speakers: two 10-watt, two-way speakers (meaning they play sound towards the front and the back of the TV) and a 10-watt subwoofer. While the LM9600 wasn't the loudest TV we've ever tested, it maintained good clarity and volume for the content we viewed, with a rare diversity amongst pitched trebles and deep basses, meaning volumes didn't stagnate into a mesh of middle tones. We'd like if the speakers were a little louder to match the big 55-inch display, but they've got enough power for watching by yourself or with a couple of quiet friends.
Power Consumption
Running the LG 55LM9600 is not a huge energy drain, despite it looking like something that belongs on a spacecraft. Most users will pay about $16.66 a year, but even with the backlight maxed that number only goes up by about $8.50. Fact is, that's not bad for a 55-inch TV.
The LM9600's consumption was a little higher than the very similar LM6700, but it still consumed less than the Sony Bravia 55EX720 by a small margin and much, much less than the Samsung plasma we pulled for comparison.
Calibration
The LM9600 is a pretty easy TV to calibrate, as most of its picture settings only required minor adjustments to their factory settings. We calibrate all of our TVs in conjunction with the DisplayMate software to achieve maximum contrast and color performance. Out of the box, the LM9600's video mode was set to Vivid, which we promptly changed to Standard; we then found the best contrast and color response after adjusting Backlight to 100, Contrast to 100, Brightness to 52, Sharpness to 0, and Color to 31.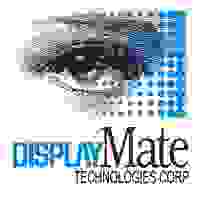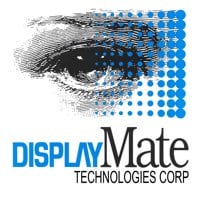 All of our calibration is done in conjunction with the DisplayMate software.
Video Modes
The 55LM9600 has an almost dizzying variety of Video Modes, which unfortunately are not listed or described in the owner's manual. There are 8 total, and they are found under the Picture Mode tab in the System Settings menu of the LM9600.
3D
During our first experience with LG's new 3D implementation while reviewing the 47LM6700, we walked away feeling very impressed. We've spent a good amount of energy and eyesight meticulously testing each company's 3D as it's been refined and refurbished, and so far LG has proven to be one of the best, if not the best, innovators in 3D televisions. That quality is held over in the LM9600. LG's passive 3D glasses are minimalist in their set-up, which we prefer over an active set that needs to be charged. Active glasses also tend to feel heavy when worn over long periods of time, and often needs to be bought separately from their TVs. Furthermore, the headache effect is entirely absent while viewing 3D content on the LM9600--though we could definitely feel the effects of the differentiated technology (discussed in more detail here) being sorted out by our fully competent brains.
The best thing about the 3D, we feel, is that it's easy to forget you're watching it. LG's glasses are lightweight and comfortable, and don't dim colors as much as some of those we've tried in the past. Further, and more importantly, the crosstalk is very minimal if it's present at all, leaving the brain and eyes to comfortably settle on a tastefully rendered series of 3D images. Grays and blacks sprinkled with debris and starlight within a space scene maintained their color integrity while still appearing to stretch into the background and foreground of the screen's 2D plane--the real goal of all 3D content.
To top all this off, LG has provided serious support to their 3D televisions by making use of a wide array of apps, and their signature 3D World, to make sure users actually have 3D content to view. These small efforts combine into a rather appealing final product, and for the first time since the LV6700, we felt eager to pop on the 3D shades and reflect on what it means to bridge the third dimension.
If you want quality 3D that's as effective as it is subtle, you may have to wait a few more years. But in the meantime, LG has come as close as any manufacturer yet, and the LM9600 won't disappoint.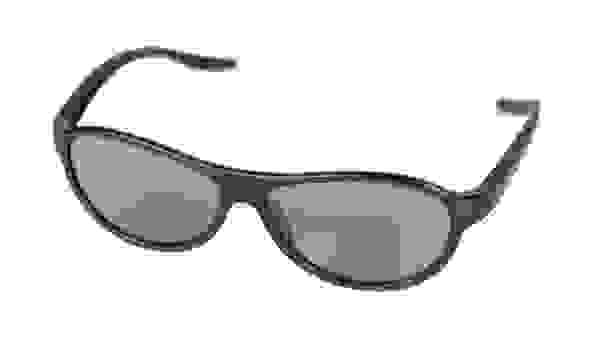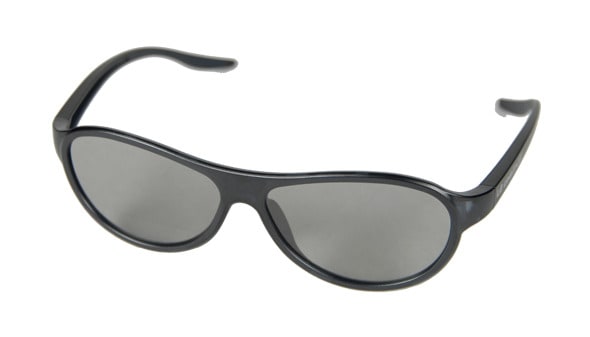 3D Effect & Experience
The LM9600's 3D effects are superb: they are consistently smooth, with very little crosstalk, while managing to maintain good color fidelity. All the things we look for in good 2D content, but with the added bonus of depth perception.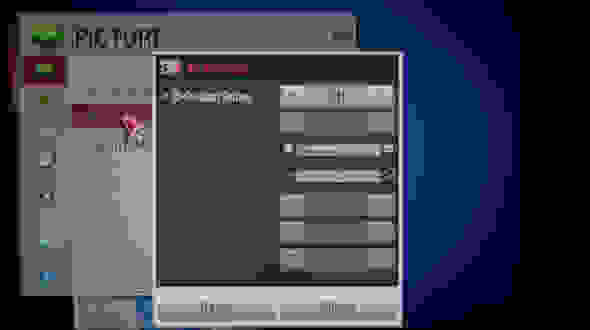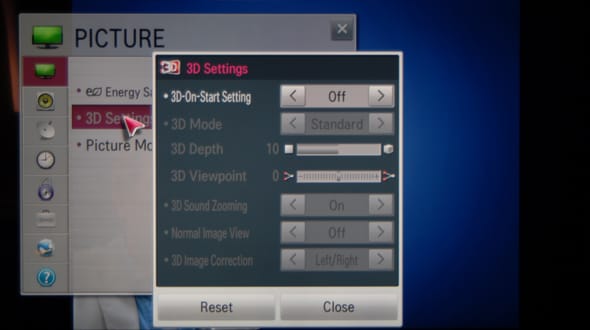 The LM9600's 3D glasses are simple in their appearance and comfortable, so you won't mind wearing them for any physical or aesthetic reason. But the best thing about them? They're free.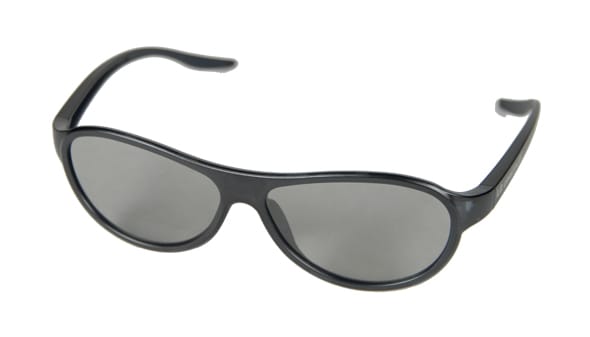 3D Color
Unlike its 2D content, the LM9600 had some fairly noticeable color temperature errors across the input spectrum while displaying 3D content. Fortunately, this is due (in part) to the darkening effect of the glasses, and is not terribly noticeable while actually viewing content (despite looking like a staggering problem in the chart below).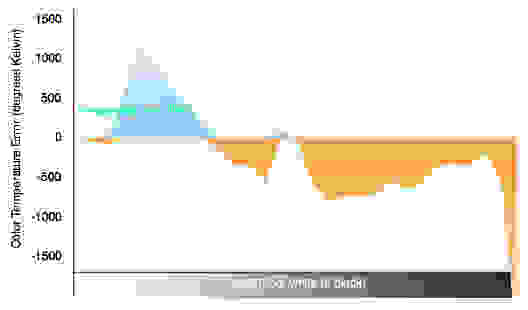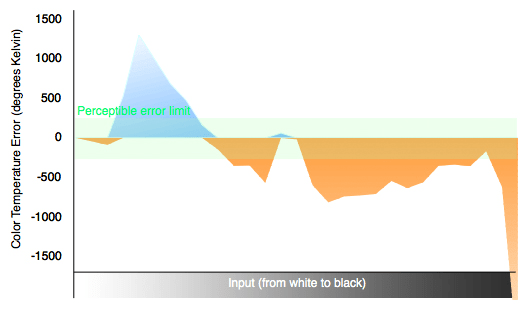 The LM9600 tested some decent 3D color curves. They're not as good as its 2D curves, but that's to be expected. Most colors ramp up a little too quickly, which is unfortunate, but we didn't notice anything too heinous during our subjective viewing.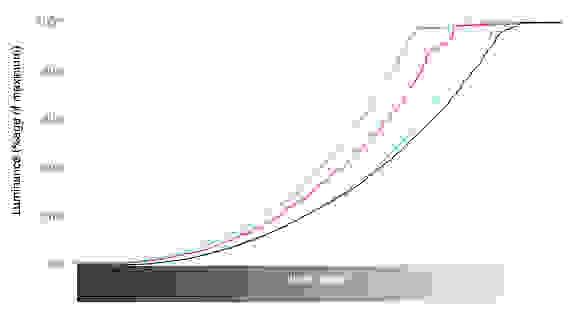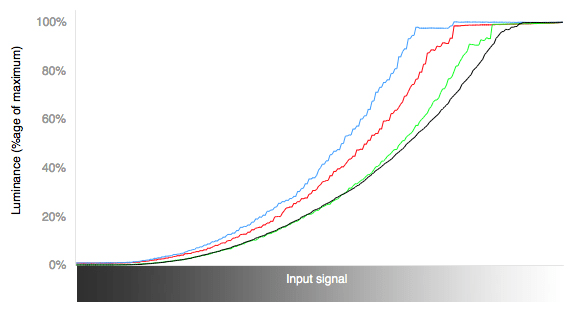 The black input color gamut chart is a very good visual cue as to how consistent a TV's color is going to be. Judging from the LM9600's 3D gamut results, perfect color is not going to be possible while viewing 3D content, and users who are looking for perfect color regardless of how many dimensions its rendered in should keep that in mind.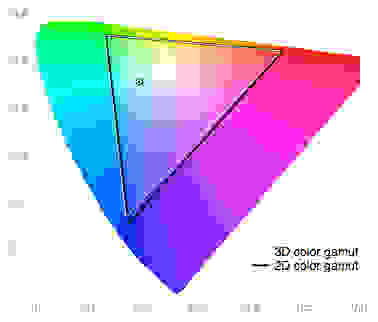 3D Crosstalk
With the LG 47LV6700, we saw some of the best 3D crosstalk performance out of any 3D TV we've yet reviewed, and the LM9600 gives users that same level of quality.
Software & Internet
During our review of the LM6700, we got our first taste of LG's all-inclusive content megastation (aka its Home menu), and let us just say that we're glad we've already gotten some practicing in navigating through it: there is a lot here.
That's not necessarily a bad thing, however. It's definitely better to have more stuff than you have time to use than not enough, if you're going to choose one or the other. But the sheer enormity of possibilities--and yes, that includes the entire internet--make the LM9600 (and numerous other 2012 LG series TVs) feel more like a neatly packaged media station than your classic cable box TV set. Combine that with the whole fourth-dimensional space age look of this TV, and it's easy to see LG's potential influence on the entire HDTV market.
There are more apps available every week, and a plethora of LG-hosted 2D and 3D streaming content to be found, meaning that since we reviewed the LM6700, the amount of available apps and content has doubled, at least, and possibly tripled. The highlights of the Home menu still include its browser function, app store, quick-access app menu, 3D World, USB playback access, and the usual heavy hitters: YouTube, Hulu Plus, Netflix, and K Pop Central. K Pop's not a heavy hitter, you say? Well, tell that to Se7en.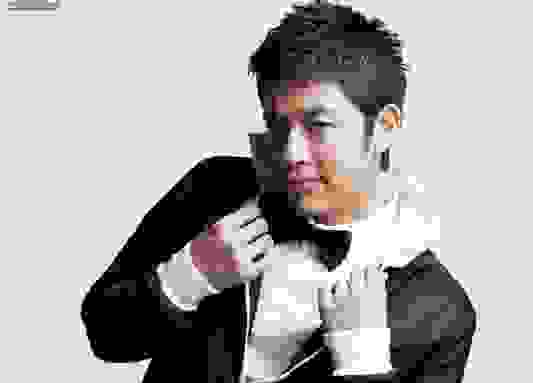 Browser
While we didn't have the time to check out each app in detail, we can tell that LG's 3D world and app store have received positive feedback since their initial 2012 showing; it's an all-inclusive, detailed system, and it works.
Of course, users still have the old standbys: an internet browser and streaming content from YouTube or Hulu are enough to satisfy most web surfing goals, but it's good to know that we have the option to customize and download a large array of apps--both 3D-based and otherwise--to further personalize and expand upon our viewing possibilities.
As far as TV browsers go, we usually avoid them. It's very difficult to navigate web sites and to type in strings of text with traditional remotes, and scrolling up or down through pages, despite the considerable real estate provided by a 55-inch screen, is still usually very difficult.
The reason we've been all about LG's browser and on-screen keyboard since we first gave them a go with the LM6700 is due entirely to the Magic Remote. The motion-based wand makes it easy to surf the web, type with the on-screen keyboard, and scroll up or down on web pages. While given the choice, we figure most people are still going to prefer a PC or laptop as their main browsing platform, but it's good that--should we have to go TV surfing--LG has made it easy to do. For a video of the Magic Remote and how it works within LG's internet browser, check out our article covering LG's Smart Platform.
Apps
By now we know that LG's got a pretty open market when it comes to apps and app availability. As much as we hate to rave about a feature that has traditionally served as a way for TV companies to nickel and dime their consumers to death, a lot of the apps that LG makes available are really quite useful, on an individual basis. Couple that with the customizable nature of the app bar (quick menu), and you've got some good ideas already. For video and more details on how this works, check out our article on LG's Smart TV Platform.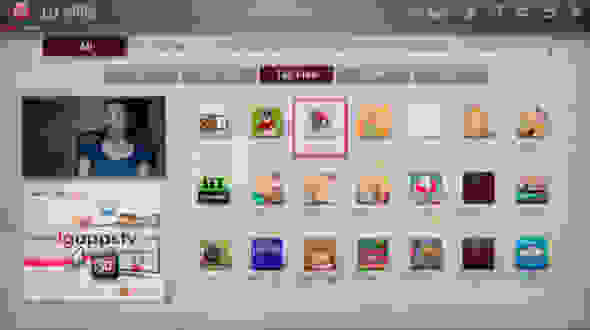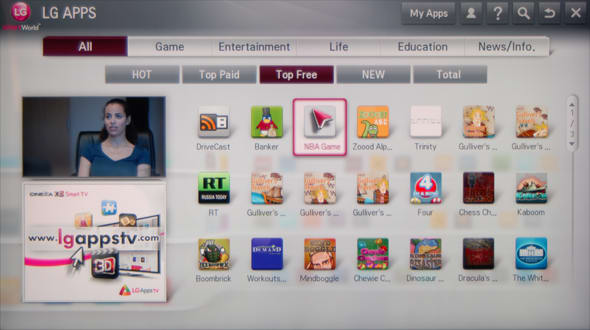 LG's 3D World app is a great way to invest in, or test out, various 3D content in a way that's quick and relatively easy. Most people don't have a huge collection of 3D Blu-ray movies sitting around at home, simply because they haven't been on the market all that long. But with 3D World, users have the option to get "the most" out of the fact that their TV allows them to view 3D content.
In other words, it's a slow but smart attempt at rescuing 3D capability from gimmick-level saturation.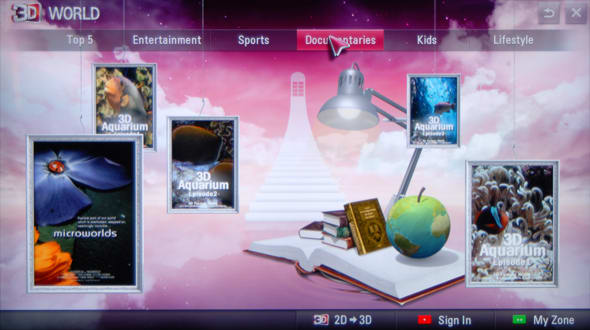 Other Media
And of course, who can forget about USB playback? Naturally, the LM9600 allows for playback of images, music, and videos off of a USB device. Not only do we like to see this feature, we tend to expect it on any TV that's already allowing for related playback via an internet browser. Like we saw with the LM6700, LG delivers on media playback; their media hub is accessible right from the Home menu, alongside their internet and app content, and is easy to navigate and sort.
Menu Interface
LG's Home menu is where users will find everything they need to operate the major and minor functions of the LM9600. The scroll wheel on the Magic Remote (and the magic itself--motion tracking) make it easy to set up 2D and 3D options, internet connectivity (including wi-fi), video and sound modes, and input selection, as well as the more subtle aspects of brightness, color temperature, and sharpness. The Home menu is also where users will activate or browse through LG's various apps or internet content like YouTube, Netflix, or Hulu Plus.
Their layout presents the necessary components of traditional TV menus, like system settings or input selection, alongside useable apps and internet components in a layout that is both sensible and, for LG, market friendly. Combined with the Magic Remote, they are easy to use and navigate through as well. For a more in-depth look at all you can do with the LM9600's Smart functions, take a look at our article on LG's Smart Platform.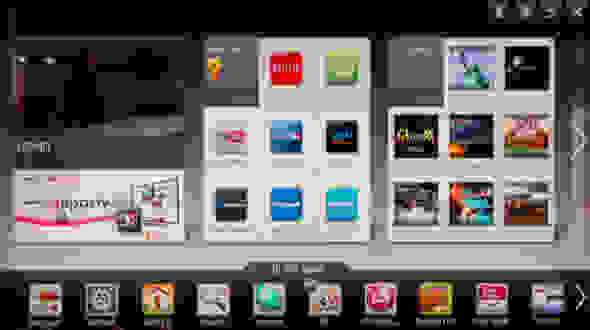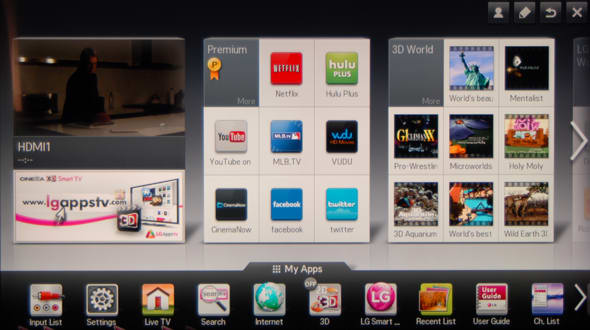 The LM9600's quick menu button allows users to make overarching decisions concerning their TV's operation: input select, system settings, 2D to 3D, and any other feature that should or might be regularly altered within the LM9600's menu system is featured as a small picture along the bottom of the screen, allowing users to view how their changes are affecting what they're watching in real time.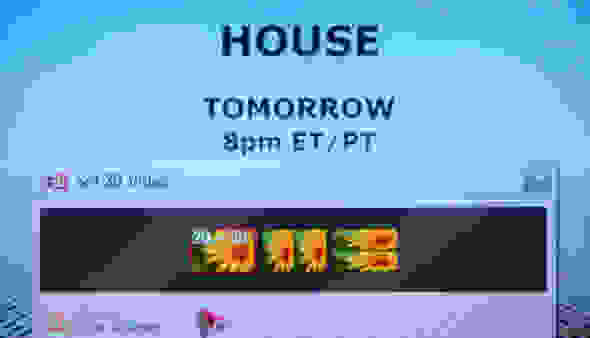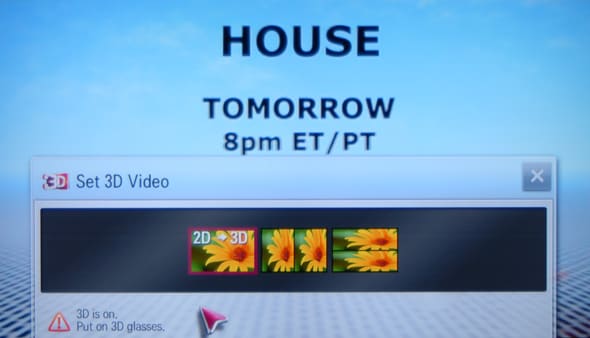 Other Interface Features
It's definitely worth noting that the enjoyability (and useability) of all of these features weighs heavily on the intuitive navigation accorded users by LG's Magic Remote. It's simply the best way to navigate TV content when there's so much of it, despite creating a little more wrist work.
Instruction Manual
You'll find a quick-start guide in the box, but the real, colorful, PDF-format manual is initially available only in PDF format. You can access a copy of it from the TV itself, as well as from LG's website. The manual has pictures, detailed instructions on set-up and troubleshooting, and lists of specifications. The problem with this method is obvious. What if you've got a TV-related problem, but you can't turn the TV on? How do you check a manual on the TV if it's the TV's display that's giving you problems? While most users can choose to download the PDF from LG's website, it's still a problem, which is why we generally prefer to have a copy of the full manual in print, and not just a quick-start guide.
Value Comparison
While the LG 55LM9600 and the LG 47LM6700 are, expectedly, very similar models, they have some subtle yet important differences. Ignoring screen size for the moment, the LM9600 has the superior viewing angle, as well as a larger maximum contrast ratio. When it boils down to core performance, however, the LM6700 tested with overall better color fidelity. Considering that their 3D content, connectivity options, and Magic Remote features are entirely identical, it's hard to explain the price difference (MSRP $2999 vs MSRP $1749) save for discrepancies in screen size.
Blacks & Whites
While neither LG tested with a mind-blowing maximum contrast ratio, and nothing in the way of plasma televisions, both tested well, with the LM9600 showing the larger ratio at 2913:1.


Color Accuracy
While both TVs have solid color accuracy, the LM6700 is actually the better model in terms of overall color perfection.
3D
LG's new 3D technology is some of the best we've seen so far in the field, and both LGs have comparably good 3D.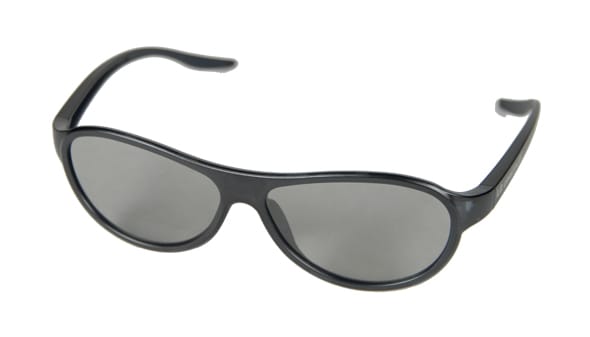 Screen Performance
The LM9600 has the wider viewing angle, but not by much. Otherwise, these two LGs have almost identical motion performance and contrast integrity.
Connectivity
Both TVs give user a choice of 3 USB ports, 4 HDMI ports, and the standard array of composite, component, cable, and audio inputs.
Value Comparison
The Samsung PN59D7000 is a plasma TV from 2011; its MSRP is $2599, $400 less than the LM9600, but users could probably find it for less as it's been on the market longer. So, for ostensibly less money, you also get a slightly bigger screen. The Samsung also had marginally better color production, and of course, its contrast ratio was much, much bigger than the LM9600.
But with the LM9600, users are getting the best 3D on the market, and a massively improved internet and menu interface over anything 2011 had to offer. Considering the modern amenities the LM9600 has over the performance-based D7000, including the greatly useful (and sometimes fun) Magic Remote, it's a tough call to say the Samsung is the more valuable TV--yet the LG is, easily, the more valuable investment.
Blacks & Whites
With a contrast ratio over 2000:1, the LM9600 has plenty of black and white detail to offer. But, being a plasma, if you want the best contrast in the business, you're going to come a lot closer to it with the D7000's deep blacks, lending it a contrast ratio over 6000:1.


Color Accuracy
While both TVs are highly accurate where color production is concerned, the D7000 had better overall color, and a more stable color temperature. But not by all that much; the differences are small.
3D
Considering LG currently has the best 3D effects in the business going for them, it's not hard to figure out that a 2011 plasma is going to fall well short of what the LM9600 is capable of. If you're buying for 3D, there's no question that the LM9600 series is going to be one of your best bets.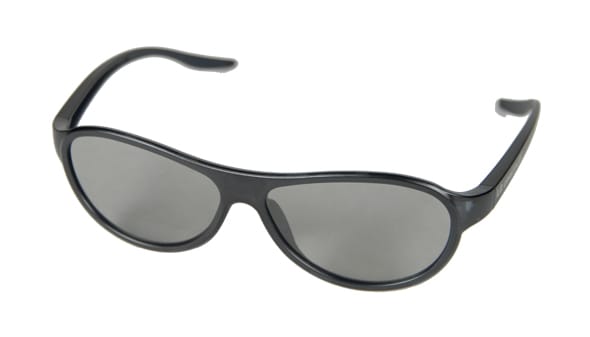 Screen Performance
Both TVs have comparable screen performance, except when it comes to viewing angle. If you want the widest possible viewing angle for your TV, plasmas are almost always going to be your first choice, and the D7000 is no exception.
The LM9600 uses LED LCD technology, whereas the D7000 uses plasma. In many cases, our motion tests tend to reveal a common problem with plasmas--a slower refresh rate that leads to ripples in moving pictures--and the D7000 also had this problem. The LM9600, as an LCD, gave us almost perfect motion performance.
Connectivity
The features of the LM9600's connectivity scheme (outside of internet and apps and all that fancy stuff) are its 3 dedicated USB ports and its 4 HDMI inputs. Strangely enough, the D7000 (which we pulled for comparison based on size, internet features, and 3D) has almost the exact same connectivity layout as the LM9600. Thus, tt's hard to prefer one based on connectivity.
Other Comparisons
Last but not least, it's important to factor in internet/browser useage. LM9600, being the more modern series, has a clear advantage over the D7000 series, but even if their internet capabilities were the same (and trust us, they aren't), the LM9600 would be the preferable TV because of its Magic Remote, which for the first time makes using a TV browser half way enjoyable.
Value Comparison
Our last comparison is quite likely the most interesting, as it gives a more in-depth look at what's changed between LED LCD televisions between 2011 and 2012: more specifically, between the Sony Bravia KDL-55EX720 and the LG 55LM9600. Both are 55-inch, LED, LCD, 3D, internet HDTVS, and both Sony and LG are heavy hitters when it comes to TV manufacturers. Furthermore, the Sony model--at MSRP $2399--is similarly priced to the LG, although it is less expensive overall.
Blacks & Whites
Where contrast is concerned, Sony's 2011 EX720 has a much deeper black--at 0.06 cd/m2--than the LM9600, and thus its contrast ratio is much, much larger.


Color Accuracy
The EX720 and the LM9600 both performed with flying... er... well, they both did quite well on our color accuracy tests, but a look at each TV's chart makes it clear that, for color temperature and smooth color detail, the EX720 is the superior television.
3D
During our 2011 review of the EX720, we described the overall 3D experience as "far from enjoyable." The fact is, crossover problems and heavy, unwieldy 3D glasses marred much of the 3D experience that year. LG's 3D is great. And that's all there is to it. Time may not heal all wounds, but it does wonders for fledgling technology.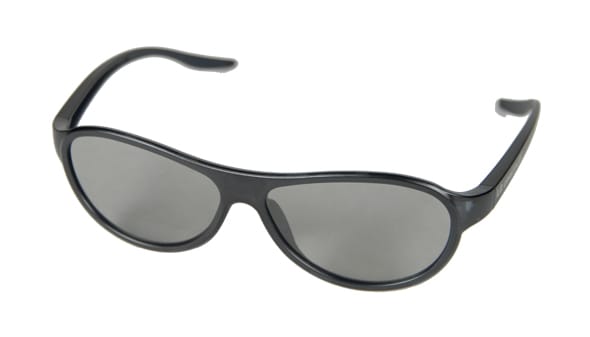 Screen Performance
Despite both TVs being LED LCDs, the EX720's total viewing angle is much smaller than the LM9600's, almost half as much. This differentiation doesn't matter much for a solo viewer, but families looking to purchase the perfect TV would definitely want to go with the LM9600 over the EX720.
With all of their motion smoothing and MotionFlow settings thankfully disabled, both TVs in this comparison did very well during our motion-based test content, arguably too similar to pick one as superior in the motion department.
Connectivity
While both TVs feature a good amount of flexible inputs--3 USBs and 4 HDMIs--the Sony TV has a slightly more expansive component-related input base, making it arguably the better TV to be used as a home theater hub. This idyllic aside, however, and the connectivity of both TVs allows them the flexibility to meet the needs of most users.
Other Comparisons
Our last comparison involves the major differences between the internet/browser aspects of the LM9600 and the EX720, and boy, what a difference a year can make. Despite both TVs featuring the ability to connect to the internet (either wirelessly or via ethernet cable), the LM9600 has one major advantage: the Magic Remote. While both TVs feature streaming content like HuluPlus and YouTube, as well as a useable internet browser, the LM9600's Magic Remote allows it to navigate and make "sense" of these various features with ease, especially compared to the clunky response of the EX720's non-motion based remote control.
Conclusion
We had high expectations for the 55LM9600, and it didn't disappoint. The 3D is still as crisp and subtle as it was with the LM6700, and since then LG has added even more original 3D content to their 3D World content page and a large number of 3D-ready apps.
While we knew the 3D and internet features would still be as effective and well-implemented as they were earlier in the year, our biggest concern was (and usually is) a TV's core performance: how it handles color, screen dynamics, and how it handles black/white contrast. Fortunately, the LM9600 is a great a TV for color fidelity, and has a wider viewing angle and larger maximum contrast ratio than the LM6700--good things, no matter how you slice 'em. Unfortunately, it had some really bizarre color temperature errors.
For MSRP $2999, users are getting an awful lot. A load of apps and built-in content, solid color and contrast performance, a sizeable 55-inch screen that handles motion with the best of them, and the highly effective Magic Remote to control it all. That's not to mention arguably the best 3D technology on the market.
It'd be hard to go wrong with an investment in the LM9600, but we're not sure there are enough added or improved features to give it the edge over the LM6700, which consumers could buy for a lot cheaper. Either way, LG has made a fine television in the LM9600, and it will definitely play a major part in the perfection of 3D technology this year.
We're not convinced, however, that it's worth the full price of $2999. Its contrast score was good enough, but for that kind of money, 2000:1 seems low. Likewise, its color temperature errors were atrocious, definitely an unacceptable problem on a TV this expensive. We feel that the LM9600 is a great TV overall, but smart buyers might want to wait on a price drop.
Model Series Comparison
Each TV in the xxLM9600 series shares a number of key features: LG's Smart Platform , 3D capability, NANO LED technology, and a key set of input/output ports. They all have built-in WiFi, and come with LG's Magic Remote.
Photo Gallery
Ratings & Specs
Meet the tester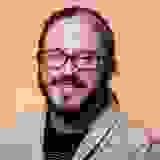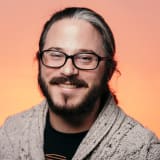 Lee Neikirk
Editor, Home Theater
@Koanshark
Lee has been Reviewed's point person for most television and home theater products since 2012. Lee received Level II certification in TV calibration from the Imaging Science Foundation in 2013. As Editor of the Home Theater vertical, Lee oversees reviews of TVs, monitors, soundbars, and Bluetooth speakers. He also reviews headphones, and has a background in music performance.
Checking our work.
Our team is here for one purpose: to help you buy the best stuff and love what you own. Our writers, editors, and lab technicians obsess over the products we cover to make sure you're confident and satisfied. Have a different opinion about something we recommend? Email us and we'll compare notes.
Shoot us an email