Still, a $1,900, 60-inch, 3D TV with LG's fantastic smart platform is a bargain. If you don't mind some blemishes on your TV and you're not planning on being an early adopter of 4K, the LB7100 is a viable option.
The value of the LG 60LB7100 (MSRP $1,899.99) is in its relatively low price tag, not its picture quality. The main problem holding the LB7100 back is its inability to produce deep, rich black levels and bright, vivid highlights.
And for techies (read: fellow nerds) planning on calibrating any of the TVs in the this series, read on: There's a problem with LG's menu software that makes some of the most important aspects of calibration nearly impossible.
It cuts a fine feature if you can fit it on a table.
If you've been paying attention to LG's 2014 lineup, the LB7100's outfit won't come as a surprise, since nearly every TV in LG's catalog this year is sporting the same design. It's a TV that's both handsome and simple: two wide-set, angular feet cradling a thin, silver bezel that allows the picture to "pop" in front of the backdrop of whatever room it's in. A slight lack of practicality is the only design blunder here; although the wide-set feet don't pose a problem with a 39-inch model, the distance between the feet starts to command a presence at 60 inches. Make no mistake about it: This TV needs a wide surface. If you're considering the 65- or the 70-inch model, your days of balancing your TV on top of your cable box are over.
A slight lack of practicality is the only design blunder here. Make no mistake, this TV needs a wide surface.
Once you've set up the LB7100–a process as simple as screwing its feet on and finding someone to help you lift it–you'll be rewarded with a sleek, minimalist TV that doesn't trade its lack of flashiness for an ability to impress. I have to hand it to LG: The design is modern without feeling flashy, complementing a room's design without dominating it. It won't stand out in a room, but that's the point.
×
LG 60LB7100
On the back of the LB7100's mammoth panel you'll find back- and side-facing cut-outs containing the TV's myriad of connection ports. Users are graced with three HDMI inputs, three USB ports, an RS-232 mini-jack, shared component/composite inputs, a digital audio output, a coaxial RF connector, and a LAN ethernet port for accessing the internet. The LB7100 also ships with two pairs of 3D glasses and the company's "Magic Remote," but more on those later.
Although our main focus is a television's out-of-box performance—since that's what most people will experience—we're also interested in its maximum potential. To this end, we test each TV twice: before and after calibration. The calibration process ranges from minimal to extensive depending on the amount of picture customization options available in the TV's software.
The LB7100 provides users with an assortment of customization options including 2- and 20-point white balance controls as well as a full color management system, but unfortunately, the TV's software leaves them broken and borderline useless.
During calibration, I noticed that color and luminance measurements were affected by the presence of the TV's menu software. Like most manufacturers, LG's menu never covers up the center of the screen, so this usually isn't a problem. Unfortunately, the LB7100's menu triggers backlight zones that extend into the measurement area, interfering with results even during back-to-back readings. Highlight the "red" option in the white balance menu, for example, and your measurement is different than if you highlighted the "blue" option.
I was able to make corrections using the 2-point white balance controls, but attempting to take advantage of the 20-point white balance adjustments and the TV's color management system both proved to be a fool's errand.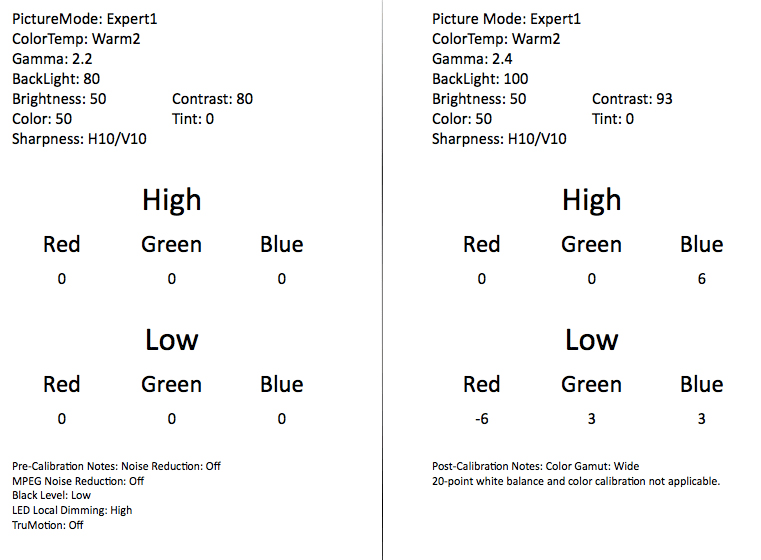 We determine a television's contrast ratio by dividing its reference white (100 IRE) by its deepest black level (0 IRE). If you're looking for a quick and easy starting point for a TV's overall quality, its contrast ratio is a great bellwether, since deep black levels and bright highlights are key factors in producing a picture rich with detail. A good contrast ratio doesn't necessarily equal a great picture, but a great picture is hard to achieve without a good contrast ratio.
Both the LB7100's black level and its reference white are well below average, resulting in a very poor contrast ratio of 749:1. It's outperformed in this category by nearly all of its peers.


This TV features the best smart platform on the market.
In a year filled with disorganized, clunky smart platforms, LG's webOS is not only a breath of fresh air, it's one of the best attempts to streamline the smart experience that we've ever seen. Instead of dumping the entire platform into a main hub and calling it a day, LG provides users with a centralized hub and a personalized menu bar, the latter of which can be accessed without interrupting playback. This menu bar is the primary means of navigating through the available smart features, so I'm happy to report that it's a breeze to use.
×
LG 60LB7100 webOS
One of the key features of webOS is the ability to navigate swiftly from any app to live TV, a Blu-ray, or another app without interrupting playback. For example, if you're watching a movie on Netflix but want to jump to a live football game, webOS will automatically hold your place in Netflix. Whenever you decide to finish the movie, you won't need to restart Netflix and fumble through its menus a second time.
There's also a variety of integrated search options that make it easy to see if the content you want is available via cable, satellite, or with any of the apps in webOS.
Navigation in LG's webOS is silky smooth and hopping from one app to another is seamless.
Of all the complimentary things I can say about webOS–from its versatility to its convenience–I was consistently impressed by the software's responsiveness. Thanks in part to LG's Magic Remote, navigation is silky smooth and hopping from one app to another is seamless. There's a distinct lack of lag from menu-to-menu, which can't be said for many smart platforms today.
If there's one downside to this set it's the clunky calibration settings. Although the LB7100 ships with a wealth of options for tweaking your picture, the haphazard TV's menu software renders them pretty much useless. For a more detailed explanation, check out our more in-depth Science & Testing page.
Not bad, not great
The LB7100 is a decent-looking set that is dogged by a few major flaws. The first thing I noticed in our lab was the LB7100's shallow black level, which wreaks havoc on a picture's ability to render detail, especially in darker areas of the picture. Compounding this issue is the LB7100's inability to produce bright highlights. Darker content might ultimately suffer from this lack of contrast.
Most edge-lit LED TVs suffer from a lack of screen uniformity, but the LB7100's screen is particularly troubling. These problem areas create black-and-white "clouds" on the picture that obfuscate detail, most notably when the the picture is extra dark or extra bright.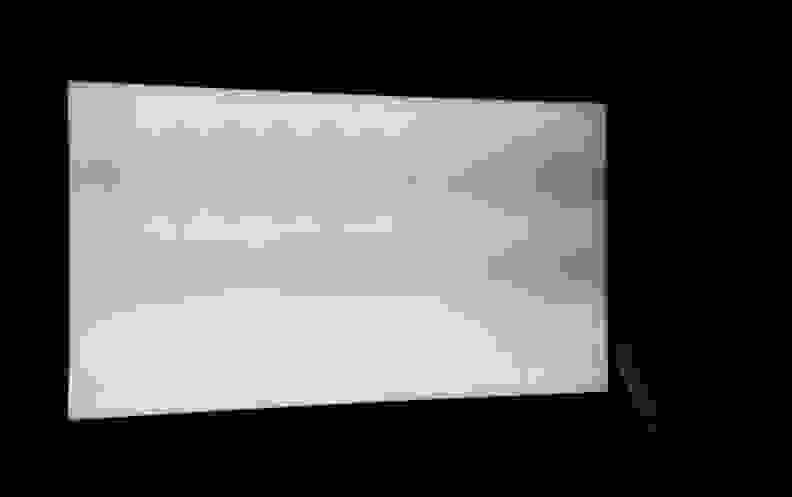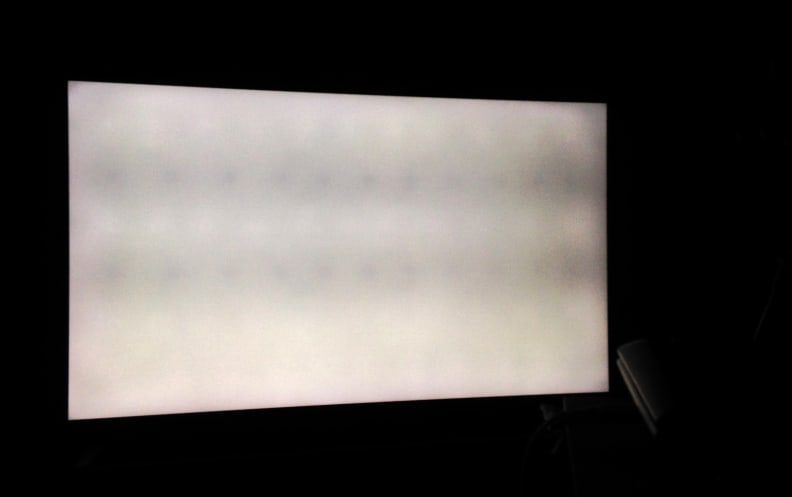 In terms of color reproduction, the LB7100 isn't perfectly accurate, but you'll hardly ever notice anything in normal use. I watched a documentary side-by-side with our reference TV and the only discernible difference was how the two TVs produced neutral shades like white and gray.
Big screens are made for group viewing, so there's nothing worse than a 60-inch TV that doesn't hold up from a wide viewing angle. Thankfully, the LB7100 provides a similar picture from a wide variety of angles. If you're planning on entertaining guests, fear not: this TV should ensure everyone's got a decent seat.
Every color you see on TV or in movies is produced by red, green, and blue sub-pixels. Since neutral tones like white, black, and gray are also a combination of these sub-pixels, we can measure a TV's grayscale and determine whether or not the TV is emphasizing its sub-pixels equally. If it erroneously favors red, for example, these neutral colors might appear peach-colored. An over-emphasis on blue will likely produce cooler whites and grays.

We measure the amount of grayscale error in DeltaE, with an average of 3 or less being the ideal out-of-the-box result. Unfortunately, this is one of the few areas of calibration made difficult by LG's intrusive menu software. Out-of-the-box, the TV produces a DeltaE of 5.01. After a tiring attempt to make finer, 20-point white balance adjustments, the amount of error dropped to 4.35.
Prior to calibration, the LB7100 under-emphasizes blue in favor of red and green.
Mediocre picture, phenomenal value
Despite the 60-inch screen, the 3D capability, and the sleek, user-friendly smart platform, the LB7100's main attraction is its price tag. For around $1,900, LG is offering a huge TV loaded with features. The drawback here is the LB7100's middling performance compared to higher-end sets.
So how does the LB7100 stack up against this year's competitors? Well, for several hundred dollars less, Vizio's 60-inch M Series packs a formidable picture and comparable smart features. Sharp's 60-inch EQ10U is priced at around $1,700, but like the LB7100, its performance might leave you shrugging.
If you're comfortable shedding five inches off your ideal screen size, your best bet is without a doubt the Sony KDL-55W800B: It's a smart TV with phenomenal out-of-the-box performance and it's listed at around $1,500.
What the M Series, the EQ10U, and the W800B all lack, however, is webOS. Frankly, webOS has set the bar for smart platforms. It's natural, intuitive, and just feels right. So, while trained eyes might take a gander at the LB7100's picture and fuss over its shortcomings, they won't fuss over the price.
As you might expect, color accuracy is a critical element of picture performance. In order to build machines capable of producing accurate colors, television manufacturers reference a document called Rec. 709, which outlines international standards for primary (red, green, blue) and secondary (cyan, magenta, yellow) color points. The accuracy of these colors is dependent on their hue, saturation, and luminance.
This was another area where the LB7100 got in its own way. The color management system is almost impossible to use due to the TV's menu software. Luckily, its out-of-the-box color production is quite good. Its secondary color points (particularly cyan and magenta) are the only notable hiccups.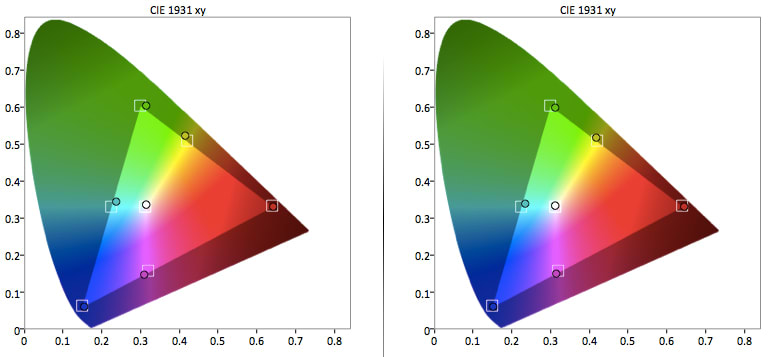 Our viewing angle test measures how far from center you can watch a TV before the picture's contrast drops below 50% of its head-on value. Typically, LED TVs have narrow viewing angles compared to plasma screens and OLED TVs.
The LB7100's total viewing angle is 126°, or ±63°. Viewers can expect to sit within 63° of a head-on angle and still experience a quality picture. This is better-than-average when compared to its peers, but if you're wall-mounting it and planning to sit an extreme angle then you may still run into trouble.
Gamma is a measurement used to describe how quickly a TV transitions from true black (0 IRE) into varying degrees of gray, and ultimately white (100 IRE). If its average gamma is too high or too low, shadow tones are likely to appear granular and muddy.
The ideal gamma for a dark home theater is 2.4, so we test and calibrate our TVs for this average. Even after switching the LB7100's gamma preset from 2.2 to 2.4, I still found it struggling to get any closer to 2.4. This might be fine for a dimly-lit living room, but in total darkness the picture detail may suffer.


Meet the tester
Michael Desjardin
Senior Staff Writer
@Reviewed
Michael Desjardin graduated from Emerson College after having studied media production and screenwriting. He specializes in tech for Reviewed, but also loves film criticism, weird ambient music, cooking, and food in general.
Checking our work.
Our team is here for one purpose: to help you buy the best stuff and love what you own. Our writers, editors, and lab technicians obsess over the products we cover to make sure you're confident and satisfied. Have a different opinion about something we recommend? Email us and we'll compare notes.
Shoot us an email