The LG 60LW9500 sure does have a lot of numbers in its name. We don't expect you'll be able to remember it by the time you get to the store. Maybe it's better to try and remember it as the "really big TV." We mean, look at this monster (see below)! Sixty inches is a lot of screen. The bezel is virtually insignificant compared to the size of the screen. It's composed of a shiny, black plastic, so beware of the fingerprints that it can pick up. There's an indicator light in the lower right.
We couldn't see the back of the LG 60LW9500 because the display models were all wall-mounted.
The LG 60LW9500 is quite thin, as you can see from the side. The ports on the back are grouped into a sort of jack pack, with ports facing out the back and the side.

Because the LG 60LW9500 was wall-mounted in every display, so we have no idea what the stand looks like. Last year's LE8500 series had an elegant, slender neck and attractive base.
The LG 60LW9500 is incredibly slender, which is particularly striking when you see in in contrast to the enormous 60-inch screen. It's almost as if it disappears from the, existing only in two dimensions. There's an easy irony to point out there, because the LG 60LW9500 is capable of 3D display with the use of active shutter glasses.
The LG 60LW9500 has a 60-inch, LED-backlit LCD display in the 1080p (1920 x 1080) format. LG premiered a new technology called "Nano Full LED" at CES, featured on the LW9500 and LW7700 series. It makes for a thinner film for better light light dispersion, as well as a brighter picture and less reflective screen.
There are 288 blocks, or "zones," in the LED array. Each one of those can be dimmed independently, depending on screen content. It's one of the primary reasons to get an LED-backlit display, but it can only be done effectively if the TV has enough controllable zones and good processing. We're happy that LG is so upfront about the specs. No other manufacturer at CES was comfortable stating this figure, though they're all quick to point out how good their own flavor of local dimming is.
The LG 60LW9500 is also capable of displaying a 3D image. It uses the active shutter system. Don't confuse this with LG's re-branded "Cinema 3D," which uses a passive 3D system. More on this on the next page.
The LG 60LW9500 has a native 1080p (1920 x 1080) resolution. It is capable of displaying all standard NTSC formats.
LG claims that the new "Nano Full LED" is capable of producing brighter whites. If this is true, and if it can do it without sacrificing black levels, than the contrast ratio will increase. Last year, we felt that all the LGs we reviewed had a less than stellar black levels (at least, under our calibration standards). We're hoping to see some improvements there.
There's no mention of color performance in the documentation, and under the harsh lights of CES, we have no real insight into the performance. We can, however, verify that the TV includes the Intelligent Sensor feature that reads the lighting conditions of the room and makes color and contrast adjustments. In our experience, these aren't particularly fine adjustments, but it's an interesting feature to play around with.
Past color performance on the LG TVs we've reviewed has been excellent. The LG 60LW9500 also has THX certification, which should mean continued excellence.
The LG 60LW9500 has a TruMotion 480Hz refresh rate, though most signals you'll be feeding into the TV probably won't allow you to see a difference between 240Hz and 480Hz.
The viewing angle is supposedly increased with the new "Nano Full LED" backlighting. LCD TVs have never come close to plasma performance when it comes to viewing angle, so we're eager to get this into our labs.
The LG 60LW9500 uses active shutter to produce the 3D effect. It may help to be aware that LG makes both active and passive 3D TVs. The latter have been re-branded as "Cinema 3D."
Active shutter systems require the use of the more expensive and clumsy glasses, which retail for about $150 per pair. You get the benefit of full 1920 x 1080 resolution in each eye, but we agree with most people that active shutter is more tiring to your eyes than passive.
The 3D effect on the LG 60LW9500 was about the same as all the active shutter 3D systems we've viewed so far. It's a neat little novelty, but really hard to get excited about. The glasses are uncomfortable and the 3D effect breaks down due to problems like crosstalk.
The ports on the LG 60LW9500 were not readily discernible, as the TVs were all wall-mounted and complete specs are not yet available. We can make some educated guesses, though. From the side, we could spot three HDMIs and two USBs. It's likely that on the back you'd find a fourth HDMI, cable/antenna, at least one component AV in and one composite AV in, VGA input, a LAN port, and digital audio out.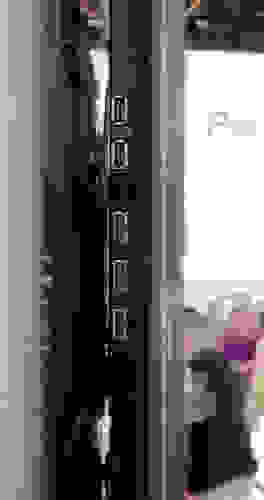 LG is playing hardball this year with its streaming media. It seemed that everyone at CES realized they had a ways to catch up with Sony, which took huge strides in 2010 to become the number one in "internet TV" with its regular line-up, and then again with the flawed but exciting Sony Google TV.
For 2011, LG introduced full internet browsers (with Flash support) into its top models, including the LG 60LW9500. You'll also have access to a huge selection of streaming media services (Netflix, Hulu, Vudu,etc.), as well as an app store – basically just like all the other TV manufacturers are doing.
What we've learned is that streaming media packages are only as good as their interface. Take the Sony Google TV, which streamed every service under the sun. But navigating the remote control and onscreen menus was intolerably frustrating. LG wasn't demoing its TVs with the final remote control, so it's hard to tell what the interface will be like. They did, however, showcase two alternative remotes: a WiFi-tethered LG phone and the Magic Wand remote (think Nintendo WiiMote and you're on the right track). More on our experiences with this next page.
The port placement is not something we can comment on yet, not having been able to see the back of the TV. All the high-end LGs of 2010 had a swivel base, however, which makes reaching the rear ports much easier.
LG was not demoing the final remote control that will ship with the LG 60LW9500, but they were demoing two optional remote controls. The first was an LG Android phone that linked to the TV over WiFi. The press release seems to indicate that this is the only way to get a QWERTY experience, and that the final remote won't have QWERTY. That's a shame, because using the phone was quite awkward and sluggish.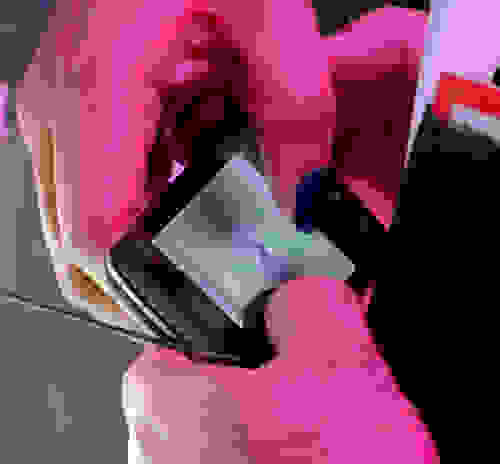 The other remote was the Magic Wand, an introduction from last year's CES. It works a lot like the Nintendo WiiMote. There's just a few buttons, but most of the interface is simply pointing at the screen and using the cursor to select. It's a good interface for laid back channel surfing, but definitely not something that you'd use for the built-in web broswer.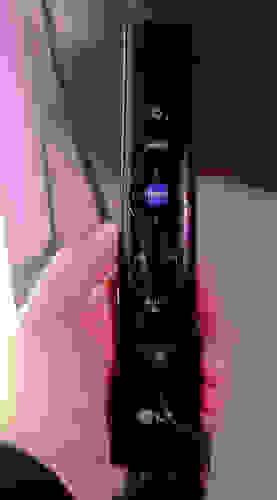 The LG 60LW9500 surely as some onboard controls, but we couldn't see them.
The menu on the LG 60LW9500 appeared to be a very slight modification from last year's. Most of the focus was on the streaming content features and built-in web browser, which have a completely different look and feel.
The LG 60LW9500 has a lot of features, as you'd expect from a high-end TV. With active shutter 3D, a built-in web browser, a newly expanded collection of streaming content and apps, and an improved LED array, we're expecting great things. We're also expecting a hefty price tag for the privelege, and LG hasn't announced pricing yet. In previous years, LG has impressed us with great color performance, but the contrast and black levels could stand some improvement. If they can gain ground there and make good use of all the new features, we'll be impressed.
Series
There are two models in the xxLW9500 series, a 55-inch and a 60-inch. With sizes like this, it's clear that the series is limited to very high-end shoppers. We expect substantial price tags attached to these TVs.
Meet the tester
David Kender
Editor in Chief
@davekender
David Kender oversees content at Reviewed as the Editor in Chief. He served as managing editor and editor in chief of Reviewed's ancestor, CamcorderInfo.com, helping to grow the company from a tiny staff to one of the most influential online review resources. In his time at Reviewed, David has helped to launch over 100 product categories and written too many articles to count.
Checking our work.
We use standardized and scientific testing methods to scrutinize every product and provide you with objectively accurate results. If you've found different results in your own research, email us and we'll compare notes. If it looks substantial, we'll gladly re-test a product to try and reproduce these results. After all, peer reviews are a critical part of any scientific process.
Shoot us an email