Don't cry yourself to sleep over plasma's decline, though. LG's top-tier model for 2013, the 60-inch PH6700 (MSRP $1,099.99), isn't just a good television—it's the best plasma TV we've seen from LG thus far. Even better? LG doesn't just hang with the plasma big boys, it actually shows them a thing or two: The PH6700 bests similar displays from Panasonic and Samsung in many areas, including price.
Earthly TV, alien remote
If you look at LG's LED TVs from this year, you might notice a common theme: style. The PH6700 sort of continues this trend, but its plasma tech makes it heavier and wider than LG's LCDs.
The PH6700 comes with a voice-ready variant of the Magic Remote.
The PH6700's bezels are modestly narrow and the edges curve at a slight angle, giving the TV an almost rounded appearance from a distance. Its profile is thinner than the plasmas of yore, but again, don't expect anything nearly as slim as the company's LED models.
I have to give props to LG for making a sturdy, well-built TV, but wow, this thing is heavy! I know, it's a 60-inch display—what was I expecting? After spending time with plenty of big screen LEDs, though, it's still a shock to feel a TV this cumbersome. That isn't a knock against the PH6700, but get a friend to help with setup.
At least the remote is incredibly lightweight. If you're familiar with LG's smart TVs from the past couple of years, you may have seen the company's Magic Remote. This motion-controlled device is redesigned for 2013 with a smaller frame. Certain TVs, like the PH6700, come with a voice-ready variant of the Magic Remote, which does a good job of recognizing your words. Want to watch NBC? Press the voice button and say "channel NBC." It's that easy—and it works!
Sadly, the Magic Remote forgoes some modern conveniences in favor of its minimalist design. There are no input or TV menu buttons. Instead, you must locate these settings in LG's smart platform—they're listed as apps. Is that the tradeoff for looking like a Star Trek prop?
Smarter than your average TV
When it comes to feature-driven TVs, LG isn't very subtle; if the Magic Remote wasn't enough of an indication, then its smart platform is. LG Smart TV, as it's known, is an organized sea of apps that works in conjunction with the included Wii-mote-inspired controller. Wave your magic wand, err, remote, and choose an app that suits your fancy.
Speaking of apps, you'll find Netflix, Hulu Plus, YouTube, VUDU, and even Redbox.
Speaking of apps, you'll find Netflix, Hulu Plus, YouTube, VUDU, and even Redbox. Amazon Instant Video and HBO GO are missing, though—if you enjoy those two, buy a Roku.
LG also includes one of the oddest TV apps I've ever seen: Google Maps. For smartphone users, Google's handy Maps app is incredibly useful, but why is it on a TV? Maybe some folks want to pull up their house using the Street View option, but alas, this feature isn't even included. Stick to your phones for this one.
On the menu side, LG gives you plenty of options to play with. In addition to the normal settings (Contrast, Brightness, Color, etc.), there are options for adjusting the TV's white balance and color gamut. Picture perfectionists, you'll be spending plenty of time with this TV.
The menu experience isn't perfect, though. Using the Magic Remote to navigate basic options is a chore. There are physical directional buttons, but you still need to wave your hand around in order to access the menu. Lame.
Want more info on LG Smart TV? Check out our guide here.
More to offer than internet features
Earlier in the year, we reviewed another LG plasma TV, but were baffled by its performance. Deep black levels and a wide viewing angle—two staples of plasma tech—were nowhere to be found.
The PH6700 not only resolves those issues—it performs like a champ.
The PH6700 performs like a champ.
As testing got started, the results seemed questionable—at first. The all-important black level (which helps deliver a realistic picture) is only moderately dark on this display. Competing TVs from Samsung and Panasonic slay the PH6700 in this category. Even with the PH6700's bright (for a plasma) white level, its images look slightly flat—that is, content doesn't pop like it does on TVs with higher contrast ratios.
Next, color tests revealed mostly-accurate performance. The PH6700 has no problem displaying a color's peak—that is, "true" red, green, and blue. Getting there is the problem, though. Transitional colors will not show the correct values, meaning a medium shade of red might look off. But truthfully, unless you have a 100% accurate reference TV next to the PH6700, you probably won't notice.
The image produced looks slightly flat.
Another staple of plasma performance is excellent detail retention during motion, but that performance aspect is lacking. Watching movie scenes with intense camera-panning produces a juddery appearance, although I was able to remedy this. Since most plasmas handle motion so well, they don't come with motion-enhancement software—the PH6700 does. Using this on a low setting produced a smoother (but still natural) picture.
But overall? There aren't many drawbacks with this TV's performance. The PH6700 accurately displays white without any color distortion, plus it has an admirable viewing angle. Consumers certainly won't be disappointed by what they see.
A diamond in the rough
The PH6700 may not have the looks of more expensive TVs, but it certainly has the performance. Color accuracy, viewing angle, smart features—these are all represented faithfully on LG's plasma. The only real complaints I have about the PH6700 are its black level—which is decent but pales in comparison to models from Panasonic and Samsung—and visible glare in moderate sunlight. Watching this display in a sun-filled room isn't advisable.
What's really shocking is how inexpensive the PH6700 is. The 60-inch variant retails for $1,099.99, although online retailers sell it for even less. We don't score TVs for price, so the fact that this LG performed this well should tell you something.
Bottom line: If you're looking for an internet-connected big-screen for less, make it a priority to check out LG's PH6700.
We score TVs based on a variety of tests, including color accuracy, contrast, viewing angle, and motion performance. No matter the test, the LG PH6700 performs admirably. Sure, it doesn't boast the best contrast ratio in the world, but this LG's strong performance in almost every other category makes it worth your while.
Not eye-popping, but not terrible
Previous LG plasmas, like the PA6500, produced atypically-bright black levels, so I had my doubts about the PH6700. I'm happy to say that LG proved me wrong—mostly.

The PH6700's black level of 0.07 cd/m2 is decent, although it can't compete with closely-priced plasma TVs from Panasonic and Samsung. And even though this isn't a bad result, don't expect eye-popping visuals. The bigger the "contrast" between white and black, the more detail is shown; on the PH6700, movie scenes appear slightly dull.
Is this the end of the world? No. Content still looks great on this LG—especially for the price. But if you're a hardcore TV enthusiast who places a premium on contrast, you'll be disappointed with the PH6700.
Colors are accurate, but transitioning isn't.
Accurate colors provide a more realistic picture—who wouldn't want that? On the PH6700, we tested colors that are highly-accurate compared to the international standard gamut, Rec. 709. Red, green, and blue are close to perfect, and white is spot-on.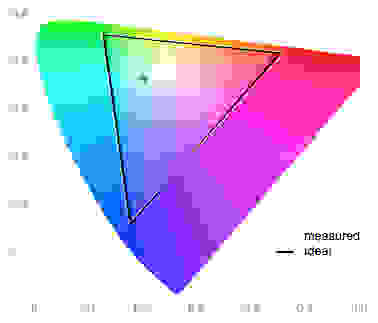 Transitioning from one color shade to the next is a different story, though. The bumpy nature of the PH6700's curves tell us that the wrong values are shown for some color values. Peak colors—"pure" red, green, and blue—look excellent, but in-between shades are slightly off. Will you notice this, though? Not unless your TV is next to a reference display.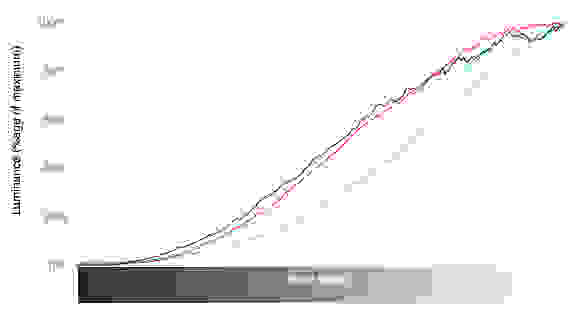 The PH6700 redeems itself with terrific color temperature. Ideally, a TV's color temperature should measure about 6500 K consistently across its input spectrum. This LG plasma fluctuates a bit, but nothing will be noticeable to the human eye.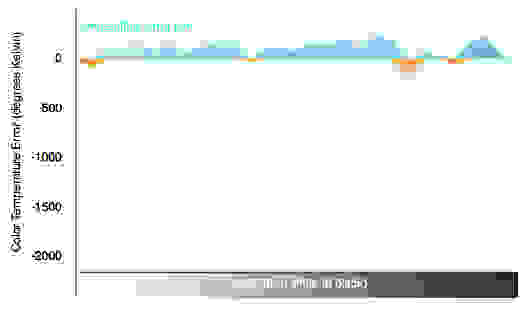 True to its origins
A poor viewing angle means a TV's contrast ratio will drop at off-angles, resulting in a lifeless picture. The LG PH6700 avoids this minor catastrophe and manages to produce a total viewing angle of 123°, or ±61.5° from the center. While this result isn't the best we've seen on a plasma display, it is enough for multiple people to comfortably watch content together.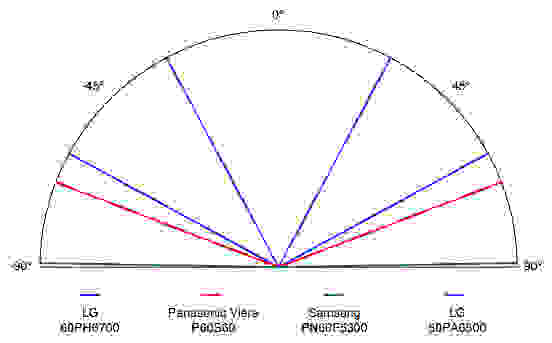 Meet the tester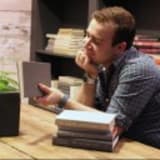 Josh Fields
Staff Writer
@reviewedtech
An enthusiast of all things tech, Josh is one of Reviewed.com's resident television experts. When he's not looking at bright TV screens in a dark room, he's probably reviewing a laptop or finding a new snack at 7-11.
Checking our work.
We use standardized and scientific testing methods to scrutinize every product and provide you with objectively accurate results. If you've found different results in your own research, email us and we'll compare notes. If it looks substantial, we'll gladly re-test a product to try and reproduce these results. After all, peer reviews are a critical part of any scientific process.
Shoot us an email