I recently reviewed another UHD from LG, the LA9700, and was non-plussed by its picture quality.
While UHD (4K) may be the resolution of the future, it still falls back on core performance at the end of the day, and the LA9700 ultimately failed to impress. Fortunately, the LA9650 stands in to redeem LG's UHD efforts with above-average performance amongst its peers. If it weren't for somewhat poor contrast, in fact, this TV would have scored very well.
A 65-inch LCD with solid picture quality, a handsome build, and a very useful suite of software for $4,999.99 isn't the best deal out there, but it's a fair shake when you consider that you're future-proofing for the onset of 4K content.
Big screen, lil' feet
Our hulking, 65-inch LA9650 makes for an imposing display. While the top and sides of the screen are wrapped in such subtle bezels as to appear bezel-less, the lower perimeter terminates into a sturdy, silver bar which houses the TV's speaker system—a 2.1 channel, 34-watt affair with an embedded sub-woofer.
LG includes the signature Magic Remote and four pairs of passive 3D glasses.
The LA9650's IPS panel is held aloft by two small "feet." These L-shaped metal brackets screw into the rear of the TV and wrap beneath the panel, pointing outward slightly like the toes of an athlete.
Once the whole package is assembled, it weighs in at a whopping 66 pounds. The feet don't allow any swiveling or turning of the panel—between that and the weight, make sure to set it up carefully where you can watch from a right in the center.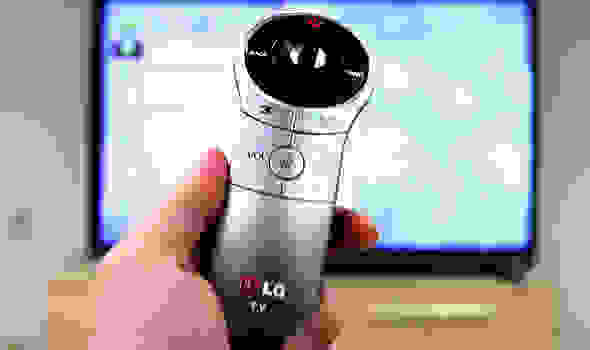 The Ultra-High Definition LA9650 aspires to live at the razor's edge of TV tech, and is equipped as such. Alongside the panel and stand, LG includes the signature Magic Remote, four pairs of passive 3D glasses, and a fitting array of connectivity options.
High-access ports are strung vertically along the TV's left side, and include four HDMI, three USB, and headphone out. The rear-most ports are geared toward lower-definition and audio-based sources, and as such include splitter jacks for a shared component/composite hookup, digital audio out, RF in for a cable/antenna connection, and an RS-232 service/control port.
Indisputably high-end
The LG 65LA9650's $5,000 price tag ensures that it comes fitted with the best of LG's 2013 software and extra goodies. This 3D smart TV provides an almost staggering wealth of things to do: There's a browser, apps, games, 3D content, and a multitude of picture and audio adjustments.
Even if you don't own any 3D videos, you'll be able to put the included glasses to use via LG's 3D World.
Even if you don't own any 3D videos, you'll be able to put the included glasses to some use via LG's 3D World, which—although a little skimpy—does provide a decent amount of both free and pay 3D movies and clips.
Users can also essentially turn any kind of content into a faux-3D experience with LG's 2D-to-3D mode. This mode converts 2D content into 3D content, albeit the effect is quite mild compared to native 3D content.
We've reviewed a multitude of LG smart TVs, and are quite smitten with LG's 2013 smart platform—you can read our full breakdown here. The LA9650's iteration doesn't improve upon the basic formula in any way, but it's as useful as ever. Of course, the flash games are still a little phoned-in, and the browser experience ranges from "neat" to "forget this noise, I have a laptop." However, the organization, content apps (Netflix, Hulu Plus, etc.), and upcoming AllJoyn functionality are winning additions.
The LA9650's Picture and Audio menus are as tricked-out and glitzy as the rest of LG's high-end lineup this year. Advanced controls for gamma, white balance, color management, aspect ratio, motion smoothing, dynamic backlight, and many more will keep picture purists busy for hours. If that sounds like a tech-tantrum you'd rather not throw, never fear: LG's picture modes like Cinema and Game provide easy defaults to get things looking right.
LG's picture modes provide easy defaults to get things looking right.
Within the Audio menu, users will find almost as many options. The Clear Voice II setting can be used to both boost and diminish the volume of human voices within programming, and a full equalizer allows audiophiles a chance to set the TV's frequency response—by, for example, crushing out the prevalence of Richard Wagner's infamous tubas.
All in all, this expensive TV is full of features—most useful, some not. They're not necessarily "next-generation" the way that UHD resolution is, but the LA9650's software is about as high-end as it comes right now.
Black levels: the Achilles' heel
The LG LA9650's picture quality and performance trumps just about every other UHD TV we've reviewed this year so far. Besides supporting the much-lauded 4K resolution, the LA9650 offers users reliable motion performance, stellar color accuracy, and a wide viewing angle. Alas, its contrast results were disappointing.
The edgelit LA9650 is capable of getting very bright—more than most people would require. Unfortunately, this excess brightness also compromises the integrity of black levels, which can make dim- or dark-room viewing a lesser experience. In a normally-lit room, the LA9650's contrast performance is acceptable, but shadowy areas look washed out while watching in the dark.
The LA9650's excess brightness compromises the integrity of black levels.
If colorful content like video games or anime is your bread 'n butter, you'll be pleased by the LA9650's strict adherence to HDTV color standards.
Reds, greens, and blues look just about perfect; expect to see both vivid, realistic colors and pure, color-free blacks, grays and whites—something many TVs still struggle with.
If you're more interested in college basketball, professional football, or little league shuffleboard, the LA9650 has you covered there as well. We use a series of shifting, complex-pattern images to test a TV's motion performance, and found very few flaws from this LG.
While the most intense action sequences do result in some blurring and interlacing, LG's TruMotion 240 Hz processor makes short work of any errors—just use it sparingly, lest you want everything to look like an overly-smooth soap opera.
After our full gauntlet of tests, the LA9650 remained standing. Other than less-than-stellar black levels, there are no performance drawbacks to speak of.
Strong performance in more than just pixel count
The LG 65LA9650 (MSRP $4,999.99) is a very appealing package. Testing revealed very strong core performance in the key areas of color and motion. Further, LG's smart accoutrement is as appealing as ever, and the TV's sturdy, silvery design is certainly nothing to sneeze at—it looks great. Unfortunately, it lacks the inky black levels to make it a good choice for a home theater.
But the biggest issue the LA9650 faces is one of price. If you're simply looking for the best possible picture quality at the lowest price, the award-winning Panasonic ZT60 costs less in the same size. However, if a big part of your plan is to be 4K-ready, the LA9650 is one of the better UHDs we've seen this year.
The LG 65LA9650 (MSRP $4,999.99) made mincemeat of most our laboratory tests. Exemplifying a well-calibrated machine, the LA9650 boasts very accurate colors, a high peak brightness, smooth motion, and an above-average viewing angle. Unfortunately, it faltered in the all-important black level category, earning it a lower score.
Calibrating the 65LA9650 consisted of making minor white balance adjustments in Cinema mode. The reference level settings (Brightness and Contrast) were already set correctly, and the TV's color was close to perfect right out of the box.
Using LG's two-point grayscale control, I reduced the emphasis on blue within the TV's sub-pixel balance. Evening out the RGB balance fixed a slight error within the white point and reduced the overall error within the grayscale.
The LA9650's adherence to the Rec. 709 color gamut is more or less spot-on. A few minor errors in hue won't be visible to human eyes, so despite the presence of a CMS (Color Management System), the adjustments I made to the grayscale (below) were all that was necessary to fix the TV's white point. Consumers can rest assured that this TV's color performance is already great—unless you're wholly invested in a perfect picture, no calibration is necessary.
Prior to calibration, the LA9650 tested with a somewhat high DeltaE (error sum) of 4.64, resulting from an imbalance in sub-pixel emphasis. The color meter revealed that the LA9650's grayscale contained too much blue, and not enough green and red. Using the grayscale control, I reduced the blue in the upper half of the IRE spectrum and increased the emphasis on green and red, which resulted in a much more even sub-pixel balance and a DeltaE of 2.63—not perfect, but better.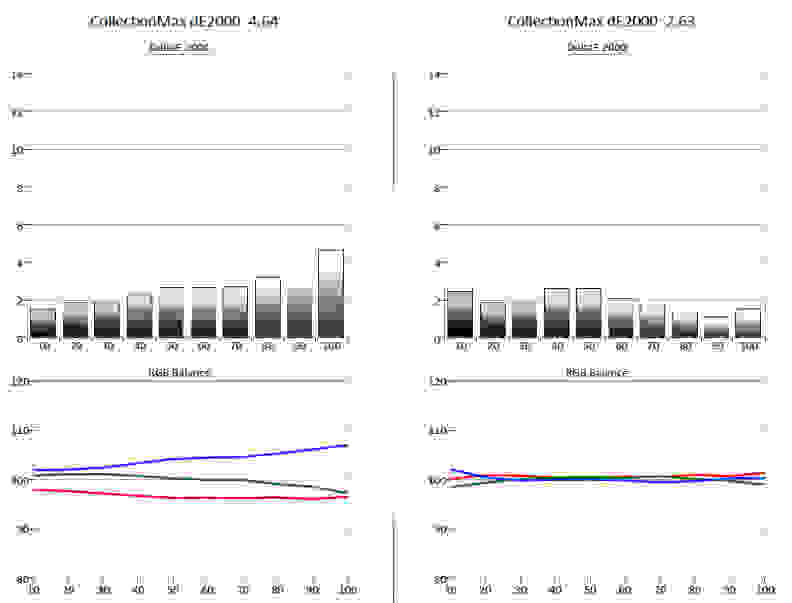 Contrast ratio—the measure of a TV's peak brightness divided by its minimum luminance—is one area where the LA9650 performed below our expectations. Using an ANSI checkerboard pattern, I tested a black level of 0.22 cd/m2 , which is unfortunately quite poor. This LG was plenty bright at 236 cd/m2 , but the resulting contrast ratio of 1072:1 is very low for 2013 standards. This may be the LA9650's only weak spot, but it's a big one.

The LA9650 tested with an impressive total viewing angle of 62°, or ±31° from the center to either side of the screen, which is above average for an LCD. This means placement of the LA9650 during initial setup, including the decision of whether to wall-mount it, is easier.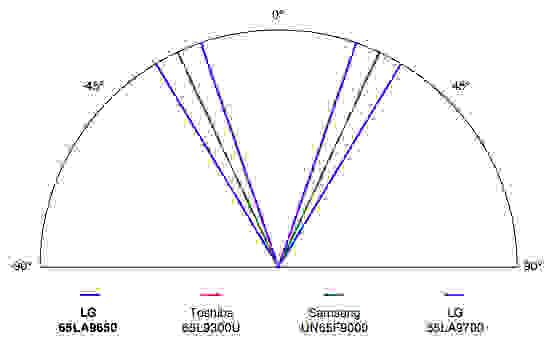 Meet the tester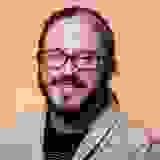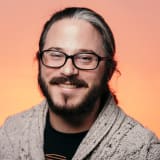 Lee Neikirk
Editor, Home Theater
@Koanshark
Lee has been Reviewed's point person for most television and home theater products since 2012. Lee received Level II certification in TV calibration from the Imaging Science Foundation in 2013. As Editor of the Home Theater vertical, Lee oversees reviews of TVs, monitors, soundbars, and Bluetooth speakers. He also reviews headphones, and has a background in music performance.
Checking our work.
We use standardized and scientific testing methods to scrutinize every product and provide you with objectively accurate results. If you've found different results in your own research, email us and we'll compare notes. If it looks substantial, we'll gladly re-test a product to try and reproduce these results. After all, peer reviews are a critical part of any scientific process.
Shoot us an email