Unfortunately, as is the case with many IPS displays, the UF9500 simply doesn't produce the dark, inky shadow tones necessary for comfortable theater viewing. The result is a poor contrast ratio despite the TV's high brightness.
Ultimately, that means the UF9500 lacks a certain element of viewing flexibility, as it can only look its very best in a room with normal or higher amounts of competing ambient lighting.
The 65UF9500 features LG's new webOS 2.0 smart platform, 4K (UHD) resolution, a 120 Hz native refresh rate, 3D functionality, and ColorPrime LED technology for expanded color fidelity.
You're paying a bundle for this one, however: The MSRP of $4,499.99 might just leave your wallet weeping. The real question is whether the UF9500 is worth the high price tag—and unfortunately, it isn't.
Testing revealed that the 65UF9500's contrast performance is well below average, which robs it of the rich, immersive qualities integral to a truly impressive picture.
To the point, movie lovers with dedicated home theaters will be utterly disappointed by this TV's black level performance, and will likely also take issue with its backlight uniformity.
If you're looking to complete your home theater with a worthy centerpiece and can live without 4K resolution, check out one of LG's excellent OLED televisions, available around the same price.
If you've gotta have 4K and can't shell out ten grand, your best bet might be a full-array backlit model, like the highly affordable P Series.
All said, more casual viewers or those with brighter rooms will be pleased with this TV's next-generation resolution, color, and smart features. Just don't expect next-generation contrast.
Editor's Note
After publishing this review we were alerted to an error with our evaluation software that included erroneous post-calibration results. To be safe we've re-run all of our performance tests from scratch and re-evaluated the TV's local dimming, which resulted in a small improvement to the UF9500's overall score. We regret the error and the score has been changed to reflect the new data.
Super-thin, super fly.
If one word comes to mind when I look at the 65-inch UF9500, it's "refreshing." While TVs with curved stands are nothing new, there's something about this one's wide, flat pedestal and OLED-thin edges that looks really good and feels functionally sound at the same time.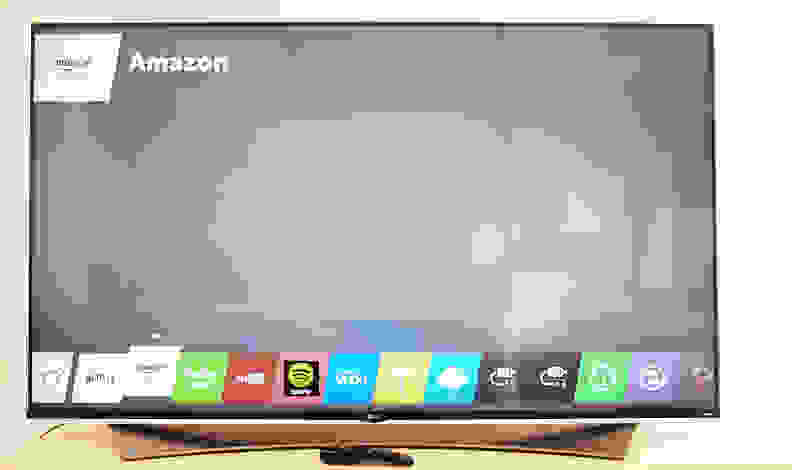 It certainly helps that the TV's entire rear casing is bright, clean white rather than the usual angular black plastic. Back here, you'll also find an ample slew of audio/video connectivity options.
Side-oriented ports include four HDMI inputs (4K at 60Hz/HEVC compatible) and a single USB 3.0 input. Rear ports pick up the slack for audio and older input types, including an RF (coaxial) jack, component/composite video splitters, two USB 2.0 inputs, an RS-232 control port, and analog/digital audio outputs.
Included with the panel and stand is LG's new-and-improved Magic Remote, an infrared-based pointer that functions very similarly to the Nintendo Wii console.
Once the remote is paired with the UF8500, you simply point it at the screen to make menu/smart features selections.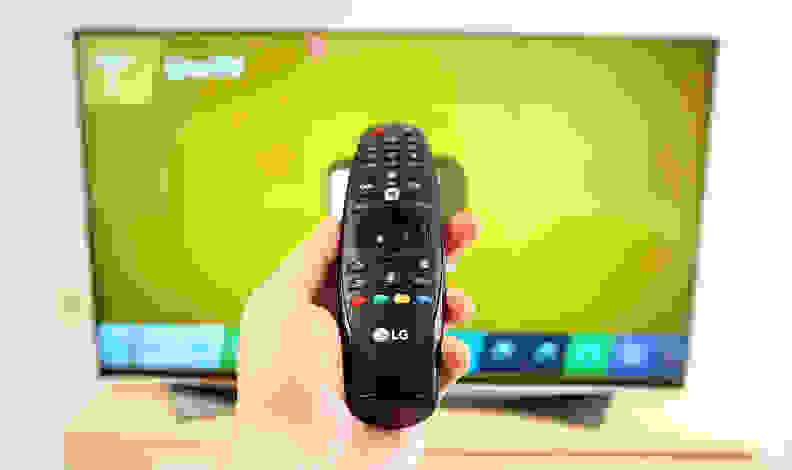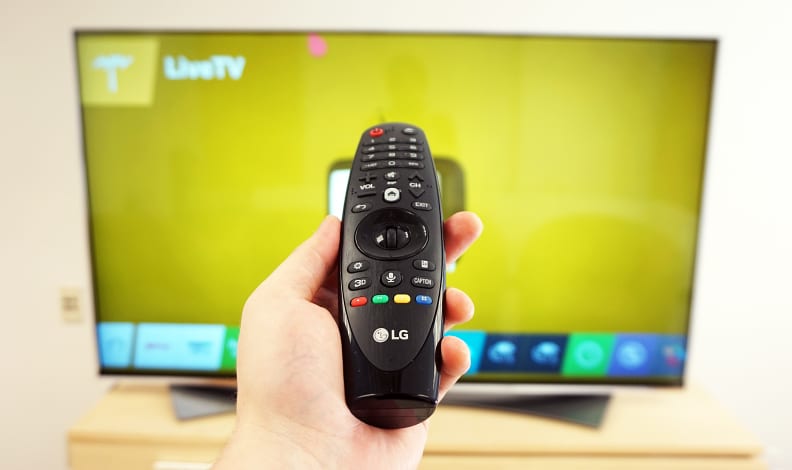 The remote works great, and is bigger/heavier than previous versions, giving it some enjoyable heft and handling. Type in a few Netflix search terms or make a few tweaks to the TV's picture settings and you'll immediately notice how snappy and easy it is, especially compared to traditional remote controls.
On the other hand, there's no physical (QWERTY) keyboard and not even a simple pause button. It's a little irritating having to to "wake up" the Magic Remote whenever you need to pause or alter a setting in an app.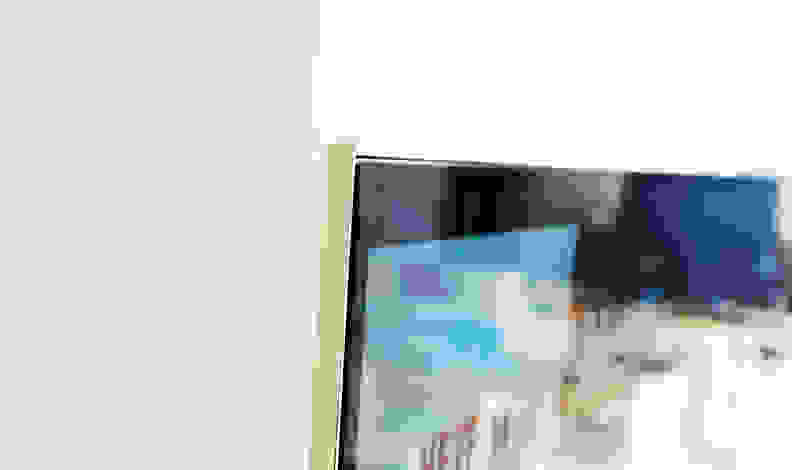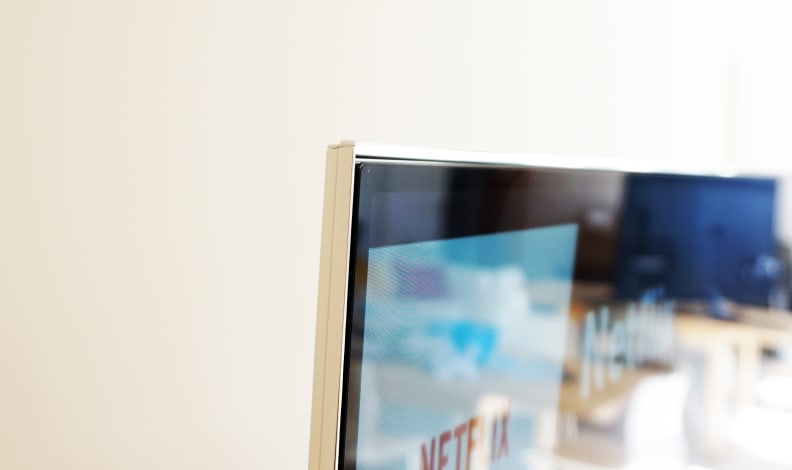 Last but not least, the 65-inch UF9500 sounds great thanks to a special partnership with harmon/kardon. This TV wields its four-channel, 60 watt speaker output with aplomb.
In short, it sounds a heck of a lot better than the average TV—which is usually equipped with a two-channel/20 watt output—and is much louder, too.
We calibrate each TV we test for two reasons. First, a professional calibration gives us the best idea of a TV's full ability to match international standards. Secondly, comparing the calibrated settings to the "as-found" or out-of-the-box settings gives us a great understanding of the TV's pre-calibrated performance.
Typically, we calibrate TVs for dark room/home theater viewing, as this is arguably the best way to watch TV/movies if maximum detail and accuracy are what you're after. This means setting the TV's peak or maximum luminance (100 IRE) to about 40 fL or 120 cd/m2, which is bright enough for a dim or dark room. However, in this case, I left the Backlight where it was.
We also usually aim for a gamma setting of 2.4, but in this case, I calibrated for a 2.2 gamma. Below, you'll find LG's default settings in the ISF Expert 1 picture mode (left) alongside my final calibration settings (right).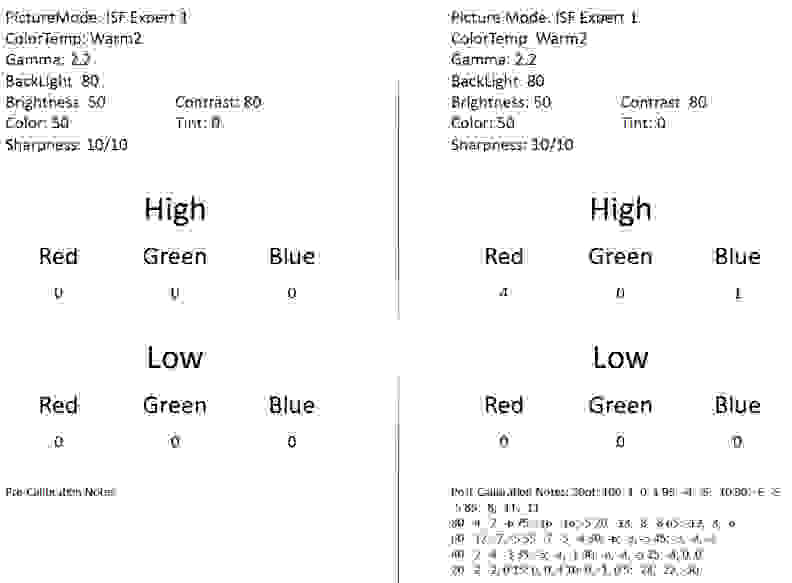 Bean Bird is back. And this time... it's personal.
Last year, LG's webOS platform took the smart TV world by storm, offering up a snappy, multi-functional experience unlike any TV software available before.
While it might not sound impressive in a world dominated by smartphones and tablets, the ability to boot up Netflix, jump over to the web browser to look up the name of "that one movie with the cats," and jump back into Netflix without restarting the entire application is what made webOS so spectacular—to say nothing of how personable it was.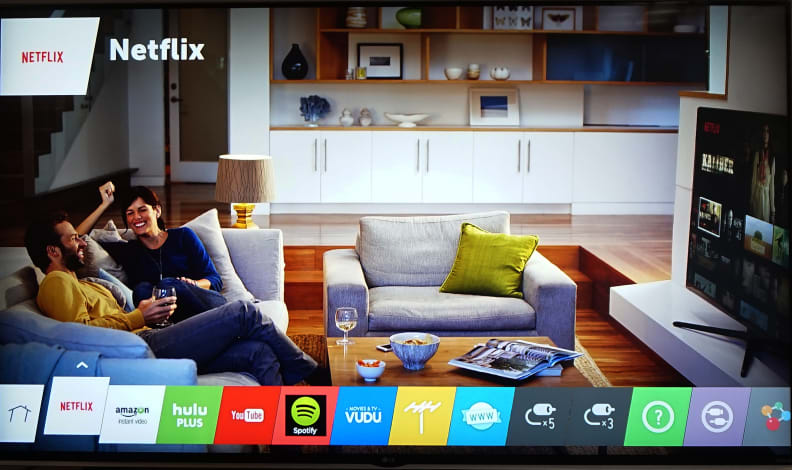 Naturally, LG hopes to continue that success via a faster, fuller variation upon the original theme. To that end, 2015's webOS 2.0 doesn't differentiate overmuch from the original formula.
Colorful, easy-to-read apps and settings still line up in neat diagonal wedges along the bottom of the screen. It looks roughly the same as last year's webOS, but if it ain't broke...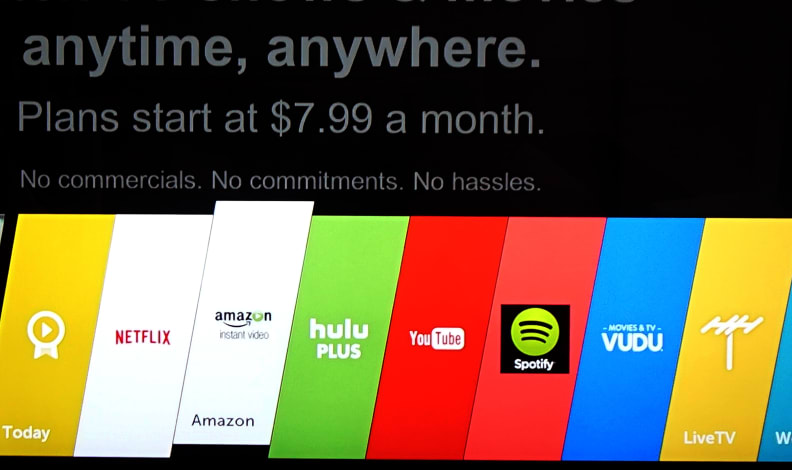 Lots of great apps are installed by default, including Netflix, Hulu Plus, Amazon Instant Video, YouTube, and Spotify. LG's Content Store is packed full of many others, and everything loads up quickly and cleanly, accompanied by full-screen graphics for each app and widget.
As a plus, webOS 2.0 scales perfectly to the UF9500's 4K resolution, so everything looks crisp without excessive sharpening.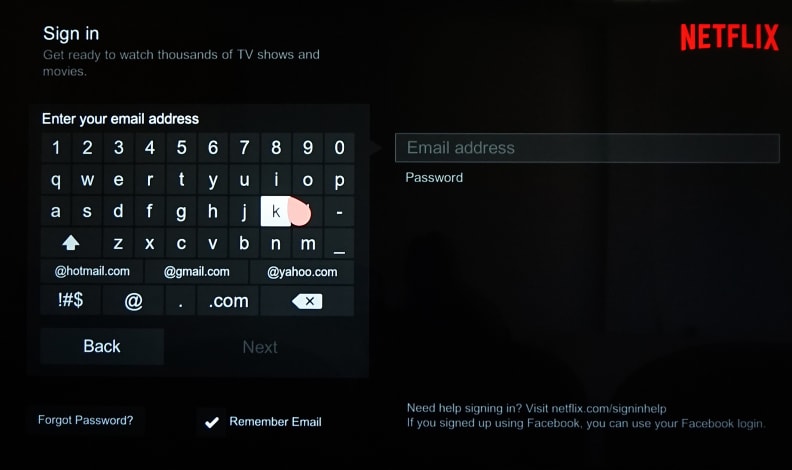 LG's base menu software is equally praiseworthy. Numerous menus for Picture, Audio, or Network settings make basic tasks easy, especially in conjunction with the highly responsive new Magic Remote.
If you're a calibration hobbyist or professional, you'll be glad to know that LG's full CMS works perfectly, as do the 2- and 20-point White Balance controls.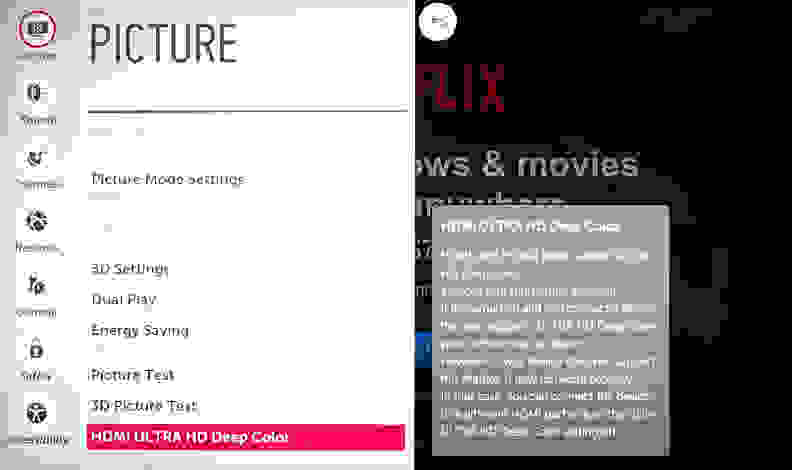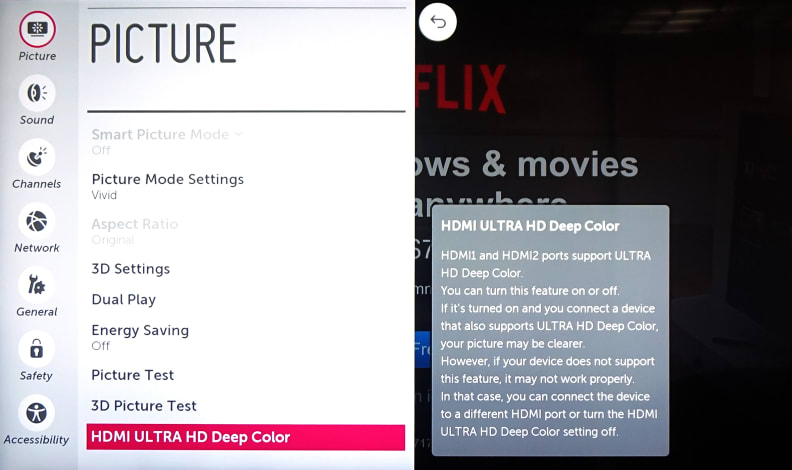 Unfortunately for the UF9500, contrast ratio—easily this TV's weakest performance area—is perhaps the most important aspect of a convincing, immersive picture. High differentiation between a TV's brightest and darkest picture leaves the strongest impression on the human eye, making it a keystone of good picture quality. Naturally, contrast is easier to see in a dark room.
The 65-inch UF9500 has plenty of brightness, but doesn't cut it in the black level (shadow tones/minimum luminance) game. Using the standard ANSI checkerboard pattern, I measured a peak (default) brightness of 214.70 cd/m2 in the ISF Expert 1 mode, which is plenty bright for even a room full of windows.
Unfortunately, the TV's black level of 0.20 cd/m2 is quite poor by 2015 standards, and compares unfavorably with competing 4K televisions from last year. This gives the UF9500 a contrast ratio of 1074:1, which is lower than we'd like to see for this size/price range.


A top-notch bright room TV, but it lacks the shadow depth for a home theater.
If you want to easily see all the subtle details in your favorite movies and TV shows, watching in a dim or dark room is a must. Contrast and black levels are therefore two keystones of an immersive, attractive picture, and the UF9500 fails to deliver in that regard. On the other hand, this is LG's flagship 4K television for 2015, so it has plenty of strong suits.
The TV's enhanced color ability (called ColorPrime) means it can easily match the standards for HDTV color. If you want an extra vivid, saturated experience, there's also an expanded color gamut option.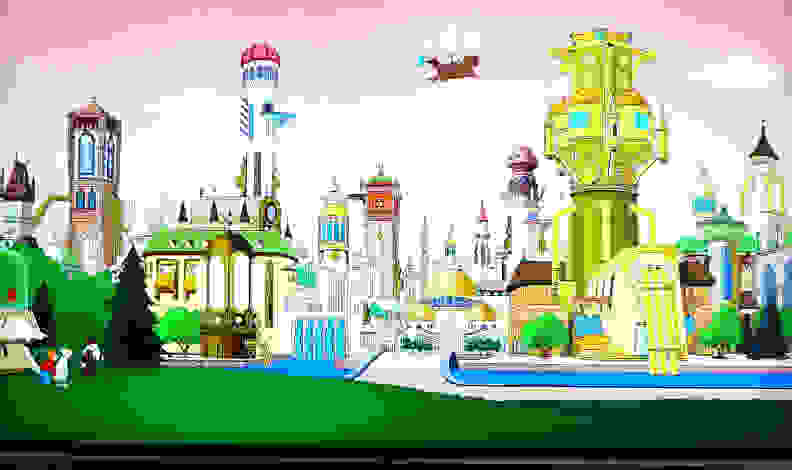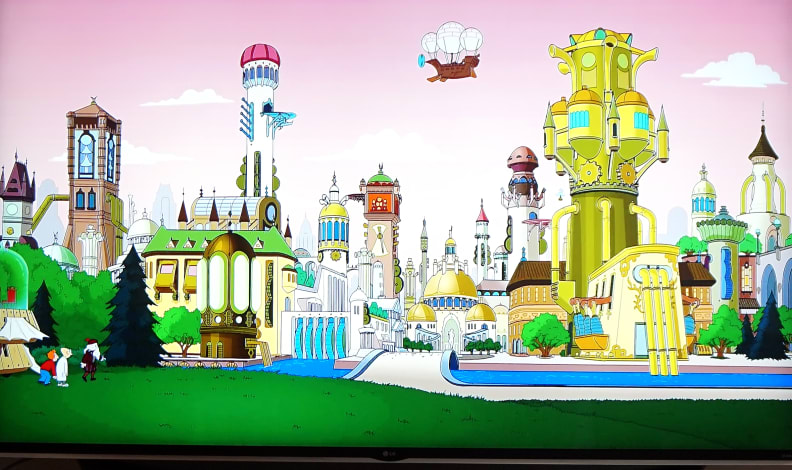 Whether or not you're watching Full HD (1080p) or Ultra HD (4K) content, the UF9500 looks very good. LG's upscaling process is subtle and refined, rendering sub-4K content with just a little extra sharpness without making things look unnatural. Native 4K content will obviously look best on this TV, but don't feel like that's all you can watch.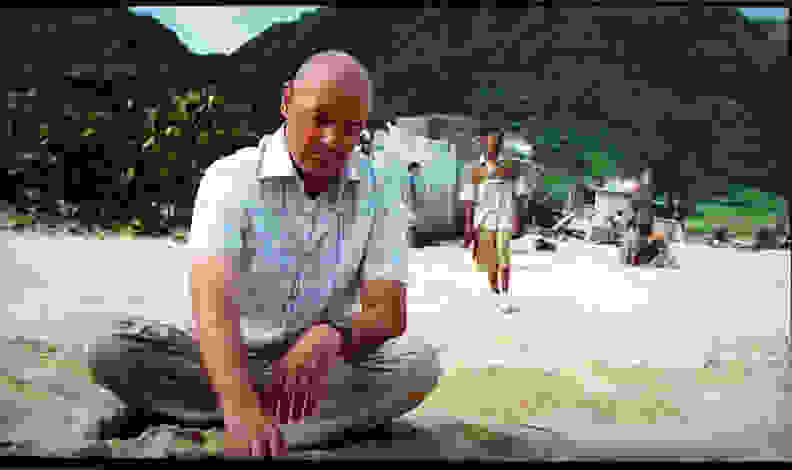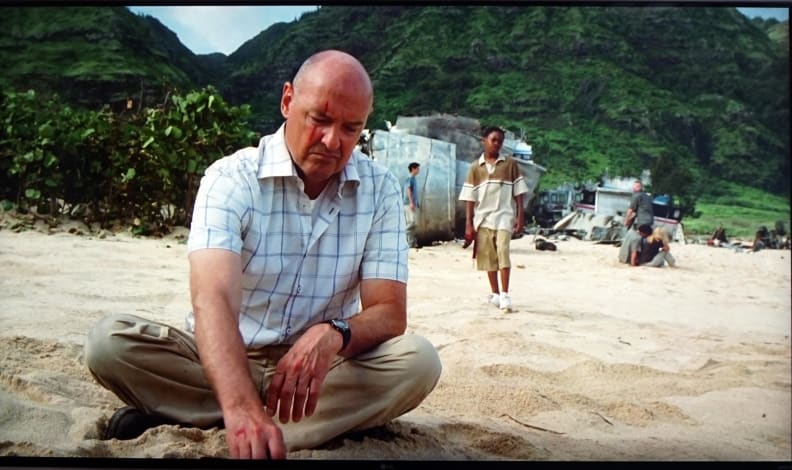 The 65-inch UF9500 wields a 120Hz refresh rate, meaning it lives within the upper echelon of motion performance. Action flicks and sports look smooth and stutter-free for the most part, especially if you take advantage of the TV's motion compensation mode, called TruMotion. The setting can make movies/film content shot at 24 or 30p look unnatural, but it's easy enough to turn off.
If you're looking for a TV primarily for gaming, you should probably avoid 4K TVs that don't have a fast HDMI input.
Video games are a different matter. Every element of upscaling—reproducing pictures, adding color or contrast enhancements, and any video processing—introduces incremental amounts of input lag, so if you're looking for a TV primarily for gaming, you should be extra wary of 4K TVs.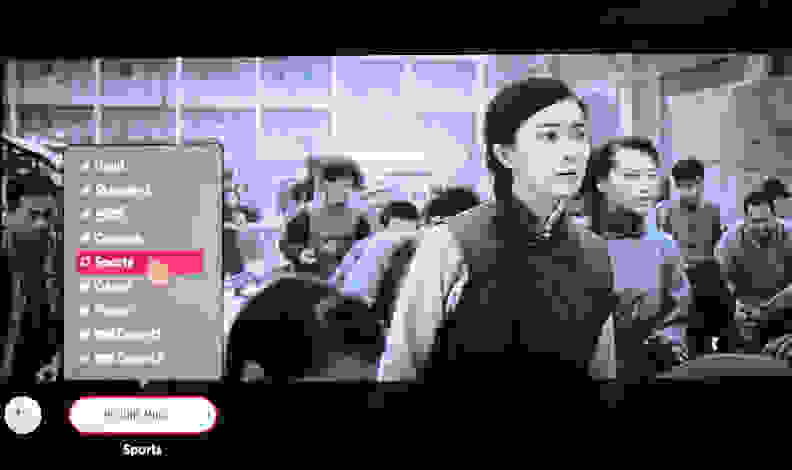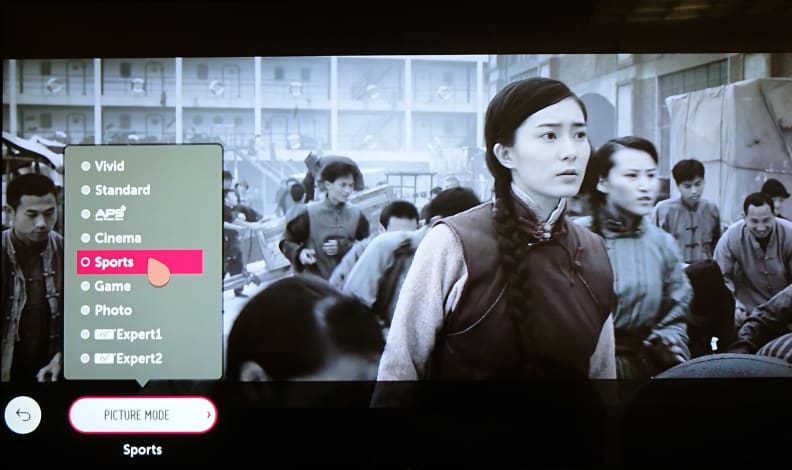 Testing also revealed very clean, color-free grayscale elements (black, gray, and white shades), even at high luminance levels. Regardless of ambient lights or windows, the UF9500 provides ample brightness, though the screen is unfortunately also very glossy. Likewise, the UF9500 boasts a wide enough viewing angle for modest group viewing.
Even with all of those strengths, however, home theater enthusiasts and cinephiles should absolutely avoid this TV. The UF9500 struggles to produce truly dark, inky shadow tones, resulting in luminous black levels that aren't suitable for a theater environment.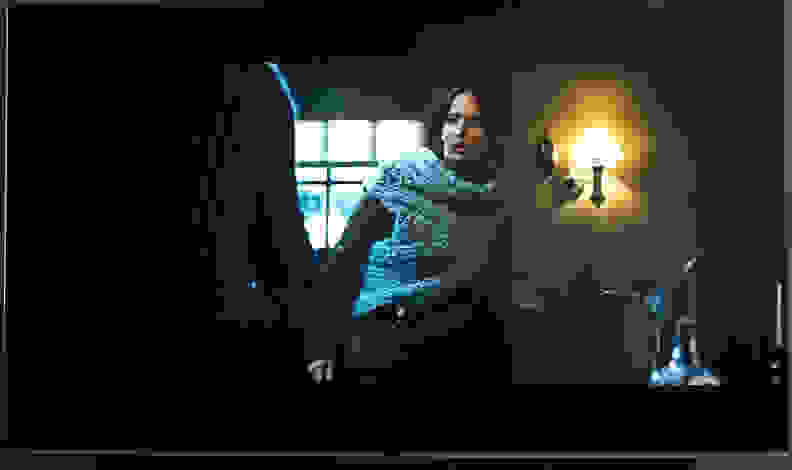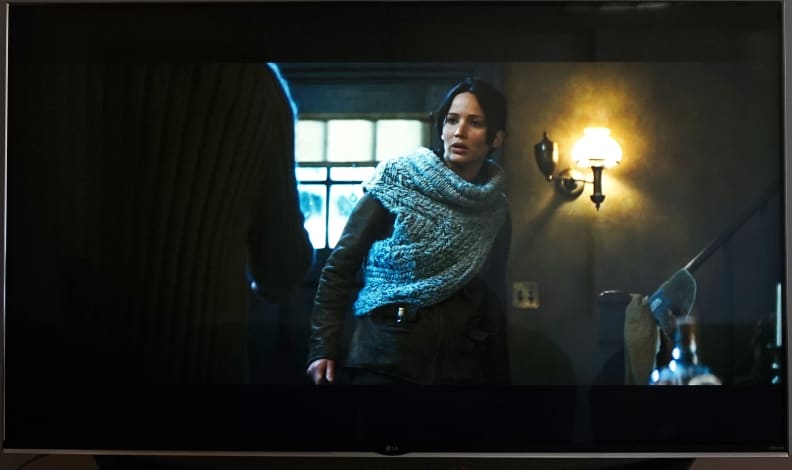 Updated: After a closer look at the UF9500's local dimming process, we've got quite a bit more to say about it. Turning the "LED Local Dimming" control to Low, Medium, or High definitely makes notable improvements to black level, especially in areas where most of the screen is black. We measured huge improvements to black level that diminish somewhat quickly as black areas get closer and closer to brighter areas of the screen.
The result has pros and cons, as these things tend to. On one hand, you should definitely be using the TV's local dimming function—even just on Low—to secure much better black levels when possible. Just note that the shadow uniformity may look a bit off at time, as the effectiveness of the local dimming scales back rather quickly near specular highlights.
To check out our data, charts, and final calibration settings, head over to the Science Page.
During our viewing angle test, we measure how far from off-center you can watch a TV before the picture degrades to less than 50% of its original contrast value. Despite its poor contrast performance, the UF9500 boasts a pretty good horizontal viewing angle for an edge-lit LED TV.
I measured a total viewing angle of 67°, or ±33° from the center to either side of the screen. This compares favorably to the three comparison TVs from last year, and likely has a lot to do with the UF9500's IPS panel.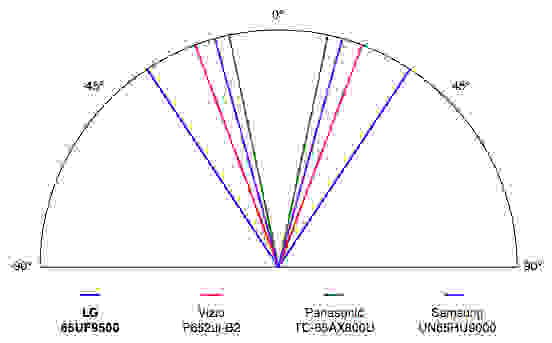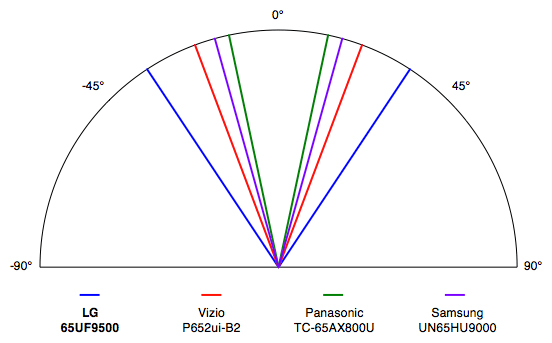 A color gamut is a visual illustration of a TV's color palette, particularly the hue/saturation of its primary and secondary color points. Note that color luminance—which is also very important—is not represented in a 2D color gamut illustration, but make no mistake, we still calibrate it.
The color gamut represents a TV's primary (red/green/blue) and secondary (cyan/magenta/yellow) colors, as well as its white/gray point, compared to the Rec. 709 color standards.
In the ISF Expert 1 mode, the UF9500's default color is quite accurate so long as the color gamut setting is set to "standard." The "expanded" setting results in very saturated, very rich-looking colors that are great for some content, but don't adhere to an international standard.
During calibration, I switched to the expanded color gamut in order to tweak the UF9500's colors and increase their accuracy, but without an informed calibration, the expanded gamut will be less accurate than the standard gamut.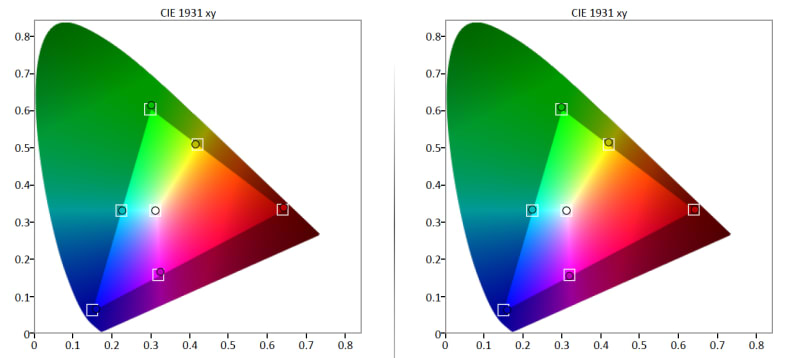 While this review applies specifically to the 65-inch UF9500 (LG 65UF9500), the series is also available in 55 inches (LG 55UF9500) and 79 inches (LG 79UF9500).
Performance points, smart features, and design elements noted in this review should be very similar (if not identical) between different screen sizes in the UF9500 series. However, the calibration settings on the Science Page are for the 65-inch model only.
The 79-inch version has a 2.1-channel speaker system rather than a 4-channel speaker system, and features three USB inputs on one side.
An otherwise stellar picture held back by poor shadow tones.
When evaluating TV performance, it's important to remember that viewing environment can drastically affect your perceptions of a given set's quality. Bright, vibrant displays look great in a store under mixed lighting, but may not hold up in our light-controlled test lab or your home theater.
Bright viewing environments tend to obscure subtler picture elements already, so shadowy black levels aren't as important in a room with normal to high amounts of ambient lighting. They're an absolutely must in a dedicated viewing environment, however, especially if you want immersive contrast and a rich, filmic look.
While many modern LED TVs have good-enough black levels to work in both bright and dark rooms, the UF9500 does not. It looks perfectly fine in a room with the lights on, but the poor contrast makes dark-room viewing a no-no.
The UF9500 looks perfectly fine in a room with the lights on, but the poor contrast makes dark-room viewing a no-no.
For serious viewers (with a dark, "theater" room) who are more concerned with high contrast than 4K resolution, we recommend looking into an OLED model, or hunting down a good plasma television like Samsung's F8500.
If you crave the flexibility of a 4K TV that can function in both bright and dark rooms with equal panache, check out a full-array backlit model like Panasonic's AX900U or Sony's X950B.
Everyone else? The UF9500 is a solid 4K TV with a bright colorful picture, a unique design, and some of the best smart features on the market. The experience and design here are flagship level, but so is the price, and for what you're paying the performance should be, too.
Updated: In digital displays, grayscale (neutral) shades are created by combining primary colors. For this reason, the proper emphasis of each color (red, green, and blue) is very important to achieve grayscale shades that are the right "color" of gray/white and also bright enough.
Many uncalibrated TVs achieve extra luminance by over-emphasizing one or two sub-pixels, resulting in peach- or blue-tinted grayscale elements. Error within the grayscale is measured in a collective called DeltaE.
The UF9500 is a strong performer here, though it could be better. While this TV's grayscale elements are mostly balanced and color-free, the overall DeltaE of 3.73 is quite good.


If we take a look at the underlying emphasis on red, green, and blue, we can ascertain where the error arises. Our second calibration revealed a mild over-emphasis on green across the IRE spectrum. Using the TV's 2- and 20-point white balance controls, I was able to tighten up the emphasis considerably.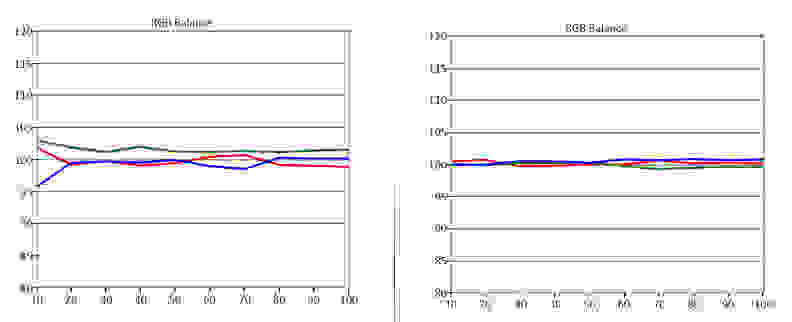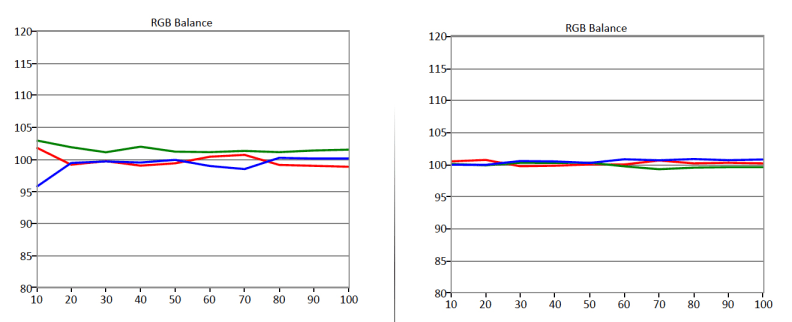 If contrast ratio is a measurement of a TV's brightest and darkest elements, gamma is a measurement of how it gets from one to the other. How smoothly does the TV add luminance? How quickly does it brighten into midtone and highlight shades? That's gamma—a holdover from the analog days of CRT televisions, and one of the trickiest things for a modern HDTV to do correctly.
Out of the box, the UF9500 followed a gamma curve of 2.1, which is a little brighter than the 2.2 standard, and a lot brighter than the 2.4 dark room ideal. Because it had a BT.1886 setting, I decided to calibrate it as such. Unfortunately, the end result wasn't exactly an improvement. I ended with a total gamma sum of 2.14, which isn't quite what I was going for.
Update: We recently re-calibrated this TV and aimed for a gamma of 2.2 instead of the BT.1886 EOTF. The results were much more favorable.


Meet the tester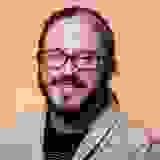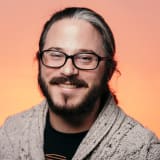 Lee Neikirk
Editor
@Koanshark
Lee has been Reviewed's point person for most television and home theater products since 2012. Lee received Level II certification in TV calibration from the Imaging Science Foundation in 2013. As Editor of the Home Theater vertical, Lee oversees reviews of TVs, monitors, soundbars, and Bluetooth speakers. He also reviews headphones, and has a background in music performance.
Checking our work.
We use standardized and scientific testing methods to scrutinize every product and provide you with objectively accurate results. If you've found different results in your own research, email us and we'll compare notes. If it looks substantial, we'll gladly re-test a product to try and reproduce these results. After all, peer reviews are a critical part of any scientific process.
Shoot us an email