On the surface, the 84LM9600 may seem like any other 84-inch LG Smart TV. Look closer—it's clear this one is a different beast entirely. If you haven't guessed by now, it belongs to the genus Ultra High Definition.
We had previously seen this gargantuan UHDTV at CES back in January, but this time, LG invited us to take a closer look at the now-finished product. That's right, the 84LM9600 hit the Korean market in August and saw a limited American release in October. LG had some sample UHDTV content for us to watch and, for the most part, it looked glorious: The UHDTV content we saw took advantage of the screen's staggering 8,294,400 pixel count, giving us an experience similar (although not quite the same) to jumping from standard-definition to high-definition for the first time.
Does this mean that your HD television with its miniscule 1080p resolution is now outdated? Well… yes and no. The technology to display images in a native 2160p resolution—four times the resolution of 1080p— now exists, but the content does not, at least for consumers. Also, that glorious-ness does come with a high price tag: The MSRP for the 84LM9600 is $20,000. Is a television that can display a resolution of 3,840 x 2,160 really worth as much as a Hyundai Sonata, especially if there isn't any content available that can take advantage of this ultra high resolution? That all depends on how deep your pockets are and whether you fancy yourself an early adopter.
Where some of LG's high-end models like the LM7600 and the LM6700 have barely any bezel, the 84LM9600 has a black bezel less than an inch thick bordering the entire screen. The 55LM9600 never had a completely bezel-less design either, but the 84LM9600 is more reminiscent of the LM6200 series. While less bezel is clearly better, there is only so much you can do with an 84-inch screen. Besides, when a TV is this gigantic and can play UHDTV content, who cares about a little extra bezel?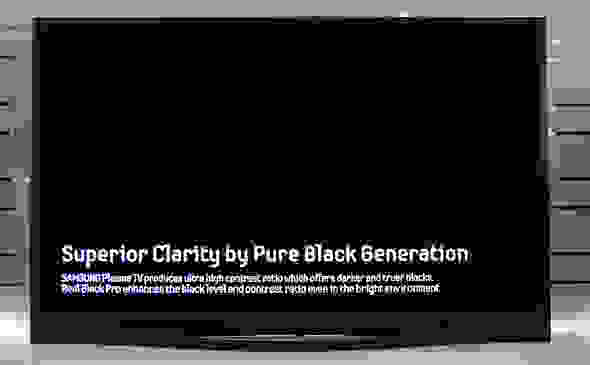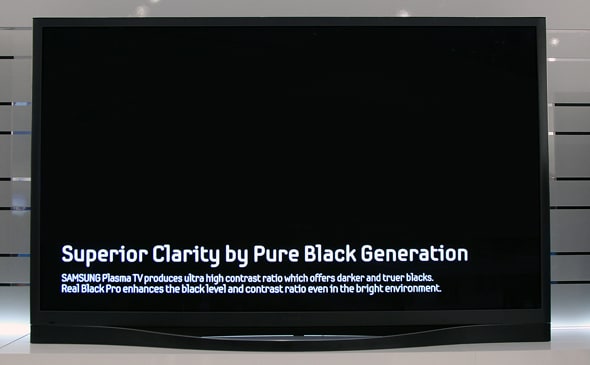 The back of the 84LM9600 is nearly indistinguishable to the 55LM9600. It has identical connections placed in the same area and the on-set controls are also located on the left-side, much like its predecessor. The big difference is the two large circular speakers, each with its own subwoofer. It appears that LG didn't want to impress solely with sight, but also with sound. We talk about the aural experience more in the Performance section, but know this: These 2.2 speakers set the bar pretty high for built-in TV audio.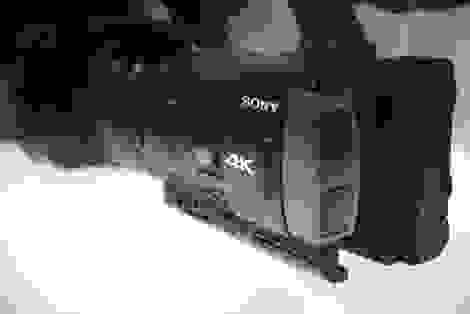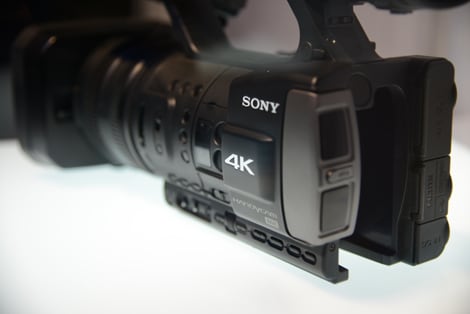 The 84LM9600 isn't the thinnest TV ever made, but for its size, it looks quite svelte. The tech specs say that the depth is only 1.57 inches—that's only 0.07 inches thicker than the 55LM9600. For comparison's sake, the 55-inch LM6700 (which happened to be next to its 84-inch cousin in LG's lab) is only 1.3-inches thick. Needless to say, the 84LM9600 is about as thin as an 84-inch TV is going to get, at least before OLED technology reaches the masses.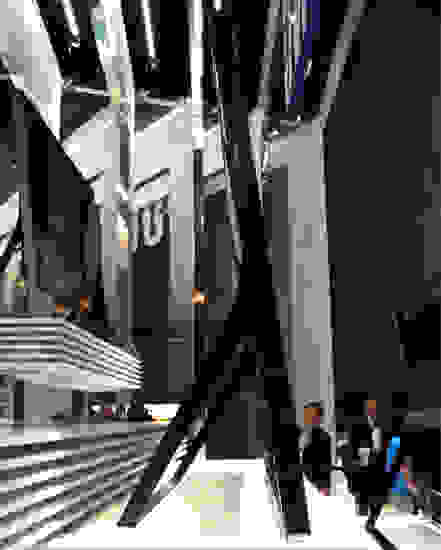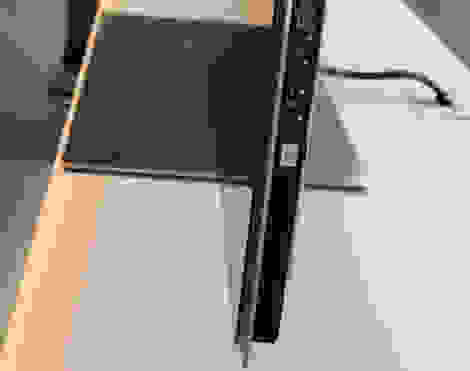 LG's ribbon-styled stand makes an appearance on the 84LM9600. It does look similar to all the other times we've seen this stand, but seeing a version this large is like seeing it for the first time.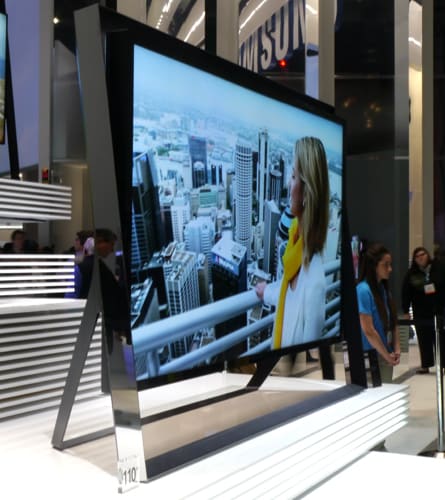 When we reviewed Sharp's 80-inch LC-80LE844U, we were giddy with excitement because of that TV's sheer size. LG's 84LM9600 easily trumps that feeling: You can't help but smile when you see a TV like this for the first time. Yes, it's big, but it actually looks good, too. Some of the larger TVs we've reviewed, like Sharp's aforementioned 80-inch LCD or even the Sharp Elite, which comes in a 70-inch model, simply don't have the same wow-factor that the 84LM9600 has. The slim profile and the gigantic ribbon-styled stand put this LG in a class of its own, as far as 80-inch-plus TVs are concerned.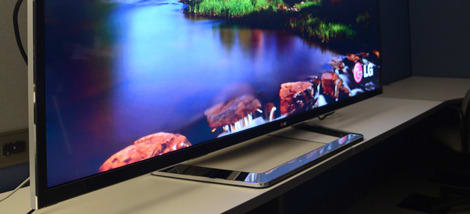 The UHDTV content that LG had available looked phenomenal. "Sharp" is the best way to describe the picture: Since there are four times as many pixels, picture quality was that much more detailed. Colors, especially greens, were more vibrant. Scenes with water and blue skies looked life-like. Going from UHDTV content to regular 1080p content was noticeable, although we wouldn't say the difference is quite the same as the jump from SD to HD was. The aspect ratio is still 16:9, plus we've become used to sharp displays on laptops, smartphones, and tablets.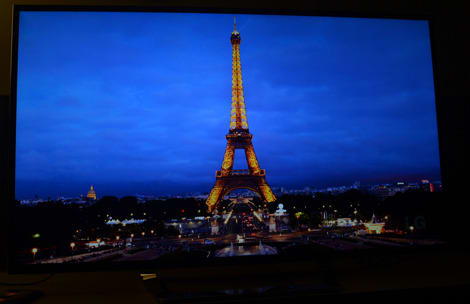 Since there is no UHDTV content available, consumers interested in ultra high-definition TVs should become familiar with the term upscaling. Resolution upscaling is the process of adding extra pixels to compensate for a higher resolution screen. Since UHDTVs have four times the pixels of HDTVs (8,294,400 compared to 2,073,600), upscaling to this resolution technically involves doubling the horizontal pixels and doubling the vertical pixels. For the 720p resolution—yes, you still use that whenever you watch cable—upscaling will technically triple the horizontal pixels and triple the vertical pixels. The whole process isn't really that simple—there are complex algorithms at work—but the gist of it follows those principles.
How does this actually look? We can't comment on upscaling from 720p, since we did not have access to a cable box. Upscaling 1080p content from a Blu-ray produced an effective result: The picture didn't look any sharper, but it didn't have any artifacts from the process, either. An HD television will always have 2,073,600 pixels, no matter what size it is. This means that the larger a TV gets, the larger the pixels get.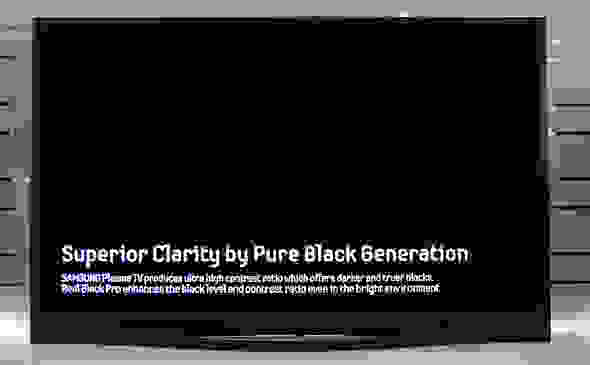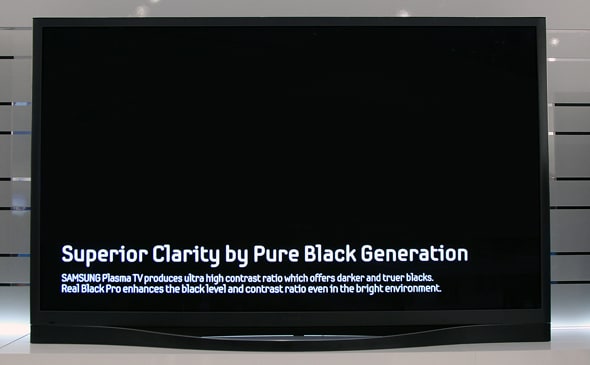 We played a Blu-ray of 300 on the 84LM9600 and also on a 47-inch LM6700, side-by-side. Both TVs were given identical calibrations. The content that was displayed looked nearly identical. We noticed that the 84LM9600 had a slightly deeper black level and a slightly cooler color temperature. The fact that the 84LM9600 displayed 1080p content that looked just as good as it did on a smaller screen speaks volumes for LG's upscaling process.
While we could go on and on about UHDTV technology, we need to give the sound quality a mention. The audio experience on the 84LM9600 was superb. There are two speakers on the back of this TV, each with its own subwoofer, for a total of 50-watts of pure sonic power. These speakers were plenty powerful, with actual bass (a rarity in TVs) that added depth to the audio. Cranking the volume up all the way did not add any noticeable distortion, which is a tough feat to accomplish.
The LG 84LM9600 has a native resolution of 3,840 x 2160, which was officially dubbed "Ultra High-Definition" by the Consumer Electronics Association in October. Previously, the term "4K" was used to reference this resolution. "4K" is still an accepted term for the content—cameras are still described as shooting in 4K.
When we put an all-black image on the screen, light was leaking in from all 4 corners. Also, the 84LM9600 did not seem to get as bright as other LG TVs we've reviewed. When we turned the local dimming feature on, an all-black image on the screen went from being a bright and blotchy affair to a complete absence of light.
We didn't calculate any hard data on the 84LM9600's viewing angle, but we can say that it looked very good. There wasn't a huge degradation in picture quality when viewing from wide angles. We should note that this TV has an IPS (in-plane switching) panel. These screens typically have good viewing angles, at least as far as LCD TVs are concerned.
As usual, LG packages six pairs of their passive 3D glasses with the 84LM9600, which are the same passive glasses that come with every 3D LCD TV that LG released in 2012. They're possibly the most comfortable 3D glasses on the market.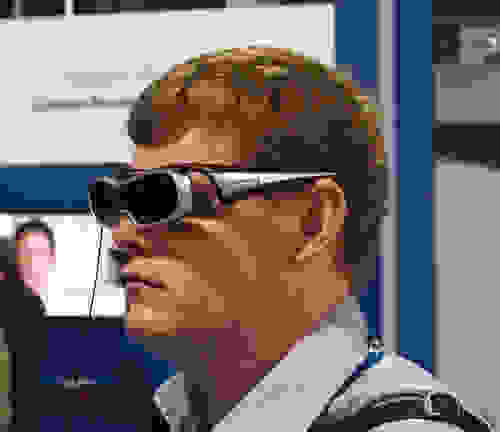 There was only one ultra high-definition 3D clip on hand and it only lasted about 30 seconds. Those 30 seconds ended up being the best home 3D we have ever seen. Images popped out of the screen and we were treated to added depth—it was the kind of 3D that you wanted to reach out and touch.
Part of the reason 3D looked so impressive has to do with the huge resolution. LG uses passive 3D, which means each eye sees an image, but that image is half the resolution of the TV. For LG's current LED TVs (and any other company that uses passive 3D like Vizio and Toshiba), that means each eye is only given a 540p image. With the 84LM9600, each eye is given a 1080p image and the results are gorgeous.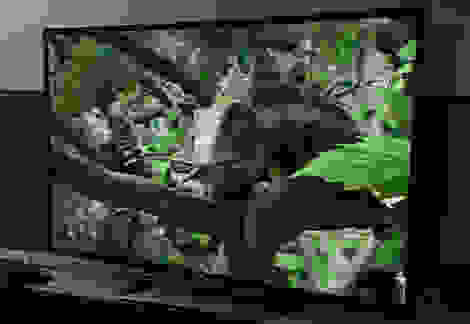 Yes, active 3D shows each eye a 1080p image on current 3D HDTVs from the likes of Panasonic, Samsung, and Sony. We haven't seen active 3D that produces images as well as models like the LG 55LM9600 or the Vizio CinemaWide, which both champion passive 3D technology and took home our 3D TV of the Year and runner-up awards, respectively.
Blu-ray 3D was also very good. We watched Under the Sea 3D and depth was impressive. Some shots popped out as well, although the effect wasn't nearly as jaw dropping as the UHDTV 3D. The 2D-to-3D conversion wasn't anything special, at least after being treated to excellent native 3D content. We didn't notice much of a 3D effect with the conversion, not to mention it made the picture much dimmer, and images were much less detailed.
None of the 3D material we saw produced any crosstalk. Our eyes are thanking you for that one, LG.
The connections on the 84LM9600 are identical to what the 55LM9600 offers. There are 4 HDMI inputs, 3 USB ports, an ethernet jack, a VGA input, a shared component/composite input (an included adapter is needed), an antenna, and a digital audio output.
Like we said before, UHDTV content is not yet available for consumers. When that content is available—possibly in the form of a Blu-ray disc—you need to make sure that you are using HDMI 1.4 or 1.4a cables. Older cables do not support UHDTV resolutions and will leave your future self highly disappointed.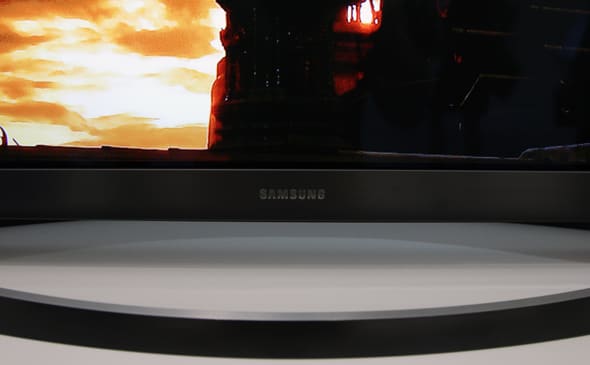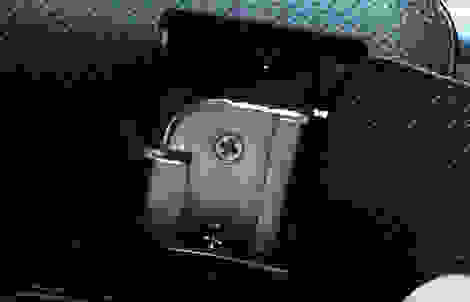 LG's smart TV platform and menu interface on the 84LM9600 are identical to what we've seen in the past, which isn't a bad thing at all. You can read more about LG Smart TV here.
There wasn't much that didn't impress us with the LG 84LM9600. The sleek design, the killer audio, LG's solid smart TV platform... are we forgetting anything? Right, right, the resolution! LG provided us with some UHDTV video clips that showcased amazing visuals. The detail and sharpness of the content we saw was absolutely stunning.
The problem with this TV, as well as Sony's KD-849005 UHDTV, is that there isn't any commercially available UHDTV content. Blu-ray discs that can hold content with a resolution of 3,840 x 2,160 do not exist yet, although the technology could be available in 2013. The resolution upscaling in the 84LM9600 will make 1080p content look just as good as it would on a 47-inch HDTV, but releasing a TV like this without having any true UHDTV content yet is asking a lot from consumers, especially for $20,000.
3D was never the next big thing for displays, nor was a larger aspect ratio of 21:9. Apple was on the right track with the whole "retina" display idea: If your product utilizes a display, make that display look as good as possible. When 3D was introduced, people were never going to watch TV with 3D glasses on every time they felt like using their television. A higher resolution display like this one has the potential to offer a noticeably better viewing experience every time you power it on, depending on the content. With the ultra high-definition content that LG provided us, we were truly able to glimpse the future of televisions, a future that looks detailed, vibrant, and promising.
Meet the testers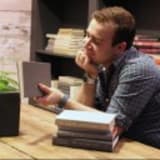 Josh Fields
Staff Writer
@reviewedtech
An enthusiast of all things tech, Josh is one of Reviewed.com's resident television experts. When he's not looking at bright TV screens in a dark room, he's probably reviewing a laptop or finding a new snack at 7-11.
See all of Josh Fields's reviews
Checking our work.
We use standardized and scientific testing methods to scrutinize every product and provide you with objectively accurate results. If you've found different results in your own research, email us and we'll compare notes. If it looks substantial, we'll gladly re-test a product to try and reproduce these results. After all, peer reviews are a critical part of any scientific process.
Shoot us an email