Pros
Stellar contrast

Near-perfect color production
Cons
Not exactly budget-friendly
Case in point: the C8 series, 2018's successor to last year's butt-kicking C7 series. This year, the C8 OLEDs—available in 55-, 65-, and 77-inch variants—continue to deliver the promise of a world-beating picture that's (mostly) free of frills. The C8 series also starts at $2,299, which is still pricy, but is a full $1,200 cheaper than the 55-inch C7 from last year.
There are a few reasons you might not want an OLED TV. With the 4K and HDR now mainstream, there are some TVs that look really good for much less money. Likewise, if you're looking for a much bigger TV (70+ inches), you can save money by buying on an LED TV. If your room is exceptionally bright, there are definitely brighter TVs out there. However, in a dedicated viewing environment and at standard (55-, 65-inch) screen sizes, the C8 is still the top TV for 2018.
About the LG C8 series
The 2018 C8 OLEDs are available in three screen sizes:
55-inch (LG OLED55C8PUA), $2,299
65-inch (LG OLED65C8PUA), $3,199
77-inch (LG OLED77C8PUA), $8,999
Because LG's OLED panels are essentially identical, the only difference between the the three variants within the C8 series are screen size. Otherwise, you're getting a robust list of specs and features:
• 4K (3,840 x 2,160) resolution • HDR10, Dolby Vision, Dolby Atmos compatible • Organic Light Emitting Diode (OLED) panel • webOS (4th gen.) smart platform • DCI-P3/10-bit color space • AI ThinQ functionality (with Google Assistant) • alpha-9 processor • 4 x HDMI, 3 x USB
We bought our LG OLED55C8PUA from Massdrop, and gave it 24-48 hours of warm-up and break-in time prior to review and evaluation.
What We Like
---
I'm still blown away by OLED picture quality
When we (finally) got the 55-inch C8 in from Massdrop, I set it up in the lab (alongside the TCL 5 Series, a much more affordable TV).
At first, I put the C8 in Store mode, where it plays through a reel of perfectly curated footage, meant to entice a buyer in a brick-and-mortar retailer.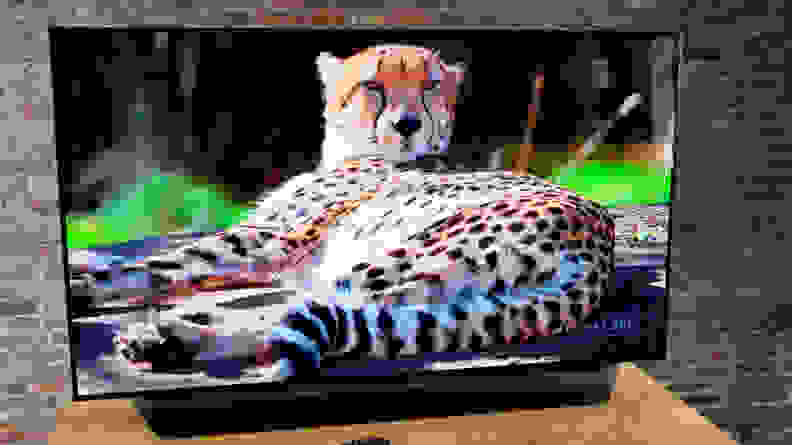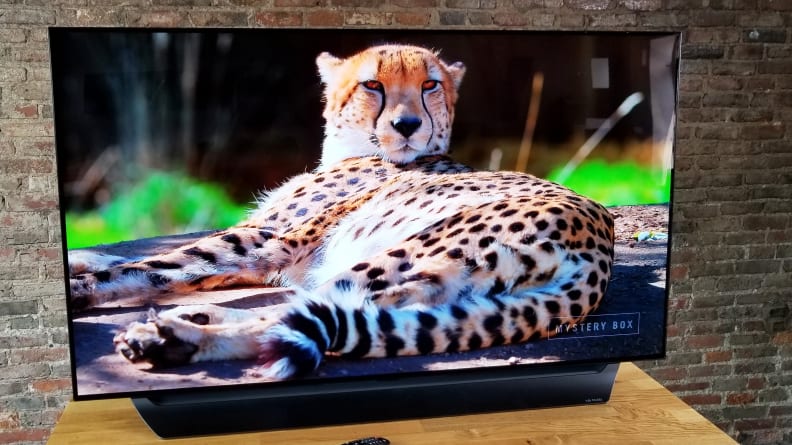 But despite knowing the content was made specifically to look amazing on the C8, my jaw still dropped. I haven't had an OLED TV in the lab since the LG E8 earlier this year, and it's easy to forget how effusive, rich, and contrast-heavy they look.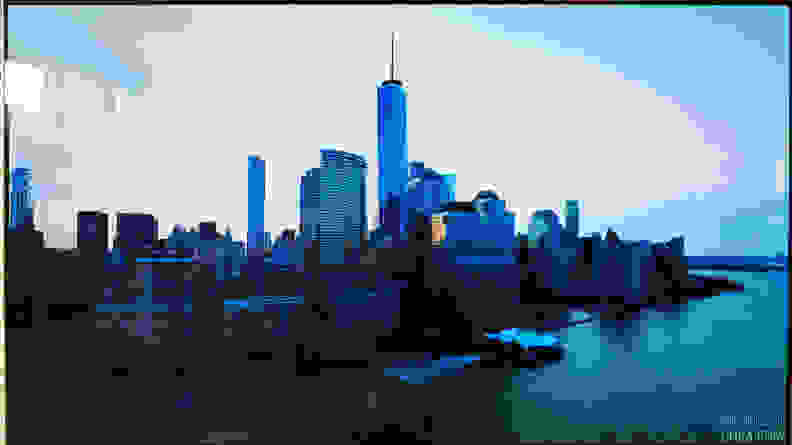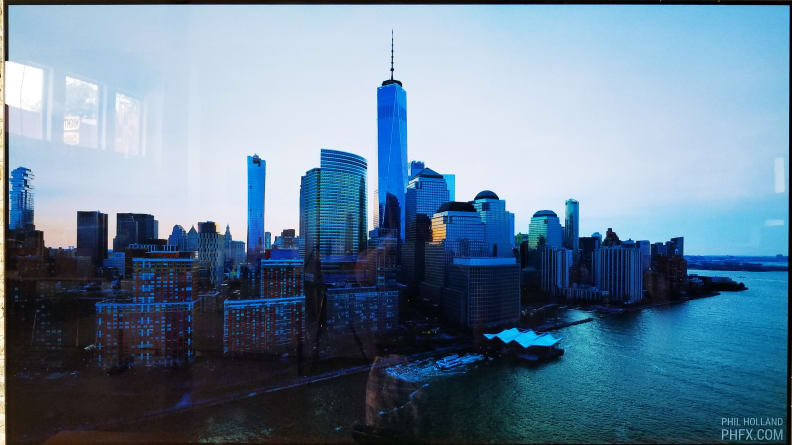 Next, my co-worker Michael and I watched some footage from YouTube—specifically, drone footage of LA in 8K resolution—side by side on the TCL 5 Series and the LG C8. And while the 5 Series didn't look bad, the advantage of an OLED panel was immediately apparent, especially in terms of motion and contrast. The dark parts of the picture were much darker, while the bright parts were no less bright compared to the LED TV next to it.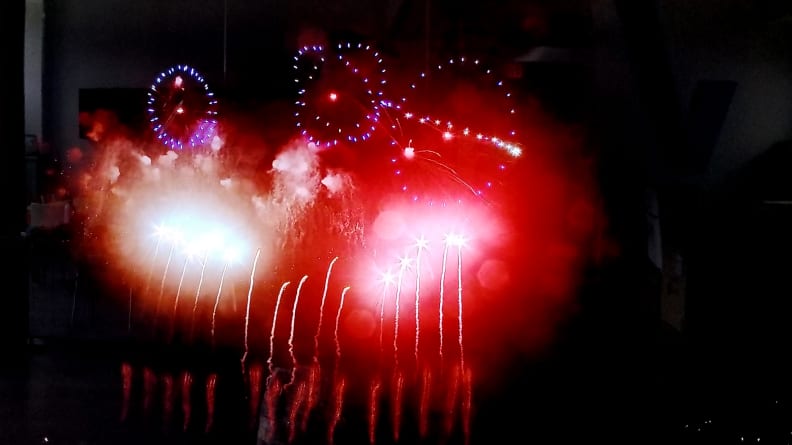 As expected, the C8 performed like a champ during all of our tests (check out how we test if you want to know more). Its got the same perfect black levels, vivid color, and wide viewing angle as every other OLED we've tested.
It's also an excellent HDR/Dolby Vision TV, achieving the same high brightness and wide color saturation as the pricier LG E8 series.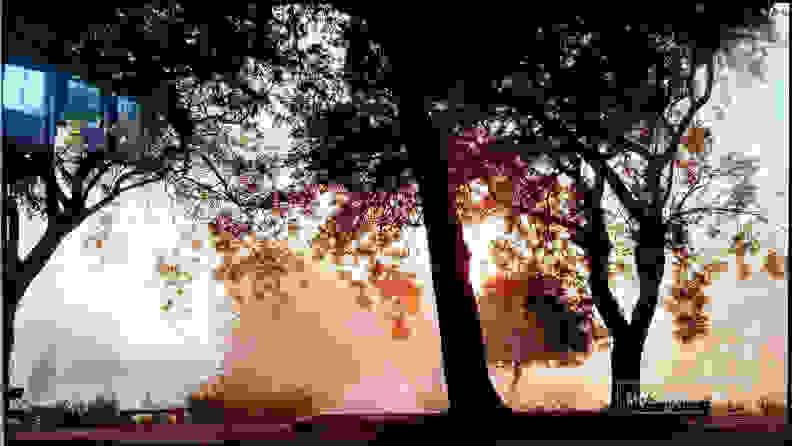 The only issue some users may have with the C8 is that in standard (non-HDR) mode, it's not that bright. It's still plenty bright for a dimmer or darker room, but you may find yourself wishing it had a little more punching power if your viewing environment is particularly bright.

Performance Data
• SDR Contrast: 56.39 / 0.0001 nits • HDR Peak Brightness: 749 nits • HDR Specular Results: 2% - 283 / 10% - 738 / 20% - 749 / 40% - 436 / 50% - 410 • SDR Gamut Coverage: 97% • HDR Gamut Coverage: 97%
To see our CalMan test results for SDR and HDR mode, check out the Science Page.
Smarter than ever before
Again like the E8, the webOS-equipped LG C8 wields a new functionality—proprietary to LG—called AI ThinQ. This is kind of like Samsung's "Smart Home" or all of Amazon's Alexa, as it allows the TV to sync up with other ThinQ devices like LG smartphones and LG appliances.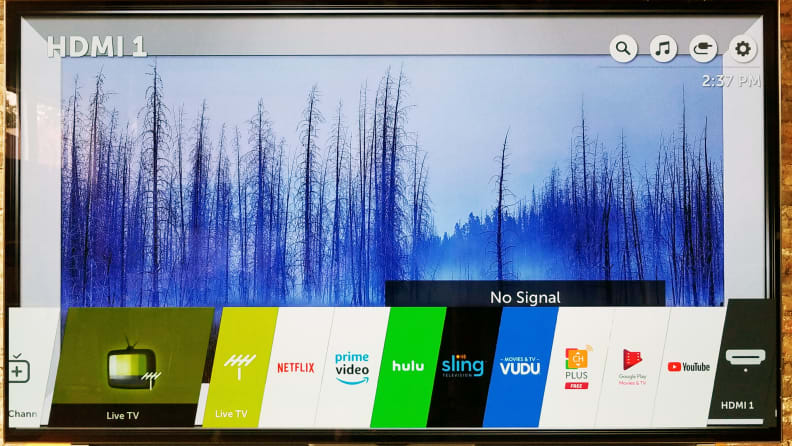 The "ThinQ" app—which is also compatible with Alexa and Google Home—works in conjunction with a TV like the C8 to allow you to check the status of and potentially control your connected smart home right from the TV. This is one of those situations where the usefulness and functionality is going to vary from person to person, depending upon the relevant ThinQ devices you already have and how much you want to actively control them from your TV.
Just like with other OLEDs, the main reason to buy these TVs is their incredible picture quality.
At the end of the day, however, the additional/updated functionality is a welcome feather in the C8's cap. It joins the already praised webOS platform—which is one of the better proprietary TV smart platforms out there—in cementing a particular level of polish where the TV is concerned. Apps like Netflix, Hulu Plus, and HBO Go are lined up in neat, colorful, vertical wedges along the bottom third of the screen, leaving the rest of the screen free for viewing content.
Just like with other OLEDs, the main reason to buy these TVs is their incredible picture quality. But I imagine most users won't have any bones to pick with webOS and the rest of the C8's functionality.
What We Don't Like
---
Not crazy about the design
The first time you see an OLED TV, you're going to be blown away by how thin it is. At the upper edges, OLED TVs are about as thick as a stack of credit cards. It's a little mind-boggling the first time around. However, while the panel elements themselves are consistently sleek and attractive, the rest of the TV is a bit dubious.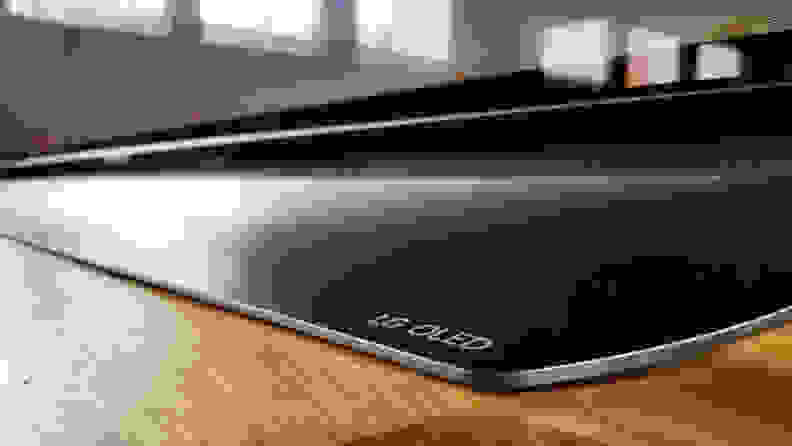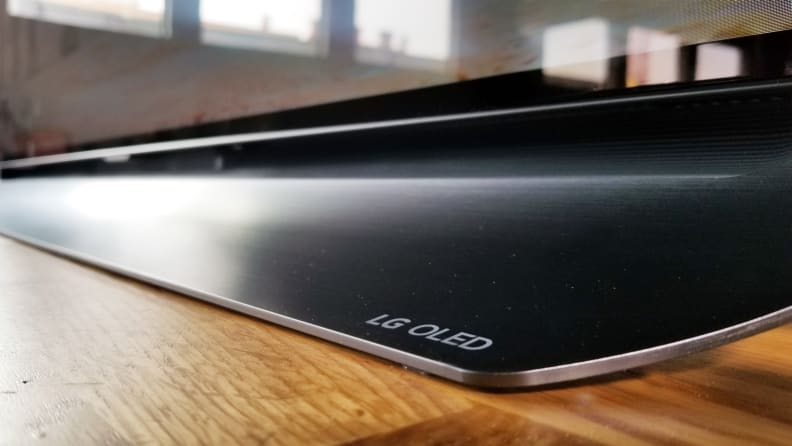 Basically, the C8 is wrapped in this sort of light-gray plastic that doesn't seem to want to commit to being either the traditional charcoal look, or LG's once-upon-a-time white chassis look. I like the wide, round, substantial stand that the panel sits upon, but whenever I'd steal a glance behind the thing, I'd wince a little.
Fortunately, you're not going to be looking back there much. However, if you do, you'll find a robust selection of AV ports: four HDMI inputs, three USB inputs, component/composite (via an included splitter), a LAN connection, coaxial, and optical audio. There's also a small directional control nub, but I recommend using the remote control.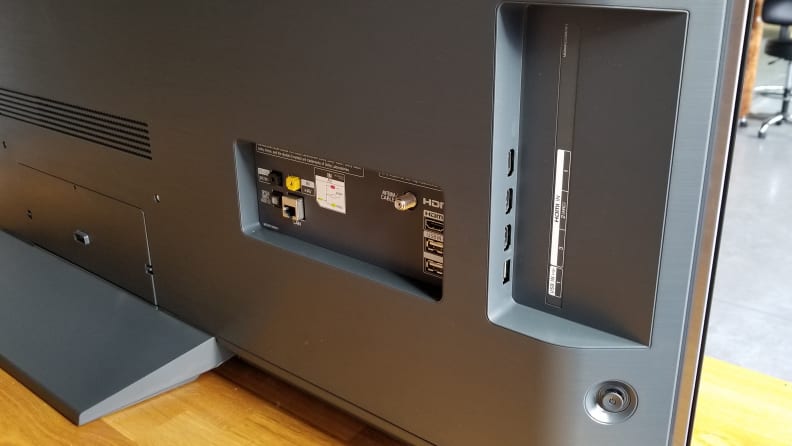 The included remote is the standard LG Magic Remote, a rounded, somewhat heavy clicker that casts an infrared-based cursor onto the screen. The remote and webOS/the menu UI are all very snappy and responsive, complements of the alpha-9 processor. Overall the TV's design and build aesthetics are great, but it lacks the feel of polish and durability as some similarly priced premium TVs. Damn that light-gray plastic.
Still out of most people's price range
OLED TVs are in a strange economic state at present, where the relative "value" or "affordability" is decided more by how much the most expensive OLED costs. Since they're an altogether different technology than LED TVs, it can be tricky to make comparisons between OLED and LED TVs in terms of value, especially without taking into account sometimes very tiny improvements in picture quality.
But that said, the C8 is still not cheap, despite OLED TVs being in their fourth or fifth year of public iteration. The 55-inch at over $2,000 seems absurd compared to the 55-inch Vizio P-Series, an excellent TV that's only $800. Does the C8 look better? Yes. Can anyone quantify how much better in a theoretical vacuum? Probably not.
And still not as valuable in larger sizes
Boiling down the C8's real value is tricky, too, because not everyone is looking for a 55- or 65-inch TV. Those prices are lower this year than last year, but the $9,000 77-inch is $3,000 more expensive than, say, the 75-inch Samsung Q9FN. This is one area where LED TVs, despite perhaps not having as many natural, panel-level advantages as OLED, have a manufacturing and component advantage, and are years ahead.
If you're torn between a smaller-sized TV that's of the highest quality, or a bigger TV that might easily look good enough (especially in a non-home theater viewing environment), OLEDs like the C8 can lose some appeal. However, I can safely say that the C8 is the best performance choice in the 55- and 65-inch size classes.
Should you buy it?
Yes—if you want the best of the best
Last year's LG C7 was our #1 TV for 2017, and it looks like the C8 is going to do the same thing in 2018. The picture quality continues to be incredible, with high HDR brightness, rich color, and all the same high-end features as the pricier 2018 OLEDs for a lot less money. The "wallpaper" W8 is around $7,000—you're paying a lot less for the C8, and not really losing anything but design aesthetics. That's what makes it #1.
LED TVs are starting to catch up this year, and there are a lot of great options if you're looking for alternatives. If your room is brighter than normal, consider the Samsung Q9: a super-premium QLED model that's easily twice as bright in HDR as the LG C8. If you want great picture quality but can't shell out thousands of dollars, Vizio's 2018 P-Series is an incredible performer for what you're paying.
However, if you've got a traditional home theater viewing environment, the LG C8 is just about a perfect TV. While I'm not personally crazy about the design, and think the AI ThinQ functionality will only be a huge benefit to a small number of people, LG's OLEDs continue to lead the way in terms of pure, appreciable picture quality, and the C8 is the best value for the most people.
Meet the tester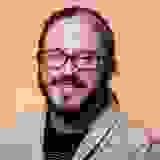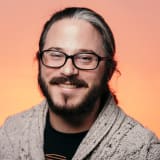 Lee Neikirk
Editor, Home Theater
@Koanshark
Lee has been Reviewed's point person for most television and home theater products since 2012. Lee received Level II certification in TV calibration from the Imaging Science Foundation in 2013. As Editor of the Home Theater vertical, Lee oversees reviews of TVs, monitors, soundbars, and Bluetooth speakers. He also reviews headphones, and has a background in music performance.
Checking our work.
Our team is here for one purpose: to help you buy the best stuff and love what you own. Our writers, editors, and lab technicians obsess over the products we cover to make sure you're confident and satisfied. Have a different opinion about something we recommend? Email us and we'll compare notes.
Shoot us an email