2014, the year of curved TVs, might be over, but there's no sign of manufacturers giving up on the gimmick anytime soon. Curved 4K TVs are back big in 2015, and LG is offering consumers the best of both worlds with the EG9900.
The Looks & Experience
The EG9900 is a razor-thin 77-inch 4K OLED with a dazzling, bendable panel. Users can not only choose whether or not they want to enjoy a curved display or a flat one, but also the degree to which the panel bends.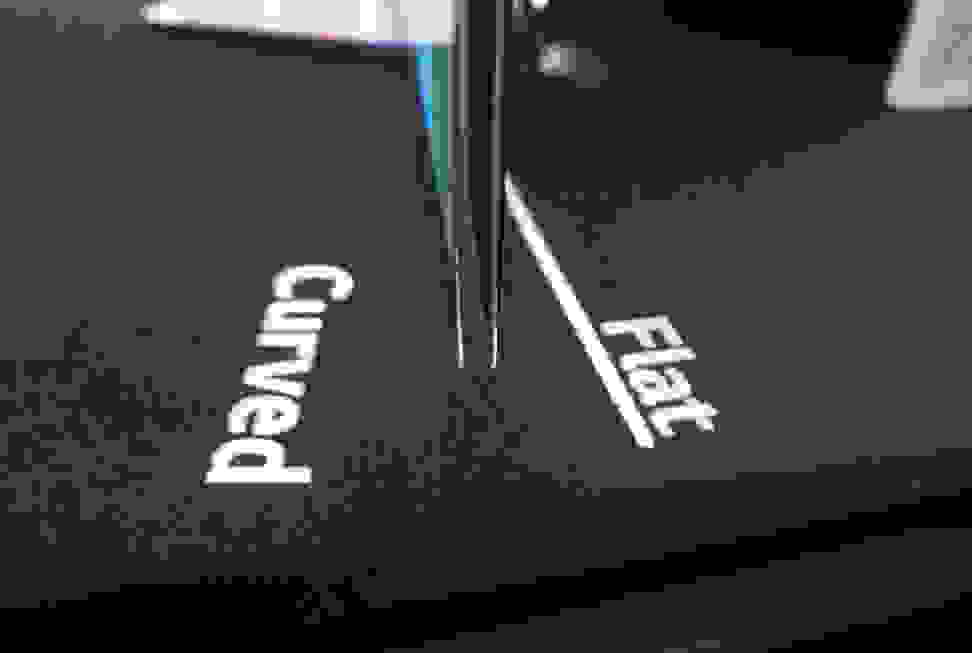 Watching the EG9900 flex is a weird, wonderful thing. While CES is much noisier setting than a living room, the flexing process seemed to be virtually silent. The bezel is seamless and it bends like a playing card—a very expensive playing card.
Speaking of playing cards, if I had to guess, I'd say the EG9900's panel is about as thin as stack of 20. Because an OLED display's pixels generate their own light, there's no need to engineer an edge light or backlight for these panels. This opens the door for screens that rival your smartphone in terms of thickness.
While the EG9900 on display at CES was only running a tech demo, the TV will feature LG's 2015 smart platform, webOS 2.0. The newest iteration of webOS is faster and boasts a more streamlined GUI, so there's a very good chance that our favorite smart platform of 2014 just got even better.
The Picture
Of course a flexible screen means nothing if the picture doesn't impress. So, how does the EG9900 stack up? To put it simply, the display seems like it packs the type of performance that we've come to expect from OLED TVs. Black levels looked as deep as anything we've ever seen, and the highlights were searingly bright.
Thanks to LG's WRGB architecture—which adds a color-filtered white sub-pixel to the standard RGB mix—colors are as rich as they are accurate. Frankly, the prospect of getting one of these TVs into our lab for testing is enough to make us giddy.
Frankly, the prospect of getting one of these TVs into our lab for testing is enough to make me giddy.
Now that OLED technology and 4K resolution have been happily married, we predict you'll be hard-pressed to find a more advanced picture on the market.
The Verdict
Although we're not going to know how well the LG EG9900 performs until we test a production unit in our lab, it's hard to imagine OLED technology letting us down at this point. The question is, how will a flexible panel affect the EG9900's picture, if at all? Moreover, will we find any variation in the test results when we compare, say, the viewing angle of the flattened panel to the curved panel? Without any pricing information, it's also difficult to determine the value of a bendable panel. It very well might be the case that the EG9900 is too expensive and too esoteric for most consumers.
LG's 2014 4K OLED and this model's predecessor, the EC9700, is the best TV we've ever reviewed. All 4K TVs are impressive, but 4K OLEDs represent the absolute best the industry has to offer. Because of this, anyone who's interested in the future of television should be keeping an eye on the EG9900.
Our editors review and recommend products to help you buy the stuff you need. If you make a purchase by clicking one of our links, we may earn a small share of the revenue. Our picks and opinions are independent from any business incentives.