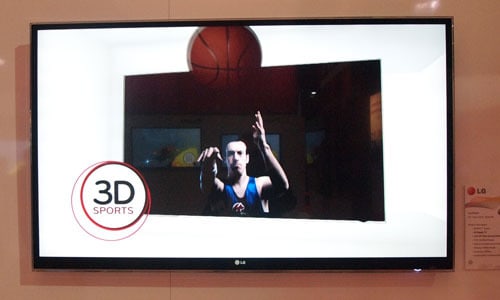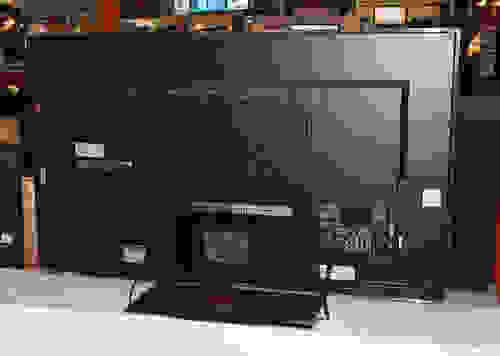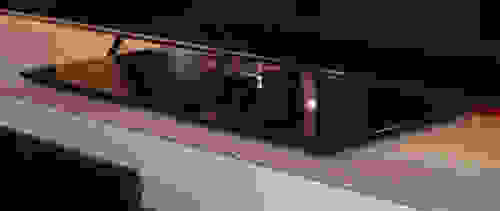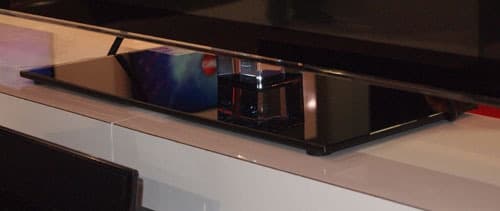 LG does an excellent job making its HDTVs look classy and stylish. The 55LX9500 has a nice, trim bezel that is a bit thicker on the bottom than it is on the size. There are no controls on the front of the TV (they're around the back on the right side), so when you look at the frame you see one, flat screen. The bezel is also completely flush with the LCD, so there's no inset or protrusion.
LG didn't skimp on the features with its flagship LCD HDTV. The 55LX9500 has a 1080p resolution, a 55-inch screen, and makes use of LED backlighting with Local Dimming. Of course, the TV is also 3D ready (glasses sold separately), and it is THX certified (for 2D content only).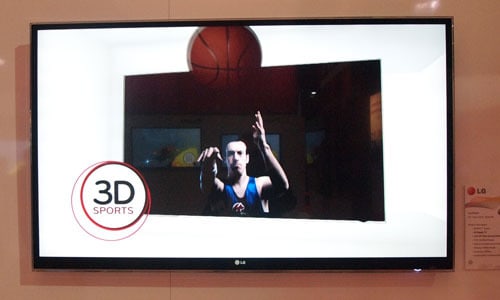 The 55LX9500 is a 1080p HDTV, which means it can handle a native resolution of 1920 x 1080 (as well as smaller resolutions like 720p or standard definition). The TV also has a 24P Real Cinema mode that is meant to create a film-like look when watching movies on the set.
In the specs for the 55LX9500, LG lists the contrast ratio at 10,000,000 to 1, which we guarantee as being a gross exaggeration. Manufacturers do this kind of thing all the time, though, because their testing methodology for determining contrast ratio isn't based on real-life viewing situations. When we get the 55LX9500 into our labs, we'll run our own contrast ratio tests and we'll likely get a good, but much smaller ratio (for example, 5,000 to 1 would be very good in our test).
Colors looked good on the 55LX9500, and the TV is equipped with LG's Picture Wizard II for easy picture calibration as well as 8 different picture modes.
The 55LX9500 has a 480Hz refresh rate (called TruMotion 480Hz by LG), which should mean the TV offers excellent motion. The thing is, we don't usually see much—if any—difference between 480Hz and 240Hz or even 120Hz refresh rates. Perhaps the one area where a higher refresh rate is useful may be for 3D content, but, frankly, that was the area where the LG 55LX9500 looked the worst compared to the competition.
The LG 55LX9500 showed us a decent viewing angle when we checked it out at the CEDIA Expo, but it wasn't nearly the 178-degree viewing angle that LG lists for the TV in its specs. We saw the TV starting to lose a significant amount of brightness when we viewed it from a sharp angle, but, again, this was just based on our own eyes and not any scientific measurements.
Unfortunately, the 55LX9500 does not come with 3D glasses, so you have to figure them in as separate expenditures. Of course, there are likely to be bundled sales of the TV with glasses (particularly during the holiday season), so you may be able to save some cash by finding a deal like that.
LG's 3D glasses have a more basic design than, say, Panasonic's, which look like they are from the future. The LG glasses are basically just thick black frames that feel comfortable enough on your face (although they don't fit too well over regular glasses). The button for turning on the active shutter technology is somewhat hidden on the glasses, as it is located on the inside of the right arm rather than on the outside of the glasses.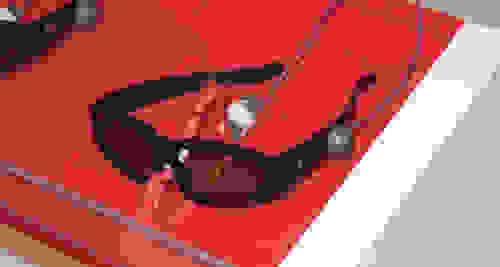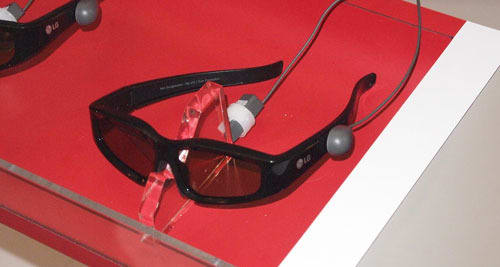 We were disappointed by the 3D performance we saw from the 55LX9500. Images definitely popped and looked crisp, but there was a lot of ghosting and flicker in the 3D content. We must say, however, 2D content looked impeccable on the 55LX9500, so it seems LG has a few kinks to work out with its 3D settings.
As we said before, there was quite a bit of flicker and ghosting in the 3D content we saw on the 55LX9500. The flicker was somewhat disorienting and it occurred more in scenes with fast motion than anything else. In fact, slow moving scenes looked quite good in 3D on the 55LX9500.
The 55LX9500 has plenty of ports, all of which are located on the back of the TV. There's a large cluster of ports right on the back and another smaller group that runs vertically down a strip on the back of the TV.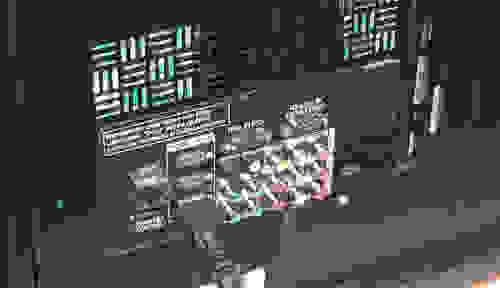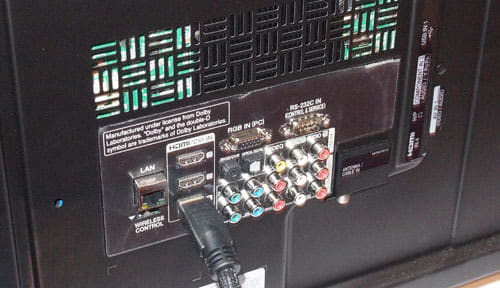 In all, the 55LX9500 includes 4 HDMI connections, two Component inputs (with audio), one set of Composite ports, an ethernet terminal, a wireless controller, a VGA input, a 3.5mm audio input, and a digital audio output. There's also two USB slots, a headphone jack, an extra set of audio inputs, and an antenna/cable terminal.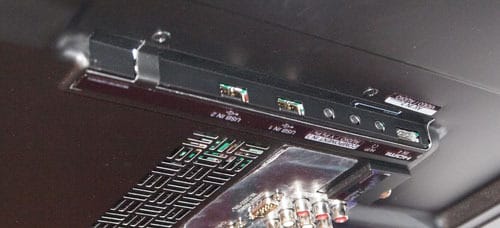 The 55LX9500 is WiFi ready and offers LG's NetCast Entertainment Access. NetCast offers access to streaming content through Netflix (if you have a membership) and Roxio CinemaNow, as well as providing Yahoo! Widgets and internet radio access via Pandora. You can also connect to Vudu to watch HD movies in 1080p on the 55LX9500.
The ports are all located on the back of the 55LX9500, but they aren't that hard to reach. Some ports are located on a vertical strip, while others run horizontally along the back of the television.
The 55LX9500 actually has two remote controls. One is a basic remote, which we have a photo of below. The other is LG's Magic Motion remote control, which uses a wand-like interface rather than a button-mashing system. We didn't get a chance to use the wand remote, but we think it isn't something traditional television viewers are going to enjoy. It may be very popular amongst gadget-lovers, however, particularly users who are accustomed to using the motion-sensor remotes on Nintendo's Wii gaming system.

You won't find any controls on the front of the 55LX9500. Buttons for power, volume, and changing channels are located on a strip on the back of the TV on its right side. These controls are hard to find and extremely difficult to use if the 55LX9500 is mounted to a wall. Hopefully you don't run out of batteries on your remote control, otherwise you may be in for a bad viewing experience.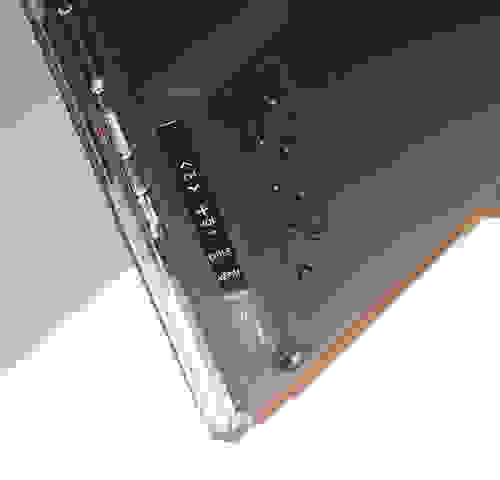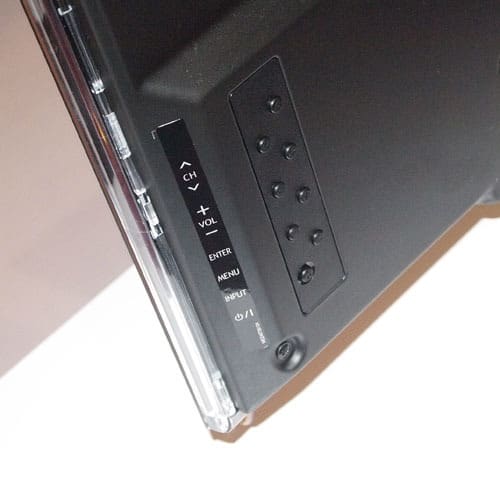 We didn't get to see any menu systems on the 55LX9500 at the CEDIA Expo.
The 55LX9500 has a ton of features and an impressive design, but we were a bit disappointed with the TV's 3D capability. We noticed quite a bit of flicker when we viewed 3D content on the TV, and we also didn't see any 3D improvement with the 55LX9500 over LG's step-down model, the 55LX6500.
3D capability aside, all 2D content looked impressive on the 55LX9500 and we saw no problems with motion. We are also impressed with the TV's wide array of internet features and connectivity options, as well as its stylish design. The TV is very thin, looks great mounted on a wall or on a stand, and it has all the features you could possibly need from a high-end HDTV.
The asking price for the 55LX9500 is $5400, and we think that is very steep—despite the fact that the model has loads of features and 3D capability. The fact that this price doesn't include 3D glasses means you have to add even more to the cost. We recommend waiting for the price to drop on the 55LX9500 before you consider it as an option.
Series
There's just one other HDTV in LG's Infinia LX9500 line and that's the 47-inch 47LX9500. It has the same features as the 55LX9500, but has a smaller LCD.
Meet the tester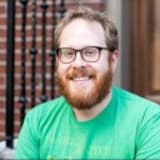 Jeremy Stamas
Managing Editor, Video
@nematode9
Jeremy is the video expert of our imaging team and Reviewed.com's head of video production. Originally from Pennsylvania and upstate NY, he graduated from Bard college with a degree in film and electronic media. He has been living and working in New England since 2005.
Checking our work.
We use standardized and scientific testing methods to scrutinize every product and provide you with objectively accurate results. If you've found different results in your own research, email us and we'll compare notes. If it looks substantial, we'll gladly re-test a product to try and reproduce these results. After all, peer reviews are a critical part of any scientific process.
Shoot us an email